Article Summary: Illinois National Parks
Illinois National Parks! In this article, we feature some incredible park sites in the great state of Illinois. These 5 national park sites are worth a stop during your next trip to the Land of Lincoln.
These Illinois National Parks include amazing historic sites, incredible monuments, beautiful parks, legendary trails, and much more.
I've been to so many of these amazing places since retiring from teaching in 2018. Did I mention that I taught history? I spent a lifetime teaching about the history behind these momentous sites. Then I got to see them firsthand. And now I'm sharing the stories of these incredible places with you. It doesn't get any better than that!
---
So, What Is A National Park?
We get asked that question a lot because there's a difference between a "national park" and a "national park site." To help you understand that difference you might want to check out our article titled: What Is A National Park Really?
If you're planning a trip to the Land of Lincoln then one book I highly recommend is: Illinois Bucket List Adventure Guide: Explore 100 Offbeat Destinations You Must Visit!
We'll give you 5 wonderful reasons why you'll want to make Illinois your next vacation destination.
---
---
National Parks of Illinois
---
1. Lewis & Clark National Historic Trail
There are some truly fabulous Illinois National Parks. One of them is a legendary trail which celebrates the exploits of two legendary explorers.
The Lewis and Clark National Historic Trail follows the historic outbound and inbound routes of the Lewis and Clark Expedition. As a retired history teacher, I get goosebumps just thinking about the Corps of Discovery and their incredible trek.
Commemorating the Lewis & Clark Expedition (1804-06), the Lewis & Clark Trail connects 16 states (Pennsylvania, Ohio, West Virginia, Kentucky, Indiana, Illinois, Missouri, Kansas, Nebraska, Iowa, South Dakota, North Dakota, Montana, Idaho, Washington and Oregon).
The trail is administered by the National Park Service. It's not a hiking trail, but does provide opportunities for hiking, boating and horseback riding at many locations along the route.
It's a great opportunity to see the USA while learning about the brave men (and one woman) who weren't able to make the journey in an air-conditioned SUV.
---
The Lewis & Clark Trail In Illinois
Places of interest to visit in Illinois include:
The St. Nicholas Landmark which is down river from the confluence of the Mississippi and Kaskaskia Rivers. It was there on November 27, 1803, that Meriwether Lewis, William Clark and their party camped on Horse Island.
Fort de Chartres is a great place to explore where you'll learn about the French influence in America.
Piney Creek Ravine is a 198 acre nature preserve that has been protected so that many generations will be able to enjoy its exquisite beauty. When Lewis and Clark were travelling through Illinois, it was a land of wilderness and lush forests.
The Lewis & Clark Bicycle Trail is made up of paved roads, bike paths, and unpaved rail-trails, with occasional short sections of gravel roads.
The Chester Welcome Center is a great place to gather information on the Corps of Discovery and enjoy an amazing view of the river. (Source: NPS)
RELATED: 4+ EPIC Indiana National Parks (Helpful Guide + Photos)
---
2. Lincoln Home National Historic Site
In 2021, C-SPAN asked a group of distinguished presidential historians to rank our nation's presidents from worst to best.
At the top of their list, with a total score of 897 points, was Abraham Lincoln. George Washington and Franklin Roosevelt came in second and third respectively.
Why is Abraham Lincoln considered the greatest president of all time? Simply put, he saved the Union.
In the process of saving the nation, Lincoln managed to define the creation of a more perfect Union in terms of liberty and economic equality that rallied the citizenry behind him.
---
Lincoln Transformed The Presidency
Lincoln transformed the Presidency. He remade the president's role as commander in chief and as chief executive into a powerful new position. In the process, he imbued the office with broader powers by making it supreme over both Congress and the courts.
His detractors argued then and now that he took actions which were unconstitutional such as suspending the writ of habeas corpus.
For Lincoln, however, it made no sense "to lose the nation and yet preserve the Constitution." No President in American history ever faced a greater crisis and, in saving the Union, no President ever accomplished as much.
---
Visit The Home Of America's Greatest Leader
Illinois National Parks can offer its visitors a guided tour of the home of America's greatest leader.
You can step back in time and see how Abraham Lincoln as a family man and a lawyer.
He lived in this house with his wife and family for 17 years before moving to Washington. And the best news of all is that admission is free.
Before heading to the Lincoln Home, however, I recommend going to the Visitor Center. There you can watch two films. One highlights Abraham Lincoln's life in Springfield and the other is a virtual tour of the Lincoln Home.
Visitors can also explore a four block historic neighborhood and see various exhibits and displays while learning about the history of the Lincoln's neighborhood.
If you're interested in learning more about Abraham Lincoln (and who isn't) then check out these other popular Lincoln sites in Springfield:
the Abraham Lincoln Presidential Library and Museum, Lincoln's Tomb, the Old State Capitol and the Great Western Depot/Lincoln Depot.
---
Take A Deeper Dive
There are some wonderful books that have been written about Abraham Lincoln.
The gold standard, in my humble opinion, is Carl Sandburg's Abraham Lincoln: The Prairie Years & the War Years.
Three other excellent biographies are: Team of Rivals: The Political Genius of Abraham Lincoln by Doris Kearns Goodwin, Lincoln by Donald Herbert David and And There Was Light: Abraham Lincoln and the American Struggle by Jon Meachum.
RELATED: 10 BEST Civil War Sites In America
---
Illinois National Parks
---
3. Mormon Pioneer National Historic Trail
If you explore the Illinois National Parks you'll be treated to not one, but two legendary trails. We've already examined Lewis & Clark's epic trek, but there's another fascinating story about a different group of pioneers.
The Mormon Migration is an amazing story which begins in 1827. 21-year-old Joseph Smith announced that he had unearthed a set of golden plates, inscribed with the tenants of God's true church.
Smith said he had been directed to the plates by an angel named Moroni, who also had given him divine tools for translating the ancient inscriptions into English. Smith used the plates to produce the Book of Mormon in 1830.
In New York, Smith organized The Church of Jesus Christ of Latter-day Saints. His followers, who regarded Smith as a prophet, became known as Mormons.
---
Mormons On The Move
Joseph Smith continued to move the Mormon Church. He finally settled along a bend of the Mississippi River in Illinois. There he established a community they called Nauvoo, a Hebrew word meaning "beautiful place."
It was there that Smith began introducing the Old Testament practice of "plural marriage," or polygamy, among select church leaders.
Conflicts arose between Smith and those opposed to his practices. Smith was arrested and jailed at Carthage, Illinois.
On June 27, 1844, a mob broke into the jail and murdered Joseph Smith and his brother Hyrum. Other vigilantes attacked Mormon farms around Nauvoo in an attempt to expel them.
---
A New Leader Emerges
Brigham Young emerged as Smith's successor. Realizing that it was too dangerous to remain where they were, Young organized a Mormon Exodus to Utah.
On March 1, 1846, some 500 Mormon wagons lurched northwesterly across the winter-bare Iowa prairie toward the Missouri River. Their passage is known as the Mormon Trail.
---
Explore The Route Taken By The Mormon Faithful
Points of historical interest along the Mormon Pioneer National Historic Trail in Illinois include: (1) Nauvoo Landing in Nauvoo, (2) Nauvoo State Park & Museum in Nauvoo, (3) Carthage Jail & Visitor Center in Carthage, (4) Nauvoo National Historic Landmark in Nauvoo and (5) the Joseph Smith Historic Site also in Nauvoo.
RELATED: 6 GREAT Missouri National Parks (An Honest Guide + Photos)
---
More Illinois National Parks
---
4. Pullman National Monument
Among the Illinois National Parks is one which commemorates an important chapter in the history of the American Workforce. It's the Pullman National Monument.
The Pullman Strike of 1894 would forever change labor relations in the United States. It began on May 11, 1894, when several thousand train workers started an unannounced strike at the Pullman Company in Illinois.
Over the next few months, dozens of workers would die in strike-related violence, and the President and Supreme Court would finally become involved in the strike's outcome.
Why did this strike happen? In 1893, the country was gripped by a severe recession. George Pullman had built a company famous for making railroad cars. He also created a town for his workers in Illinois.
There they enjoyed many amenities but were also financially dependent on the Pullman Company for their homes and utilities.
Pullman made a decision to cut workers wages by 25%. He did not, however, reduce their living costs which meant that workers could no longer afford to provide for their families. This was the event which triggered a monumental clash between labor and management.
---
The Federal Government Intervenes In The Pullman Strike
U.S. Attorney General Richard Olney sought an injunction in federal court barring union leaders from supporting the strike. He demanded the strikers cease their activities or face being fired. The Union, led by organizer Eugene V. Debs, ignored the injunction.
President Grover Cleveland ordered the United States Army to get the trains moving again. The arrival of the military and the subsequent deaths of workers in violence led to further outbreaks of violence. During the course of this strike, 30 strikers were killed and 57 were wounded.
In an olive branch to organized labor, President Cleveland and Congress dedicated Labor Day as a federal holiday.
---
The Labor Organizer Who Wanted To Be President
Eugene Debs was arrested during the Pullman Strike. He was defended by famed criminal defense attorney Clarence Darrow.
Debs, who was a socialist, political activist, and trade unionist, was one of the founding members of the Industrial Workers of the World. He used his notoriety from the Pullman Strike to run for President of the United States as the candidate of the Socialist Party of America–five times.
If you're interested in learning more then I recommend: The Pullman Strike and the Labor Movement in American History by R. Conrad Stein.
---
Things To Do At The Pullman National Monument
I recommend starting your visit at the National Park Service Pullman Visitor Center in the Administration-Clock Tower Building.
There you will be able to explore exhibits which cover topics on labor rights, manufacturing, urban planning, civil rights and so much more.
You should also check out the Historic Pullman Foundation Shared Pullman Exhibit Hall located at Cottage Grove and 112th Street. There are informational displays, artifacts and an introductory film available.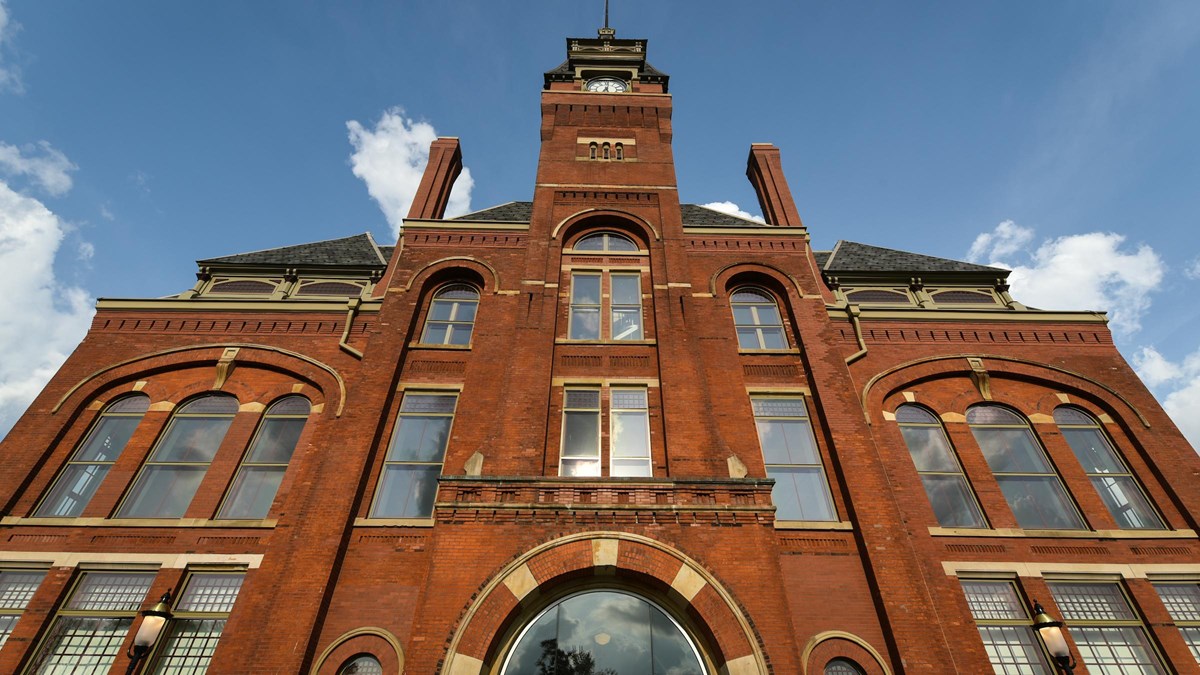 RELATED: 25 EPIC New York National Parks (Helpful Guide + Photos)
---
Check Out The A. Philip Randolph Pullman Porter Museum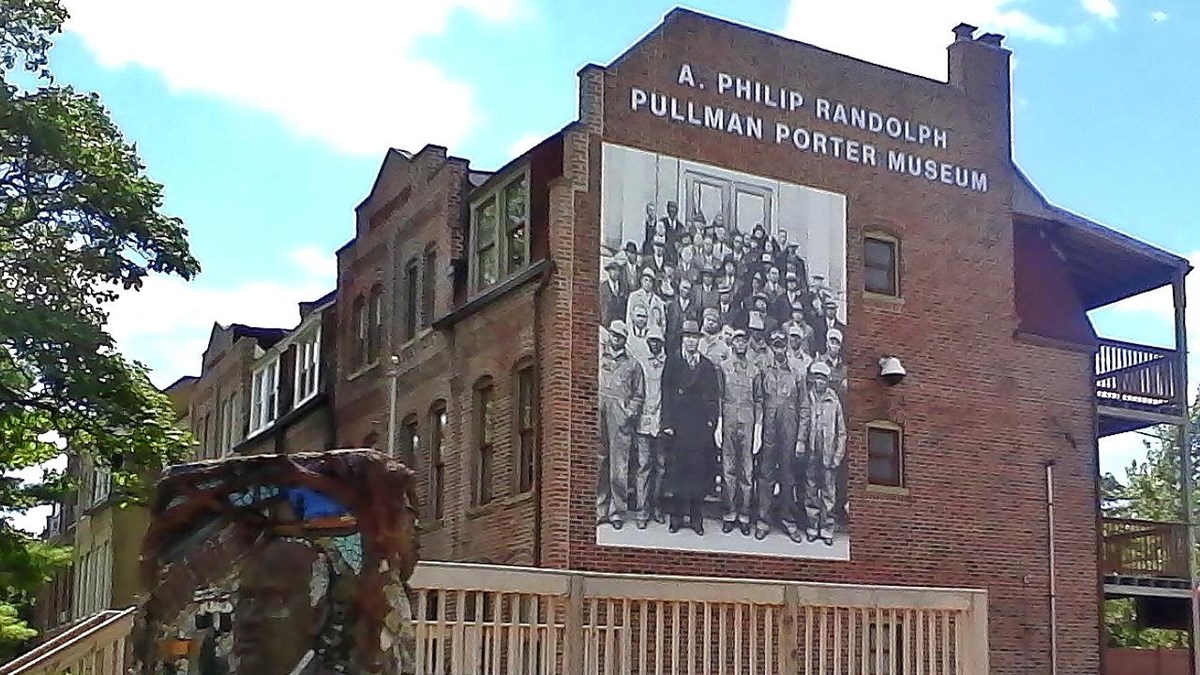 And while you're learning about the history of labor management relations I also recommend a visit to the A. Philip Randolph Pullman Porter Museum. This museum depicts the struggle of African Americans in the Pullman Company.
---
An Early Civil Rights Leader Who Founds The First African American Labor Union
A. Philip Randolph was a labor leader and civil rights activist. He founded the nation's first major Black labor union, the Brotherhood of Sleeping Car Porters (BSCP) in 1925.
Randolph's organizing efforts helped end both racial discrimination in defense industries and segregation in the U.S. armed forces.
He planned a March On Washington in 1941 and only agreed to cancel it after President Franklin Roosevelt pledged to end discrimination in the U.S. Military.
Roosevelt issued Executive Order 8802, which opened war industries in World War Two to Black workers and created the Fair Employment Practice Commission.
In 1948, Randolph's activism similarly helped persuade President Harry Truman to desegregate the U.S. armed forces with passage of the Universal Military Service and Training Act.
Randolph's activism continued into the 1950s and 1960s. He was a principal organizer of the 1963 March On Washington. The March on Washington helped pave the way for passage of the 1964 Civil Rights Act.
CHECK OUT: 10 BEST Civil Rights Sites In America
---
5. Trail Of Tears National Historic Trail
There's another Illinois National Park which celebrates yet another national historic trail. Unlike Lewis & Clark or the Mormon Migration, however, this is the story of a forced exodus and its consequences.
As a former history teacher, I believe no study of American history is complete without an understanding of the Trail of Tears. This history lesson begins in 1830. It was in that year that Congress passed the Indian Removal Act.
The act authorized the president to grant Native American tribes unsettled western prairie land in exchange for their desirable territories within state borders (especially in the Southeast), from which the tribes would be removed.
This infamous piece of legislation forced various Native American tribes to relinquish their lands in exchange for federal territory.
---
The Trail Of Tears
As the National Park Service reports, "U.S. Army troops, along with various state militia, moved into the tribe's homelands and forcibly evicted more than 16,000 Cherokee Indian people from their homelands in Tennessee, Alabama, North Carolina, and Georgia."
"The impact of the resulting Cherokee "Trail of Tears" was devastating. More than a thousand Cherokee – particularly the old, the young, and the infirm – died during their trip west, hundreds more deserted from the detachments, and an unknown number – perhaps several thousand – perished from the consequences of the forced migration. (Source: National Park Service)
---
The Trail Of Tears Today
This incredible trail stretches 5,043 miles across nine states. You can follow the trail on foot, by vehicle, over water, by bicycle or by horse. Along the way, you will see sacred sites which tell the story of death and suffering as well as survival.
Part of this route included a nearly sixty-mile (96 km) trek across southern Illinois along the Golconda-Cape Girardeau Trace, from the Ohio River at Golconda to the Mississippi River west of present day Ware, Illinois. (Source: Enjoy Illinois)
RELATED: 7 AMAZING Oklahoma National Parks (Helpful Tips + Photos)
---
Check Out Our Voyageurs National Park Film
---
This film is the culmination of several weeks spent in the northernmost region of Minnesota known as Voyageurs National Park. Encompassing more than 340 square miles, Voyageurs is a watery wonderland almost exclusively accessible by boat.
Journey with us as we explore a land blanketed in pristine lakes, erupting with kaleidoscopic fall colors, and home to the most spectacular displays of the northern lights on the planet.
Voyageurs is a park like no other in that it is almost entirely and exclusively accessible by water. If you plan on visiting the park be sure to check out boat rentals in the area! One cool feature of the park is that there are no traditional campgrounds, only individual campsites constructed so that no one is visible from another.
This is Voyageurs. Filmed primarily in stunning UHD 8K.
---
To Learn More About Illinois We Recommend These Exciting Books
---
RELATED: 45 Best National Parks Books (Great Gifts For Parks Lovers)
---
Illinois National Parks FAQ
---
What is the biggest park in Illinois?
With nearly 8,000 acres of scenic beauty, Pere Marquette State Park is one of the most picturesque and beautiful locations on the Illinois River. As it is the largest state park in Illinois, visitors love coming to the park for hiking, biking, fishing, horseback riding and scenic drives.
What are the must-see historic sites in Illinois?
The following is a list of must-see historic sites in Illinois:
Lincoln Home National Historic Site
Pullman National Monument
Ulysses S. Grant Home
Hull House Museum
Cahokia Mounds
Galena Historic District
Black Hawk Museum And Lodge
Garfield Park Conservatory
Frank Lloyd Wright Home and Studio
John C. Flanagan House Museum
---
Why Trust Us About Illinois National Parks?
---
We're Jim Pattiz and Will Pattiz, collectively known as the Pattiz Brothers (and sometimes the Parks Brothers) and we absolutely LOVE the national parks.
You should probably know that we don't just make this stuff up out of thin air. We've spent our entire adult lives exploring and filming America's national parks and public lands.
We've worked with the National Park Service, the Department of Interior, USDA, and the U.S. Forest Service for years creating films on important places and issues. Our work has been featured in leading publications all over the world and even some people outside of our immediate family call us experts on the national parks.
---
Meet The Parks Brothers
---
---
Map Of Illinois National Park Sites
---
List Of Illinois National Parks
Lewis & Clark National Historic Trail
Lincoln Home National Historic Site
Mormon Pioneer National Historic Trail
Pullman National Monument
Trail Of Tears National Historic Trail
---
We Hope You'll Follow Our Journey
---
Our goal here at More Than Just Parks is to share the beauty of America's national parks and public lands through stunning short films in an effort to get Americans and the world to see the true value in land conservation. 
We hope you'll follow our journey through the parks and help us to keep them the incredible places that they are. If you're interested in joining the adventure then please sign up below!
---
---
illinois national parks, national parks illinois, national parks in illinois, illinois national parks, national parks illinois, national parks in illinois, illinois national parks, national parks illinois, national parks in illinois, illinois national parks, national parks illinois, national parks in illinois, illinois national parks, national parks illinois, national parks in illinois, illinois national parks, national parks illinois, national parks in illinois, illinois national parks, national parks illinois, national parks in illinois, illinois national parks, national parks illinois, national parks in illinois,