Historic Sites In Illinois. More Than Just Parks has 5 incredible must-see sites for you.
I've been to so many of these amazing places since retiring from teaching in 2018. Did I mention that I taught history? I spent a lifetime teaching about the history behind these momentous sites. Then I got to see them firsthand. And now I'm sharing the stories of these incredible places with you. It doesn't get any better than that!
I'm going to give you my list of the 5 Historic Sites In Illinois that you'll want to see.
To be clear, this list includes national park sites (as in sites managed by the National Park Service) as opposed to national parks.
If you are planning a trip to Illinois then you might want to pick up a copy of Exploring the Land of Lincoln: The Essential Guide to Illinois Historic Sites by Charles Titus.
Without further ado, let's dive in.
---
Historic Sites In Illinois
---
#5. Cahokia Mounds
More Than Just Parks has put together its list of five wonderful historic sites in Illinois. At #5 we have Cahokia Mounds.
Cahokia Mounds State Historic Site preserves the central section of the largest prehistoric Native American city north of Mexico. Occupied from 700 to 1400, the city grew to cover 4,000 acres, with a population of between ten and twenty thousand at its peak around 1100.
The site is dominated by the hundred-foot-tall Monks Mound, the largest prehistoric earthen mound in the Americas, and supported several multiple-mound satellite villages in St. louis, East St. Louis, Mitchell, Dupo, and Lebanon Emerald Mound.
In 1965 Cahokia Mounds was designated a National Historic Landmark and placed on the National Register of Historic Places and in 1966 and in December 1982 was designated a World Heritage Site by UNESCO. (source: Illinois Dept. of Natural Resources)
RELATED: 10 MUST-SEE Historic Sites In Georgia
---
Historic Sites In Illinois
---
4. Hull House Museum
At #4 on our list of the five best historic sites in Illinois is the Hull House Museum.
As a retired history teachers who loves learning about and visiting this fascinating places I believe that s short history lesson is in order.
Hull House, one of the first social settlements in America. It was founded in Chicago in 1889. Jane Addams and Ellen Gates Starr rented an abandoned residence at 800 South Halsted Street that had been built by Charles G. Hull in 1856.
Twelve large buildings were added from year to year until Hull House covered half a city block and included a nearby playground and a large camp in Wisconsin.
Addams and Hull House led the progressive charge in Chicago and in the United States. The work of Hull House resulted in numerous labor union organizations, a labor museum, tenement codes, factory laws, child labor laws, adult education courses, cultural exchange groups, and the collection of neighborhood demographic data.
---
A Place Where Immigrants Could Learn
Hull House offered residences, as well as a place where immigrants and neighbors could commune, learn, share and acquire the tools that would help them put down roots in their new country.
There were kindergarten and day care facilities for the children of working mothers; an employment bureau; an art gallery; libraries; English and citizenship classes; theater, music and art classes; cooking, sewing and technical skills; and American government classes. (Source: Jane Addams Hull House Association)
Jane Addams was the second woman to receive the Nobel Peace Prize.
If you're interested in learning more about this amazing woman than I recommend reading Jane Addams: Twenty Years at Hull-House by Jane Addams.
---
Things To Do At Hull House
The Museum consists of two buildings: the Hull Home, which features exhibitions about the history of Hull-House, and the Residents' Dining Hall, which holds an event space, the Museum's gift shop, and staff offices.
Hull House Museum connects the histories of the Hull-House Settlement to present-day social justice issues. Exhibitions and public programs highlight histories of activism, progressive education and democratic principles of participation and exchange.
RELATED: 8 BEST National Parks Near Chicago You'll Love
---
Historic Sites In Illinois
#3. Ulysses S. Grant Home

At #3 on our list of the best historic sites in Illinois is the home of the man who, along with Abraham Lincoln, saved the Union. The Ulysses S. Grant Home in Galena, Illinois is the former home of Ulysses S. Grant, the Civil War general and later 18th President of the United States.
George Washington was the first victorious general to ascend to the White House. He would be followed by others among them Ulysses S. Grant. Grant (1822-1885) commanded the victorious Union army during the American Civil War (1861-1865) and served as the 18th U.S. president from 1869 to 1877.
At this historic site, I recommend the following activities:
Watch The Orientation Film: A 22-minute orientation film provides insights into Ulysses S. Grant's military service during the American Civil War and his two terms as President of the United States.
See The Park Museum: It is housed in a historic horse stable designed by Ulysses S. Grant and completed in 1872. This space is self-guided and there's no wrong way to explore the fascinating content with the museum's six permanent exhibits.
Take A Guided Tour Of White Haven: The historic White Haven estate is more than 200 years old and the home where Ulysses and Julia Grant fell in love. Guided tours are offered on a daily basis and the only way visitors can access the interior of this remarkable home. (Source: NPS)
RELATED: 10 MUST-SEE Historic Sites In New York
---
Historic Sites In Illinois
---
#2. Pullman National Monument
At #2 on More Than Just Parks list of the top 5 historic sites in Illinois is the Pullman National Monument.
Once again I believe that some historical background will be helpful, but have no fear because the history teacher is here!
The Pullman Strike of 1894 would forever change labor relations in the United States. It began on May 11, 1894, when several thousand train workers started an unannounced strike at the Pullman Company in Illinois.
Over the next few months, dozens of workers would die in strike-related violence, and the President and Supreme Court would finally become involved in the strike's outcome.
Why did this strike happen? In 1893, the country was gripped by a severe recession. George Pullman had built a company famous for making railroad cars. He also created a town for his workers in Illinois.
There they enjoyed many amenities but were also financially dependent on the Pullman Company for their homes and utilities.
Pullman made a decision to cut workers wages by 25%. He did not, however, reduce their living costs which meant that workers could no longer afford to provide for their families. This was the event which triggered a monumental clash between labor and management.
---
The Federal Government Intervenes In The Pullman Strike
U.S. Attorney General Richard Olney sought an injunction in federal court barring union leaders from supporting the strike. He demanded the strikers cease their activities or face being fired. The Union, led by organizer Eugene V. Debs, ignored the injunction.
President Grover Cleveland ordered the United States Army to get the trains moving again. The arrival of the military and the subsequent deaths of workers in violence led to further outbreaks of violence. During the course of this strike, 30 strikers were killed and 57 were wounded.
In an olive branch to organized labor, President Cleveland and Congress dedicated Labor Day as a federal holiday.
If you're interested in learning more about this epic event in American history then I recommend a book that is a real page turner. It's The Edge of Anarchy: The Railroad Barons, the Gilded Age, and the Greatest Labor Uprising in America by Jack Kelly who offers a vivid account of the greatest uprising of working people in American history.
---
The Labor Organizer Who Wanted To Be President
Eugene Debs was arrested during the Pullman Strike. He was defended by famed criminal defense attorney Clarence Darrow.
Debs, who was a socialist, political activist, and trade unionist, was one of the founding members of the Industrial Workers of the World. He used his notoriety from the Pullman Strike to run for President of the United States as the candidate of the Socialist Party of America–five times.
Things To Do At The Pullman National Monument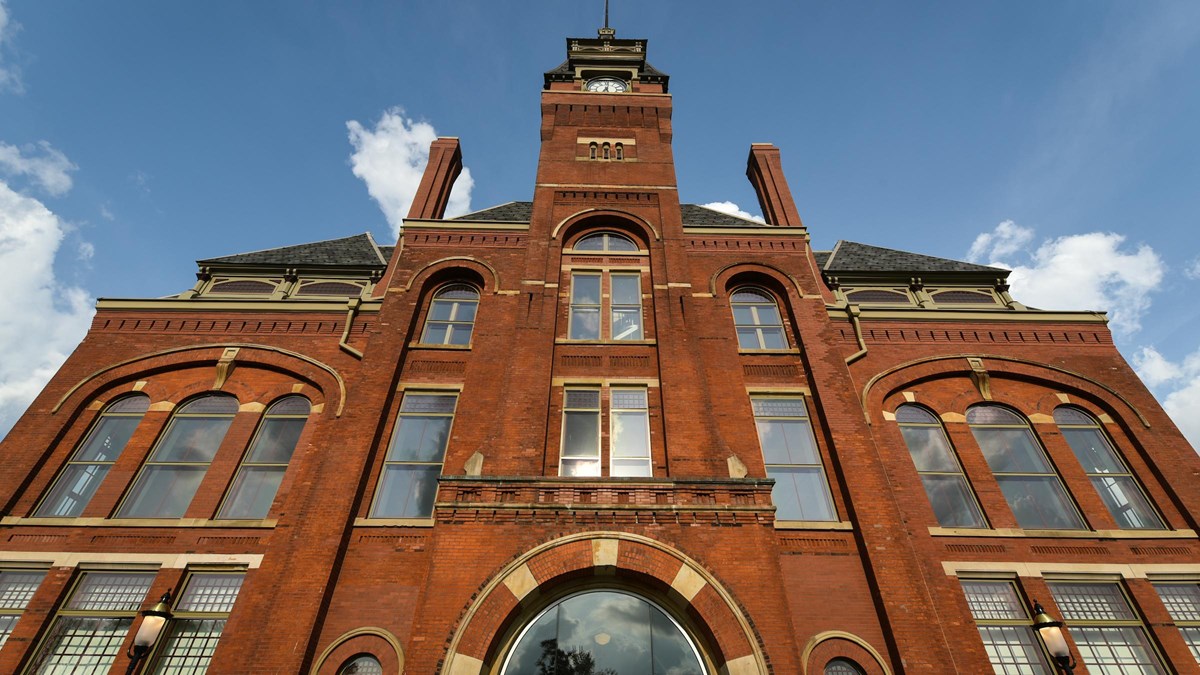 I recommend starting your visit at the National Park Service Pullman Visitor Center in the Administration-Clock Tower Building.
There you will be able to explore exhibits which cover topics on labor rights, manufacturing, urban planning, civil rights and so much more.
You should also check out the Historic Pullman Foundation Shared Pullman Exhibit Hall located at Cottage Grove and 112th Street. There are informational displays, artifacts and an introductory film available.
---
The #1 Historic Site In Illinois
---
#1. Lincoln Home National Historic Site
More Than Just Parks #1 historic site in Illinois is the Lincoln Home National Historic Site.
In 2021, C-SPAN asked a group of distinguished presidential historians to rank our nation's presidents from worst to best.
At the top of their list, with a total score of 897 points, was Abraham Lincoln. George Washington and Franklin Roosevelt came in second and third respectively.
Why is Abraham Lincoln considered the greatest president of all time? Simply put, he saved the Union.
In the process of saving the nation, Lincoln managed to define the creation of a more perfect Union in terms of liberty and economic equality that rallied the citizenry behind him.
RELATED: 10 BEST Civil War Sites In America
---
Lincoln Transformed The Presidency
Lincoln transformed the Presidency. He remade the president's role as commander in chief and as chief executive into a powerful new position. In the process, he imbued the office with broader powers by making it supreme over both Congress and the courts.
His detractors argued then and now that he took actions which were unconstitutional such as suspending the writ of habeas corpus.
For Lincoln, however, it made no sense "to lose the nation and yet preserve the Constitution." No President in American history ever faced a greater crisis and, in saving the Union, no President ever accomplished as much.
If you're interested in taking a deeper dive and learning more about America's greatest president then you cannot do better than Carl Sandburg's Abraham Lincoln: The Prairie Years and The War Years. Sandburg won the coveted Pulitzer Prize for his monumental work on America's 16th President.
---
Visit The Home Of America's Greatest Leader

Visitors can take a guided tour of the Lincoln Home. You can step back in time and see how Abraham Lincoln as a family man and a lawyer.
He lived in this house with his wife and family for 17 years before moving to Washington. And the best news of all is that admission is free.
Before heading to the Lincoln Home, however, I recommend going to the Visitor Center. There you can watch two films. One highlights Abraham Lincoln's life in Springfield and the other is a virtual tour of the Lincoln Home.
Visitors can also explore a four block historic neighborhood and see various exhibits and displays while learning about the history of the Lincoln's neighborhood.
If you're interested in learning more about Abraham Lincoln (and who isn't) then check out these other popular Lincoln sites in Springfield: the Abraham Lincoln Presidential Library and Museum, Lincoln's Tomb, the Old State Capitol and the Great Western Depot/Lincoln Depot.
---
List Of Historic Sites In Illinois
Lincoln Home National Historic Site
Pullman National Monument
Ulysses S. Grant Home
Hull House Museum
Cahokia Mounds
---
Map Of Historic Sites In Illinois
---
About the Folks Behind More Than Just Parks
You should probably know that we don't just make this stuff up out of thin air. My sons have spent their entire adult lives exploring and filming America's national parks and public lands.
As for me, I'm a retired lifelong educator and a proud dad of these two wonderful guys who are hopelessly obsessed with the national parks. I taught history for over a quarter of a century. Now I enjoy researching and writing articles for the More Than Just Parks website. I'm always on the hunt for topics where nature and history intersect so please feel free to share any ideas that you might have with me.
We've worked with the National Park Service, the Department of Interior, and the U.S. Forest Service for years creating films on important places and issues. Our work has been featured in leading publications all over the world and even some people outside of our immediate family call us experts on the national parks.
---
Meet The Parks Brothers
We're Jim Pattiz and Will Pattiz, collectively known as the Pattiz Brothers (and sometimes the Parks Brothers) and we absolutely LOVE the national parks.
Our goal here at More Than Just Parks is to share the beauty of America's national parks and public lands through stunning short films in an effort to get Americans and the world to see the true value in land conservation.
We hope you'll follow our journey through the parks and help us to keep them the incredible places that they are. If you're interested in joining the adventure then please sign up below!
---
Related Links
To learn more about the difference between the various National Park Service designations check out our article that explains everything!
Illinois National Parks: 5 EPIC Illinois National Parks