New Mexico National Parks
New Mexico National Parks! In this article, we feature all of the incredible park sites in the great state of New Mexico. We've got 18 national park sites for you to see on your next visit to the Land of Enchantment.
These New Mexico National Parks include amazing historic sites, incredible monuments, beautiful parks, legendary trails, and so much more.
To be clear, these include national park sites (as in managed by the National Park Service) but not capital letter National Parks. There are only 63 of those (so far) and only two of these parks are included on that list.
We'll give you 18 reasons why you'll want to make New Mexico your next vacation destination.
New Mexico National Parks Table Of Contents
---
National Parks of New Mexico
1. Aztec Ruins National Monument | New Mexico National Parks
I taught World History for almost 30 years. One of my favorite topics of study was the civilizations of pre-Columbian America. Foremost among these civilizations were the Aztecs, who probably originated as a nomadic tribe in northern Mexico, around the beginning of the 13th century.
From their magnificent capital city, Tenochtitlan, the Aztecs emerged as the dominant force in central Mexico, developing an intricate social, political, religious and commercial organization bringing together many of the region's city-states under their control by the 15th century.
Things To Do At The Aztec Ruins
There's no shortage of exciting things to see and do at the Aztec Ruins National Monument. I recommend beginning your adventure at the home of pioneering archeologist Earl Morris.
Today Earl's home serves as the visitor center. There you can receive an orientation to the archeological site and pick up a trail guide too.
You can also see a fascinating 15 minute film titled, Aztec Ruins: Footprints of the Past. In it you'll hear different historical perspectives including the Pueblo people, Navajo tribal members, and archeologists.
Check Out The Pueblo Great House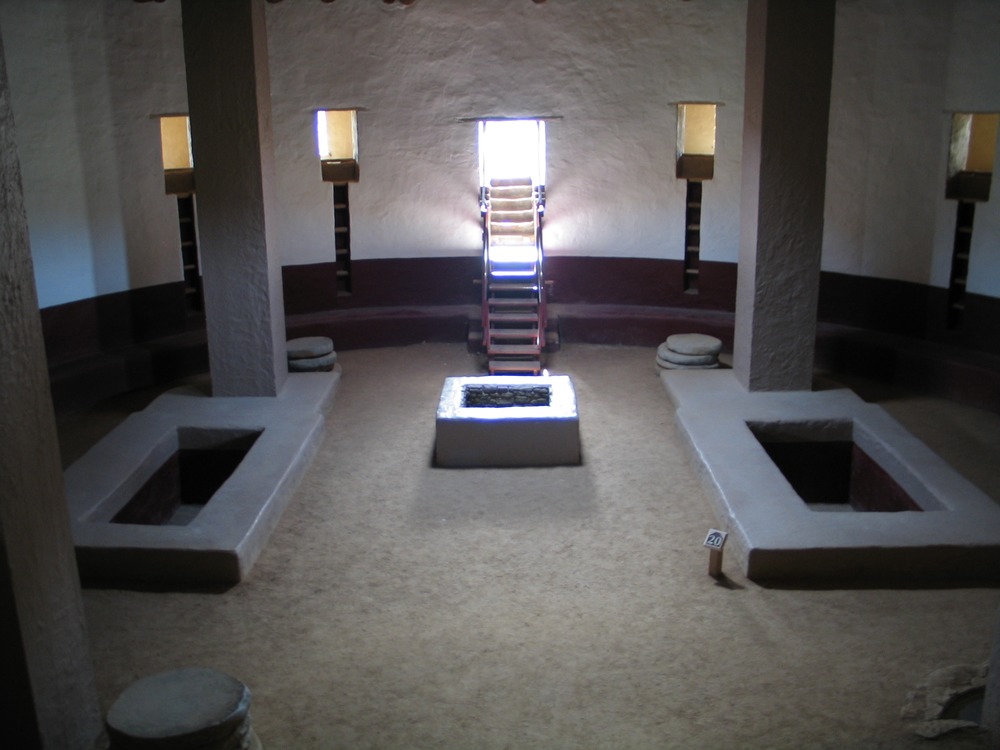 From the visitor center you can take a self-guided half-mile walk that winds through the ancestral Pueblo "Great House." There you can explore the original rooms. The Pueblo "Great House" was the social, economic, and political center of the region after Chaco.
Visitors can also stroll through the The Heritage Garden and the Native Plants Walk.
There you'll see traditional native crops like corn, beans, squash, sunflowers, and gourds which are grown by park staff and volunteers. You'll also see the wild plants that people in the Southwest have relied on for thousands of years.
---
2. Bandelier National Monument | New Mexico National Parks
The Ancestral Pueblo people lived in Bandelier from approximately 1150 CE to 1550 CE. They were able to build their homes from the volcanic tuff and plant their crops in the mesa top fields.
After over 400 years, however, the land here could no longer support its people.
A severe drought also meant that the life-sustaining crops could no longer be grown. By 1550, the Ancestral Pueblo people moved from this area to pueblos along the Rio Grande. (Source: NPS)
You Can Explore The Land Of The Ancient Pueblo People
At Bandelier National Monument you'll find evidence of a human presence here going back over 11,000 years. This includes petroglyphs, dwellings carved into the soft rock cliffs, and standing masonry walls.
I recommend beginning your exploration of Bandelier with a walk on the Main Loop Trail. It's a short 1.4 mile loop trail that starts from the Visitor Center and leads through excavated archeological sites on the floor of Frijoles Canyon.
There are other fascinating trails including the 3 mile round-trip Falls Trail which goes to the gorgeous Upper Falls.
---
3. Capulin Volcano National Monument | New Mexico National Parks
At Capulin Volcano National Monument, you'll see a fascinating display of the volcanic geology of northeastern New Mexico.
I've been there and I can tell you that the views are spectacular. From the volcanic rim you will see parts of 4 different states.
This area also features one of the darkest night skies in the country.
Hiking At Capulin
Capulin offers a variety of activities. There's nearly five miles of hiking trails. These include:
The Crater Rim Trail is a paved, 1 mile loop around the rim of the volcano. Informational waysides provide visitors information about the surrounding features in the Raton-Clayton Volcanic Field.
The Crater Vent Trail is a 0.2 mile (one-way) trail leading to the bottom of the Capulin's crater. This trail is paved and has an elevation change of 100 feet.
The Lava Flow Trail is a one mile loop crossing one of the volcano's lava flows while providing great views of the surrounding volcanic topography.
The Boca Trail is an unimproved, 2 mile strenuous loop through the Boca area. This is the vent area at the base from which the volcano's lava flows originated. The trail provides close up views of numerous geologic features.
The Nature Trail is adjacent to the visitor center. Stop along the way at descriptors discussing plant life, geology, and wildlife. This is the only hiking trail where pets are permitted. (Source: NPS)
---
4. Carlsbad Caverns National Park | New Mexico National Parks
The Spanish Conquistadors came is search of gold. Carlsbad Caverns hid a different treasure however.
In the twenty years before these caverns were set aside as a national park, at least 100,000 tons of bat guano were taken out of them and sold to growers of citrus fruit.
The treasure which these caverns held was an inexhaustible supply of agricultural fertilizer rich in nitrate and easily mined.
Guano is not the only treasure. The caverns provide those willing to explore them with an adventure into a different realm of natural beauty and wonder.
Things To Do At Carlsbad Caverns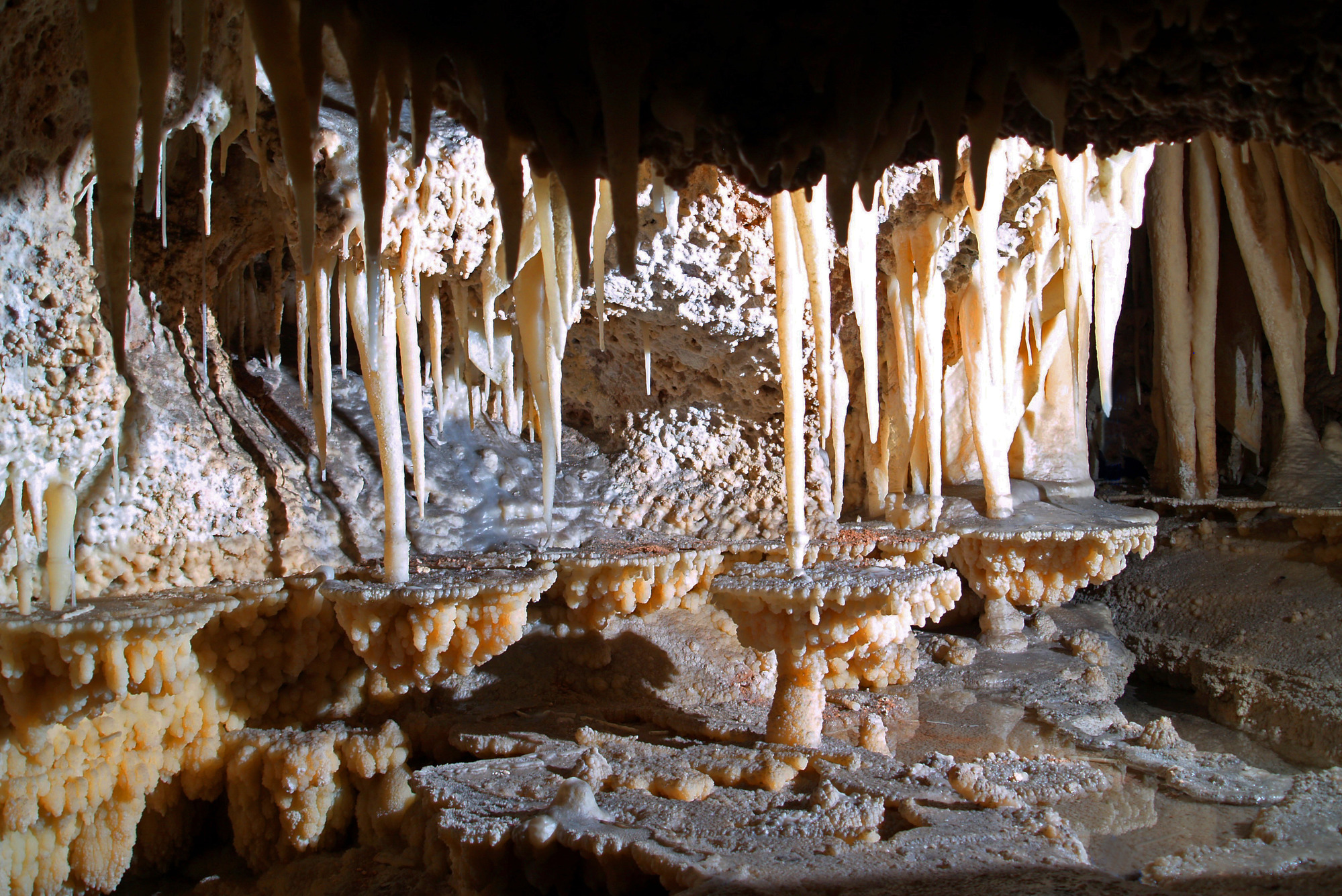 I recommend you explore Carlsbad at your own pace. There are two trails which you can take. Choose wisely.
The most popular route is the Big Room. It's the largest single cave chamber by volume in North America. This 1.25 mile trail is relatively flat. It will take about 1.5 hours (on average) to walk it.
Take your time as you will be rewarded with spectacular views, cave formations of all shapes and sizes, and a rope ladder which was used by explorers in 1924.
The other trail is the 1.25 mile (2 km) Natural Entrance Trail, which is not recommended for people with heart or respiratory problems.
Depending on if you decide to hike up or down, you gain or lose about 750 feet (229 m)—equivalent to walking up or down a 75-story building. The hike takes about one hour (on average) to complete. (Source: NPS)
The Bat Flight Program
Each evening from late-May through October, you can experience a program about the Brazilian free-tailed bats that live in Carlsbad Cavern. And, best of all, you get to see them emerge from their cave.
This is a spectacle which you should NOT miss. The bat flight takes place around sundown in the summer. The bats pour out of the mouth of the caverns from a place know as the Bat Cave.
Believe It Or Not, The Bats Emerge In The Millions
You'll see these creatures emerge in a spiral stream through the entrance and over the rim towards the south.
To protect the bats, electronic devices are not allowed at the Bat Flight Program and surrounding area.
---
5. Chaco Culture National Historical Park | New Mexico National Parks
Imagine a field trip to explore the massive buildings of the Ancestral Puebloan people. You'll marvel at their organizational and engineering abilities not seen anywhere else in the American Southwest.
At the Chaco Culture National Historical Park, there are six major sites along a 9-mile long Canyon Loop Drive. These sites include Una Vida, Hungo Pavi, Pueblo Bonito, Chetro Ketl, Pueblo del Arroyo, and Casa Rinconada.
At Chaco Culture National Historical Park, You'll Find A Wonderful Bookstore Too
At the Visitor Center Bookstore you'll find a terrific collection of books on the culture, customs and traditions of these Ancestral Puebloan People there as well.
If you're up for a more rigorous adventure there's four backcountry hiking trails that lead visitors to remote Chacoan sites, passing ancient roads, petroglyphs, stairways, and spectacular overlooks of the valley.
These trails are open from seven in the morning until sunset. For your safety and protection permits are required. They are free at the Visitor Center and at the trailheads. There is no overnight backcountry camping; camping is only allowed in Gallo Campground. (Source: NPS)
---
6. El Camino Real de Tierra Adentro National Historic Trail
The El Camino Real de Tierra Adentro National Historic Trail extends 404 miles between El Paso, Texas to Santa Fe, New Mexico At one time, the historic trail extended all the way to Mexico City.
This trail tells that story of 300 years of conflict, cooperation, and cultural exchange between a variety of empires—European and non-European alike.
There are a variety of wonderful activities for you to choose from along this trail. They include:
A variety of hiking opportunities across the full length of the trail.
A visit to the missions along the El Camino Real de Tierra Adentro.
Museums along the El Camino Real de Tierra Adentro featuring interpretive exhibits, information, and programs.
Historic sites along the El Camino Real de Tierra Adentro.
For specific information pertaining to sites in New Mexico, please check out this interactive map provided by the National Park Service.
---
7. El Malpais National Monument
I was born and raised in the Northeast. For me the landscapes of the Southwestern United States possess an otherworldly quality. I had never seen anything quite like their beauty before.
A case in point is El Malpais National Monument. It offers visitors a richly diverse volcanic landscape that is unique to the region.
You can explore incredible geologic features such as lava flows, cinder cones, lava tube caves, and sandstone bluffs.
Sites Along Highway 53
If you're looking for an adventure then sites along Highway 53 include:
Zuni-Acoma Trail which is a 7.5-mile, cairn-marked hike across cooled lava flows. To prepare for this rugged trek you should have appropriate sun protection, food, water, and sturdy shoes.
The El Calderon Area is a 4.8-mile loop trail that travels past lava tubes, other lava flow features, and to the top of El Calderon volcano, active around 60,000 years ago. It's the most developed trail in the park, and the trailhead features picnic tables and pit toilets.
Bandera Volcano & Ice Cave is a family-owned and operated business featuring a massive cinder cone and lava tube with a perpetual layer of ice.
Sites Along Highway 117
Sandstone Bluffs is a 1.5-mile gravel road leads up to a spectacular overlook of the varied lava flows of El Malpais. Picnic tables and toilets are available.
Joe Skeen Campground is a primitive campground featuring 10 sites with shade shelters, pit toilets, picnic tables, and fire grates. Campsites are available on a first-come, first-served basis.
La Ventana Arch is one of the largest sandstone arches in New Mexico and is a common attraction 18 miles (29 km) south of Interstate 40. A 0.25-mile gravel trail leads to a viewpoint.
Lava Falls is a 1-mile, cairned hiking route which includes a moonscape created by volcanism that ended approximately 3,900 years ago. (Source: NPS)
---
8. Visit The El Morro National Monument | New Mexico National Parks
If you were a desert traveler like the Ancient Puebloans then the first thing on your travel agenda would be water. If you forgot about water you likely wouldn't be around to forget about anything else.
For these travelers, El Morro was a reliable waterhole hidden at the base of a sandstone bluff. Referred to as "El Morro" (the headland), it became a popular campsite hundreds of years ago.
You'll Have 2 Trails To Choose From
Visitors to El Morro have two wonderful hiking trails to choose from.
The Inscription Trail will take you to a shady oasis (the pool). Along the way you'll pass hundreds of Spanish and Anglo inscriptions, as well as pre–historical petroglyphs. This loop trail is paved, 1/2 mile in length, and wheelchair accessible with assistance.
The Headland Trail is a 2–mile loop which includes the Inscription Trail. It continues to the top of the bluff. There you'll be treated to spectacular views of the Zuni Mountains, the volcanic craters of the El Malpais area, and the El Morro valley. On this trail is the Ancestral Puebloan ruin, Atsinna, or "place of writings on rock." There, between approximately 1275 to 1350 AD, up to 600 people lived in this 355 room pueblo.
---
9. Fort Union National Monument | New Mexico National Parks
New Mexico became a United States territory after the Mexican American War. The Army established garrisons in towns scattered along the Rio Grande to protect the area's inhabitants and travel routes.
In April 1851, Lt. Col. Edwin V. Sumner, commanding Military Department No. 9 (which included New Mexico Territory), was ordered "to revise the whole system of defense" for the entire territory.
Among his first acts was to break up the scattered garrisons and relocate them in posts closer to the Indians.
Sumner moved his headquarters and supply depot from Santa Fe, "that sink of vice and extravagance," to a site near the Mountain and Cimarron branches of the Santa Fe Trail, where he established Fort Union. (Source: NPS)
Things To Do At Fort Union
You can take a 1.25-walk on the self-guided interpretive trail. It will take you through the entire fort.
Or, you can take a shorter half-mile walk on the same trail. It will take you through a portion of the fort.
---
10. Gila Cliff Dwellings National Monument | New Mexico National Parks
Imagine a neighborhood that's been around for thousands of years. You would need some very special dwellings to accomplish that.
Gila Cliff Dwellings National Monument is just such a place. For thousands of years, groups of nomadic people used the caves of the Gila River as temporary shelter. In the late 1200's, people of the Mogollon Culture decided it would be a good place to call home.
These people built rooms, crafted pottery and raised children in the cliff dwellings for about twenty years. (Source: NPS)
What You Can See At Gila Today
The Gila Cliff Dwellings National Monument is the only national monument with Mogollon ruins. This the monument preserves the cliff dwellings where the Mogollon people built their homes, as well as the TJ Ruin – a small pueblo area that was inhabited between the years 900 and 1150.
These dwellings consist of five distinct caves, each of which contains about 40 rooms. To make the dwellings safer and more comfortable, the Mogollons used fallen rocks from nearby caves to construct some of these rooms, and also incorporated unique wall designs in strategic areas. (Source: NPS)
---
11. Manhattan Project National Historical Park | New Mexico National Parks
Where can you go from cliff dwellings thousands of years old to the dawn of the nuclear age? Why New Mexico, of course! It's there that the United States developed the deadliest weapon known to humankind.
The Manhattan Project was the code name for the American-led effort to develop a functional atomic weapon during World War II.
The development of the atomic bomb brought together some of the world's leading scientific minds, as well as the U.S. military. Most of the work was done at Los Alamos, New Mexico.
On July 16, 1945, the team of scientists led by Dr. J. Robert Oppenheimer, in a remote desert location near Alamogordo, New Mexico, successfully detonated first atomic bomb.
This detonation created an enormous mushroom cloud some 40,000 feet high ushering in the Atomic Age. The explosive force was estimated to be equivalent to an 8.0 earthquake.
Things To Do At Los Alamos, New Mexico
You can learn about the Manhattan Project by visiting the park's visitor center in the historic town of Los Alamos. From there you can hike desert trails, explore local museums, enjoy guided tours and visit historic sites within the community.
Tours of the Los Alamos and Trinity Sites are only offered at specific times of the year. The Los Alamos tours take visitors to historic buildings including Pond Cabin and a building that Nobel Laureate Emilio Segrè and his team used.
Visitors will also see Battleship Bunker, a building used for implosion diagnostic testing, and the Slotin Building where physicist Louis Slotin succumbed to a deadly radioactive accident.
The location of this test, known as the Trinity Site, is located on White Sands Missile Range and is closed to the public except for twice during the year when the U.S. Military opens this facility to the public. (Source: NPS)
Other Places In Los Alamos Accessible To The Public
There are other fascinating places where you can go in Los Alamos and these include:
The Los Alamos Nature Center which gives you the chance to learn more about the incredible wildlife and natural history in this area.
The Los Alamos History Museum. It's located in downtown Los Alamos. There you can learn about the stories of the atomic secret city from multiple perspectives via indoor and outdoor venues, historic buildings, artifacts, documents, photographs, audio and video recordings of personal stories, and interactive visitor experiences.
You can also go to the Bradbury Science Museum. There you'll learn about the scientific history of Los Alamos and explore interactive exhibits.
If you're more interested in nature than science you can also hike the Kwage Mesa Trail where you'll have a spectacular view of the canyons and mesas of the Pajarito Plateau.
---
12. Old Spanish National Historic Trail | New Mexico National Parks
The Old Spanish National Historic Trail goes through Arizona, California, Colorado, Nevada, New Mexico, and Utah. It opened a land route across 19th century Mexico between the Tierra Adentro, the fabled, yet isolated place that would become New Mexico, and California's missions and burgeoning settlements.
When he left Abiquiu, New Mexico for California in 1829 with 40 men and 200 pack mules, Antonio Armijo blazed a trail between the two colonies that had frustrated explorers for over a century.
The Abiquiu Party discovered that their woolen blankets and tanned hides were welcomed in textile-starved California. What began as a commercial venture would grow into so much more.
Journey The Old Spanish National Historic Trail
Today this historic trail extends 2,700 miles across New Mexico, Colorado, Utah, Arizona, Nevada, and California. Along the way there are museums, historic sites, landmarks, and trail markers.
Two places you ought to visit while in New Mexico are the Santa Fe Plaza and the Palace of the Governors.
The Santa Fe Plaza has long been the spatial, economic, and social center of New Mexico's capital city. Accordingly, it is the location of various historic buildings and events throughout New Mexico's history. Now half its original size, the Plaza is landscaped with flagstone, walks, benches, and trees.
Since 1610, the Palace of the Governors has housed the offices and living quarters of 58 Spanish Colonial Governors, 16 Mexican Governors, four military and three civilian governors during U.S. rule, and 17 Territorial Governors.
The building endured the 1680 Pueblo Indian Revolt; the 1692-1693 Spanish reconquest; the 1846 arrival of Brigadier General Kearny; and the 1862 invasion of Texas Confederate Troops. (Source: NPS)
---
13. Pecos National Historic Park | Maryland National Parks
Each of America's national park sites has a different story to tell. At Pecos National Historic Park it's the story of the Cicuye people and how they fought back against colonial oppression.
Once the Spanish arrived these people were enslaved. They were forced to build churches. The Pueblo Revolt of 1680 was a revolution against Spanish religious, economic, and political institutions imposed upon the Pueblos.
It is the only successful Native uprising against a colonizing power in North America.
The revolt kept the Spanish out of New Mexico for 12 years and established a different relationship between Spain and the indigenous peoples upon their return.
Things To Do At Pecos National Historical Park
The park has a visitor center, hiking trails, and ranger-guided programs. I recommend beginning your adventure at the visitor center. There you will find a museum exhibits, a bookstore with gift shop and a 12-minute introductory film.
There are three hiking trails available. They include:
The 1.25 mile Ancestral Sites Trail where you'll discover the remains of the Pecos Pueblo and 1717 Spanish mission church.
The 2.3 mile Civil War Battlefield Trail where you'll explore the history of the Battle of Glorieta Pass.
The South Pasture Trail, which is only open on weekends.
---
14. Petroglyph National Monument | New Mexico National Parks
Petroglyph National Monument is a fascinating look into the past. It protects one of the largest petroglyph sites in North America, featuring designs and symbols carved onto volcanic rocks by Native Americans and Spanish settlers 400 to 700 years ago.
These images are a record of cultural expression and hold profound spiritual significance for contemporary Native Americans and for the descendants of the early Spanish settlers.
There is no museum or exhibits at this monument. At Petroglyph's visitor center you can pick up a park brochure and trail maps.
Located on the western edge of the monument, the park's trail system offers scenic miles of hiking around the volcanic cinder cones.
From there you'll enjoy the clear views of the Rio Grande valley and the Sandia Mountains from the scenic overlook. These trails vary in length from 1 mile to 4 miles round-trip.
See The Amazing Petroglyphs
If you're looking to see the petroglyphs the trails you'll want to take include:
Boca Negra Canyon: 1 hour, 100 petroglyphs, developed trail system.
Rinconada Canyon: 2.2 miles round trip, 2 hours, 200-300 petroglyphs, undeveloped trail system, no water.
Piedras Marcadas Canyon: 1.5 miles round trip, 1.5 hours, 300-500 petroglyphs, undeveloped trail system, no water, no restrooms.
Volcanoes Day Use Area: 1 mile to 4 miles round trip, 1-4 hours, no petroglyphs, undeveloped trail system, no water.
---
15. Salinas Pueblo Missions National Monument | New Mexico National Parks
New Mexico abounds in the history of the American Southwest. At Salinas Pueblo Missions National Monument visitors will find three distinct sites offering a unique glimpse into a different time in history.
These sites serve as reminders of the Spanish and Pueblo peoples' early encounters and prompt exploration of today's interactions among different people. These sites include:
At Abo you can enjoy a walk through the 17th century Mission of San Gregorio de Abó and see the Spanish Resettlement Structures.
Quarai is a place where you can walk through the Nuestra Señora de La Purisima Conception de Cuarac, enjoy some spectacular bird watching and hike the one mile Spanish Corral Trail.
At Gran Quivira you can explore an excavated Pueblo Mound and two Mission Churches. Or visit the museum and see the different tools and artifacts made by the people of Las Humanas.
---
16. Santa Fe National Historic Trail | New Mexico National Parks
Westward Ho! Between 1821 and 1880, the Santa Fe Trail was a highway connecting Missouri and Santa Fe, New Mexico. The route was originally pioneered by Missouri trader William Becknell.
The Routes
There were two major routes. Some used the Mountain Route, which offered more dependable water, but required an arduous trip over Raton Pass.
Others took the Cimarron Route. It was shorter and faster, but required knowledge of where the route's scarce water supplies were located. It you ran out of water then you weren't likely to survive the journey.
Now here's an interesting fact. During the Mexican-American War, the U.S. Army actually followed the Santa Fe Trail westward to successfully invade Mexico. The Treaty of Guadalupe Hidalgo ended this war in 1848.
This historic trail became a national road connecting the more settled parts of the United States to the new southwest territories.
Santa Fe Trail Today
Today the Santa Fe National Historic Trail extends between western Missouri to Santa Fe, New Mexico. Along the way, there are museums, historic sites, landmarks, and original trail segments located all along the length of this historic trail.
There's a wonderful book filled with amazing stories about life on the legendary Santa Fe Trail. Written by David Dary, it's titled The Santa Fe Trail: Its History, Legends, and Lore.
RELATED: 30+ Best National Parks Books (Great Gifts For Park Lovers) 2021
Highlights
If you're planning a trip then I would recommend that you definitely see the following five sights:
Rabbit Ears Mountain served as a vital landmark for Santa Fe Trail travelers on the Cimarron Route.
Santa Clara Cemetery was a landmark for covered wagon trains and traders going up and down the Santa Fe Trail. It's now the Wagon Mound National Historic Landmark.
Starvation Peak is a butte that sits at over 7,000 feet, located along Interstate 25 between the town of Pecos and Las Vegas.
Raton Pass which was one of the segments of the Mountain Branch of the Santa Fe Trail. It cut through the snow-capped Sangre de Cristo Mountains, allowing wagons access to the vast western territory.
Santa Fe Spring which was an important water source for Santa Fe Trail travelers heading West.
---
17. Valles Caldera National Preserver | New Mexico National Parks
There is history and then there is history. About 1.25 million years ago, a spectacular volcanic eruption created the 13-mile wide circular depression now known as the Valles Caldera. Today it is much more than its geologic past however.
Valles Caldera National Preserve is known for its huge mountain meadows, abundant wildlife, and meandering streams. Valles Caldera preserves the homeland of ancestral native peoples and embraces a rich ranching history.
There are some wonderful outdoor activities offered at the preserve. They include:
Astronomy: Whether a beginner or an expert astronomer you can view some of the darkest skies in northern New Mexico.
Backcountry Access: Visitors can access the backcountry by foot, mountain bike, horseback, or personal vehicle.
Hiking: The preserve includes a range of trails from easy (.5 miles) to difficult (almost 20 miles) hikes.
Fishing: The waters of Valles Caldera National Preserve provide some great fly fishing for beginners and experts.
Horseback Riding: You must have a permit.
Hunting: This can be done in accordance with applicable Federal and State law.
Mountain Biking: A backcountry permit is required.
Wildlife Viewing: Popular residents include Gunnison prairie dogs, coyotes, badgers, black bears, Eastern mountain bluebirds, and golden eagles. (Source NPS)
---
18. White Sands National Park | New Mexico National Parks
Every national park is a different experience. This definitely applies to White Sands National Park which features the glistening white sands of New Mexico. Great wave-like dunes of gypsum sand have engulfed 275 square miles of desert, creating the world's largest gypsum dunefield.
I recommend beginning your adventure at the historic visitor center. There you can obtain information on daily programs; check out the park store and gift shop; explore the native plant garden; visit the interactive museum; and see the award-winning film: A Land in Motion.
Things To Do At White Sands
There's no shortage of fun-filled activities at this unusual park. You can take your vehicle through Dunes Drive. It's a 26-mile adventure. Along the way you'll be able to find wayside exhibits, hiking trails, picnic areas, vault toilets, and parking areas.
If you prefer getting out on foot then there are five scenic trails where you can explore the dunes and be treated to stunning views of the surrounding mountains.
There are ten primitive backcountry camping sites available on a first-come, first-served basis and you can pick up a permit at the entrance booth.
You can also bike and/or horseback ride in the park. Biking is limited to Dunes Drive. As for horses, they must be brought-in on a trailer, and you must have a horse permit signed by a ranger.
Finally, you can go sledding, but this is no ordinary sledding experience. The powdery, white gypsum dunes not only look like snow, they behave like it as well. This means you can sled any time of the year.
Sledding is allowed in the loop portion of Dunes Drive, away from the road and where there is little or no vegetation. Most sledder's use waxed, plastic snow-saucers, which can be purchased at the park gift shop. (Source: NPS)
Map Of New Mexico National Park Sites
List Of New Mexico National Park Sites
Aztec Ruins National Monument
Bandelier National Monument
Capulin Volcano National Monument
Carlsbad Caverns National Park
Chaco Culture National Historical Park
El Camino Real de Tierra Adentro National Historic Trail
El Morro National Monument
Fort Union National Monument
El Malpais National Monument
Gila Cliff Dwellings National Monument
Manhattan Project National Historical Park
Old Spanish National Historic Trail
Pecos National Historic Park
Petroglyph National Monument
Salinas Pueblo Missions National Monument
Santa Fe National Historic Trail
Valles Caldera National Preserve
White Sands National Park