---
Ohio National Parks
---
Ohio National Parks! In this article, we feature some incredible park sites in the great state of Ohio. We've got 10 national park sites for you to see on your next visit to the Buckeye State.
These Ohio National Parks include amazing historic sites, incredible monuments, iconic parks, legendary trails, and much more.
It's the home of presidents and offers wonderful possibilities for travelers. Whether you're looking for a cosmopolitan experience, a small-town retreat, or a great escape to nature you can find it in the Buckeye State.
I've been to so many of these amazing places since retiring from teaching in 2018. Did I mention that I taught history? I spent a lifetime teaching about the history behind these momentous sites. Then I got to see them firsthand. And now I'm sharing the stories of these incredible places with you. It doesn't get any better than that!
To be clear, these include national park sites (as in managed by the National Park Service) as well as capital letter National Parks. There are only 63 of those (so far) and one of these parks is included on that list.
If you're planning a trip to the Buckeye State then one book that I highly recommend is: Ohio Bucket List Adventure Guide: Explore 100 Offbeat Destinations You Must Visit!
We'll give you 10 wonderful reasons why you'll want to make Ohio your next vacation destination.
---
---
Facts About Ohio
---
Ohio is a state located in the Midwestern region of the United States. It is bordered by Pennsylvania and West Virginia to the east, Kentucky and West Virginia to the south, Indiana to the west, and Michigan to the north. Ohio has a diverse landscape, with rolling hills in the south and flat plains in the north.
Ohio is known for its manufacturing and agriculture industries, with major crops including corn, soybeans, and wheat. The state is also home to a number of service industries. Columbus, the state capital and largest city, is a center of government, business, and education.
Ohio has a humid continental climate, with cold winters and warm summers. The state is prone to severe weather events, including snowstorms and thunderstorms. Ohio has a rich cultural heritage, with a diverse population and a strong sense of community. The state is known for its contributions to the arts and sports, as well as its role in American history.
---
National Parks of Ohio
---
1. Charles Young Buffalo Soldiers National Monument
We begin our exploration of the amazing Ohio National Parks with the story of an amazing man and his important legacy.
For almost 30 years, I taught high school history. What impresses me most about the field of history are the amazing stories of men and women whose contributions changed the course of human events. In doing so, they helped to bring about the world we have today.
The people we know, however, are few compared to the people we don't. A case in point is Colonel Charles Young.
Born as a slave during the American Civil War, Charles Young lived a truly extraordinary life. He was the first African American to graduate from a white high school in Ohio. In 1884, Young defied the odds winning an appointment to West Point though a competitive military examination.
After confronting the racism which was unfortunately typical of his era, he emerged as only the third African American to graduate from West Point–America's most prestigious military academy.
---
Captain Of An All Black Regiment
Young served as a cavalry officer. He then became the captain of an all-black regiment at San Francisco's Presidio. Young's career path would take an interesting turn when managing the national parks became the responsibility of the U.S. Army beginning in 1891.
This was before the creation of a unified system of national parks or the establishment of an elite cadre of park rangers.
By 1903, the U.S. Military was providing protection at America's parks. Young was assigned to take his troops to Sequoia and General Grant (what is now Sequoia National Park and a small portion of Kings Canyon National Park).
It was during the summer of 1903 that he made history by becoming the acting superintendent of the these two parks. He was the first African-American to hold such a position.
RELATED: 20 BEST Black History Sites For You To Visit
---
No Poaching On His Watch
Poaching had become a problem in the parks given their limited supervision. As a result of Young's leadership, however, there was no poaching reported at Sequoia or General Grant during his tenure as superintendent.
In commemoration, a Sequoia Tree would be named in his honor.
Young spent one summer as an acting superintendent at Sequoia/Kings Canyon before being reassigned as a military attache in Haiti. He then served in the same position in Liberia.
RELATED: Meet The Real Life Batman & Robin Of The National Parks
---
With General Pershing In Mexico
Eager to see some action, Young went on to serve under General John J. "Black Jack" Pershing in Mexico. It was during this assignment that he engaged in active combat against the Mexican Revolutionary Leader Pancho Villa.
CHECK OUT: 15 (GIANT) Sequoia Tree & Kings Canyon National Parks Facts You Probably Didn't Know
---
Charles Young Earns The Rank Of Colonel
Young was sidelined from active duty during World War One due to health issues, but returned to command after the war. He would earn the rank of colonel. Young died unexpectedly, however, in 1922.
As the National Park Service notes, Charles Young overcame stifling inequality to become a leading figure in the years after the Civil War when the United States emerged as a world power.
His work ethic, academic leadership, and devotion to duty provided a strong base for his achievements in the face of racism and oppression.
His long and distinguished career as a commissioned officer in the United States Army made him a popular figure of his time and a role model for generations of new leaders.
As a former history teacher and a lifelong history buff, I love to include book recommendations for those of you who are interested in taking a deeper dive. In the case of Charles Young, I heartily recommend Black Officer in a Buffalo Soldier Regiment: The Military Career of Charles Young by Brian G. Shellum.
---
Things To Do At The Charles Young Buffalo Soldiers National Monument
Visitors to the site can take a guided tour of the Charles Young Home. Here you can learn more about the incredible story of this remarkable man.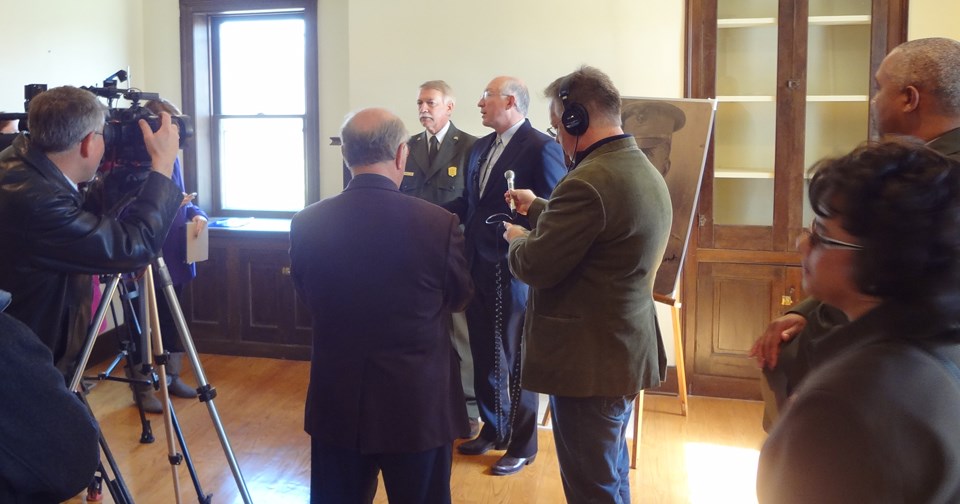 RELATED: 10 BEST Civil Rights Sites In America
---
2. Cuyahoga Valley National Park
One of my favorite Ohio National Parks is Cuyahoga Valley National Park. And, if you love trains, then it will likely be one of your favorites too.
You may have driven, fished, hiked, rode horseback, skied or swam in a national park, but did you ever travel through it by train? All Aboard the Cuyahoga Valley Scenic Railroad!
Visitors to this national park can experience its natural wonders onboard a train as it winds its way through the Cuyahoga Valley and along the Cuyahoga River.
The trip by train provides passengers the opportunity to possibly spot eagles, deer, beavers, and herons in their natural habitat. It's a great way to travel!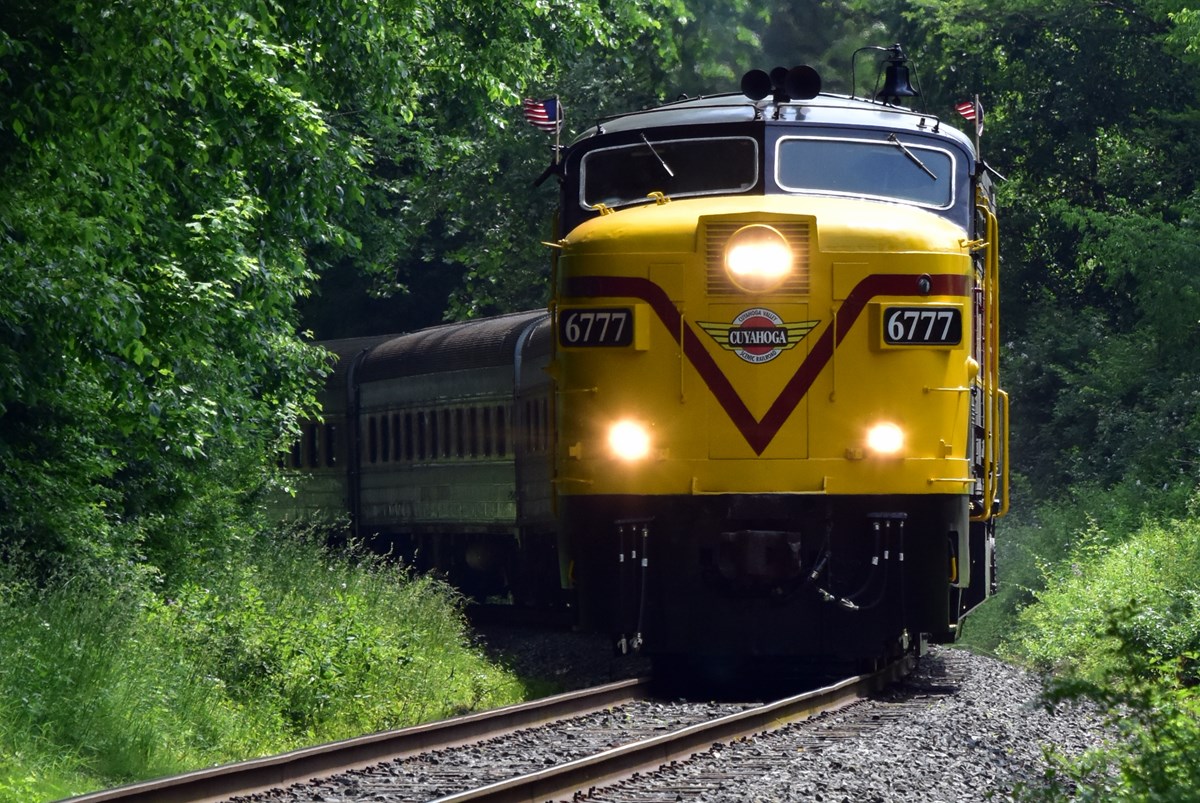 ---
Hiking At Cuyahoga
Of course you don't have to travel by train. There are over 125 miles of hiking trails available too. These trails range from nearly-level to more challenging, and pass through various habitats including woodlands, wetlands, and old fields.
If you're looking to do some serious hiking then I would recommend picking up a copy of the Trail Guide Handbook: Cuyahoga Valley National Recreation Area. It's an excellent resource which will enable you to make the most of your hiking experiences while at Cuyahoga.
CHECK OUT: 10 FASCINATING FACTS About Cuyahoga Valley National Park
---
Other Things To Do At Cuyahoga Valley National Park
Popular attractions and activities include:
Beaver Marsh where you will enjoy exceptional scenery and wildlife. It's one of the park's most popular destinations.
Brandywine Falls which is a magnificent 60-foot waterfall that's accessed by boardwalk.
The Ritchie Ledges are a geologic wonder. The trail around The Ledges is 2.2 miles and connects to a larger network of trails in the Virginia Kendall Area.
Blue Hen Falls is a 15-foot waterfall. To get there you will hike 1.5 miles (one way) from Boston Mill Visitor Center.
The Ohio & Erie Canal Towpath Trail is accessible by biking, walking or even wheelchair.
Cuyahoga Valley National Park also offers boating, fishing and horseback riding trails too.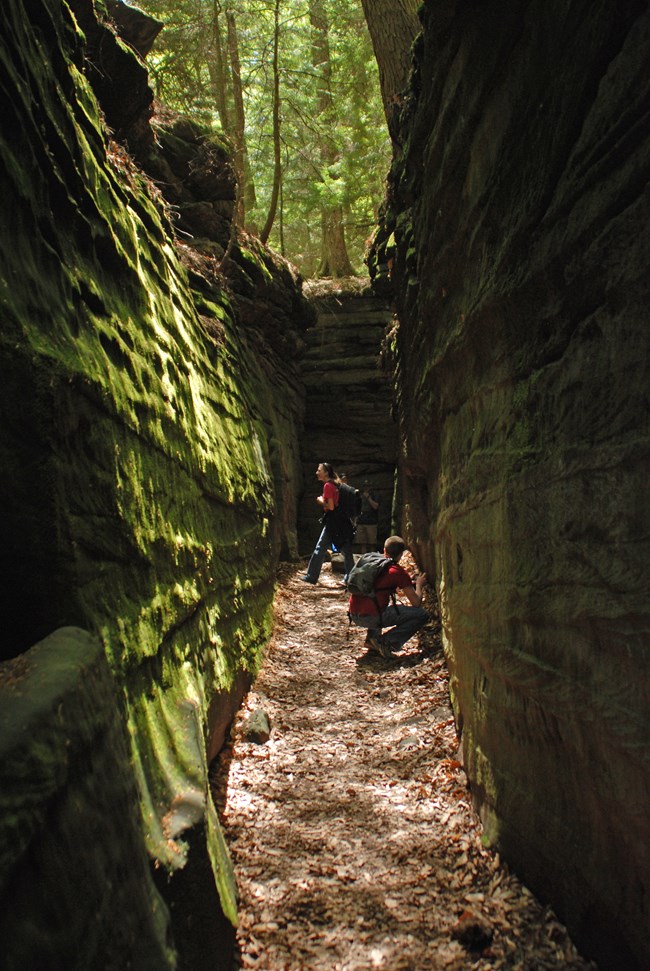 RELATED: 4+ EPIC Indiana National Parks (Helpful Guide + Photos)
---
3. Dayton Aviation Heritage National Historical Park
Ohio National Parks also commemorate two of the greatest aviation pioneers of all time.
Growing up you were probably taught that "two wrongs don't make a right." As I'm an avid history buff, what I learned is that "two Wrights make one fabulous airplane."
All joking aside, on a cold, windy morning on December 17, 1903, history was made. It was at the sandy dunes of Kitty Hawk, North Carolina, that two Ohio brothers changed the world.
These two intrepid brothers, named Orville and Wilbur Wright, built and successfully tested the first airplane, the Wright Flyer 1. They were early pioneers of flight who faced tremendous obstacles.
The Wrights were ridiculed as cranks and fools. As award-winning author and historian David McCullough notes:
"I don't think they were ever happier in their lives than they were living in the extreme hardships of Kitty Hawk. The attacks of mosquitos, the winds, the struggle they had against the elements. But they loved it."
---
---
They Had The Wright Stuff
Before experimenting with airplanes, the Wright brothers ran a bicycle shop in Dayton, Ohio. In 1900, the brothers traveled from Ohio to Kitty Hawk, North Carolina, to begin a series of flight experiments which would rewrite the history of aviation.
While their historic flight lasted only 12 seconds it was nevertheless the first flight in history in which a machine carrying a man had raised itself by its own power into the air in full flight, had sailed forward without reduction of speed, and had finally landed at a point as high as that from which it started.
---
Things To Do At The Dayton Aviation Heritage National Historical Park
The Wright-Dunbar Interpretive Center is one of two visitor centers operated by the park in Dayton, Ohio. It's located just west of downtown Dayton. Visitors can go there and learn the amazing story of Orville and Wilbur Wright.
The Center also celebrates the achievements of Paul Laurence Dunbar. Dunbar was an American poet, novelist, and short story writer. He was born in Dayton, Ohio, on June 27, 1872, to parents who had been enslaved in Kentucky before the American Civil War.
Dunbar went on to become one of the first influential African-American poets in American literature.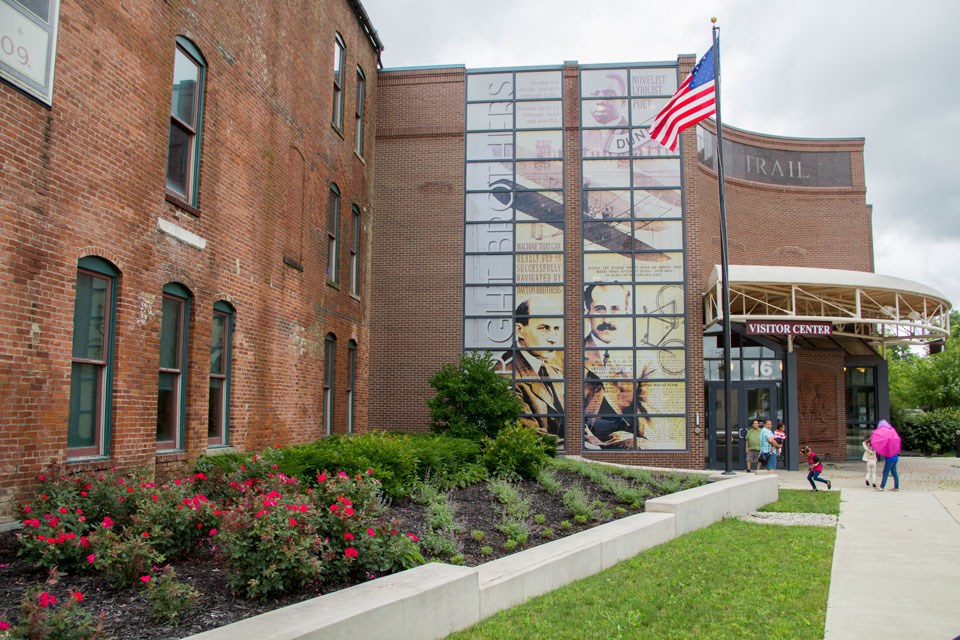 ---
You Can Visit Paul Dunbar's Historic Home
The Paul Laurence Dunbar House Historic Site honors his legacy. Visitors will learn about the renowned poet and his mother, Matilda. The house, the interpretive exhibits and displays inside the home document Dunbar's travels, lifestyle and poetry.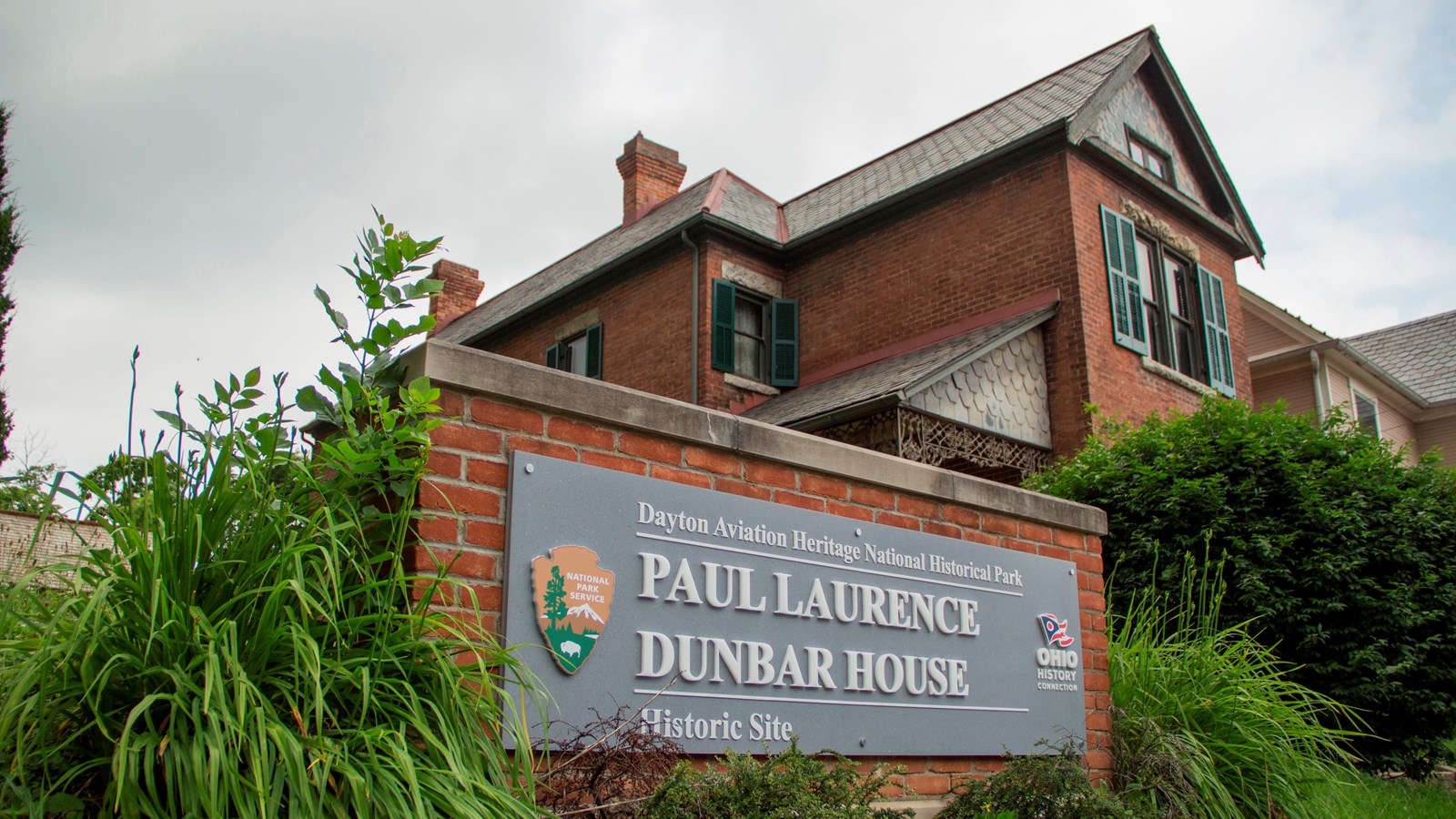 ---
Visit The Site Where Aviation History Began
There is a second interpretative center. It's the Huffman Prairie Interpretive Center. It's located northeast of downtown Dayton, next to the Wright Patterson Air Force Base and the National Museum of the Air Force.
While you're there you'll have the opportunity to visit the site where aviation history began.
At Huffman Prairie Flying Field you can explore the area and view a replica hangar that is very similar to the one which the Wrights used to house their airplanes.
You can also tour a replica of the bike shop that the Wright Brothers operated. It's part of Dayton Aviation Heritage National Historical Park.
Visitors can step back in time and tour the bike shop where the Wrights fixed bicycles and refined their mechanical ingenuity to develop the world's first practical airplane.
And there's Carillon Historical Park. It's a 65-acre open-air history museum you can learn about the history of Dayton, Ohio. There you can view the world's first practical airplane, the 1905 Wright Flyer III.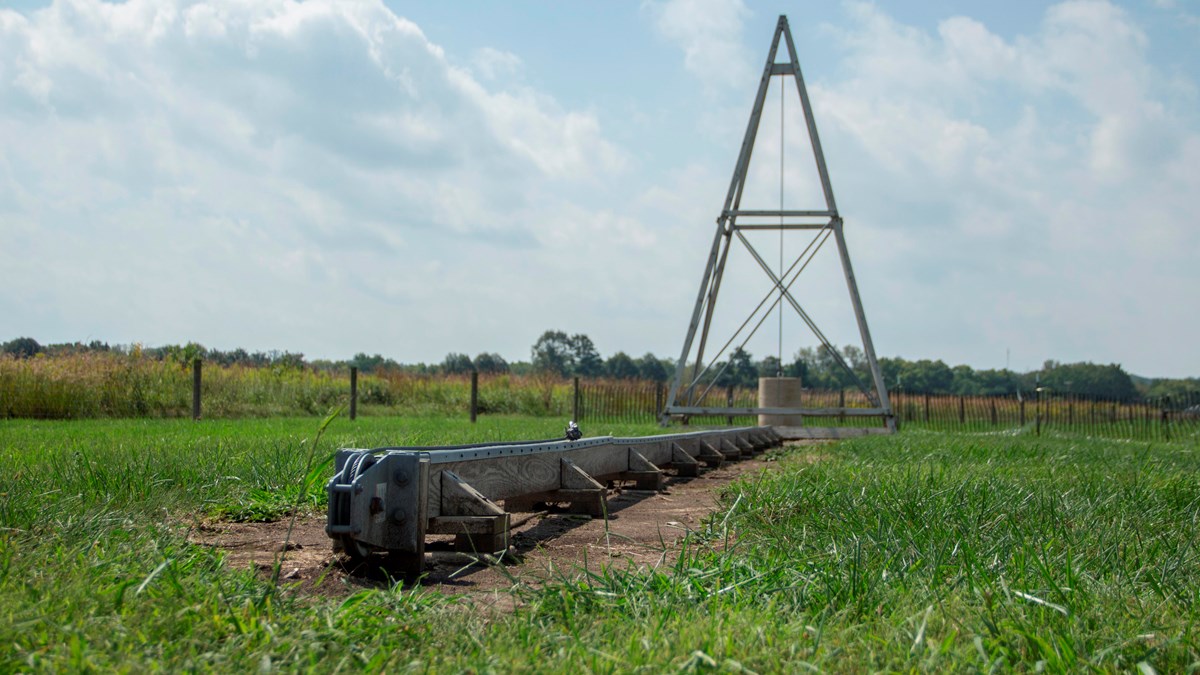 RELATED: 7 Epic KANSAS National Parks (Helpful Tips + Photos)
---
Ohio National Parks
---
4. First Ladies National Historic Site
We're just getting warmed up when it comes to the Ohio National Parks and America's history. The next Ohio national park site celebrates America's first ladies. Almost 50 women have served as the "First Lady" of the United States and there's a place in Ohio where their contributions are commemorated.
At the First Ladies National Historic Site in Canton, Ohio, you can explore a museum of rotating exhibits, watch a film which examines the legacies of America's first ladies, and check out the National First Ladies' Library.
You can also step back in time and visit the Saxton House. It's the former home of First Lady Ida and President William McKinley.
---
America's Most Influential First Lady
I love doing historical research which is probably why I ended up teaching history for almost 30 years.
If you're someone who follows sports then you're likely familiar with rankings. As a long-time resident of Georgia, I assure you that I do follow sports especially college football.
In college football and almost everything else, most rankings tend to change over time. And yet the woman considered by many knowledgeable experts to be America's Most Influential First Lady hasn't changed over time.
After the scrutiny of three expert opinion surveys over twenty years, Eleanor Roosevelt is still ranked first among all other women who have served as America's First Ladies, according to an expert opinion poll conducted by the Siena (College) Research Institute (SRI).
---
America's Longest Serving First Lady
Eleanor Roosevelt served as First Lady for over 12 years. She played an active role in advising her husband and was the first first lady to hold her own press conferences.
Mrs. Roosevelt also championed causes, such as Women's Rights, and supported programs, such as the one which gave African Americans the opportunity to become fighter pilots during World War Two.
Eleanor Roosevelt was the first first lady to remain an influential political force after her husband's death. She served as Chair of the United Nations Commission on Human Rights.
If you're interested in learning more about this remarkable First Lady then I recommend Eleanor Roosevelt, Fighter for Justice: Her Impact on the Civil Rights Movement, the White House, and the World by Ilene Cooper.
RELATED: 25 EPIC New York National Parks (Helpful Guide + Photos)
---
While In Canton, Ohio, There's Another Hall Of Fame Worth Seeing
We're More Than Just Parks which means we're more than just Ohio National Parks. If you're planning on traveling to Canton, Ohio, to see one collection of "All Stars" then why not see two while you're there?
The Pro Football Hall of Fame opened in 1963. Over the years, it has expanded and been transformed into a 118,000 square-foot museum.
You can tour this incredible museum and learn about the talented athletes who played what is today considered to be America's most popular sport.
This museum features a number of interactive experiences. And while you're there be sure to visit the Hall of Fame Gallery, which houses the bronze busts of each of its inductees.
There are touchscreen kiosks available which include bios, photos and videos of the inductees.
RELATED: 25 Bucket-List Famous Landmarks In America (MUST-SEE)
---
5. Hopewell Culture National Historic Park
One of the things that makes a trip to see the Ohio National Parks worthwhile is the depth and breadth of the experiences you will have. The Hopewell Culture National Historic Park is a case in point.
The Hopewell Culture National Historic Park is a testament to Native Americans who built dozens of monumental mounds and earthen enclosures in southern Ohio nearly 2,000 years ago.
These earthwork complexes were ceremonial landscapes used for feasts, funerals, rituals, and rites of passage associated with an American Indian religious movement that swept over half the continent for almost 400 years.
Visitors can walk among the earthworks while experiencing the past. (Source: NPS)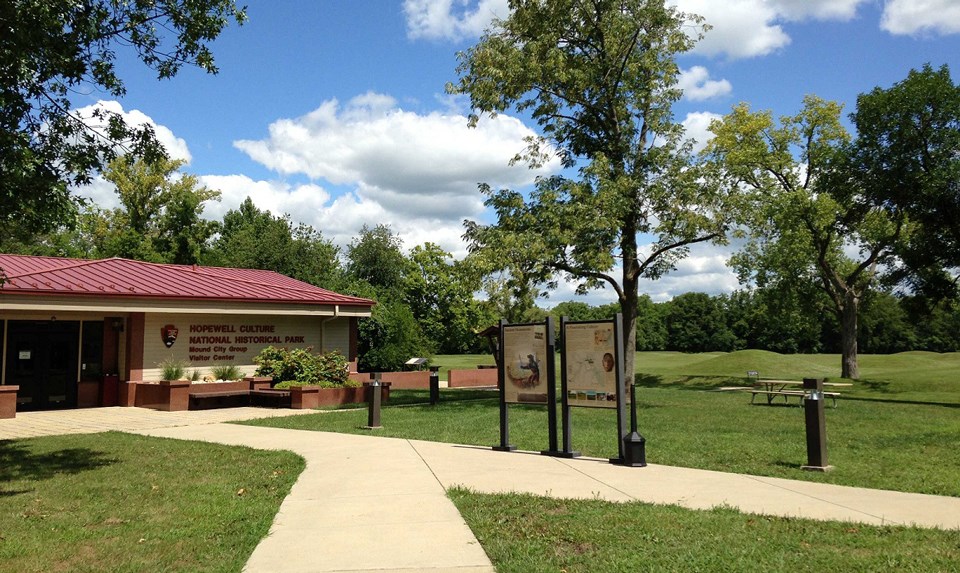 RELATED: 7 AMAZING Oklahoma National Parks (Helpful Tips + Photos)
---
6. James A. Garfield National Historic Site
Now here's a fascinating fact. More of our country's presidents come from Ohio than from any other state. Eight of 45 American presidents were elected from the Buckeye State, earning Ohio the nickname "the Mother of Presidents."
Given this fact then it's only fitting that Ohio National Parks offers visitors not just one presidential site but two.
James A. Garfield served as Brigadier General in the Civil War. President Abraham Lincoln, however, felt that Garfield could be of greater use to the Union cause in Congress.
So, being a good soldier, Garfield resigned his commission in 1862 to serve eighteen years in Congress. He became the leading Republican in the House of Representations.
In 1880, Garfield was nominated for the presidency. He defeated his Democratic opponent, another former Civil War General named Winfield Scott Hancock, by a mere 10,000 votes.
Historians consider Garfield to have been a "brilliant maybe." He was committed to political reform and hemispheric cooperation. Sadly, on July 2nd, 1881, he was struck by an assassin's bullet.
Garfield spent two and a half months in a slow, agonizing decline before dying on September 19, 1881.
To learn more about this fascinating individual I recommend reading Destiny of the Republic: A Tale of Madness, Medicine and the Murder of a President by Candice Millard.
---
Things To Do At The James A. Garfield National Historic Site
If you're a first timer then I recommend that you start your visit to James A. Garfield National Historic Site in the Visitor Center. There you can see the 18 minutes biographical movie of James A. Garfield and tour the museum exhibits which examine his life.
You'll have the opportunity to step back in time, put yourself in the mindset of our nation's 20th president and imagine what might have been had Garfield not been tragically cut down at the outset of what many believed could have been a consequential presidency.
Then you can explore the beautiful grounds surrounding Garfield's home.
RELATED: 8 [EPIC] South Carolina National Parks (An Expert Guide)
---
7. Lewis & Clark National Historic Trail
Ohio National Parks also includes one of America's legendary trails celebrating two of America's greatest explorers.
The Lewis and Clark National Historic Trail follows the historic outbound and inbound routes of the Lewis and Clark Expedition.
I don't know about you, but I get goosebumps just thinking about the Corps of Discovery.
Commemorating the Lewis & Clark Expedition (1804-06), the Lewis & Clark Trail connects 16 states (Pennsylvania, Ohio, West Virginia, Kentucky, Indiana, Illinois, Missouri, Kansas, Nebraska, Iowa, South Dakota, North Dakota, Montana, Idaho, Washington and Oregon).
This trail is administered by the National Park Service.
It's not a hiking trail, but does provide opportunities for hiking, boating and horseback riding at many locations along the route.
It's a great opportunity to see the USA while learning about the brave men (and one woman) who weren't able to make the journey in an air-conditioned SUV.
---
What Can I See In Ohio That's Connected To Lewis & Clark
Places of interest to visit in Ohio include:
Campus Martius Museum-Founded in 1788 by Rufus Putnam, Marietta, Ohio, was the first settlement established in the Northwest Territory. The stockade was known as Campus Martius, so named because it put settlers and soldiers alike in mind of the Fields of Mars, a training ground once used by ancient Roman legions.
Eulett Center-The Eulett Center takes its name from Charles A. Eulett, a teacher and naturalist from Adams County who advocated for the protection of local prairies and grasslands in the 1960s and 70s. The nature preserve protects 20,000 acres of pristine forestlands, prairies, ravines, and slopes.
Historic Fort Steuben-It's a reconstructed military fort located in Steubenville, Ohio, along the Ohio River. The Reconstruction of Fort Steuben began shortly after 1986, 200 years after the fort's initial creation, and was led by the Old Fort Steuben Project. (Source: NPS)
RELATED: 3 (EPIC) Vermont National Parks For Your Visit To The Green Mountain State
---
More Ohio National Parks
---
8. North Country National Scenic Trail
When you visit the Ohio National Parks you'll discover not one, but two incredible scenic trails.
The North Country National Scenic Trail provides visitors opportunities from bird watching to backpacking.
The trail traverses eight northern states and connects a host of natural, historic and cultural sites. You can see everything from small towns to larger cities, valleys to hilltops and much more.
---
The History Of The North Country National Scenic Trail
In 1980, the North Country National Scenic Trail (NCT) was authorized by Congress. It stretches 4,600 miles from upstate New Hampshire to its western terminus at Lake Sakakawea State Park.
The trail actually traversed seven states until 2019 when Vermont was added. The Vermont section is only about 70 miles long.
The Trail enters Ohio from southern Michigan and joins the Wabash Cannonball Trail.
It shortcuts a portion of this rail trail through Maumee State Forest and Oak Openings Metropark. Dipping south and following the Maumee River, the NCT converges with the Buckeye Trail.
It passes through more urban areas like Dayton and Xenia, skirts east of Cincinnati, and nearly reaches Kentucky before trending further east then eventually north again. (Source: North Country Trail Association)
RELATED: 10 EPIC Wyoming National Parks: The Complete Guide
---
9. Perry's Victory & International Peace Memorial
The Korean War is referred to as the "Forgotten War." As a former high school history teacher, I can tell you that it's not the only war my students forgot.
Another such conflict was the one which came between the American Revolutionary War and the Mexican American War.
It was known as the War of 1812 or the Second War of American Independence.
In the rematch between Great Britain and its former colonists, Oliver Hazard Perry was a U.S. naval officer. He became a national hero when he defeated a British squadron in the Battle of Lake Erie.
This was the war in which the British actually marched on Washington. They set the Capitol ablaze as America's leaders fled. The United States desperately needed victories and Perry's naval success was a tremendous morale booster.
He was awarded the Congressional Gold Medal in 1814 for his heroic actions.
Perry later went on to command a diplomatic and anti-piracy naval mission to Venezuela. Sadly, he died of yellow fever in 1819 at the age of 34 while still at sea.
If you're interested in learning more about the War of 1812 at Sea then I recommend The Naval War of 1812: A Complete History. It was written by none other than Theodore Roosevelt.
---
A Memorial Was Built To Honor Perry
One of the most interesting of the Ohio National Parks is Perry's Victory and International Peace Memorial. It was established to honor those who fought in the Battle of Lake Erie and to celebrate the long-lasting peace among Great Britain, Canada and the U.S.
The Memorial is a Doric column which rises 352 feet over Lake Erie. It's situated 5 miles from the longest undefended border in the world. It's an important reminder that freedom is not free.
---
Still More Ohio National Parks
---
10. William Howard Taft National Historic Site
Given that Ohio is the home to more presidents than any other state it's fitting that Ohio National Parks include not one, but two presidential sites. One honors James Garfield. The other William Howard Taft.
While he is not considered a great president, he's most certainly considered a large one. Weighing in at upwards of 330 pounds, William Howard Taft was the largest man ever to hold the office.
Taft had studied law and served in several minor appointive offices until 1887, when he was named to fill the unfinished term of a judge of the superior court of Ohio.
From 1892 to 1900 he served as a judge of the United States Sixth Circuit Court of Appeals. So far, nothing he did brought him any special distinction, but that was about to change.
In 1901, Taft became the first civilian governor of the Philippines under President William McKinley. His administration of the Philippines was considered a success.
In 1904, Taft returned to Washington to serve as Theodore Roosevelt's secretary of war. Four years later, Roosevelt endorsed him for the presidency. He was elected in 1908.
During his tenure in office, William Howard Taft signed the first tariff revision since 1897; established a postal savings system; formed the Interstate Commerce Commission; and prosecuted over 75 antitrust violations, far more than pursued by the famed "trust- buster" Theodore Roosevelt.
---
Things To Do At The William Howard Taft National Historic Site
I recommend beginning at the Taft Education Center. It's the park's only visitor center. There you can see the film, William Howard Taft, Public Servant.
It's approximately 15 minutes and covers the life and legacy of Taft and his career as a judge and a politician from the local level through the federal ranks.
There's also a gift shop with souvenirs and an assortment of Taft and presidential-related books.
From there you can take a ranger-guided tour of the birthplace and home to the nation's 27th President.
Did you know that William Howard Taft was the only president to also serve on the Supreme Court? He was the 10th Chief Justice of the U.S. Supreme Court.
Visitors will take a trip back in time as the home is decorated in Victorian-era style, which it was during the years that William Howard Taft lived in the house.
---
To Learn More
I hope that you've enjoyed our journey of the Ohio National Parks as much as I have, but we're not done yet. If you're looking to take a deeper dive and learn more about the amazing people of the Buckeye State then I have some wonderful book recommendations for you.
RELATED: 40+ Best National Parks Books (Great Gifts For Parks Lovers)
---
Map Of Ohio National Park Sites
List Of Ohio National Parks
Charles Young Buffalo Soldiers National Monument
Cuyahoga Valley National Park
Dayton Aviation Heritage National Historical Park
First Ladies National Historic Site
Hopewell Culture National Historic Park
James A. Garfield National Historic Site
Lewis & Clark National Historic Trail
North Country National Scenic Trail
Perry's Victory & International Peace Memorial
William Howard Taft National Historic Site
---
About The People Behind More Than Just Parks
You should probably know that we don't just make this stuff up out of thin air. My sons have spent their entire adult lives exploring and filming America's national parks and public lands.
We've worked with the National Park Service, the Department of Interior, and the U.S. Forest Service for years creating films on important places and issues.
Our work has been featured in leading publications all over the world and even some people outside of our immediate family call us experts on the national parks.
As for me, I'm a retired lifelong educator and a proud dad of these two wonderful guys who are hopelessly obsessed with the national parks. I'm always on the hunt for topics where nature and history intersect so please feel free to share any ideas that you might have with me.
---
Meet The Parks Brothers
We're Jim Pattiz and Will Pattiz, collectively known as the Pattiz Brothers (and sometimes the Parks Brothers) and we absolutely LOVE the national parks.
Our goal here at More Than Just Parks is to share the beauty of America's national parks and public lands through stunning short films in an effort to get Americans and the world to see the true value in land conservation.
We hope you'll follow our journey through the parks and help us to keep them the incredible places that they are. If you're interested in joining the adventure then please sign up below!
---