So much history. So many incredible historic sites. We've got Massachusetts National Parks! In this article, we feature all of the incredible park sites in the great state of Massachusetts. We've got 18 national park sites for you to see on your next visit to the Cradle of Liberty.
These Massachusetts National Parks include amazing historic sites, incredible monuments, beautiful parks, legendary trails, and so much more.
I've been to so many of these amazing places since retiring from teaching in 2018. Did I mention that I taught history? I spent a lifetime teaching about the history behind these momentous sites. Then I got to see them firsthand. And now I'm sharing the stories of these incredible places with you. It doesn't get any better than that!
While Massachusetts has many national park sites, I should note that it doesn't actually have any congressionally designated "National Parks". Nonetheless, there are a whole host of amazing Massachusetts National Park Service sites to visit.
If you're planning a trip to the Bay State then one book that I highly recommend is: Insiders' Guide to Massachusetts by Maria Olia.
We'll give you 18 wonderful reasons why you'll want to make Massachusetts your next vacation destination.
---
Massachusetts National Parks Table Of Contents
---
Best Massachusetts National Parks
---
1. Adams National Historical Park
As a retired history teacher I like nothing better than to pack up my car and head off in search of America's past. Nowhere does this history play a more prominent role than in the state which became the center of activity leading up to the American Revolution.
For this reason travelling to visit the amazing Massachusetts National Parks is one of my favorite road trips.
No family has played a more prominent role during the early days of the American Republic than the Adams Family.
Adams National Historical Park tells the story of this remarkable family (from 1720 to 1927).
The park has two main sites: the Birthplaces of the 2nd U.S. President John Adams and the 6th U.S. President John Quincy Adams, and Peacefield including the "Old House," home to four generations of the Adams family, and the Stone Library which contains more than 14,000 historic volumes.
Things To Do & See At The Adams National Historical Park
If you haven't visited before then I recommend beginning your adventure at the Visitor Center. There's a wonderful bookstore at the center. You can also see the 26-minute park orientation film, "Enduring Legacy: Four Generations of the Adams Family."
The Birthplaces of John Adams and John Quincy Adams are located at 133 Franklin St. The homes are currently closed, but visitors can walk these historic grounds.
You can also explore the United First Parish Church, 1306 Hancock St. across the street from the Visitor Center. Tours include the history and architecture of the building and the Adams Family crypt; the final resting place of Presidents John Adams and John Quincy Adams, and First Ladies Abigail and Louisa Catherine Adams.
---
2. Appalachian National Scenic Trail
It's not just historic families that one can learn about when visiting Massachusetts National Parks. There's also the longest hiking trail in the world.
That trail begins or ends (depending on your perspective) in Georgia or Maine. Either way, it's quite an adventure even if you only hike a part of it.
The Appalachian National Scenic Trail is a marked hiking trail that runs from Springer Mountain in Georgia through Massachusetts to Mount Katahdin in Maine.
Just how long a hike is that? Approximately 2,200 miles.
The original concept for the Appalachian Trail was the brainchild of Benton MacKaye. MacKaye was a forester, planner and social reformer who wrote a 1921 article in the Journal of the American Institute of Architects first proposing it.
Benton MacKaye
In MacKaye's original vision, the Appalachian Trail would put back together the various parts of American life that were rapidly coming undone in the early 20th century.
It would fuse leisure and industry, environment and labor, community development and wilderness preservation into an interrelated project.
You can learn more about the creator of the Appalachian Trail. I recommend: Benton MacKaye: Conservationist, Planner, and Creator of the Appalachian Trail by Larry Anderson.
Giving City Dwellers An Escape
MacKaye wanted to give city dwellers an escape from their humdrum urban existences. His bold proposal was nothing less than a wholesale reinvention of social life, economic organization, and land use.
The trail was built by private citizens and completed in 1937. It is managed by the National Park Service, U.S. Forest Service, Appalachian Trail Conservancy, numerous state agencies and thousands of volunteers.
It's a truly magnificent hiking trail traversing the scenic, wooded, pastoral and wild lands of the Appalachian Mountains.
The Appalachian Trail In Massachusetts
Of the vast trail way, 90 miles is home to Massachusetts. Traveling over Mount Everett in the south, all the way up and through Mount Greylock in the north.
The Appalachian Trail provides offers hiking for both the long-distance or day hiker.
---
3. Blackstone River Valley National Historical Park
Massachusetts National Parks offer different historical snapshots of America's past. At the Blackstone River Valley National Historical Park, visitors can learn about how the Age of Industry shaped America's development as a nation.
The Blackstone River Valley of Massachusetts and Rhode Island is the Birthplace of the American Industrial Revolution. It's the place where America made the transformation from Farm to Factory.
In 1790 the forces of capital, ingenuity, mechanical know-how and skilled labor came together at Pawtucket, Rhode Island where the Blackstone River provided the power that kicked off America's drive to industrialization. (Source: NPS)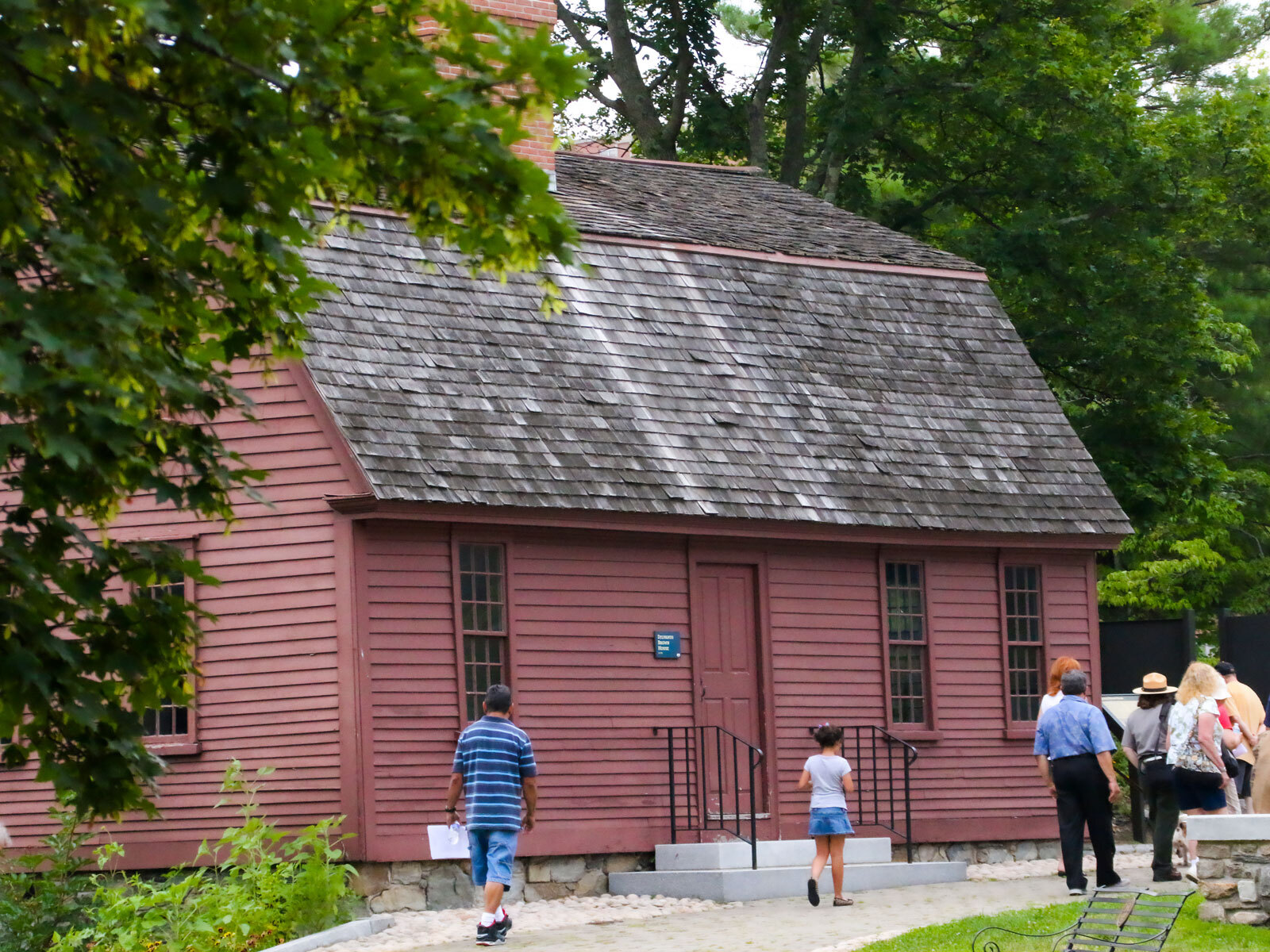 ---
Things To See At Blackstone River
At Blackstone River there are three wonderful self-guided walking tours. They include:
Hopewell Walking Tour: Founded in 1841 as a small communal association of Practical Christians who advocated temperance, abolition, women's rights, Christian socialism, and non-violence, Hopedale evolved into a paternalistic model company town.
Slatersville Walking Tour: Slatersville is America's first planned industrial village.
Whitinsville Walking Tour: Whitinsville presents a remarkably complete picture of one of the distinctive by-products of the Industrial Revolution in New England: the company town. Maintained and controlled by the Whitin family for over 100 years, Whitinsville today reveals its evolution from agrarian settlement to industrial giant, and offers a fascinating glimpse of the powerful family behind it all. (Source: NPS)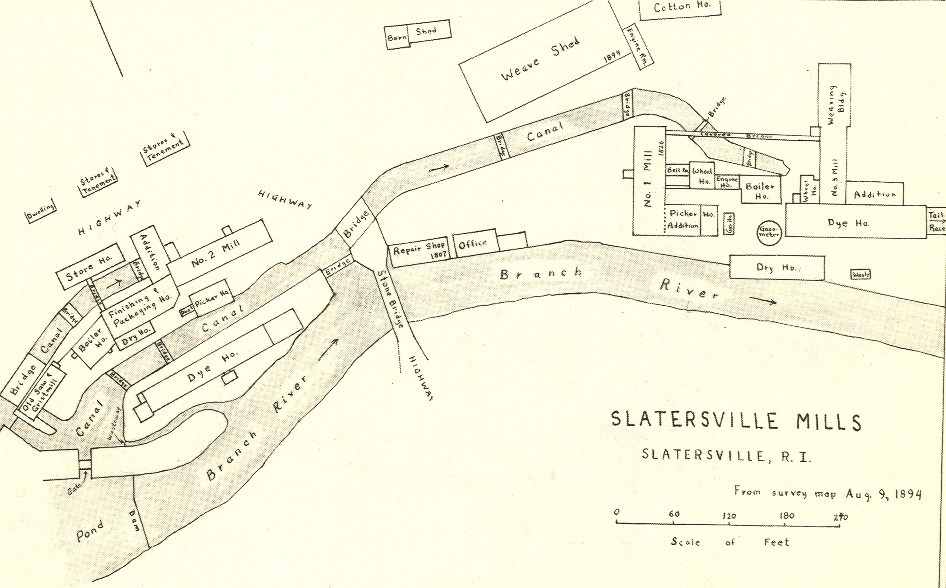 RELATED: Acadia National Park
---
Massachusetts National Parks
---
4. Boston National Historical Park
No journey to discover the wonders contained within the boundaries of the many Massachusetts National Parks would be complete without a trip to Boston.
Boston was considered the Cradle of Liberty and the heartbeat of the American Revolution. It's one city that's chock full of fascinating places to go and exciting things to see beginning with the Freedom Trail.
The Freedom Trail is an iconic symbol of Boston. Its red brick line snakes through some of the oldest parts of the City, navigating visitors to some of the most significant historic sites in the Downtown, North End, and Charlestown neighborhoods of Boston.
Points of interest along the freedom trail include:
Old Corner Bookstore, USS Constitution, USS Constitution Museum, Robert Gould Shaw and Massachusetts 54th Regiment Memorial, Bunker Hill Monument, Copp's Hill Burying Ground, Boston Common, Boston Massacre Site, USS Cassin Young, Old State House, Park Street Church, King's Chapel Burying Ground, Faneuil Hall, Old North Church, Paul Revere House, Granary Burying Ground, Massachusetts State House and much much more.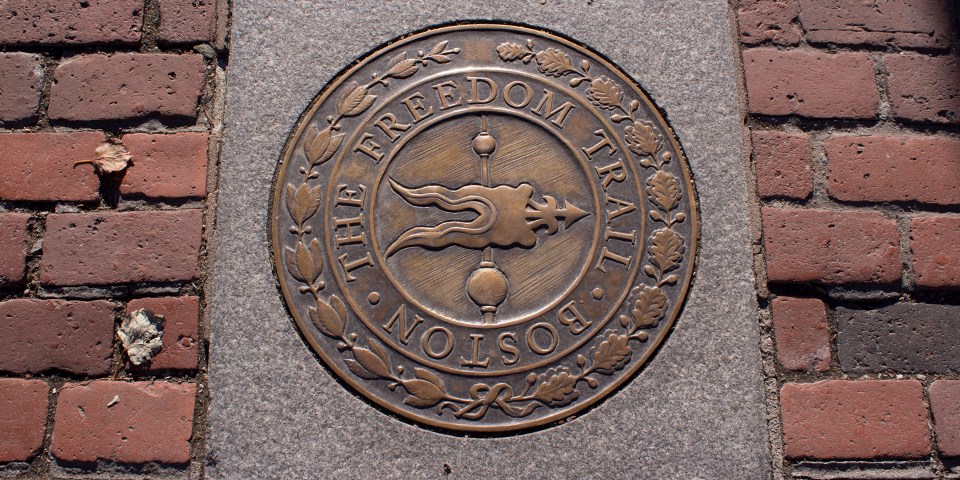 RELATED: 10 BEST Revolutionary War Sites In America
---
5. Boston African-American National Historic Site
As long as you're planning a trip to Boston why not learn firsthand about how the struggle against racial injustice shaped the history of America. The African American community of 19th century Boston led the both the city and the nation in this fight against slavery and racial injustice.
These remarkable men and women, together with their allies, were leaders in the Abolition Movement, the Underground Railroad, the Civil War, and the early struggle for equal rights and education.
The Boston African-American National Historic Site celebrates their bravery and heroism.
This story features the Black Freedom Trail which is an approximately 1.5 mile long trail linking sites that explore the trials of the free black community which inhabited the North Slope of Beacon Hill from the late 18th century through the 19th century.
I recommend visiting the Museum of African American History. It's located in the former Abiel Smith School. Visitors come away with a better understanding of and appreciation for the struggles and sacrifices made by African Americans to bring about a more perfect union.
RELATED: 20 BEST Black History Sites In America For You To Visit
---
6. Boston Harbor Islands National Recreation Area
A trip to see the various Massachusetts National Parks doesn't have to focus exclusively on history. Why not combine stunning scenery with historical landmarks.
With 34 islands and peninsulas, Boston Harbor Islands National and State Park you can do just this. It offers experiences for all to enjoy.
At Georges Island, you'll have the opportunity to step back in time by visiting Fort Warren, a Civil-War era fort and National Historic Landmark.
At Spectacle Island, you can walk the drumlins and enjoy spectacular views of the city and other islands from the highest point in the harbor.
---
7. Cape Cod National Seashore
Remember that wonderful song from Sweeney Todd? It was called "By The Sea." The lyrics go like this:
By the sea, Mr. Todd, that's the life I covet
By the sea, Mr. Todd, oh, I know you'd love it
You and me, Mr. T, we could be alone
In a house what we'd almost own
Down by the sea
Anything you say
Wouldn't that be smashing?
In the case of Massachusetts National Parks, it's not only about the history. You can go by the sea as well.
And there's no sea prettier to go by than the Cape Cod National Seashore.
Things To Do At Cape Cod
As the National Park Service notes, "Forty miles of pristine sandy beach, marshes, ponds, and uplands support diverse species. Lighthouses, cultural landscapes, and wild cranberry bogs offer a glimpse of Cape Cod's past and continuing ways of life. Swimming beaches and walking and biking trails beckon today's visitors."
There's so much to see and do. History is there if you want it. There are historic lighthouses and other landmarks of a time gone by.
Of course, if you're like most people than the beach is calling you. Or should I say the beaches? There are six beautiful beaches to choose from–Coast Guard, Nauset Light, Marconi, Head of the Meadow, Race Point and Herring Cove.
Beach wheelchairs are available to borrow during the summer at Coast Guard and Herring Cove beaches, which are the two seashore beaches where parking is generally at beach level. The other beaches involve stairs (Marconi) or paths over dunes. (Source: NPS)
RELATED: 6 (EPIC) Maine National Parks For Your Next Visit To The Pine Tree State
---
More Massachusetts National Parks
---
8. Frederick Law Olmstead National Historic Site
As Justin Martin notes in his masterful biography titled, Genius Of Place, "Olmstead is best remembered as the pioneer of landscape architecture in the United States. He created New York City's Central Park and a number of green spaces, often in collaboration with his sometime partner Calvert Vaux."
Frederick Law Olmstead designed the grounds of scores of private estates, Stanford and assorted college campuses, several mental institutions, and a pair of cemeteries.
For these achievements alone, he would have achieved a measure of lasting fame.
Olmstead, however, accomplished much more than this. He was a dedicated environmentalist who played an important role in the efforts to preserve Yosemite and Niagara Falls.
He also designed Boston's Back Bay Fens as both a park and as America's first wetlands restoration.
If you would like to learn more about this incredibly gifted landscape architect then I recommend: Genius of Place: The Life of Frederick Law Olmsted by Justin Martin.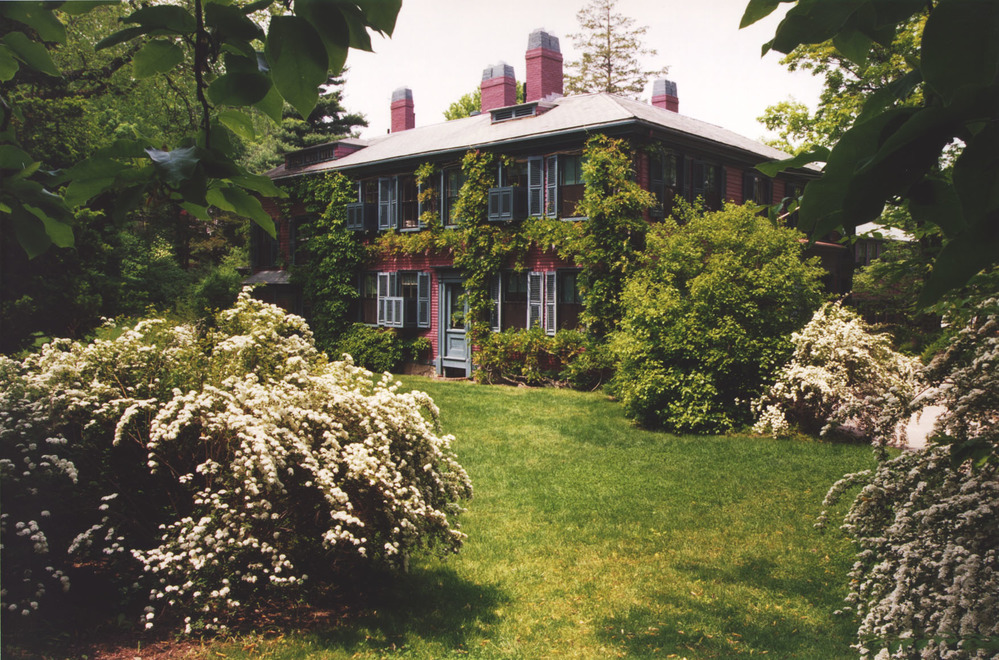 Things To Do At The Frederick Law Olmstead National Historic Site
At the Frederick Law Olmstead National Historic Site visitors can take a tour through the country's first full-scale landscape architecture office.
A guided tour will take you through the Historic Design Office where ideas were expressed through the creation of plans, drawings, photographs and other materials which were then used to build landscapes across the nation.
After the tour, you can explore the self-guided exhibits and learn more about the wide spectrum of work and happenings of the Olmsted office.
---
9. John Fitzgerald Kennedy National Historic Site
Massachusetts has helped shape the history of the nation from colonial leaders to U.S. presidents. Four presidents were born in the state, remarkably all in Norfolk County. Massachusetts National Parks include historical sites honoring three of these four men.
John Adams and John Quincy Adams have already been mentioned. The fourth of these presidents, George H.W. Bush, was born in Milton, Massachusetts, but did not consider it his native state. This leads us to other president who most certainly did.
America's 35th President, John Fitzgerald Kennedy, was responsible for some extraordinary accomplishments. His birth place has been preserved as one of the many Massachusetts National Parks.
The most important, and most famous, was his adept management of the Cuban Missile Crisis in 1962, widely considered the most perilous moment since World War II.
Kennedy's skillful handling of this crisis averted a nuclear conflict between the superpowers. In the end, a peaceful agreement was reached.
He also proposed a voting-rights bill and federal programs to provide health care to the elderly and the poor.
Kennedy was the youngest man ever elected to the presidency and arguably the most charismatic.
Through his stirring inaugural message to "ask not what your country can do for you, but what you can do for your country," he challenged young Americans to embrace public service and leave the world a better place than they found it.
Kennedy Began The Bipartisan Era Of Environmental Activism
As a consequence of Rachel Carson's groundbreaking work titled, Silent Spring, people began to understand the risks associated with chemical pesticides.
Given these risks, public demanded accountability and action. And, as a consequence, our leaders began to act in a bipartisan way to provide long-term solutions.
President Kennedy was asked whether the government needed to take a closer look at this issue. "Yes, of course, and since Miss Carson's book, they are examining the issue."
RELATED: This Woman Started The Modern Environmental Movement
---
Youth Conservation Corps
To respond to the growing environmental threat, President Kennedy proposed creation of the Youth Conservation Corps (YCC).
Kennedy saw public service as a way to make the world a better place.
According to the National Park Service who now oversees the program, "The YCC engages young people in meaningful work experiences on national parks, forests, wildlife refuges, and fish hatcheries while developing an ethic of environmental stewardship and civic responsibility."
RELATED: Is It Time For Another Bipartisan Era Of Environmental Activism In America?
---
Things To Do At The John Fitzgerald Kennedy National Historic Site
The John Fitzgerald Kennedy National Historic Site can be explored in person or online. Visitors to the site can explore the birthplace of America's 35th president.
In 1967, the president's mother returned here, where Kennedy spent his boyhood, and restored the house to her recollection of its 1917 appearance.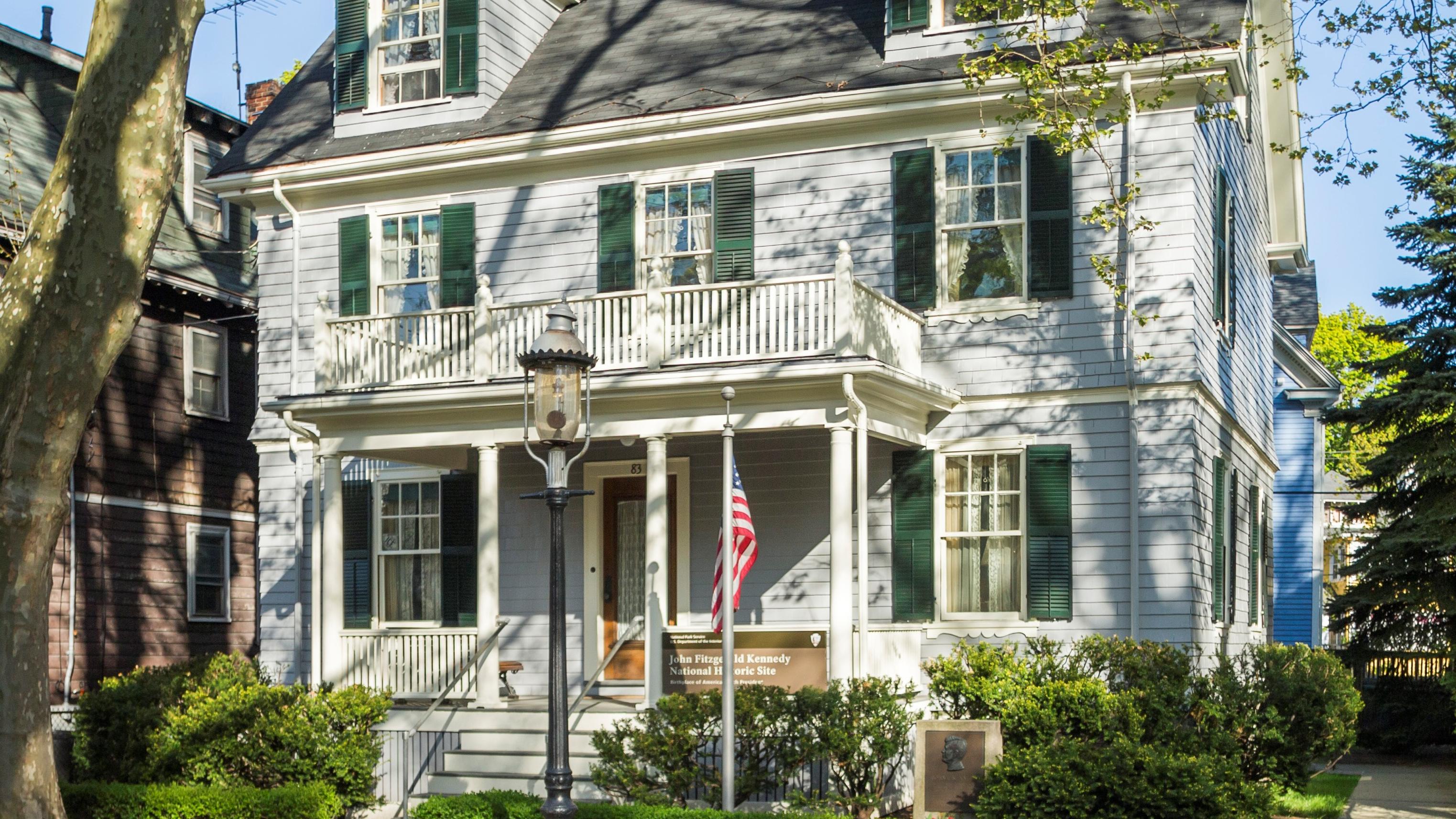 ---
10. Longfellow House-Washington's Headquarters National Historic Site
If you prefer fiction to fact then you'll discover that the Massachusetts National Parks have not forgotten about you. There's a wonderful site which offers its visitors unique opportunities to explore the themes of 19th century literature and the arts.
Longfellow National Historic Site preserves the home of Henry Wadsworth Longfellow, one of the world's foremost 19th century poets. His works included: Paul Revere's Ride and The Song of Hiawatha.
During the Revolutionary War, the house also served as headquarters for General George Washington. It served as Washington's Headquarters during the Siege of Boston, July 1775 – April 1776.
11. Lowell National Historical Park
The Industrial Revolution transformed economies that had been based on agriculture and handicrafts into economies based on large-scale industry, mechanized manufacturing, and the factory system. New machines, new power sources, and new ways of organizing work made existing industries more productive and efficient.
Ground Zero for this revolution in America were the water-powered textile mills at Lowell, Massachusetts. The Lowell National Historical Park Visitor Center is a great place to learn about all of this while visiting some fascinating historical sites.
At the Visitor Center you can explore the history of the Spindle City through various exhibits. From the early industrial city to the modern local community, the Visitor Center highlights the stories of the people who lived and worked in Lowell.
Author and writer Jack Kerouac was a citizen of Lowell and his story is featured there as well.
---
More Massachusetts National Parks
---
12. Minute Man National Historical Park
Massachusetts National Parks also celebrate America's earliest citizen-soldiers. One site that I particularly recommend is Minute Man National Historical Park.
As a lifelong history buff and former history teacher, I believe a short history lesson is in order. I promise you that I will keep it short, however, and there's no homework.
Militia were men in arms formed to protect their towns from foreign invasion and the ravages of war.
Minutemen were a small hand-picked elite force which were required to be highly mobile and to able to assemble quickly in the event of a crisis.
These Minutemen were selected from militia muster rolls by their commanding officers. Typically 25 years of age or younger, they were chosen for their enthusiasm, reliability, and physical strength.
By the time of the American Revolution, Minutemen had been a well-trained force for six generations in the Massachusetts Bay Colony. As author and historian Hackett Fisher notes,
"The muster of the Minutemen in 1775 was the product of many years of institutional development…it was also the result of careful planning and collective effort."
Things To Do At Minute Man National Historical Park
As the National Park Service notes, "Minute Man National Historical Park in Lexington, Lincoln, and Concord, Massachusetts, preserves and interpretes the sites, structures, and landscapes that became the field of battle during the first armed conflict of the American Revolution on April 19, 1775."
The Minute Man Visitor Center includes a forty-foot mural that portrays the fighting between Colonists and British Regulars and artifacts from the Parker's Revenge Archaeological investigation. Park Rangers are on duty to answer questions.
While at the visitor center, you can get a map, schedule of programs and events and, for the children, a junior ranger booklet.
You can also explore exhibits about the beginning of the American Revolution, watch a multimedia theater presentation, and browse the museum store run by Eastern National.
Hike The Battle Road Trail
The park also offers a variety of guided programs to the public.
While you're there, you can hike the Battle Road Trail. It's a five mile trail connecting historic sites from Meriam's Corner in Concord to the eastern boundary of the park in Lexington.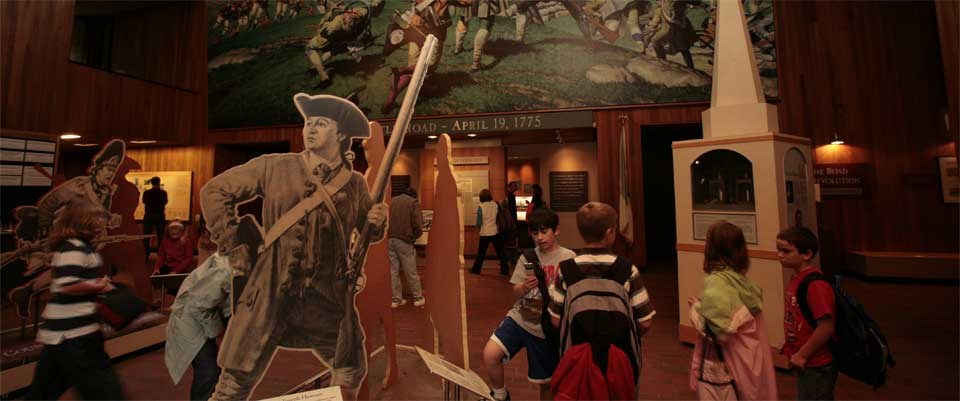 RELATED: 2 (EPIC) New Hampshire National Parks For Your Visit To The Granite State
---
13. New Bedford Whaling National Historical Park
One of the lesser known Massachusetts National Parks is the New Bedford Whaling National Historical Park.
In the mid-1700s, New Bedford, Massachusetts was developed as a port for whalers. These were the ships that went off to harpoon the whales from whom oil was used to light much of America.
New Bedford's whaling industry influenced its shoreside industry, fashion, architecture, and culture.
Today visitors can experience this whaling tradition. Points of interest include:
Charles W. Morgan: After its whaling days ended in 1921, the Morgan was preserved by Whaling Enshrined, Inc. and exhibited at Colonel Edward H.R. Green's estate at Round Hill in Dartmouth, Massachusetts, until 1941. In November 1941, the Morgan sailed to Mystic Seaport where it has since been docked. The whaleship was designated a National Historic Landmark in 1966.
The U.S. Custom House: The U.S. Custom House in New Bedford is the oldest continually operating custom house in the country. Whaling masters of the past registered their ships and cargo in this building, while today's commercial ships continue to log duties and tariffs here.
Lewis Temple: Working as a blacksmith, African-American Lewis Temple created a tool that revolutionized the whaling industry. A monument honoring Temple stands in front of the New Bedford Free Public Library on Pleasant Street in New Bedford.
---
14. New England National Scenic Trail
If your someone who loves a good stretch of the legs then you'll be pleased to know that more than one of the Massachusetts National Parks offer great hiking trails.
The New England National Scenic Trail (NET) is a 215-mile hiking trail route that has been in existence for over half a century.  It extends from Long Island Sound across long ridges to scenic mountain summits in Connecticut and Massachusetts.
The trail offers panoramic vistas and close-ups of New England's natural and cultural landscape: traprock ridges, historic village centers, farmlands, unfragmented forests, quiet streams, steep river valleys and waterfalls. (Source NPS)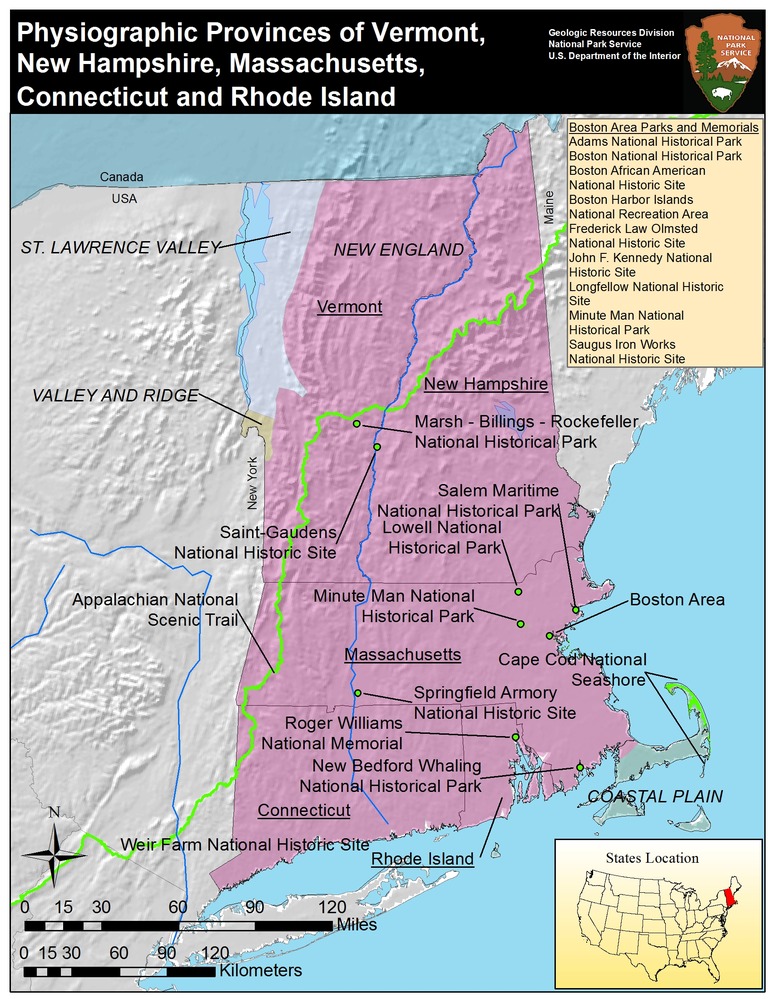 RELATED: 3 (EPIC) Vermont National Parks For Your Visit To The Green Mountain State
---
15. The Salem Maritime National Historic Site
Salem was once one of the most important ports in the nation. The historic buildings, wharves, and reconstructed tall ship at Salem Maritime National Historic Site tell the stories of the sailors, Revolutionary War privateers, and merchants who brought the riches of the Far East to America.
Established on March 17, 1938 as the first National Historic Site in the United States, this historic site consists of nine acres of land and twelve historic structures along the Salem waterfront, as well as a downtown visitor center.
The park preserves and interprets over 600 years of New England's maritime history and global connections. (Source: NPS)
While you're there, I recommend visiting the Salem Visitor Center, located on New Liberty Street in downtown Salem, which was originally the Salem Armory. It was the headquarters and training facility for the Second Corps of Cadets which traces its history back to the late eighteenth century.
And, if you're on the hunt for souvenirs of your visit then you may want to check out the Waite & Peirce Park Store which offers a selection of products that are related to Salem's place in the history of global trade.
---
More Massachusetts National Parks
---
16. Saugus Iron Works National Historic Site
In our modern society, iron is the most important of all metals. It's used to craft different types of steel which is used in a diverse array of applications. Imagine a world without it! Trust me, you wouldn't want to.
One of the most interesting and unique of the Massachusetts National Parks is the Saugus Iron Works. It's a twelve-acre National Historic Site that includes working waterwheels, forges, mills, a historic 17th century home, and a lush river basin. It's a place where European iron workers brought their skills to the New World.
Saugus includes a visitor center located within the Iron Works House annex and a Museum a short walk away.
The site also includes the reconstructed blast furnace, forge, slitting mill, and warehouse, together with the original slag pile and several post-Hammersmith era structures.
While you're there you can explore exhibits, watch the park film, and shop at a traditional park store
---
17. Springfield Armory National Historic Site
If you're someone who is fascinated by the history of the weapons which helped to ensure American Independence then there's a Massachusetts National Park that you'll enjoy visiting.
The Springfield Armory was a place where firearms were produced for the U.S. military for almost two centuries.
The Springfield Armory National Historic Site commemorates the critical role of the nation's first armory by preserving and interpreting the world's largest historic US military small arms collection, along with historic archives, buildings, and landscapes.
---
Points Of Interest At The Springfield Armory
The armory includes the following places of interest:
Commanding Officers Quarters: The Commanding Officer's Quarters housed the Superintendents and Commandants of Springfield Armory, beginning with Major James Ripley and ending with Lt. Colt C.B. Zumwalt when the Armory closed in April 1968.
The Junior Officers Quarters: These quarters were listed in the Massachusetts Most Endangered Historic Resources. In 2017, the building underwent major restoration including rebuilding portions of the foundation and historic chimneys, as well as repointing the brickwork. 
The Main Arsenal: The place where arms could be stored and produced.
Building 19: It had multiple purposes including stabling horses and housing an x-ray lab and cryptography unit for sending and receiving coded messages, but its main purpose was storage of lumber.
The Watershops: They were used to harness the dependable current of the Mill River, trip hammers, grindstones, and polishing discs shaped iron and steel.
Building 104: This was where the famed M1 rifle was mass produced as America prepared for its entry into the Second World War.
---
Still More Massachusetts National Parks
---
18. Washington-Rochambeau Revolutionary Route National Historic Trail
Washington's ultimate success against the British was made possible through an alliance with France.
On July 11, 1780, 55-year-old General Jean Baptiste Donatien de Vimeur, comte de Rochambeau arrived with an army of 450 officers and 5,300 men in Narragansett Bay off Newport, Rhode Island.
This marked the beginning of a most successful military cooperation that culminated 15 months later in the victory at Yorktown and the surrender of Lord Cornwallis and his troops.
From New Hampshire to Virginia, the Washington-Rochambeau National Historic Trail connects major metropolitan areas, state and national parks, historic and scenic trails, and countless other historic sites.
The rout is a 680-mile series of roads used in 1781 by the Continental Army under the command of George Washington and the forces under the command of Admiral Rochambeau during their 14-week march from Newport, Rhode Island, to Yorktown, Virginia.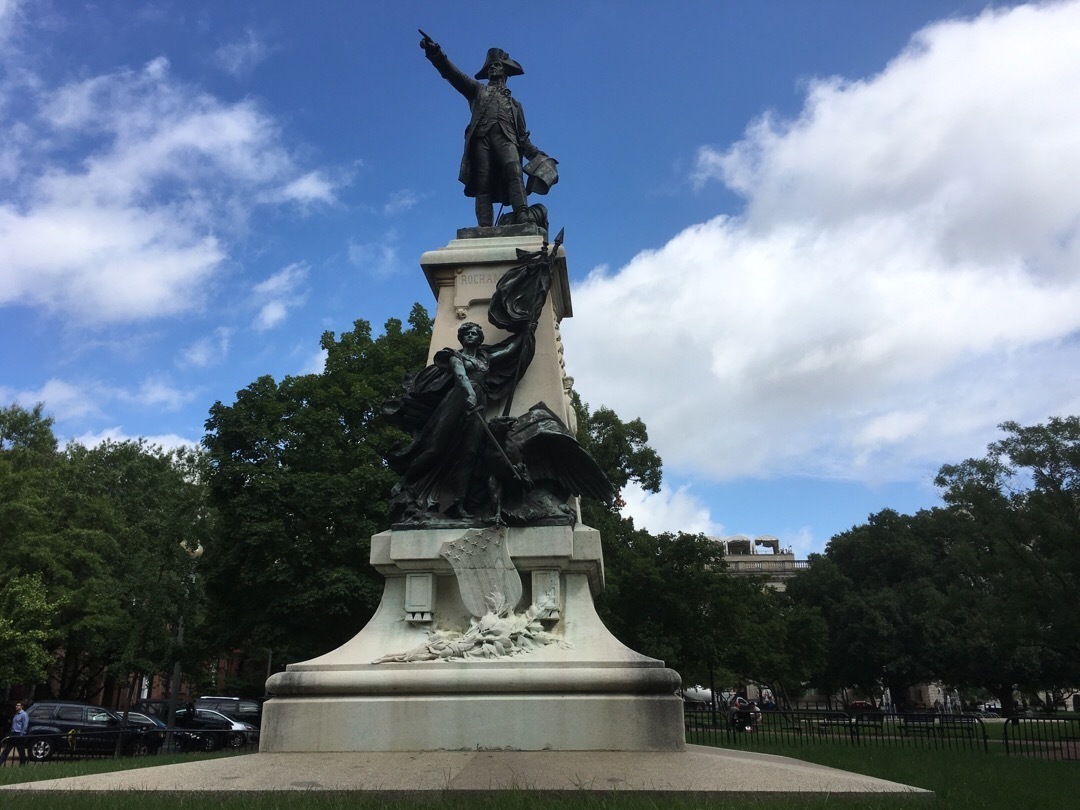 Take A Deeper Dive With These Exciting Book Recommendations
To learn more about the Cradle of Liberty and its famous sons, I recommend reading the following books:
---
Map Of Massachusetts National Park Sites
---
List Of Massachusetts National Park Sites
Adams National Historical Park
Appalachian National Scenic Trail
Blackstone River Valley National Historical Park
Boston National Historical Park
Boston African-American National Historic Site
Boston Harbor Islands National Recreation Area
Cape Cod National Seashore
Frederick Law Olmstead National Historic Site
John Fitzgerald Kennedy National Historic Site
Longfellow House-Washington's Headquarters National Historic Site
Lowell National Historical Park
Minute Man National Historical Park
New Bedford Whaling National Historical Park
New England National Scenic Trail
Salem Maritime National Historic Site
Saugus Iron Works National Historic Site
Springfield Armory National Historic Site
Washington-Rochambeau Revolutionary Route National Historic Trail
---
About The People Behind More Than Just Parks
You should probably know that we don't just make this stuff up out of thin air. My sons have spent their entire adult lives exploring and filming America's national parks and public lands.
As for me, I'm a retired lifelong educator and a proud dad of these two wonderful guys who are hopelessly obsessed with the national parks. I taught history for over a quarter of a century. Now I enjoy researching and writing articles for More Than Just Parks. I'm always on the hunt for topics where nature and history intersect so please feel free to share any ideas that you might have with me.
We've worked with the National Park Service, the Department of Interior, and the U.S. Forest Service for years creating films on important places and issues. Our work has been featured in leading publications all over the world and even some people outside of our immediate family call us experts on the national parks.
---
Meet The Parks Brothers
We're Jim Pattiz and Will Pattiz, collectively known as the Pattiz Brothers (and sometimes the Parks Brothers) and we absolutely LOVE the national parks.
Our goal here at More Than Just Parks is to share the beauty of America's national parks and public lands through stunning short films in an effort to get Americans and the world to see the true value in land conservation.
We hope you'll follow our journey through the parks and help us to keep them the incredible places that they are. If you're interested in joining the adventure then please sign up below!
---
---
And a bonus! Tips for Visiting a National Park Responsibly
---
Permit Systems and Reservations
Check to see if the national park you're visiting has a permit or reservation system in place before visiting. As parks become increasingly crowded more has to be done to safeguard them which means controlling the hundreds of millions of people who visit these places each year.
Popular national parks with reservation systems of some kind include Yosemite, Yellowstone, Zion, Rocky Mountain, Glacier, Arches, Acadia, Denali, and more.
Want Less Crowds? Try a National Forest!
Try visiting a national forest while you're on your trip to avoid the crowds. There are 155 national forests in America, many of which are equally as beautiful as the national parks they neighbor and only see a fraction of the visitors.
For example, try the Flathead National Forest next to Glacier National Park, the Bridger-Teton next to Grand Teton, and the Dixie which borders nearly all of the Utah National Parks.
Practice Safety, Seriously
National parks are amazing but wild places so it is essential to practice basic safety while visiting them. Every year people die while vacationing in national parks. This is easily avoided by:
Sticking to trails
Checking the weather before going out on a hike
Maintaining a safe distance between wildlife which means at least 25 yards from most wildlife and 100 yards from predators
Avoid ledges with steep drop offs
---
Massachusetts national parks, Massachusetts national parks, Massachusetts national parks, Massachusetts national parks, Massachusetts national parks, Massachusetts national parks, Massachusetts national parks, Massachusetts national parks, Massachusetts national parks, Massachusetts national parks, Massachusetts national parks, Massachusetts national parks, Massachusetts national parks,