National Parks near Boston. There's so much more to this beautiful state than Beantown. In this article, we'll familiarize you with the incredible national park sites that are within a five hour drive (or less) of Boston.
There are 10 national park sites for you to see on your next visit to the Bay State.
To be clear, this list includes national park sites (as in sites managed by the National Park Service) as well as full-fledged national parks. To learn more about the difference between the various National Park Service designations check out our article that explains everything!
Now let's go ahead with 10 reasons why you'll want to make a drive of five hours (or less) from Boston to one of these amazing places.
---
---
Facts About Boston
---
Boston is the capital and largest city of the state of Massachusetts in the northeastern United States. It is located on the Atlantic coast and is home to a population of around 680,000 people. Boston is known for its rich history, cultural attractions, and educational institutions.
Boston is a compact, walkable city with a rich history dating back to the colonial era. The city is home to a number of historical landmarks and sites, including the Freedom Trail, the Paul Revere House, and the Old North Church.
Boston is also home to a number of cultural attractions, including the Boston Symphony Orchestra, the Institute of Contemporary Art, and the Boston Ballet.
In addition to its cultural attractions, Boston is also known for its educational institutions, including Harvard University, Massachusetts Institute of Technology (MIT), and Boston College.
The city is also home to a number of hospitals and medical centers, including Massachusetts General Hospital and Brigham and Women's Hospital, which are among the best in the country.
Overall, Boston is a vibrant, dynamic city with a rich history, cultural attractions, and world-renowned educational institutions.
---
National Parks Near Boston
---
1. Acadia National Park
Distance From Boston: 4 hours 30 minutes (280 miles) via I-95 N
Our Favorite Resources: Guide / Map / Guidebook / Where to Stay
Acadia National Park is the only national park in the northeastern United States and a true coastal wonder. Nestled into the far-flung, rocky coast of Maine, Acadia National Park is home to majestic forests, tranquil ponds, rounded mountains, and wild coastline.
Once a summer retreat for America's elite, the area making up Acadia National Park was given back to the people by conservation-minded locals led by George Dorr. Now you can visit this coastal paradise and marvel at it's expansive beauty.
Acadia is a special park and a must for anyone who loves wild coastline. Maine's wild coast is unlike any other in the U.S., speaking as someone who's been to the shores of Olympic National Park, Acadia takes the cake for pure coastal beauty.
On top of it's famous rocky coast, Acadia is home to beautiful forests of maples, aspen, and pine that truly come alive in the fall – making the park a world class autumn destination.
RELATED: Acadia National Park-An EPIC Guide To New England's Premier Park
---
Watch the Acadia National Park Film
RELATED: 6 (EPIC) Maine National Parks For Your Next Visit To The Pine Tree State
---
2. Adams National Historical Park
Distance From Boston: 30 minutes (13 miles) via I-93 S
As a retired history teacher I like nothing better than to pack up my car and head off in search of America's past. And nowhere does history play a more prominent role than in the state which became the center of activity leading up to the American Revolution.
When it comes to American history, no family has played a more prominent role over four generations than the Adams Family. Adams National Historical Park tells the story of these four generations of Adams (from 1720 to 1927).
The park has two main sites: the Birthplaces of the 2nd U.S. President John Adams and the 6th U.S. President John Quincy Adams, and Peacefield including the "Old House," home to four generations of the Adams family, and the Stone Library which contains more than 14,000 historic volumes.
If you haven't visited before then I recommend beginning your adventure at the Visitor Center. There's a wonderful bookstore at the center. You can also see the 26-minute park orientation film, "Enduring Legacy: Four Generations of the Adams Family."
You can also explore the United First Parish Church, 1306 Hancock St. across the street from the Visitor Center. Tours include the history and architecture of the building and the Adams Family crypt; the final resting place of Presidents John Adams and John Quincy Adams, and First Ladies Abigail and Louisa Catherine Adams.
---
3. Boston National Historical Park
Distance From Boston: It's in Boston!
Boston was considered the Cradle of Liberty and the heartbeat of the American Revolution. It's one city that's chock full of fascinating places to go and exciting things to see beginning with the Freedom Trail.
The Freedom Trail is an iconic symbol of Boston. Its red brick line snakes through some of the oldest parts of the City, navigating visitors to some of the most significant historic sites in the Downtown, North End, and Charlestown neighborhoods of Boston.
Points of interest along the freedom trail include: Old Corner Bookstore, USS Constitution, USS Constitution Museum, Robert Gould Shaw and Massachusetts 54th Regiment Memorial, Bunker Hill Monument, Copp's Hill Burying Ground, Boston Common, Boston Massacre Site, USS Cassin Young, Old State House, Park Street Church, King's Chapel Burying Ground, Faneuil Hall, Old North Church, Paul Revere House, Granary Burying Ground, Massachusetts State House and much much more.
CHECK OUT: 10 MUST-SEE Historic Sites In New York
---
4. African-American National Historic Site
Distance From Boston: It's in Boston!
The struggle against racial injustice has been a long one. The African American community of 19th century Boston led the both the city and the nation in this fight against slavery and racial injustice.
These remarkable men and women, together with their allies, were leaders in the Abolition Movement, the Underground Railroad, the Civil War, and the early struggle for equal rights and education.
This national historic site celebrates their bravery and heroism. This story features the Black Freedom Trail which is an approximately 1.5 mile long trail linking sites that explore the trials of the free black community which inhabited the North Slope of Beacon Hill from the late 18th century through the 19th century.
I recommend visiting the Museum of African American History. It's located in the former Abiel Smith School. Visitors come away with a better understanding of and appreciation for the struggles and sacrifices made by African Americans to bring about a more perfect union.
---
5. Harbor Islands National Recreation Area
Distance From Boston: It's in Boston!
With 34 islands and peninsulas, Boston Harbor Islands National and State Park offers experiences for all to enjoy.
At Georges Island, you'll have the opportunity to step back in time by visiting Fort Warren, a Civil-War era fort and National Historic Landmark.
At Spectacle Island, you can walk the drumlins and enjoy spectacular views of the city and other islands from the highest point in the harbor.
---
6. Cape Cod National Seashore
Distance From Boston: Two hours approximately. It's 110 miles on US-6 East.
As the National Park Service notes, "Forty miles of pristine sandy beach, marshes, ponds, and uplands support diverse species. Lighthouses, cultural landscapes, and wild cranberry bogs offer a glimpse of Cape Cod's past and continuing ways of life. Swimming beaches and walking and biking trails beckon today's visitors."
There's so much to see and do. History is there if you want it. There are historic lighthouses and other landmarks of a time gone by.
Of course, if you're like most people than the beach is calling you. Or should I say the beaches? There are six beautiful beaches to choose from–Coast Guard, Nauset Light, Marconi, Head of the Meadow, Race Point and Herring Cove.
Beach wheelchairs are available to borrow during the summer at Coast Guard and Herring Cove beaches, which are the two seashore beaches where parking is generally at beach level. The other beaches involve stairs (Marconi) or paths over dunes. (Source: NPS)
---
7. Frederick Law Olmstead National Historic Site
Distance From Boston: 20 minutes (6 miles) via the Riverway
As Justin Martin notes in his masterful biography titled, Genius Of Place, "Olmstead is best remembered as the pioneer of landscape architecture in the United States. He created New York City's Central Park and a number of green spaces, often in collaboration with his sometime partner Calvert Vaux."
Frederick Law Olmstead designed the grounds of scores of private estates, Stanford and assorted college campuses, several mental institutions, and a pair of cemeteries. For these achievements alone, he would have achieved a measure of lasting fame.
Olmstead, however, accomplished much more than this. He was a dedicated environmentalist who played an important role in the efforts to preserve Yosemite and Niagara Falls.
He also designed Boston's Back Bay Fens as both a park and as America's first wetlands restoration.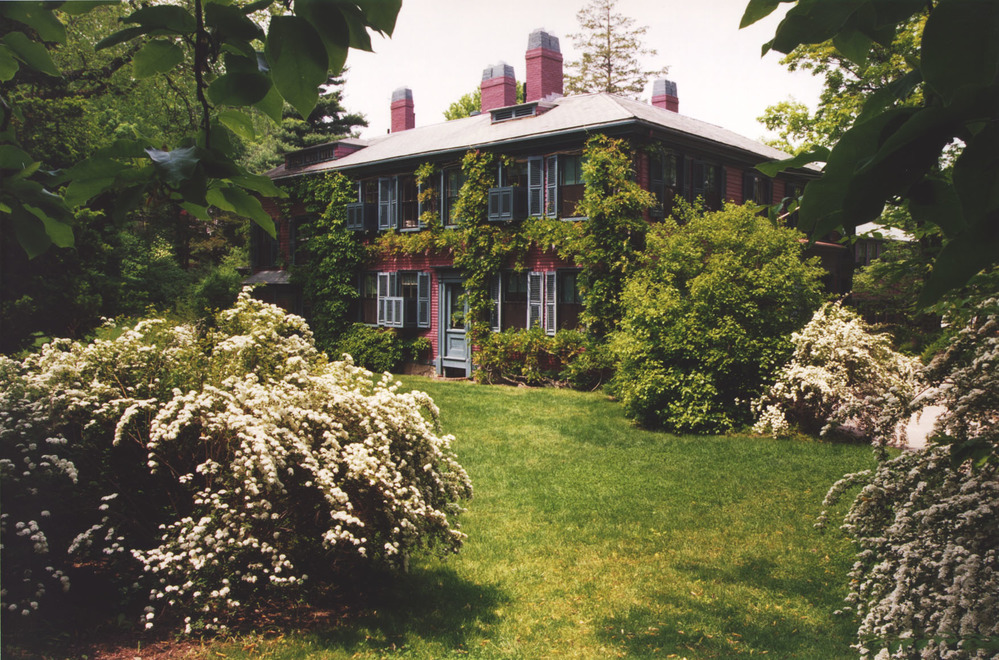 ---
8. John Fitzgerald Kennedy National Historic Site
Distance From Boston: 20 minutes (approximately 5 miles) via Beacon Street.
John F. Kennedy was the youngest man ever elected to the presidency and arguably the most charismatic. He proposed a voting-rights bill and federal programs to provide health care to the elderly and the poor.
Kennedy's most important, and most famous, was his adept management of the Cuban Missile Crisis in 1962, widely considered the most perilous moment since World War II. His skillful handling of this crisis averted a nuclear conflict between the superpowers. In the end, a peaceful agreement was reached.
The John Fitzgerald Kennedy National Historic Site can be explored in person or online. Visitors to the site can explore the birthplace of America's 35th president.
In 1967, the president's mother returned here, where Kennedy spent his boyhood, and restored the house to her recollection of its 1917 appearance.
---
9. Lowell National Historical Park
Distance From Boston: 30-40 minutes (31 miles) via I-93 N & US-3 N.
The Industrial Revolution transformed economies that had been based on agriculture and handicrafts into economies based on large-scale industry, mechanized manufacturing, and the factory system. New machines, new power sources, and new ways of organizing work made existing industries more productive and efficient.
Ground Zero for this revolution in America were the water-powered textile mills at Lowell, Massachusetts. The Lowell National Historical Park Visitor Center is a great place to learn about all of this while visiting some fascinating historical sites.
At the Visitor Center you can explore the history of the Spindle City through various exhibits. From the early industrial city to the modern local community, the Visitor Center highlights the stories of the people who lived and worked in Lowell.
Author and writer Jack Kerouac was a citizen of Lowell and his story is featured there as well.
RELATED: 2 (EPIC) New Hampshire National Parks For Your Visit To The Granite State
---
Top 10 National Parks Near Boston
---
10. New England National Scenic Trail
Distance From Boston: 2 hours 20 minutes (143 miles) via I-90 W & I-395 S.
The New England National Scenic Trail (NET) is a 215-mile hiking trail route that has been in existence for over half a century. It extends from Long Island Sound across long ridges to scenic mountain summits in Connecticut and Massachusetts.
The trail offers panoramic vistas and close-ups of New England's natural and cultural landscape: traprock ridges, historic village centers, farmlands, unfragmented forests, quiet streams, steep river valleys and waterfalls. (Source NPS)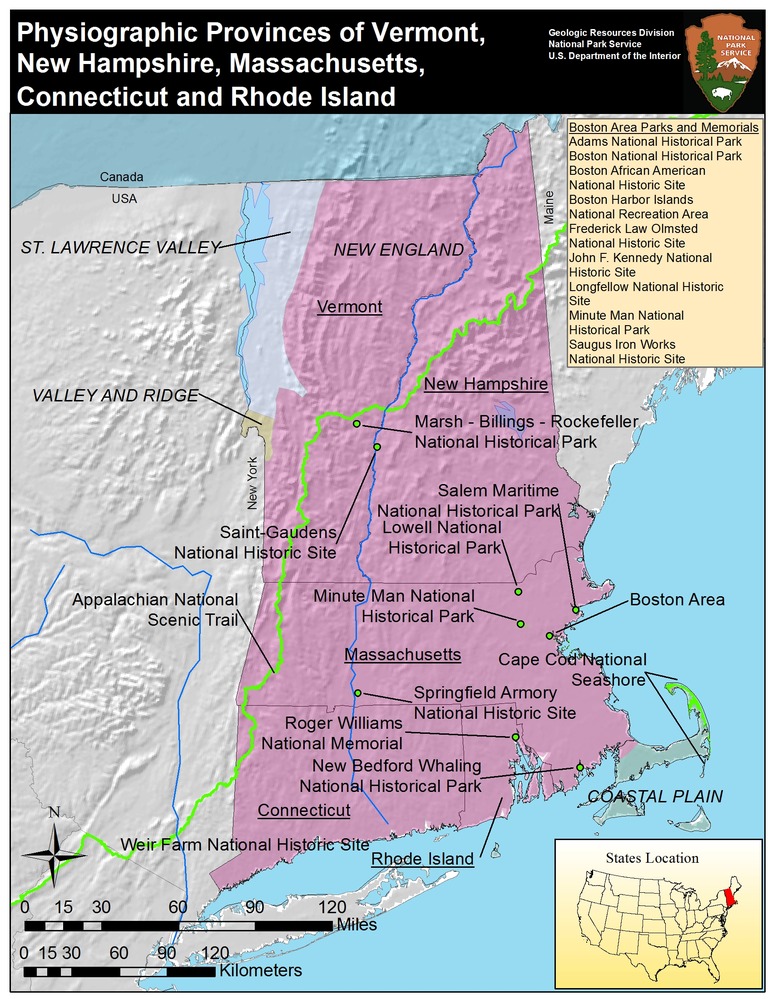 RELATED: 3 (EPIC) Vermont National Parks For Your Visit To The Green Mountain State
---
Map Of National Park Sites Near Boston
---
List Of Boston National Parks
Acadia National Park
Adams National Historical Park
Check Out Boston's National Historical Park
Boston African-American National Historic Site
Boston Harbor Islands National Recreation Area
Cape Cod National Seashore
Frederick Law Olmstead National Historic Site
John Fitzgerald Kennedy National Historic Site
Lowell National Historical Park
New England National Scenic Trail
---
About The People Behind More Than Just Parks
You should probably know that we don't just make this stuff up out of thin air. My sons have spent their entire adult lives exploring and filming America's national parks and public lands.
As for me, I'm a retired lifelong educator and a proud dad of these two wonderful guys who are hopelessly obsessed with the national parks. I taught history for over a quarter of a century. Now I enjoy researching and writing articles for More Than Just Parks. I'm always on the hunt for topics where nature and history intersect so please feel free to share any ideas that you might have with me.
We've worked with the National Park Service, the Department of Interior, and the U.S. Forest Service for years creating films on important places and issues. Our work has been featured in leading publications all over the world and even some people outside of our immediate family call us experts on the national parks.
---
Meet The Parks Brothers
We're Jim Pattiz and Will Pattiz, collectively known as the Pattiz Brothers (and sometimes the Parks Brothers) and we absolutely LOVE the national parks.
---
Our goal here at More Than Just Parks is to share the beauty of America's national parks and public lands through stunning short films in an effort to get Americans and the world to see the true value in land conservation.
We hope you'll follow our journey through the parks and help us to keep them the incredible places that they are. If you're interested in joining the adventure then please sign up below!
---
boston national parks, national parks near boston, national parks of boston, boston national parks, national parks near boston, national parks of boston, boston national parks, national parks near boston, national parks of boston, boston national parks, national parks near boston, national parks of boston, boston national parks, national parks near boston, national parks of boston, boston national parks, national parks near boston, national parks of boston,
boston national parks, national parks near boston, national parks of boston, boston national parks, national parks near boston, national parks of boston, boston national parks, national parks near boston, national parks of boston, boston national parks, national parks near boston, national parks of boston, boston national parks, national parks near boston, national parks of boston, boston national parks, national parks near boston, national parks of boston,