Pennsylvania National Parks
Pennsylvania National Parks! We've got twenty-two incredible national park sites for you to see on your next visit to the Keystone State.
It's the home of Independence Hall, the Liberty Bell and so much more.
I grew up in Pennsylvania and have many fond memories at these national park sites.
I've been to so many of these amazing places since retiring from teaching in 2018. Did I mention that I taught history? I spent a lifetime teaching about the history behind these momentous sites. Then I got to see them firsthand. And now I'm sharing the stories of these incredible places with you. It doesn't get any better than that!
To be clear, this list includes national park sites (as in sites managed by the National Park Service) as opposed to full-fledged national parks. To learn more about the difference between the various National Park Service designations check out our article that explains everything!
If you're planning a trip to the Keystone State then one book that I highly recommend is: Historic Pennsylvania: A Tour of the State's Top 100 National Landmarks by Mindy Crawford.
We're going to give you 22 wonderful reasons why you'll want to make Pennsylvania your next vacation destination.
---
Pennsylvania National Parks Table Of Contents
---
---
Best Pennsylvania National Parks
---
1. Allegheny Portage Railroad National Historic Site
I retired as a full-time history teacher so that I could join my two sons on an incredible adventure bringing America's national treasures to life.
Since history remains my passion I relish the opportunity to bring some amazing historical places to life through the articles which I am privileged to research and write.
One such place is the Allegheny Portage Railroad. It was the finishing piece of the Pennsylvania Main Line Canal.
"The Portage" opened in 1834, marking the first time that there was one, direct route between Philadelphia and Pittsburgh.
All things to all people, it served merchants, passengers, slaves in pursuit of freedom, and soldiers from the Mexican War.
---
Things To Do At The Portage
I always recommend that first-timers begin their adventure at the visitor center.
The Summit Level Visitor Center includes various exhibit areas and models including a life- size replica of a canal boat and the locomotive Lafayette, and artifacts from the Portage Railroad.
There are also hands on and interactive exhibits that will interest young and old alike.
There are other exhibits on the park grounds and in the Engine House No. 6 Exhibit Shelter, the Lemon House, and along several park trails.
There's also a wonderful 20-minute film which features a fictional character, Edgar West, who explains life on the canals then speaks of a change of occupation to Portage Railroad worker.
I always love a good bookstore and you'll find one there.
The park's non-profit Eastern National run bookstore carries unusual and hard to find books and souvenirs from the canal and early railroading era.
There's also biking and hiking which allows visitors to experience over 15 miles of trails in different sections of the park.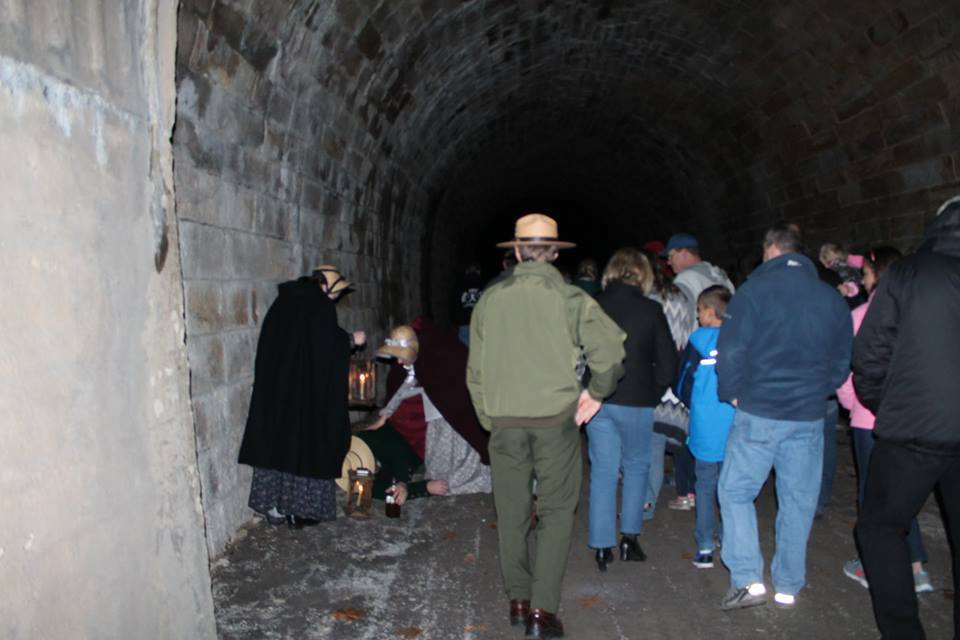 ---
Pennsylvania National Parks
---
2. Appalachian National Scenic Trail
Need a good stretch of the legs? Check out the longest hiking trail in the world.
The Appalachian National Scenic Trail is a marked hiking trail that runs from Springer Mountain in Georgia to Mount Katahdin in Maine.
Just how long a hike is that? Approximately 2,200 miles. You don't have to do it all however.
The trail was built by private citizens and completed in 1937. It is managed by the National Park Service, U.S. Forest Service, Appalachian Trail Conservancy, numerous state agencies and thousands of volunteers.
It's a truly magnificent hiking trail traversing the scenic, wooded, pastoral and wild lands of the Appalachian Mountains.
---
You're Never Too Old Or Young To Hike The Appalachian Trail
Think you're too old for the Appalachian Trail? M.J. "Sunny" Eberhart strode into the record books as the oldest hiker to complete the Appalachian Trail.
Eberhart is an 83 year old from Alabama who is best known for by his trail name Nimblewill Nomad.
Pennsylvania National Parks
3. Captain John Smith Chesapeake National Historic Trail
Captain John Smith was an English explorer who played an pivotal role in America's founding. Smith served on the governing council of Jamestown, Virginia He led two voyages on the Chesapeake Bay.
Smith's contact with native tribes and his Chesapeake Bay voyages, documented in maps and journals, helped early English colonists learn about the region that became their new home.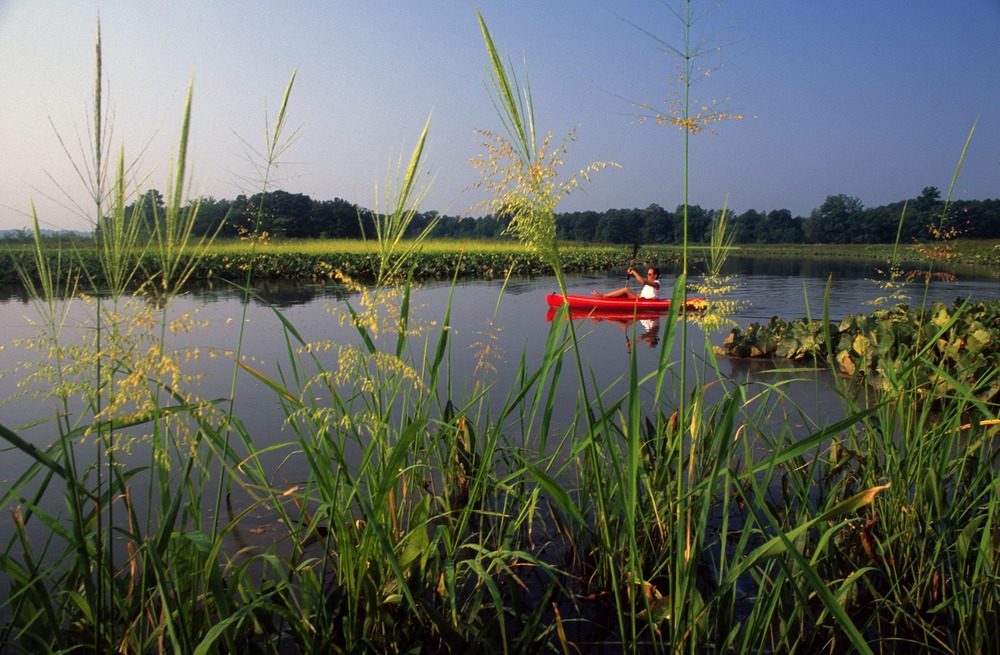 Things To Do On The John Smith Chesapeake National Historical Trail
The trail commemorates Captain Smith's exploration of the Bay in 1607 through 1609, and is the nation's first all-water national historic trail. It stretches over 3,000 miles and traverses most of the Chesapeake's great rivers.
Trails I would recommend exploring include the following:
The Billy Goat Trail-It's a popular trail near Potomac, Maryland. This is a protected area designed to preserve the remains of the Chesapeake and Ohio Canals with the original structures still intact. The trail offers spectacular views of the Potomac River.
Scott's Run River Trail-It's a wonderful area for nature trips, walking, and running. It features a beautiful waterfall. This is a beautifully wooded trail with a mix of inclines, flat areas, and areas with loose rocks.
The Chesapeake and Ohio Canal Trail-It's a popular trail that leads up to an overlook of the Great Falls. You will have wonderful views of the water and rock formations.
---
More Pennsylvania National Parks
4. Chesapeake Bay Watershed
The Chesapeake Bay Watershed spans more than 64,000 square miles, encompassing parts of six states—Delaware, Maryland, New York, Pennsylvania, Virginia and West Virginia—and the entire District of Columbia.
More than 18 million people live in the Chesapeake Bay watershed.
The Chesapeake Bay is home to numerous fauna that either migrate to the Bay at some point during the year or live there year-round.
There are over 300 species of fish and numerous shellfish and crab species. It's a great place to explore.
Beaches along the tidal rivers and the Chesapeake Bay are often safe for swimming, fishing and boating.
Pennsylvania National Parks
---
5. Delaware Water Gap National Recreation Area
If you're looking to get away from it all then Delaware Water Gap National Recreation Area may be an ideal Pennsylvania national park for you.
Outdoor adventures include biking, fishing, and hiking. There are indoor adventures, too, which include fine dining, shopping and the oldest jazz club in the country.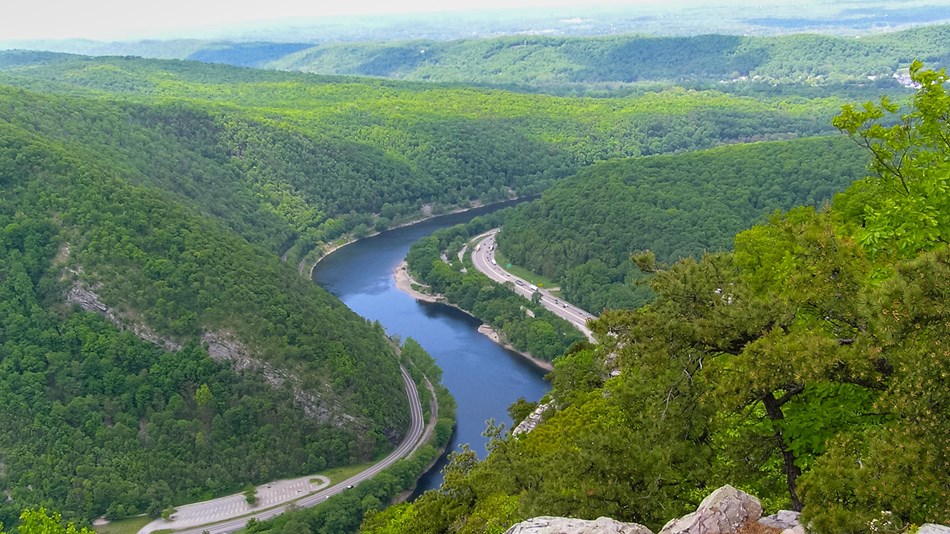 This National Recreation Area offers the public over 150 miles of hiking trails of every ability level to give you options to get out in the woods for a little while.
Or, if you prefer the water, then check out the many canoe and kayak rentals which are offered there.
There's also camping, fishing and even hunting.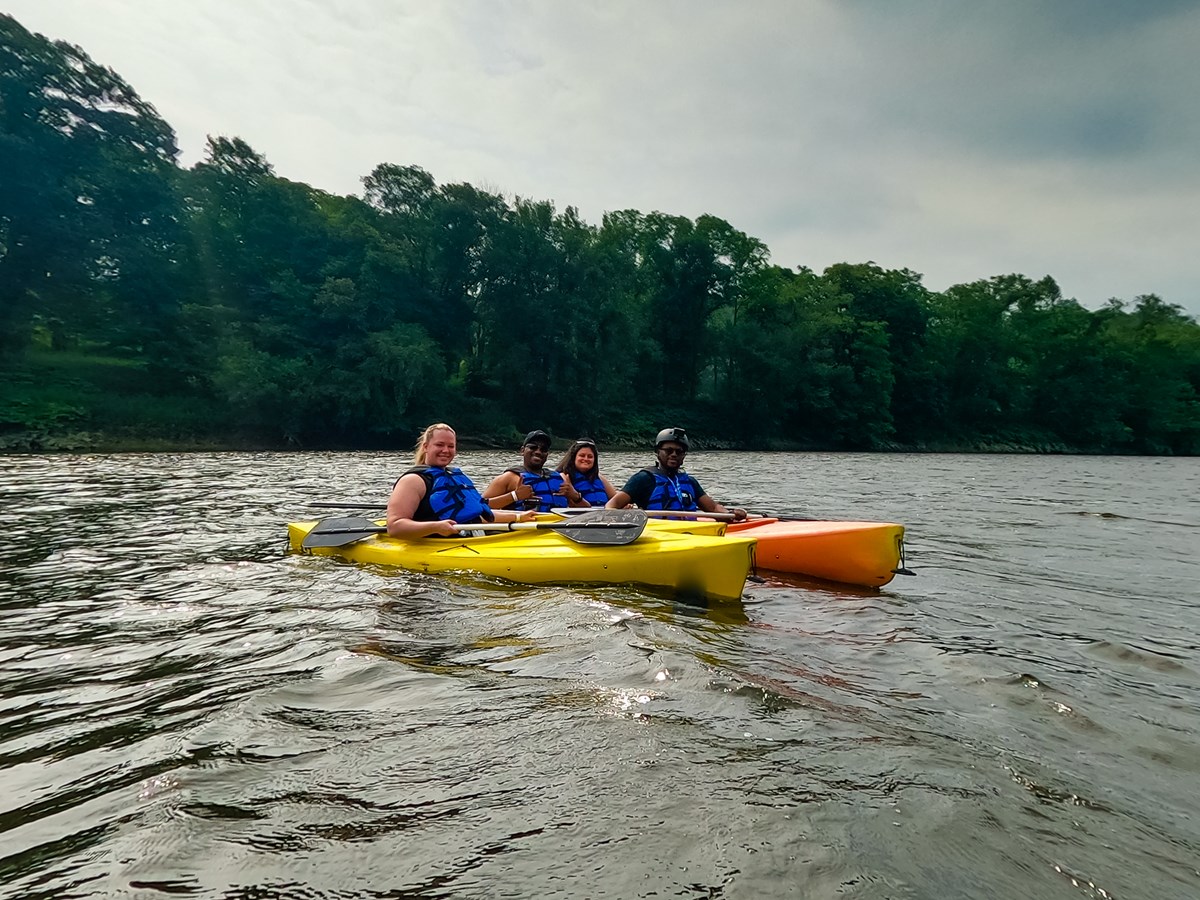 Pennsylvania National Parks
---
6. Edgar Allen Poe National Historic Site
Located about a mile from Independence Hall and the Liberty Bell Center, the Edgar Allen Poe National Historic Site celebrates the life and legacy of one of America's most gifted authors.
Edgar Allan Poe's legacy is one of the most famous writers and literary critics the world has ever seen.
He penned eternal classics like The Pit and the Pendulum, The Raven, and The Telltale Heart. And he is credited as the "architect of the modern short story."
Visitors can tour his home which includes images and exhibits that give you a sense of who he was and how he transformed the literary world.
If you're interested in learning more about the life of this literary genius then I recommend: Edgar Allan Poe: His Life and Legacy by Jeffrey Myers.
---
Pennsylvania National Parks Guide
---
7. Eisenhower National Historic Site
As the Commanding General of the victorious Allied Powers in World War Two, Dwight D. Eisenhower led the largest amphibious assault in history which is credited with helping to defeat Adolf Hitler's Third Reich.
As President of the United States, he signed the Civil Rights Act of 1957 and sent Army troops to enforce federal court orders which integrated schools in Little Rock, Arkansas.
His largest program was the Interstate Highway System. He promoted the establishment of strong science education via the National Defense Education Act.
The grounds of the Eisenhower National Historic Site are open for self-guided tours. Visitors can enjoy the same landscape and scenic views which led Dwight and Mamie Eisenhower to purchase their Gettysburg farm.
You can tour the farm and surrounding area.
---
Pennsylvania National Parks
---
8. Flight 93 National Memorial
From the NPS:
On Tuesday morning, September 11, 2001, the U.S. came under attack when four commercial airliners were hijacked and used to strike targets on the ground. Nearly 3,000 people tragically lost their lives.
Because of the actions of the 40 passengers and crew aboard one of the planes, Flight 93, the attack on the U.S. Capitol was thwarted.
At the Flight 93 National Memorial you can learn the incredible and tragic story of this flight. There are three designated walking trails within the memorial for visitors to explore.
While you're there, I recommend visiting The Tower of Voices. It serves as both a visual and audible reminder of the heroism of the forty passengers and crew of United Flight 93. It's an incredibly moving experience.
It's a ninety-three feet tall musical instrument holding forty wind chimes, representing the forty passengers and crew members.
Pennsylvania National Parks
---
9. Fort Necessity National Battlefield
The Battle at Fort Necessity in the summer of 1754 was the opening action of the French and Indian War.
This war was a clash of British, French and American Indian cultures. It ended with the removal of French power from North America.
With the British victory over the French, the stage was set for the American Revolution.
At the Fort Necessity/National Road Interpretive and Education Center visitors learn about in the diverse cultures and customs of mid-eighteenth century Pennsylvania.
There's a wonderful bookstore & gift-shop which provides a selection of theme related souvenirs and in-depth material for those who want to learn more after visiting the park.
Exhibits cover the National Road, the first federally funded highway, that linked the east and west of the young United States.
Visitors can also see the grave of British General Edward Braddock who died from a mortal wound he received there.
Pennsylvania National Parks
---
10. Friendship Hill National Historic Site
Albert Gallatin is best known as America's Forgotten Founding Father. He became the chief spokesman on financial matters for the Democratic-Republican Party led by Thomas Jefferson.
Gallatin, who served as the first Secretary of the Treasury for the opposition party followed in the footsteps of his famous predecessor Alexander Hamilton.
He also Gallatin served on the American commission that agreed to the Treaty of Ghent, which ended the War of 1812 and helped to found the Second Bank of the United States.
Additionally, he reduced the national debt, purchased the Louisiana Territory and funded the Lewis & Clark exploration.
Gallatin's accomplishments and contributions are highlighted at Friendship Hill, his restored country estate. I recommend beginning your visit at the Gallatin House Visitor Center. The park's grounds and trails are open daily from sunrise to sunset year round.
Pennsylvania National Parks
---
11. Gettysburg National Military Park
One of the most profound Pennsylvania national parks is Gettysburg National Military Park.
The Battle of Gettysburg is arguably the most important battle fought during the American Civil War.
Coupled with the Union's simultaneous victory at Vicksburg, it would prove to be the turning point of this tumultuous conflict.
The battle was part of Robert E. Lee's plan to invade the North and win European recognition for the Confederate States of America.
Had the plan succeeded to its greatest extent, Lee's Army of Northern Virginia might have surrounded, or even conquered, the nation's capital.
The federal government could have been disabled, and high government officials, including even President Abraham Lincoln might have been captured.
The collision of two great armies at Gettysburg put an end to Lee's audacious plan.
After three days of intense fighting, he was forced to withdraw and lead his badly battered army back through western Maryland and into Virginia.
If you're interested in learning more about this pivotal battle then I recommend: All Roads Led to Gettysburg: A New Look at the Civil War's Pivotal Battle by Troy D. Harman.
Check Out: 10 BEST Civil War Sites In America
---
Things To Do At Gettysburg
I would recommend beginning your tour at the Gettysburg National Military Park Museum & Visitor Center. Here you will learn how to visit the park and what to see around Gettysburg.
There is so much to see and do including the following:
Battlewalk & Campfire Programs: These are led by park rangers who provide visitors with an in-depth program on the people and places that shaped this historic battle.
Living History Programs: Every weekend from April to October, Civil War living historians will be encamped on the Gettysburg battlefield. Visitors can explore their camps, interact with these knowledgeable historians, and witness as they demonstrate the tools, tactics, and firepower of the two armies that waged war across these now hallowed fields.
Dedication Day Special Events: These events take place on November 19th. This date marks the dedication of the National Military Cemetery at Gettysburg.
See The Cyclorama: The "Battle of Gettysburg" Cyclorama at Gettysburg National Military Park is one that has survived. This fantastic painting brings the fury of the final Confederate assault on July 3, 1863 to life, providing the viewer with a sense of what occurred at the battle long touted as the turning point of the Civil War. (Source: NPS)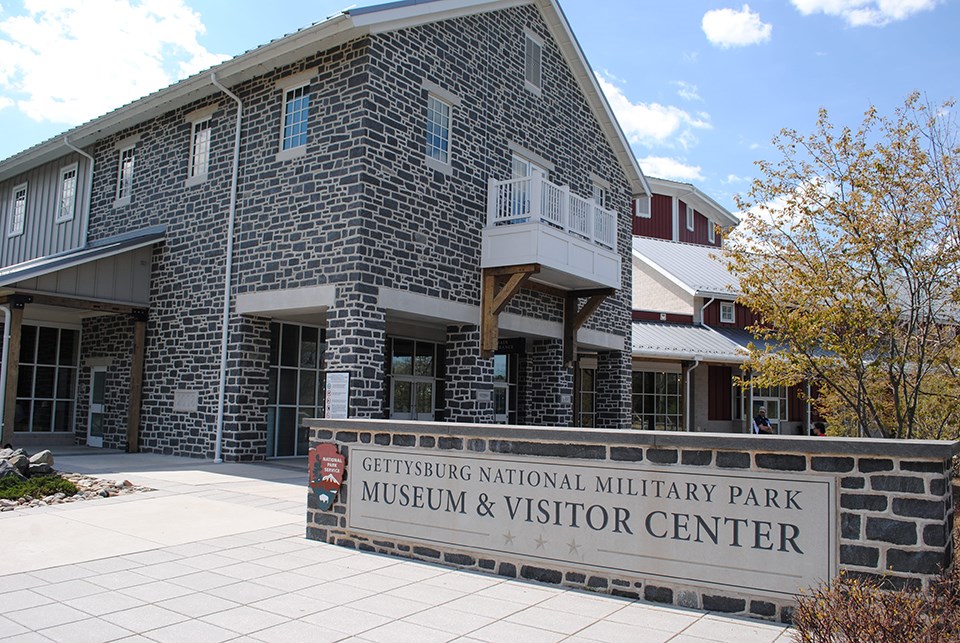 ---
The Gettysburg Address
President Abraham Lincoln delivered one of the most famous speeches in United States history at the dedication of the Gettysburg National Cemetery on November 19, 1863.
Lincoln's short but powerful Gettysburg Address places the Civil War into the historical context of the American fight for freedom.
He gave the struggle a higher purpose by arguing that the living can honor the wartime dead not with a speech, but rather by continuing to fight for the ideas they gave their lives for.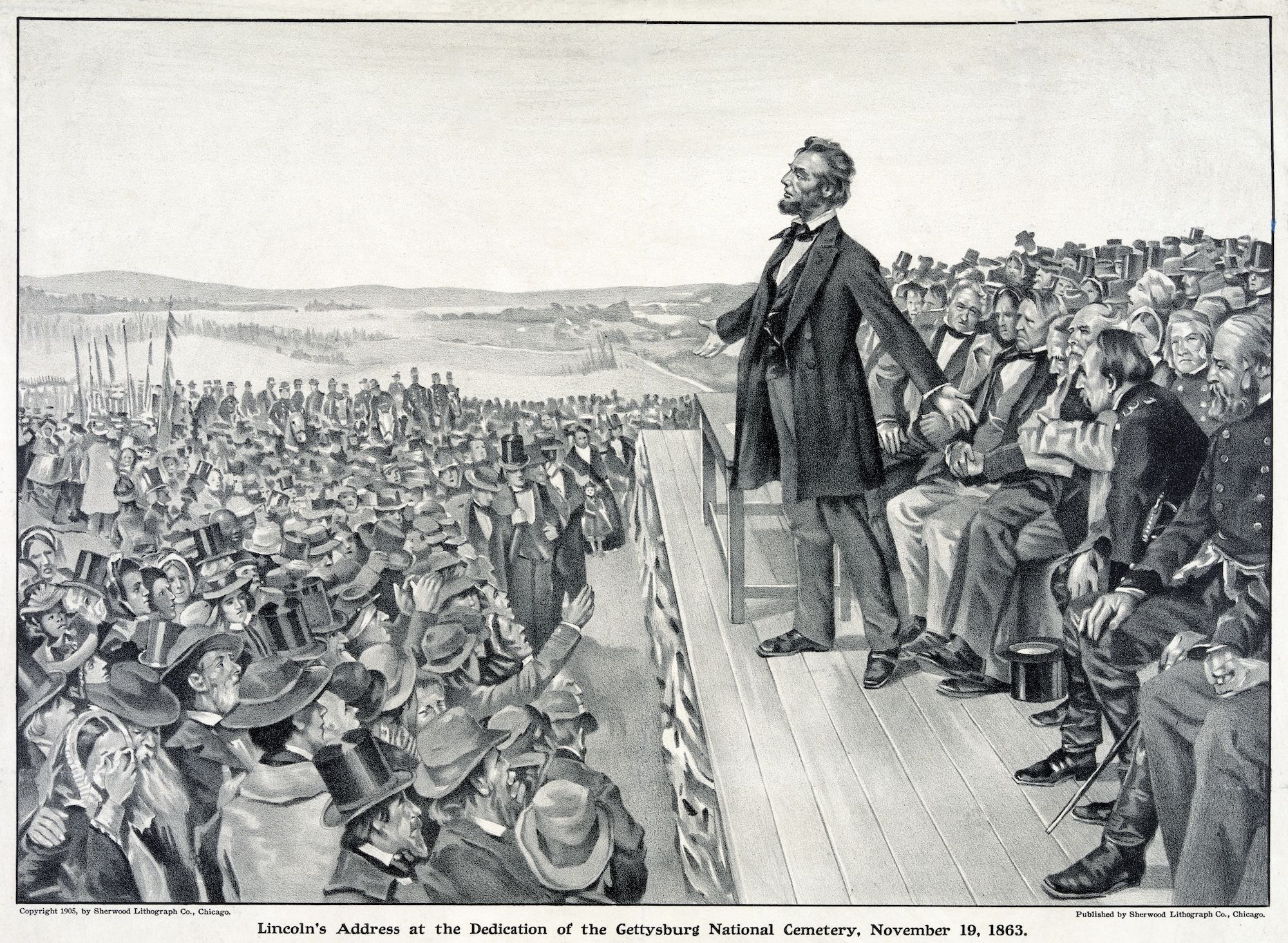 ---
---
Pennsylvania National Parks
12. Gloria Dei Church National Historic Site
Before Pennsylvania there was "New Sweden." At the Gloria Dei National Historic Site visitors can tour the Gloria Dei Church.
They can also visit the cemetery and find the graves of members of George Washington's Army, the naturalist Alexander Wilson who is known today as the "Father of American Ornithology, and early American painter and portrait artist James Peale.
Pennsylvania National Parks
---
13. Hopewell Furnace National Historic Site
Hopewell Furnace showcases an early American industrial landscape from natural resource extraction to enlightened conservation.
Operating from 1771-1883, Hopewell and other "iron plantations" laid the foundation for the transformation of the United States into an industrial giant.
The park's 848 acres and historic structures illustrate the business, technology and lifestyle of our growing nation.
Outdoor activities at Hopewell include: biking, bird watching, hiking, picnicking and wildlife watching.
As a matter of fact, you can even bring your dog with you (if you have one) and take him along for a nice walk.
---
Pennsylvania National Parks
---
14. Independence Hall National Historical Park
As the National Park Service notes, Independence Hall National Historical Park represents the founding ideals of the nation, and preserves national and international symbols of freedom and democracy, including Independence Hall and the Liberty Bell.
The Declaration of Independence and U.S. Constitution were both debated and signed inside Independence Hall, a UNESCO World Heritage Site.
Entrance is by tour only. Admission is first-come, first-served for the remainder of February. Timed entry tickets required from March through December.
There is a $1.00 per ticket handling fee for reserved tickets.
---
For Anyone Who Loves History There's No Place Quite Like It
For anyone who loves history (and even for those folks who don't) this is one of the most exciting historical tours. At Independence Hall, visitors learn the stories about the people and events which shaped America.
There's an old saying that goes, "If this place could only talk." Well, at Independence Hall, it can talk as the stories come to life about the unique history of a very special place which brought together an amazing group of men who produced not one, but two of the most important documents in the history of the world.
If you're interested in learning about the men responsible for drafting and ratifying the Declaration of Independence then I recommend: The Signers of the Declaration of Independence: Collected Biographies by L. Carroll Judson.
If you're interested in learning more about the Constitutional Convention of 1787 then I recommend: Decision in Philadelphia: The Constitutional Convention of 1787 by Christopher Collier.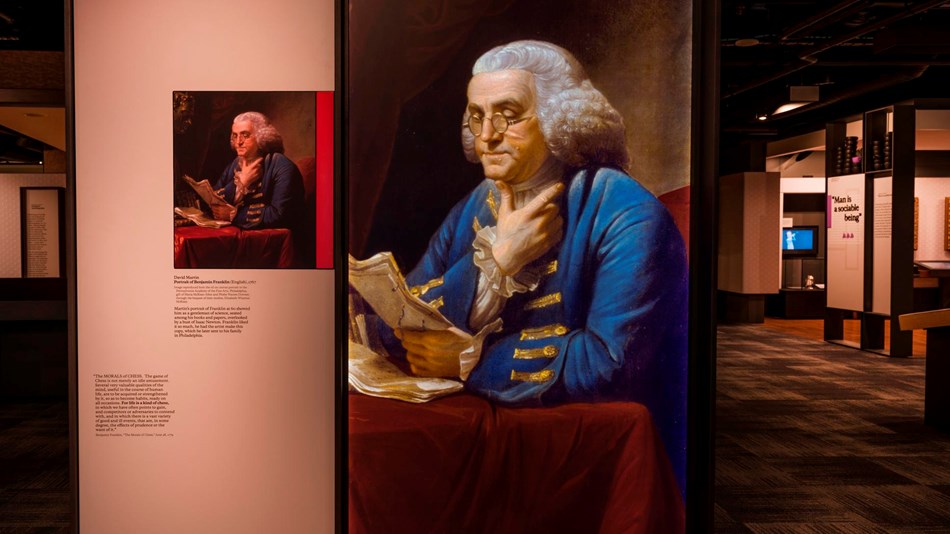 Pennsylvania National Parks
---
15. Johnston Flood National Memorial
The Johnstown Flood occurred on Friday, May 31, 1889, after the catastrophic failure of the South Fork Dam, located on the south fork of the Little Conemaugh River, 14 miles upstream of the town of Johnstown, Pennsylvania.
To the residents of Johnstown and many people across the nation, blame lay clearly with Andrew Carnegie, Henry Clay Frick and the other wealthy and prominent Pittsburgh businessmen who as members of the South Fork Fishing and Hunting Club owned the dam, and thus were responsible for its collapse.
This catastrophic flood was responsible for over 2,000 deaths.
At the Lake View Visitor Center visitors can tour two floors of exhibits and see a film which examines this historic flood and its aftermath.
In addition to the visitor's center, you can also see the Unger House, home of Colonel Elias J. Unger who was the second and last president of the South Fork Fishing and Hunting Club; as well as the Springhouse.
You can also drive past 9 of the original 16 cottages from the days of the South Fork Fishing and Hunting Club in the town of Saint Michael and learn the tragic history of the South Fork Dam.
A fascinating account of the events surrounding the Johnston Flood is: The Johnstown Flood by award-winning author David McCullough.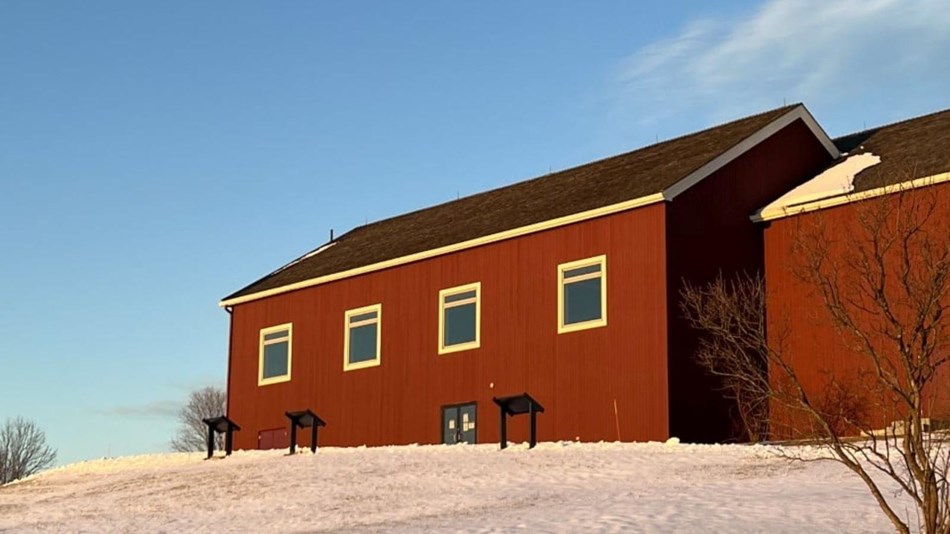 ---
Pennsylvania National Parks
---
16. Lewis & Clark National Historic Trail
The Lewis and Clark National Historic Trail follows the historic outbound and inbound routes of the Lewis and Clark Expedition.
As a retired history teacher, I get goosebumps just thinking about the Corps of Discovery and their incredible trek.
Commemorating the Lewis & Clark Expedition (1804-06), the Lewis & Clark Trail connects 16 states (Pennsylvania, Ohio, West Virginia, Kentucky, Indiana, Illinois, Missouri, Kansas, Nebraska, Iowa, South Dakota, North Dakota, Montana, Idaho, Washington and Oregon).
The trail is administered by the National Park Service. It's not a hiking trail, but does provide opportunities for hiking, boating and horseback riding at many locations along the route.
It's a great opportunity to see the USA while learning about the brave men (and one woman) who weren't able to make the journey in an air-conditioned SUV.
---
Pennsylvania National Parks
---
17. North Country National Scenic Trail
Come to the North Country. Trek the hills and valleys. Stand on the shores of lakes & streams from glaciers 10,000 years before.
Clear-flowing water, red/gold of autumn, a fairyland of snow, open prairies, and distant horizons paint the land.
Historic sites along the way tell how America settled and grew as a nation. From North Dakota to Vermont, adventure is never far away. (Source: NPS)
The North Country National Scenic Trail provides visitors opportunities from bird watching to backpacking.
The trail traverses eight northern states and connects a host of natural, historic and cultural sites. You can see everything from small towns to larger cities, valleys to hilltops and much more.
---
Pennsylvania National Parks
---
18. Potomac Heritage National Scenic Trail
Imagine a trail that has something for everyone. History, nature, recreation, wildlife, biking, hiking, paddling or just enjoying a quiet getaway for the hustle and bustle of an urban world.
On the Potomac Heritage National Scenic Trail you can find your own special outdoor adventure.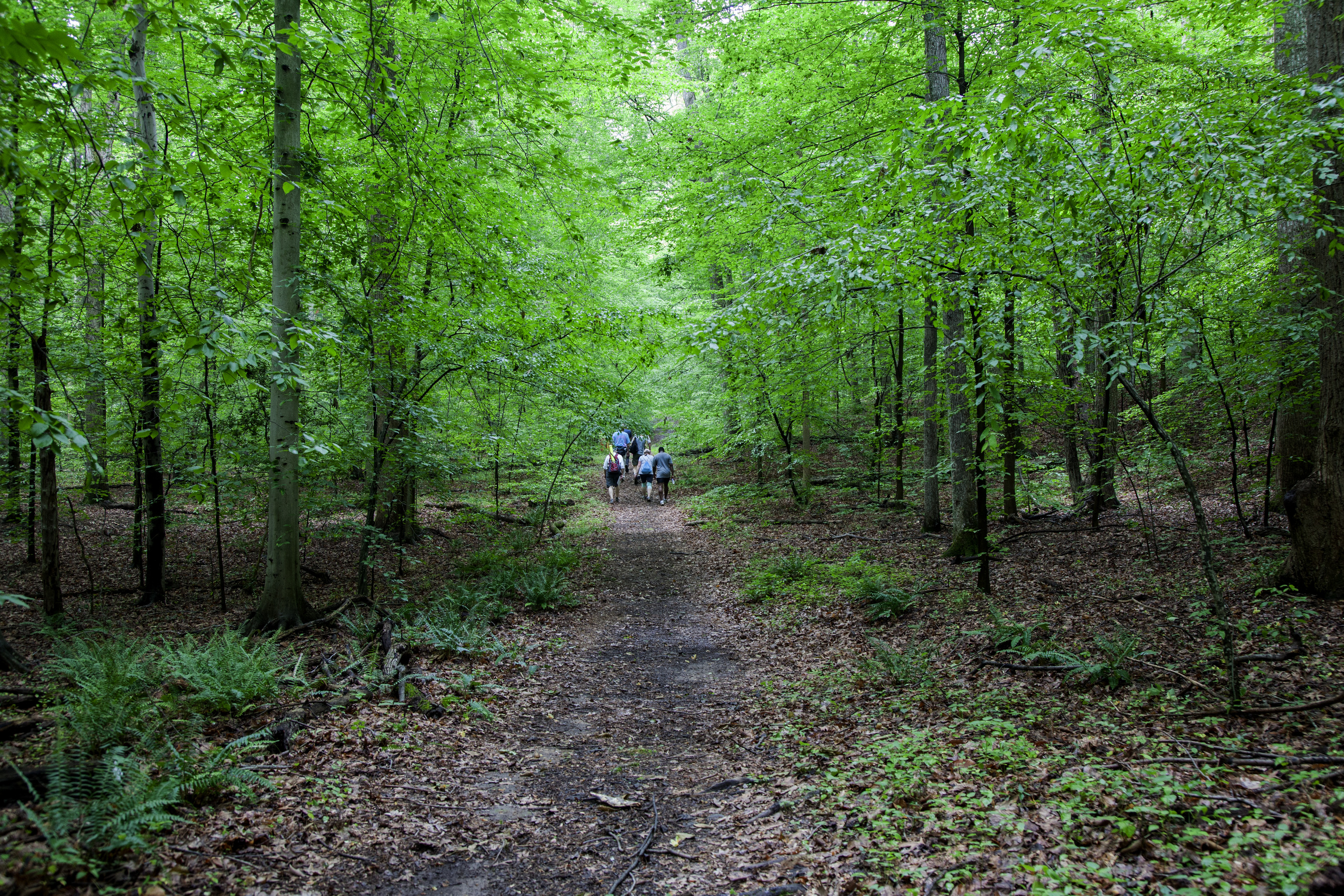 ---
Pennsylvania National Parks
---
19. Steamtown National Historic Site
At Steamtown National Historic Site you will learn the history of steam railroad transportation, and the people who built, repaired and rode, as we work to preserve a special era in America's industrial history.
Things to do include:
Discovering the history of steam locomotives and the anthracite railroads by watching a wonderful 18-minute orientation film "Steel and Steam."
Browsing through a fascinating History Museum.
Exploring the Roundhouse and getting an up close and personal look at the rolling stock.
Taking a ride on the seasonal short train or longer train excursions for the ultimate hands on Steamtown experience.
Pennsylvania National Parks
---
20. Thaddeus Kosciuszko National Memorial
Andrzej Tadeusz Bonawentura Kościuszko was a Polish-Lithuanian military engineer, statesman, and military leader who became a national hero in Poland, Lithuania, Belarus, and the United States.
He offered his services to the revolutionary cause, he masterminded a key British defeat at Saratoga and oversaw the building of military fortifications at West Point.
At the Thaddeus Kosciuszko National Memorial you can visit the house where wounded Polish freedom fighter Thaddeus Kosciuszko lived and hear how this brilliant military engineer designed successful fortifications during the American Revolution.
Visitors will see the room where he received notable visitors such as Chief Little Turtle and Thomas Jefferson.
You can also see images of Thaddeus Kosciuszko and other fascinating exhibits.
If you're interested in learning more then I recommend: The Peasant Prince: Thaddeus Kosciuszko and the Age of Revolution by Alex Storozynski.
---
---
Pennsylvania National Parks
---
21. Valley Forge National Historical Park
On December 19th, 1777, 12,000 soldiers and 400 women and children marched into Valley Forge and began to build what essentially became the fourth largest city in the colonies at the time, with 1,500 log huts and two miles of fortifications.
It was where the American Continental Army made camp during the winter of 1777-1778. It was here that the American forces became a true fighting unit. Valley Forge is often called the birthplace of the American Army.
I recommend beginning your adventure at the Valley Forge Visitor Center. There's a wonderful museum exhibit where you'll learn about how men, women, and children from many different walks of life all struggled together during the winter of 1777-78, and how they ultimately overcame so many hardships in order to march away from Valley Forge a stronger, more unified fighting force.
You can also tour the Encampment Route. It's a 10-mile driving loop comprised of 9 major tour stops plus additional opportunities to stop and explore Valley Forge.
The route features some of the most scenic views of the park as well as many of the historic sites and monuments.
A fascinating book examining the epic events which transpired there is: Valley Forge by Bob Drury & Tom Clavin.
Check Out: 10 BEST Revolutionary War Sites In America
---
Pennsylvania National Parks
---
22. Washington-Rochambeau Revolutionary Route National Historic Trail
George Washington's ultimate success against the British was made possible through an alliance with France.
On July 11, 1780, 55-year-old General Jean Baptiste Donatien de Vimeur, comte de Rochambeau arrived with an army of 450 officers and 5,300 men in Narragansett Bay off Newport, Rhode Island.
This marked the beginning of a most successful military cooperation that culminated 15 months later in the victory at Yorktown and the surrender of Lord Cornwallis and his troops.
From New Hampshire to Virginia, the Washington-Rochambeau National Historic Trail connects major metropolitan areas, state and national parks, historic and scenic trails, and countless other historic sites.
The rout is a 680-mile series of roads used in 1781 by the Continental Army under the command of George Washington and the forces under the command of Admiral Rochambeau during their 14-week march from Newport, Rhode Island, to Yorktown, Virginia.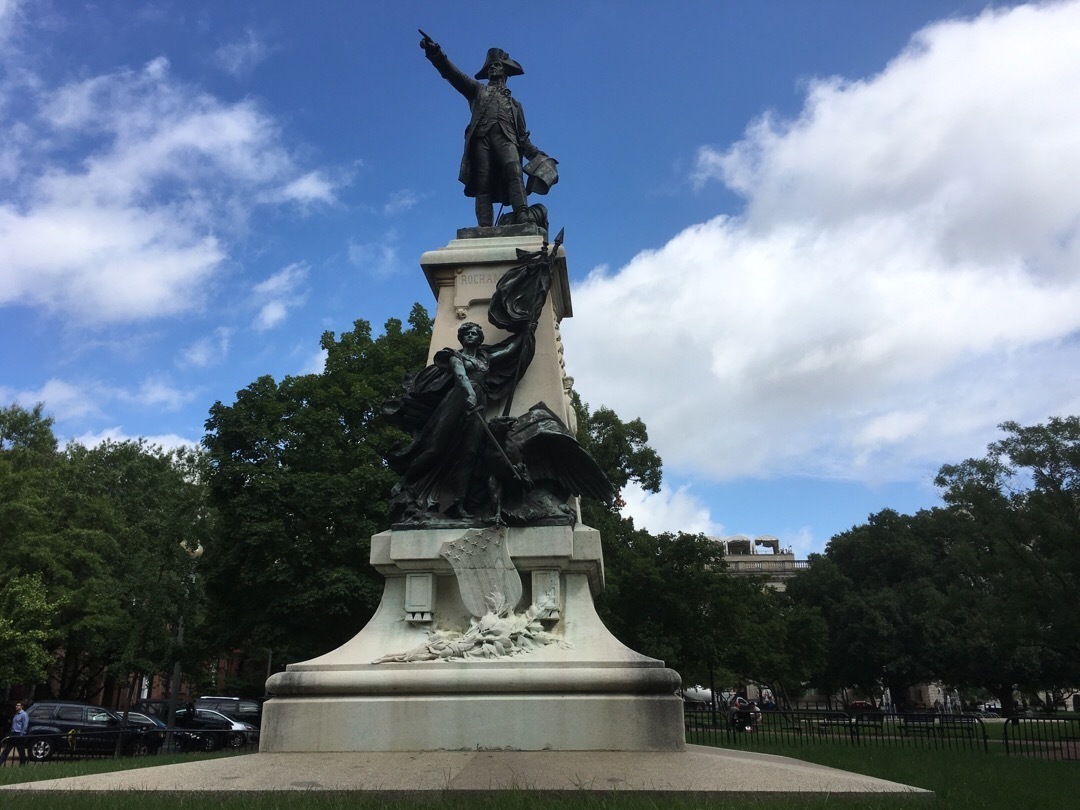 ---
Map Of Pennsylvania National Parks
---
---
List of the Pennsylvania National Parks
Allegheny Portage Railroad National Historic Site
Appalachian National Historic Trail
Captain John Smith Chesapeake National Historic Trail
Chesapeake Bay Watershed
Delaware Water Gap National Recreation Area
Edgar Allen Poe National Historic Site
Eisenhower National Historic Site
Flight 93 National Memorial
Fort Necessity National Battlefield
Friendship Hill National Historic Site
Gettysburg National Military Park
Gloria Dei Church National Historic Site
Hopewell Furnace National Historic Site
Independence National Historical Park
Johnston Flood National Memorial
Lewis & Clark National Historic Trail
North Country National Scenic Trail
Potomac Heritage National Scenic Trail
Steamtown National Historic Site
Thaddeus Kosciuszko National Memorial
Valley Forge National Historical Park
Washington-Rochambeau Revolutionary Route National Historic Trail
---
About The People Behind More Than Just Parks
You should probably know that we don't just make this stuff up out of thin air. My sons have spent their entire adult lives exploring and filming America's national parks and public lands.
We've worked with the National Park Service, Department of Interior, U.S. Forest Service, USDA, & countless states over the years creating films on important places and issues.
Our work has been featured in leading publications all over the world and even some people outside of our immediate family call us experts on the national parks.
---
Meet The Parks Brothers
We're Jim Pattiz and Will Pattiz, collectively known as the Pattiz Brothers (and sometimes the Parks Brothers) and we absolutely LOVE the national parks.
Our goal here at More Than Just Parks is to share the beauty of America's national parks and public lands through stunning short films in an effort to get Americans and the world to see the true value in land conservation.
We hope you'll follow our journey through the parks and help us to keep them the incredible places that they are. If you're interested in joining the adventure then please sign up below!
---
Pin the Pennsylvania National Parks
Pennsylvania National Parks, pa national parks, national parks pennsylvania, national park sites pennsylvania, national parks in pennsylvania, Pennsylvania National Parks, pa national parks, national parks pennsylvania, national park sites pennsylvania, national parks in pennsylvania,Pennsylvania National Parks, pa national parks, national parks pennsylvania, national park sites pennsylvania, national parks in pennsylvania, Pennsylvania National Parks, pa national parks, national parks pennsylvania, national park sites pennsylvania, national parks in pennsylvania,Pennsylvania National Parks, pa national parks, national parks pennsylvania, national park sites pennsylvania, national parks in pennsylvania,
Helpful Articles
Free Downloadable National Parks Map: LIST & MAP of National Parks By State (+ Printable Checklist)
Best Civil War Sites: 10 BEST Civil War Sites in America (Expert Guide + Photos)
Virginia National Parks: 30 EPIC Virginia National Parks Worth Visiting (Helpful Guide + Photos)
Pennsylvania National Parks: 22 EPIC Pennsylvania National Parks Worth Visiting (Guide + Photos)
Maryland National Parks: 27 EPIC Maryland National Parks Worth Visiting (Helpful Guide + Photos)
Mississippi National Parks: 9 EPIC Mississippi National Parks Worth the Visit (Helpful Guide + Photos)
Arkansas National Parks: 7 EPIC Arkansas National Parks (Helpful Guide + Photos)
Massachusetts National Parks: 18 SURPRISING MASSACHUSETTS NATIONAL PARKS (+ Photos)