Mississippi National Parks! They're in the "Magnolia State," but they've got more than just magnolias.
Did you know that Mississippi is the Catfish Capitol of the World? But you can catch more than just catfish there.
Mississippi is home to some incredible national park sites – battlefields, parkways, seashores, trails, and much much more. What you can catch is a really good time if you're next vacation trip includes this incredible state.
I've been to so many of these amazing places since retiring from teaching in 2018. Did I mention that I taught history? I spent a lifetime teaching about the history behind these momentous sites. Then I got to see them firsthand. And now I'm sharing the stories of these incredible places with you. It doesn't get any better than that!
If you're planning a trip to the Magnolia State then I highly recommend picking up a copy of Greater Than a Tourist- Mississippi USA: 50 Travel Tips from a Local (Greater Than a Tourist United States) by Ellycia Villescas.
Now we're going to give you 9 national park sized reasons why you should add Mississippi to your list of places to see.
---
Mississippi National Parks Table Of Contents
---
---
Best Mississippi National Parks
---
1. Brices Cross Roads National Battlefield Site
Shelby Foote, who wrote a magnificent three volume history of the Civil War, said that the great conflict produced two geniuses. One was Abraham Lincoln. The other was Nathan Bedford Forrest.
CHECK OUT: 10 BEST Civil War Sites In America
---
Wizard Of The Saddle
Forrest, who was nicknamed the "Wizard of the Saddle," is generally considered by historians to be one of the premier solders of the Civil War.
How many enlisted men rise to the rank of lieutenant general? In all of American history, there's only been one. Nathan Bedford Forrest.
Forrest had memorials erected to him across America, especially in the Southern states. His name has been given to a county, city, park, road, and several high schools. As Denis Showalter notes:
"The key to Forrest's skill as a tactician was his innate ability to read a fight. He understood how best to balance mounted and dismounted action, defense and attack, commitment and pursuit. Whatever his issues of self-control behind the lines or in personal combat, Forrest never let emotion overcome him in conducting a battle."
At Brice Cross Roads, the Union lost three men to every Southern casualty. While the battle was considered a major tactical victory for the Confederacy it did not diminish the effectiveness of Sherman's campaign in the west as his superior resources compensated for inferior generalship.
Sherman was more than willing to trade three of his men for one of Forrest's if it meant keeping his supply lines open.
---
Forrest Doing What He Did Best | Mississippi National Parks
On June 10, 1864, at Brice Cross Roads, Nathan Forrest did what Nathan Forrest does best. He defeated a much larger Union force and secured supply lines between Nashville and Chattanooga, Tennessee.
If you're as fascinated by the history of the Civil War as I am then I would recommend learning as much as you can about one of the South's most brilliant commanders.
I would recommend reading Jack Hurst's masterful biography Nathan Bedford Forrest: A Biography.
Hurst restores this legendary figure to human dimensions. It's a wonderful biography that puts both Forrest's genius and his savagery into the context of his time.
Believe it or not, I was one of those guys who sat in class taking notes and, when the professor threw out the name of what sounded like an interesting book, I not only wrote it down, I went out and purchased it.
Yes, I am that guy which is why I ended up teaching history.
---
The Rest Of The Story
Scholars generally acknowledge Forrest's skills and acumen as a cavalry leader and military strategist, but that's not the entire story.
No history of this gifted military strategist would be complete without mentioning his role in the massacre of several hundred Union soldiers at Fort Pillow.
In April 1864, Forrest led his troops to what came to be known as the Fort Pillow attack, where his men killed as many as 300 Union soldiers, most of whom were Black.
---
The Fort Pillow Massacre
According to eyewitnesses, Confederates murdered Union prisoners, including some who were wounded, after the fort had been taken.
Despite the carnage, Fort Pillow was of little tactical significance and General Forrest abandoned the fort the next day.
While Forrest's most decisive victory would take place two months later at Brices Cross Roads, for Northerners, Forrest had already come to be known as 'Butcher of Fort Pillow'.
In May of 1865, he surrendered his exhausted and defeated troops to Union forces near Selma in Alabama.
---
To Learn More
To learn more about the events which transpired in April of 1864 at Fort Pillow, I recommend River Run Red: The Fort Pillow Massacre in the American Civil War by Andrew Ward.
Ward depicts the horrors of guerrilla warfare and the pent-up bigotry and rage that found release that bloody April day, producing a detailed and complex portrait of an event that continues to spark controversy.
RELATED: 30+ Best National Parks Books (Great Gifts For Park Lovers) 2021
---
What To Do At Brice Cross Roads | Take a Battlefield Tour
If you're someone who enjoys walking a battlefield then Brice Cross Roads delivers.
The state of Mississippi, the Civil War Preservation Trust, and the Brice's Crossroads National Battlefield Commission has assembled a wonderful battlefield tour, from roadside monuments and information panels to short interpretive trails.
The Brices Cross Roads National Battlefield Site is a one-acre memorial. It's located at the intersection west of Baldwyn, Mississippi, known as Brice's Crossroads.
You will also find a visitor center, Mississippi's Finals Stands Interpretive Center, where you can get information, see a movie on the battle, and tour a museum.
RELATED: 7 EPIC Arkansas National Parks (An Expert Guide)
---
Mississippi National Parks
---
2. Gulf Island National Seashore
We're pushing the pause button on historical sites and turning our attention instead to an amazing vacation destination.
Perhaps the most beautiful of the Mississippi National Parks is Gulf Island National Seashore.
Established by Congress in 1971 and managed by the National Park Service, the Gulf Islands National Seashore is a 160-mile stretch of Gulf Coast barrier islands from Fort Walton Beach, Florida, to Cat Island, Mississippi.
In Mississippi, there are six seashore destinations. They include the barrier islands of: Cat Island, Davis Bayou Area, Horn Island, Petit Bois Island, West Petit Bois Island, and Ship Island.
There's so much here to see and so much to do! Or, you can just relax and let the world go by as you enjoy the beautiful scenery at your leisure.
---
What To Do On The Barrier Islands
Cat Island is a great place to explore bayous and marshes which are home to several species of birds and alligators. All but the western half and southern tip of the island is privately owned however.
Petit Bois Island, meaning "little woods," is almost 6 miles long. It's a great place to swim and fish. Horn Island is a favorite spot for swimming, boating, and relaxing in the sun. It has long stretches of beach and several species of flora and fauna to observe.
Ship Island is easily accessible by ferry service. It's home to Fort Massachusetts which is a preserved brick fortification dating back to the mid-19th century. With historical roots dating back to the War of 1812, Ship Island offers fort tours for visitors with an interest in history.
---
In addition to options for swimming, sunbathing, birding, hiking, and fishing, Ship Island also offers a boardwalk for easy trekking across the island.
There are also covered picnic areas for visitors to enjoy a full day of activities.
---
Gulf Islands National Seashore is a Bird Watcher's Paradise
If you're a bird watcher then welcome to Bird Watcher's Paradise! Over 300 species of birds are found at Gulf Island National Seashore. These include Black Skimmers and Brown Pelicans which sail only inches above the ocean surf.
Further out, you'll find Snowy and Piping Plover flying along the water's edge. There are also majestic bald eagles and beautiful osprey soaring overhead.
RELATED: All Of Florida's National Parks RANKED 2021 (+ video)
---
Mississippi National Parks
---
3. Medgar and Myrlie Evers Home National Monument
Medgar and Myrlie Evers Home National Monument is located in Jackson, Mississippi. It's also known as Medgar Evers House. It's a historic house museum at 2332 Margaret Walker Alexander Drive in Jackson, Mississippi.
Visitors can tour the home, which has been restored to look the way it did when Medgar and Myrlie Evers lived there.
RELATED: 10+ Amazing Georgia National Parks-Everything To Know
---
Medgar Evers
Civil Rights activist Medgar Evers was the first field secretary of the NAACP in Mississippi. He once said, "You can kill a man, but you can't kill an idea." Evers organized voter-registration efforts and economic boycotts, and investigated crimes perpetrated against Black people.
CHECK OUT: 10 BEST CIVIL RIGHTS SITES IN AMERICA
---
To protest racial injustice, Evers orchestrated a major boycott of white merchants. This made him a target of the Ku Klux Klan. Backed by federal troops, he also led efforts to help James Meredith successfully integrate the University of Mississippi in 1962.
Medgar Evers was assassinated outside of his Mississippi home in 1963. It took over thirty years for justice to be done, but, in 1994, his killer was finally sent to prison.
To learn more about this courageous American, I recommend: The Autobiography Of Medgar Evers: A Hero's Life and Legacy Revealed Through His Writings, Letters, and Speeches by Myrlie Evers-Williams.
---
Myrlie Evers-Williams
Myrlie Evers-Williams is an American civil rights activist and journalist who worked for over three decades to seek justice for the 1963 murder of her husband Medgar. She picked up the torch he left behind serving as a leader of the National Association for the Advancement of Colored People (NAACP).
Myrlie Evers-Williams established the Medgar and Myrlie Evers Institute in Jackson, Mississippi. In 1995, she became the national chairwoman of the NAACP.
Myrlie also published several books on topics related to civil rights and Medgar Evers legacy. She delivered the invocation at the second inauguration of President Barack Obama.
RELATED: 7 AMAZING Kansas National Parks-Everything You Need To Know
Mississippi National Parks
---
4. The Natchez National Historical Park
In the Antebellum South, Cotton was king. As a retired history teacher, I always love a good history lesson so here goes.
Antebellum refers to the years prior to the Civil War. It was during this period that cotton emerged as the South's major commercial crop eclipsing tobacco, rice, and sugar in economic importance.
By 1860, the region was producing two-thirds of the world's cotton. How was the South able to produce so much? Excellent question.
In the eighteenth century, slavery appeared to be on the way out because the demand for slaves was decreasing. This was until 1793 and then everything changed.
---
Whitney & The Cotton Gin
1793 was the year Eli Whitney went to Cumberland Island to help a former college friend expand his cotton crop. It was there where Whitney revolutionized the production of cotton by inventing the cotton gin, a device which separates the seeds from raw cotton.
Suddenly, a process that was extraordinarily labor-intensive when done by hand could be completed quickly and easily. While Whitney's machine reduced the labor of removing seeds, it did not reduce the need for slaves to grow and pick the cotton.
In fact, cotton growing became so profitable for the planters that it greatly increased their demand for both land and slave labor. And this increased demand for slaves set the stage for the Civil War.
To learn more, I recommend: The World of Eli Whitney by Jeanette Mirsky.
RELATED: Whose Island Is It Anyway | A History & Guide To Cumberland Island
---
Natchez & The Cotton Economy | Mississippi National Parks
Natchez National Historical Park documents the role Natchez played in the creation of the Cotton Kingdom. The historical park is made up of three units, Fort Rosalie is the location of an 18th Century fortification built by the French and later occupied by the British, Spanish and Americans.
The William Johnson House was a house owned by William Johnson, a free African American businessman, whose diary tells the story of everyday life in Antebellum Natchez.
Melrose was the estate of John T. McMurran, a northerner who rose from being a middle class lawyer to a position of wealth and power in antebellum Natchez.
Visitors can capture a moment in history when people had built a lifestyle on the backs of an army of enslaved workers. A trip to this historic site helps visitors to understand life in the Antebellum South before the Civil War.
RELATED: 6 Missouri National Parks Worth A Stop On Your Next Midwest Road Trip
---
National Parks of Mississippi
---
5. The Natchez Trace Parkway
Natchez Trace Parkway is one of the most scenic drives in America and one of the finest Mississippi National Parks.
The parkway is a two-lane road which goes through nearly 450 miles of protected land. You can travel from Nashville, Tennessee, through Alabama and on to Natchez, Mississippi.
Take your time as you go and you'll see a wonderful array of wildlife, gorgeous waterfalls, memorable hikes and historic sites, some dating back thousands of years. The Trace is especially gorgeous in the fall when the trees lining the roadway explode in color.
---
Walk The Same Ground As Spanish Explorers
This beautiful parkway follows the path of the original Natchez Trace Trail. It has quite a history too! Native Americans were the first humans to use this path. By the 1500s, explorers like Spain's Hernando de Soto, were also following it as they explored the Americas.
By the nineteenth century, it became an important trade route between Nashville and the Mississippi River. It continued to flourish until the rise of the steamboat. After that, it was largely forgotten until the National Park Service (NPS) took over the route in 1938.
The NPS finally completed the Parkway in 2005.
---
Points Of Interest Along The Parkway While In Mississippi
Emerald Mound
One point of interest you should definitely see while in Mississippi is the Emerald Mound. It's the second-largest Mississippian Period ceremonial mound in the United States, surpassed only by Monk's Mound near Cahokia, Illinois.
This 35-foot tall mound covers eight acres. It was built and used by native Americans between the years 1200 and 1730 A.D.
---
French Camp Historic Village
Also, while in Mississippi, check out the French Camp Historic Village. It sits alongside the Natchez Trace. Visitors to the village can explore how early American life used to be in this log cabin village.
There's also the Huffman Cabin Gift Shop and the French Camp Log House Museum which are both open to the public Monday through Saturday from 9:00 a.m. to 4:00 p.m.
RELATED: 7+ (AMAZING) Oklahoma National Parks-Everything To Know
---
Mississippi National Parks
---
6. Natchez Trace National Scenic Trail
The Natchez Trace National Scenic Trail is made up of of five trail segments, all of which can be accessed from the Natchez Trace Parkway. When you walk it, you're walking through history.
There are about 60 miles of trail which include areas ranging from 3 to 25 miles in length. In some cases the trails follow the original Natchez Trace. There are also newer hiking trails following the Natchez Trace Parkway.
Best Places To Visit | Mississippi National Parks
Imagine what it was like to journey on the Old Trace. The pioneers endured bad food, bugs, disease, heat, swollen rivers, and dangerous swamps. You don't have to imagine if you follow the Sunken Trace.
The good news is that it only will take you five minutes, instead of the endless days these folks endured, to walk this trail.
Let your imagination carry you back to the early 1800s and be thankful you weren't there to share in these privations.
---
Reservoir Overlook
Also worth visiting is the Reservoir Overlook. It's a breathtaking view of a 50 square mile reservoir. You might want to bring along your camera as you can get some wonderful shots.
Windsor Ruins
And, if you enjoy historical sites with an interesting story as much as I do then there's the Windsor Ruins. The Windsor Plantation was originally built by Smith Daniell in 1859-61. He only lived in this magnificent mansion for a few weeks before dying however.
This plantation once encompassed over 2,600 acres. There's an old story that Mark Twain actually stood on a roof observatory on top of the mansion and watched the Mississippi River in the distance.
---
It Burned To The Ground
During the Civil War the mansion was used as a Union hospital and observation post, thus sparing it from being burned by Union troops.
After the war, during a house party on February 17, 1890, a guest left a lighted cigar on the upper balcony.
Windsor burned to the ground. Everything was destroyed except 23 of the columns, balustrades and iron stairs. Windsor Ruins is open to the public during daylight hours every day. There is no fee.
---
Mississippi Civil Rights Museum
Other places worth a visit include: the Mississippi Crafts Center, located in Ridgeland, which is a is a non-profit organization of craftsmen dedicated to preserving and promoting folk, traditional and contemporary crafts.
There's also the Museum of Mississippi History, located in Jackson, which explores over 15,000 years of state history.
And, while we're on the subject of museums, the Mississippi Civil Rights Museum is also located in Jackson. It tells the story of the struggle that took place in the state to promote racial justice.
RELATED: Look Familiar? 25+ CLASSIC Movies Filmed In The National Parks
---
Eudora Welty House
If you prefer fiction over fact then check out the Eudora Welty House. It's also located in Jackson. It's a literary house museum and historic garden where Pulitzer Prize-winning author Eudora Welty lived and wrote for 76 years.
Finally, there's the Clinton Visitor Center in Clinton. It features period materials and period architectural details including a porch and "dogtrot."
The center has the look of one of the 19th century farmhouses once located along the Natchez Trace. The museum also features displays showing the history of the Natchez Trace in the Clinton area.
National Parks of Mississippi
---
7. Shiloh Military Park
It was Robert E. Lee who once said, "It is well that war is so terrible, otherwise we should grow too fond of it." The Battle of Shiloh proved Lee's point.
The 23,741 casualties in this battle were five times the number versus the First Battle of Bull Run in July of 1861. They were more casualties in this one battle than all of the war's major battles (Bull Run, Wilson's Creek, Fort Donelson and Pea Ridge) up to that date combined.
---
Also Known As The Battle Of Pittsburg Landing
Also known as the Battle of Pittsburg Landing, it allowed Union troops to penetrate the Confederate interior. The battle pitted Union General Ulysses S. Grant against Confederate General Albert Sydney Johntson.
The Union army how has nearly 54,000 men near Pittsburgh Landing and outnumbered Beauregard's army of around 30,000.
Johnston, however, intercepted the Federals 22 miles northeast of Corinth at Pittsburg Landing in an attack which totally took Grant by surprise.
---
"The Devil's Own Day"
On April 6, 1862, the first day of the battle was a difficult one for the Union. Grant suffered heavy losses. At the end of the first day's fighting, Grant's second-in-command, William Tecumseh Sherman remarked:
"Well, Grant, we've had the devil's own day, haven't we?" To which Grant replied, "Yes, lick "em tomorrow, though."
During the first day's fighting, Confederate Commander Albert Sydney Johnston was shot in the right knee. The bullet severed an artery and the commander bled to death.
---
Grant Orders A Counterattack
Despite having everything go wrong for him, Grant ordered a counterattack on April 7th, which drove the Confederates from the field. This time, it was the Confederates who were caught off guard.
They were forced to fall back. Their new commander, General Pierre G. T. Beauregard, decided that the essential arithmetic favored the Union. He ordered a withdrawal.
The South's defeat at Shiloh ended the Confederacy's hopes of blocking the Union advance into Mississippi. It doomed the Confederate military initiative in the West.
It also provided the Union with a much-needed boost in morale given Robert E. Lee's victories in the east.
---
To Learn More About Shiloh
So many books have been written about the Civil War and the various battles that took place. Of course, the big three authors when it comes to war are, in my humble opinion, Bruce Catton, Shelby Foote and James M. McPherson.
What these three have written are the best collections of books encompassing the war as a whole. You can't go wrong with any of these authors.
My personal favorite is Shelby Foote. I have read his fabulous three volume history of the Civil War–twice!
When it comes to the Battle of Shiloh, however, I'm going to recommend three books none of which have been written by the three men mentioned above (please forgive me).
To gain an understanding of this battle, its strategic importance, and how it influenced the outcome of the war, I recommend:
Shiloh and the Western Campaign of 1862, by O. Edward Cunningham
Shiloh, Bloody Shiloh by Wiley Sword
Shiloh: The Battle That Changed the Civil War by Larry J. Daniel.
---
Shiloh Military Park
Forgive me for spending so much time on the history of this conflict, but I did teach history for over a quarter of a century. When I'm writing these articles, I always try to do a deeper dive when it comes to conveying a sense of the history and why it matters.
I hope it gives you an even greater incentive to get out and visit these important places.
---
It's The Ultimate Field Trip
The world's greatest learning laboratory is where history happened. At the Shiloh Battlefield and the Corinth Civil War Interpretive Center there are exhibits spaces which show visitors the weapons of war, the people who used those weapons, and the effects of their use.
I only wish I could have taken my students to some of these incredible places, but we simply didn't have a big enough budget for those field trips.
I recommend beginning the tour by watching the award-winning film, Shiloh: Fiery Trial. There are also films on the Battle of Shiloh and the impact which this battle had on the town itself.
Then there's an excellent self-guided tour. It is a 12.7 mile car route with 22 stops at such famous places as the Peach Orchard, the Hornet's Nest, and the place where Albert Sidney Johnston met his end.
---
National Parks of Mississippi
---
8. Tupelo National Battlefield
The Tupelo National Battlefield site commemorates the Battle of Tupelo (a.k.a. the Battle of Harrisburg). It was fought on July 14th and 15th of 1864.
Union Major General Andrew J. Smith, commanding the Sixteenth Corps with more than 14,000 soldiers, was ordered by General William T. Sherman to make sure Confederate General Nathan Bedford Forrest did not disrupt Sherman's railroad supply lines.
Harassing Union Forces
Forrest had already acquired a reputation as the "wizard of the saddle" for having fought a series of successful military engagements against superior Union forces.
He had also wreaked havoc on Union supplies. Forrest was relentless in harassing Union forces.
Confederate Lieutenant General Stephen D. Lee, Forrest's commander, fearing insufficient forces, held Forrest in check while he attacked Smith's Union troops.
Lee's attacks, however, were uncoordinated. He was repulsed by Smith with heavy losses.
While Smith failed to destroy Forrest's command, he did succeed in protecting Sherman's supply lines. As a consequence, he achieved his primary objective while Sherman continued his march towards Atlanta.
---
Things To Do At Tupelo National Battlefield
Walk the Battlefield
At Tupelo, visitors can walk the battlefield where history was made. The area is much smaller, however, than might be imagined. How did thousands of men manage to fit into this tiny space and fight a battle which inflicted hundreds of dead and wounded?
The actual battlefield was not preserved in its entirety so we may not know the real dimensions of physical space which the combatants had available during the battle.
What we do know is that the Tupelo National Battlefield is another place where history was made. It's definitely worth seeing and experiencing.
---
Visit the Tupelo Veterans Museum
And while you're in Tupelo, check out the Tupelo Veterans Museum.
It's a local tribute to the brave men and women who defended our country in the Civil War, World War I, World War II, Korean War, Vietnam War and the modern Desert Storm and Iraqi Wars.
The museum is filled with wartime exhibits covering the heights and depths of the human experience. It reminds us that freedom isn't free by honoring the men and women who have helped to keep us free.
---
More Mississippi National Parks
9. Vicksburg National Military Park
The Siege of Vicksburg has been recognized around the world as one of the greatest military campaigns in history.
According to John Henry McCracken, Professor of History Emeritus at Lafayette College, it was at Vicksburg that Ulysses S. Grant learned only hard, long fighting and logistics will win the war.
---
Cutting The South In Two
The victory cut the South in two and doomed their efforts in the West.
How did Grant do it? He moved his army along the west bank of the Mississippi River to get below Vicksburg, where he completed a well-planned amphibious crossing of the Mississippi and took a daring gamble to feed his army off the countryside.
---
To Learn More About Vicksburg
There are some excellent books on the Battle of Vicksburg.
One of my favorites is Vicksburg: Grant's Campaign That Broke the Confederacy by Donald L. Miller. Another is Vicksburg, 1863 by Winston Groom.
---
Things To Do At Vicksburg National Military Park
At Vicksburg National Military Park, there's a vast array of cultural, historical and natural resources. Each visitor to the park receives an official park brochure and map detailing the driving routes, tour stops, and provides a brief history of the Vicksburg Campaign and Siege.
There's a self-guided driving tour or you can make a reservation to take a guided park tour.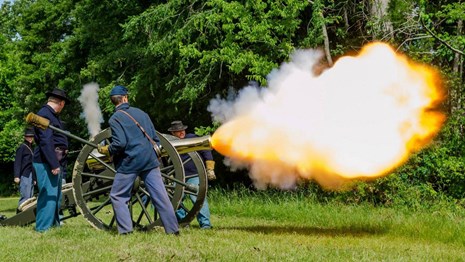 Over 1,400 Memorial Monuments
There's no shortage of things to see and experience. I would recommend beginning your tour at the visitor center. Check out the more than 1,400 memorial monuments, tablets and markers which cover the 1,800-acre park.
They represent soldiers who served on both sides of the conflict.
The park also features an impressive 20 miles of trenches and earthworks which have been reconstructed to reflect the time period.
---
There's Even A Gunboat–The U.S.S. Cairo
There's even a gunboat! You can see the U.S.S. Cairo Gunboat.
There's also a Museum located within the park, enabling visitors to view the restored vessel, along with Civil War-era artifacts recovered during the boat's excavation.
Other key attractions include: The Antebellum Shirley House and 4 other historic buildings, 9 historic fortifications, Vicksburg National Cemetery, 141 cannons and carriages and 15 historic bridges.
If you love history as much as I do then plan on spending the entire day at the park. It's well worth it!
RELATED: 8 EPIC Arkansas National Parks (An Expert Guide)
---
Map Of Mississippi National Park Sites
---
List Of All 9 National Park Sites In Mississippi
Brices Cross Roads National Battlefield Site
Gulf National Island Seashore
Medgar and Myrlie Evers Home National Monument
Natchez National Historical Park
The Natchez Trace Parkway
Natchez Trace National Trail
Shiloh Military Park
Tupelo National Battlefield
Vicksburg National Military Park
---
---
About The People Behind More Than Just Parks
You should probably know that we don't just make this stuff up out of thin air. My sons have spent their entire adult lives exploring and filming America's national parks and public lands.
As for me, I'm a retired lifelong educator and a proud dad of these two wonderful guys who are hopelessly obsessed with the national parks. I taught history for over a quarter of a century. Now I enjoy researching and writing articles for More Than Just Parks. I'm always on the hunt for topics where nature and history intersect so please feel free to share any ideas that you might have with me.
We've worked with the National Park Service, the Department of Interior, and the U.S. Forest Service for years creating films on important places and issues. Our work has been featured in leading publications all over the world and even some people outside of our immediate family call us experts on the national parks.
---
Meet The Parks Brothers
We're Jim Pattiz and Will Pattiz, collectively known as the Pattiz Brothers (and sometimes the Parks Brothers) and we absolutely LOVE the national parks.
Our goal here at More Than Just Parks is to share the beauty of America's national parks and public lands through stunning short films in an effort to get Americans and the world to see the true value in land conservation.
We hope you'll follow our journey through the parks and help us to keep them the incredible places that they are. If you're interested in joining the adventure then please sign up below!
---
Check Out Our Comprehensive Guide
I hope you've enjoyed learning about some amazing places to visit in Mississippi. If you're interested in learning more about our national parks please check out our comprehensive guide to all 63 of them.