Historic Sites In New York. More Than Just Parks has 10 incredible must-see sites for you to visit.
There's so much more to this exciting place than the Empire State Building and Yankee Stadium. In this article, we'll familiarize you with the incredible historic sites located in New York State.
We're going to give you our Top Ten List of the Best Historic Sites In New York!
I've been to so many of these amazing places since retiring from teaching in 2018. Did I mention that I taught history? I spent a lifetime teaching about the history behind these momentous sites. Then I got to see them firsthand. And now I'm sharing the stories of these incredible places with you. It doesn't get any better than that!
Well, actually it does since I was born and raised in New York City.
Without further ado, let's dive in.
---
Historic Sites In New York
---
#10. Women's Rights National Historic Park
We begin our top 10 countdown of historic sites in New York with the Women's Rights National Historic Park.
There is so much important history in New York from revolutionary war to revolutionary struggle. The Women's Rights National Historical Park tells the story of the first Women's Rights Convention held in Seneca Falls, NY on July 19-20, 1848.
It's a story of struggles for civil rights, human rights, and equality, global struggles that continue today. The efforts of women's rights leaders, abolitionists, and other 19th century reformers remind us that all people must be accepted as equals.
The park consists of four major historical properties including the Wesleyan Chapel and the homes of Elizabeth Cady Stanton and Thomas and Mary Ann M'Clintock.
---
Historic Sites In New York
---
#9. Federal Hall National Memorial
At #9 on our list of Historic Sites In New York is the Federal Hall National Memorial.
Once upon a time, the government of the United States operated out of New York City. Federal Hall is where George Washington took the oath of office as our first President. This site was home to the first Congress, Supreme Court, and Executive Branch offices.
Located at at 26 Wall Street in the Financial District of Manhattan, the current structure is a Customs House, which served as part of the U.S. Treasury Department. Today the building serves as a museum and memorial to our first President and the beginnings of the United States of America.
While you're there, check out the first inaugural bible, the rotunda view, the inauguration balcony slab, the view of Wall Street, the bank vault, the portrait gallery and the museum store. It's an incredible place where you can learn so much about our nation's earliest history.
RELATED: 25 EPIC New York State National Parks To Visit
---
Historic Sites In New York
---
#8. African Burial Ground National Monument
Coming in at #8 on our list of best historic sites in New York is the African Burial Ground National Monument.
I'm a retired history teacher who's originally from New York City. As a former New Yorker, I'm thrilled at the prospect of so many amazing national park sites in my old stomping grounds.
The largest and most important archeological discovery made was a 6-acre burial ground containing upwards of 15,000 intact skeletal remains of enslaved and free Africans who lived and worked in colonial New York. This became the African Burial Ground National Monument.
---
The Nation's Earliest & Largest African Burial Ground
The Burial Ground, dating from the middle 1630s to 1795, is the nation's earliest and largest African burial ground discovered in the United States.
There are two fascinating sites to explore. At the visitor center, you can learn about the history of this amazing place through exhibits and artwork.
You can also visit an outdoor memorial offering visitors an in depth understanding of how, when, and why enslaved and free Africans were using the African Burial Ground during the 17th and 18th centuries.
And, while you're immersing yourself in the history of this place, why not take a "deeper dive" with a walking tour of the African-American Freedom Trail.
RELATED: 10 BEST National Parks In New York City
---
African American Freedom Trail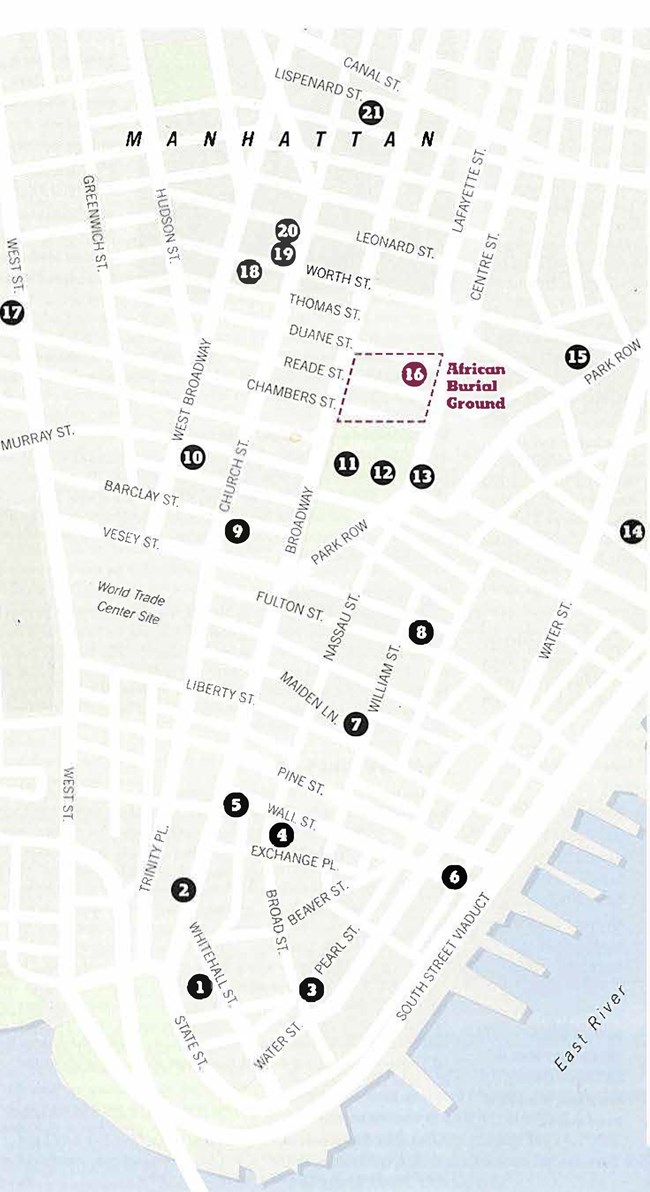 This self-guided tour includes some places of major historical significance including:
Fort Amsterdam-In 1625 enslaved Africans arrived in New Amsterdam. Among their first tasks was to build the first fort on Manhattan Island, known as Fort Amsterdam.
Broadway-The city's first municipal work force, African slaves cleared land and shoreline and widened Native American trails, including a wide road-later known as Broadway.
Fraunces' Tavern-A popular restaurant owned by Samuel Fraunces, a West Indian caterer of French and African origin. Site of General George Washington's farewell address to his troops in 1783.
Downing's Oyster House-Popular restaurant in the early 1800s owned by black abolitionist Thomas Downing. Its cellar served as a stop on the Underground Railroad.
The Wall-African slaves constructed a wall across Manhattan Island in 1653. Extending from the Hudson River to the East River, it is later known as Wall Street.
Wall Street Slave Market-Established in 1711 at a pier at Wall Street and the East River, African men, women, and children were sold at the Wall Street Slave Market.
1712 Slave Revolt-A group of enslaved Africans ambushed whites on the outskirts of the city in 1712. Nineteen blacks were executed in response to the slave uprising.
African Free School-Founded in 1787 in a single room for forty boys and girls.
St. Peter's Church-Destroyed by fire in 1835, the church was rebuilt chiefly from money given by Pierre Toussaint, a former slave and Haitian philanthropist.
---
Still More Sites To See On The African American Freedom Trail
11. The Dr. James McCune Smith House-A graduate of the African Free School, Dr. Smith established a medical practice and pharmacy here in 1837.
12. Pinkster Celebration-In the 17th century, the Afro-Dutch community celebrated an African ceremony called Pinkster at this site. The annual celebration coincided with the Christian observance of Pentecost.
13. 1741 Executions-A rumor of a slave uprising in New York City led to the trial and convictions of thirty-five defendants. All were executed, either by hanging or burning, including' thirty-one black men, two white men, and two white women.
14. Road to Harlem-In 1658, African workers built the road to Harlem (later known as the Boston Post Road).
15. 1863 Draft Riots-During four days of citywide violence in July 1863, the homes of African Americans and abolitionists were firebombed. Estimates range from 100 to more than 1,000 people killed, including two men, Abraham Franklin and Jeremiah Robinson, on Roosevelt Street.
16. Land of the Blacks-From 1643 to 1712, more than thirty farms owned by free blacks spanned the frontier north of the African Burial Ground to 34th Street.
17. Frederick Douglass-The Hudson River pier where Frederick Washington Bailey, a runaway slave from Maryland, came ashore in 1838. Aided by the Underground Railroad, Bailey achieved freedom and renamed himself Frederick Douglass.
18. Abyssinian Baptist Church-Founded in 1808 by black members of the First Baptist Church.
19. Mother A.M.E. Zion Church-The first African-American church in New York City, founded in 1796.
20. Freedom's Journal
21. Ruggles' Boarding House-Rooming house for blacks owned by black abolitionist David Ruggles, and an 22. Underground Railroad station that assisted hundreds of fugitives, including Frederick Douglass. (Source: NPS)
---
---
Historic Sites In New York
---
#7. General Grant National Memorial
At lucky #7 is the General Grant National Memorial.
Washington was the first victorious general to ascend to the White House. He would be followed by others among them Ulysses S. Grant. Grant (1822-1885) commanded the victorious Union army during the American Civil War (1861-1865) and served as the 18th U.S. president from 1869 to 1877.
The final resting place of Ulysses S. Grant is just one of the things to see at the General Grant National Memorial. It's the largest mausoleum in North America.
At the memorial, you can see a 20-minute film about Grant's life and achievements titled "A Legacy of Freedom." There's also a permanent exhibit gallery addressing some of the major events in Ulysses S. Grant's life as well as a bookstore/giftshop. There you can find some fascinating historical works as well as other Grant memorabilia.
If you want to learn the story of the man who served as the Lieutenant General of the Armies (a rank previously held only by George Washington) and who was considered by many to be the most important general in our nation's history after George Washington.
---
Take A Deeper Dive
If you're interested in taking a deeper dive into the story of this incredible individual you cannot do better than his personal memoirs–The Complete Personal Memoirs of Ulysses S. Grant.
Of course, if you're looking for a more objective assessment that I would recommend either Grant by Ron Chernow or Grant by Jean Edward Smith. I've read both and they're both excellent.
---
Historic Sites In New York
---
#6. Sagamore Hill National Historic Site
We conclude the bottom 5 of our top 10 historic sites in New York with the Sagamore Hill National Historic Site.
As University of Virginia Professor of Politics Sidney Milkis noted, "Theodore Roosevelt is widely regarded as the first modern President of the United States. The stature and influence that the office has today began to develop with TR."
As University of Virginia Professor of Politics Sidney Milkis noted, "Theodore Roosevelt is widely regarded as the first modern President of the United States. The stature and influence that the office has today began to develop with TR."
If you love the national parks, and I assume that you do or why else would you be reading this article, then you are likely aware of his impact on conservation. Some would argue that he was and remains the greatest conservation president of all time.
If you're as big a Theodore Roosevelt fan as I am then I recommend reading Edmund Morris's Theodore Roosevelt Trilogy Bundle: The Rise of Theodore Roosevelt, Theodore Rex, and Colonel Roosevelt. It's the best three-volume you'll read on one of America's greatest presidents.
---
Nine Interesting Facts About Theodore Roosevelt
As a child, Theodore Roosevelt witnessed Abraham Lincoln's funeral procession.
Theodore Roosevelt was a prolific writer who wrote about 35 books including his autobiography.
He Was America's First Cowboy President-Given his time as a rancher in North Dakota, he was the "real deal" when it came to embodying the west despite his eastern origins.
Roosevelt was the "Father of the Modern American Navy." He wrote the definitive naval history of the War of 1812, served as Assistant Secretary of the Navy and built the U.S. Navy into one of the largest in the world.
He was the first president to win a Nobel Peace Prize for his mediation efforts in the Russo-Japanese War.
In response to Upton Sinclair's The Jungle, Roosevelt pressured Congress to pass the Pure Food and Drug Act and the Meat Inspection Act in 1906.
He was the inspiration for the Teddy Bear. His decision to spare a bear on a 1902 hunting trip inspired a candy store owner in New York to make a black bear doll which he named the "Teddy Bear."
He helped to save the game of football. It had become too violent so TR met with coaches and officials to help bring about the rule changes which saved the sport.
Roosevelt was the first president to go after big corporations and created a Bureau of Corporations to protect the public from price-fixing.
And let's not forget conservation. Roosevelt protected 230 million acres of public land, which included the creation of the U.S. Forest Service and the unveiling of five new national parks.
---
Things To Do At Sagamore Hill National Historic Site
Tours of the Roosevelt Home are guided only. That having been said, it's definitely worth taking one as you will have the opportunity to step into the world of America's 26th president. You can get tickets for the tour.
TR was the great outdoorsman and there are eighty three acres of forested areas, meadows, salt marsh and beach for you to explore. While you do you may see birds, small mammals, turtles, frogs and insects.
There are some wonderful paths and a nature trail provide a wonderful place to walk.
---
The Top 5 Historical Sites In New York
---
#5. Ellis Island
Kicking off our list of the top 5 historic sites in New York is Ellis Island.
America is a national of immigrants and their history often began at Ellis Island. Today it's is a historical site, but it opened in 1892 as an immigration station. It served this purpose for more than 60 years until it closed in 1954.
Ellis Island saw millions of newly arrived immigrants pass through its doors. It has been estimated that close to 40 percent of all current U.S. citizens can trace at least one of their ancestors to Ellis Island, which is truly amazing.
Today visitors can explore the National Immigration Museum. You can walk the halls of the former processing station just as so many people did over so many years.
If you want to learn more about your own story then you can also visit the Family History Center to learn about where you fit in the continuum of American immigration. There's an incredible collection of arrival records for people looking to retrace their ancestry and their family's journey to the United States.
RELATED: 36 EPIC National Parks In Washington D.C.
---
Historic Sites In New York
---
#4. Home Of Franklin D. Roosevelt National Historic Site
We're on to the final four historic sites in with the Home of Franklin D. Roosevelt National Historic Site.
As historian William E. Leuchtenburg, professor emeritus of history at the University of North Carolina at Chapel Hill concluded, Franklin D. Roosevelt may have done more during the twelve years he served as president to change American society and politics than any of his predecessors in the White House, save Abraham Lincoln.
Roosevelt led the nation through the twin crises of the Great Depression and World War Two. In the process, he transformed the role of the federal government. The programs unleashed by FDR's New Deal sought to insure that the economic, social, and political benefits of American capitalism were distributed more equally among America's large and diverse populace.
FDR also transformed the American presidency. Under his leadership, the President's duties grew to encompass not only those of the chief executive—as implementer of policy—but also chief legislator—as drafter of policy. He greatly increased both the powers and the responsibilities of the office.
RELATED: 10 Must-See Historic Sites In Georgia
---
Learn About America's 32nd President At The Franklin D. Roosevelt National Historic Site
An extraordinary president means extraordinary opportunities to explore and learn. At the Franklin D. Roosevelt National Historic Site in Hyde Park, New York, visitors can:
Visit the burial site of President Roosevelt.
Stroll along Farm Lane Trail which is part of the historic road network that connected the Roosevelt Home, Val-Kill, Top Cottage, the Home Farm, and FDR's tree plantations.
Walk Top Cottage Trail which was FDR's humble hilltop getaway hosted pivotal meetings that shaped world history.
Visit the Home Garden of Franklin & Eleanor Roosevelt.
in 2003, Henry A. Wallace Visitor and Education Center was opened in conjunction with the Franklin D. Roosevelt Presidential Library and Museum to honor the man who served as FDR's Secretary of Agriculture and 2nd Vice President.
If you're prepared to go just a bit farther than Hyde Park, the Hudson Valley National Heritage Area is home to many museums, historic houses, gardens, nature preserves, and culinary adventures.
---
Historic Sites In New York
---
#3. American Museum Of Natural History
At #3 on our list of the best historic places in New York is a place that I grew up attending-the American Museum of Natural History.
As a young kid, I couldn't wait to get there and see all of those incredible dinosaurs.
Those creatures came to life for me thought not in the same way they did for Ben Stiller in Night At The Museum, but it was exciting nonetheless.
Founded in 1869, the museum complex comprises 26 interconnected buildings housing 45 permanent exhibition halls, in addition to a planetarium and a library.
The museum is renowned for its exhibitions and scientific collections. It serves as a field guide for the entire planet.
Since its founding, the Museum has advanced its global mission to discover, interpret, and disseminate information about human cultures, the natural world, and the universe through a wide-ranging program of scientific research, education, and exhibition.
---
Historic Sites In New York
---
#2. 911 Memorial
Coming in at #2 on our list of the best historic sites in New York is a memorial which commemorates the defining event of the 21st Century.
Located at the site of the World Trade Center in New York City, the 9/11 Memorial Museum tells the story of 9/11 through media, narratives, and a collection of monumental and authentic artifacts, presenting visitors with personal stories of loss, recovery, and hope.
America's first war of the the twenty-first century left nearly 3,000 people dead in New York City, Washington, D.C., and Shanksville, Pennsylvania.
RELATED: 25 Bucket List Famous Landmarks In America (Must-See)
---
Do You Remember Where You Were On That Historic Day?
An overwhelming share of Americans who are old enough to recall the day remember where they were and what they were doing when they heard the news.
I've been there and I believe that every American needs to make this pilgrimage to truly appreciate and understand this memorial.
Not only the evil deeds which were committed on this day, but also the incredible acts of heroism performed by first responders as well as ordinary Americans who found themselves confronting the most dastardly attack on America since Pearl Harbor.
---
The #1 Historic Site In New York
---
#1. Statue Of Liberty National Monument
At #1 on our list of the best historic sites in New York is Lady Liberty who has welcomed weary travelers to our teeming shores for many years.
You may remember learning that wonderful Emma Lazarus poem titled, "The New Colossus." Who could forget those stirring lines which go as follows:
"Give me your tired, your poor,
Your huddled masses yearning to breathe free,
The wretched refuse of your teeming shore.
Send these, the homeless, tempest-tost to me,
I lift my lamp beside the golden door!"
At #1 in the heart of New York Harbor lies what is arguably the most recognizable symbol in America–the Statue of Liberty.
---
A Symbol of Liberty
The Statue of Liberty has come to represent freedom, democracy and justice that societies around the world have sought to emulate. It is one of the most recognizable landmarks in both America and the world.
Just as the American Revolution became a joint effort between America and France so did the Statue of Liberty. The French sculptor Frederic-Auguste Bartholdi created the statue itself out of sheets of hammered copper, while Alexandre-Gustave Eiffel, the man behind the famed Eiffel Tower, designed the statue's steel framework.
The Statue of Liberty was a gift from the people of France to the people of America. It was erected atop an American-designed pedestal on a small island in Upper New York Bay, now known as Liberty Island, and dedicated by President Grover Cleveland in 1886.
The Visitor Information Station features brochures, maps and memorabilia, and also gives visitors a chance to watch a short documentary about the making of the Statue of Liberty.
The Statue of Liberty Exhibit is located on the second floor of the pedestal inside the Statue. It features a vast collection of photographs, prints and artifacts that tell the story of the monument throughout history.
Before you go, you might want to pick up a copy of The Story of the Statue of Liberty by Betsy Maestro.
---
---
Map Of Historic Sites In New York
---
List Of Historic Sites In New York
Statue Of Liberty National Monument
911 Memorial
American Museum Of Natural History
Home Of Franklin D. Roosevelt National Historic Site
Ellis Island
Sagamore Hill National Historic Site
General Grant National Memorial
African Burial Ground National Monument
Federal Hall National Memorial
Women's Rights National Historic Park
---
About the Folks Behind More Than Just Parks
You should probably know that we don't just make this stuff up out of thin air. My sons have spent their entire adult lives exploring and filming America's national parks and public lands.
As for me, I'm a retired lifelong educator and a proud dad of these two wonderful guys who are hopelessly obsessed with the national parks. I taught history for over a quarter of a century. Now I enjoy researching and writing articles for More Than Just Parks. I'm always on the hunt for topics where nature and history intersect so please feel free to share any ideas that you might have with me.
We've worked with the National Park Service, the Department of Interior, and the U.S. Forest Service for years creating films on important places and issues. Our work has been featured in leading publications all over the world and even some people outside of our immediate family call us experts on the national parks.
---
Meet The Parks Brothers
We're Jim Pattiz and Will Pattiz, collectively known as the Pattiz Brothers (and sometimes the Parks Brothers) and we absolutely LOVE the national parks.
Our goal here at More Than Just Parks is to share the beauty of America's national parks and public lands through stunning short films in an effort to get Americans and the world to see the true value in land conservation.
We hope you'll follow our journey through the parks and help us to keep them the incredible places that they are. If you're interested in joining the adventure then sign up below!
---
Related Links
To learn more about the difference between the various National Park Service designations check out our article that explains everything!
National Parks In New York City: 10 Best National Parks In New York City
National Parks In New York: 25 EPIC New York National Parks
Historic Landmarks In America: 25 Bucket List Famous Landmarks In America