Article Summary: National Parks Near Madison
National Parks Near Madison! There's so much more to the Badger State than the Henry Vilas Zoo. In this article, More Than Just Parks gives you some exciting vacation destinations that are within a day's drive of Madison.
I've been to so many of these amazing places since retiring from teaching in 2018. Did I mention that I taught history? I spent a lifetime teaching about the history behind these momentous sites. Then I got to see them firsthand. And now I'm sharing the stories of these incredible places with you. It doesn't get any better than that!
Madison is home to a number of great museums, arts & music venues and festivals, unique local shopping, award-winning restaurants, sporting events, and so much more.
And let's not forget about those fabulous national parks that are a day's drive (or less) from the city.
---
So, What Is A National Park?
We get asked that question a lot because there's a difference between a "national park" and a "national park site." To help you understand that difference you might want to check out our article titled: What Is A National Park Really?
If you're planning a trip to the Badger State then one book that I highly recommend is: Wisconsin Bucket List Adventure Guide & Memory Journal: Travel & Explore 50 Must See Destinations & Record Your Experience.
Now let's go ahead with 5 reasons why you'll want to hop in your car and make a day's drive from Madison to one of these truly amazing places.
---
---
Best National Parks Near Madison
---
1. Apostle Islands National Lakeshore
Distance From Madison: It takes approximately 5h 25m to get from Madison to Apostle Islands National Lakeshore, including transfers.
It's a day's drive, but it's definitely worth it. The Apostle Islands National Lakeshore is home to stunning rock formations and six historic lighthouses. There are a chain of 21 islands which offer kayaking, hiking and island camping opportunities.
There are no roads or vehicle access to any of the 21 Apostle Islands within the National Lakeshore. Visitors can also take boat tours, sailing charters or the ferry from Bayfield to Madeline Island for hiking, beaches, galleries and historic sites.
RELATED: 10 AMAZING National Parks Near Cleveland
---
Kayak Tours & Outfitters | Apostle Islands National Lakeshore
---
Sailing Charters | Apostle Islands National Lakeshore
Cornucopia Sailing LLC-Sailing day trips to the sea caves and around the islands, 920-915-7548
Dreamcatcher Sailing Adventures-Multi-day and day trip sailing charters, chartered island drop-off/pickups, 800-262-4176, 715-779-5561, [email protected]
Superior Charters Inc.-Sailboat charters and bareboat sailboat rentals (prior experience required for boat rentals), 715-779-5124, [email protected]
True North Sailing Charters-Captained sailing trips among the islands from Bayfield, 715-513-6284, [email protected]
---
Fishing Charters | Apostle Islands National Lakeshore
Willigan's Adventures-Chartered fishing and motorboat tours, 763-381-7076, [email protected]
Escape Excursions-Chartered boat tours, island drop offs/pick-ups, powerboat supervised recreational kayaking, fishing charter, 612-805-7454, [email protected]
---
Hiking In The Apostle Islands
There are more than fifty miles of hiking trails on the islands of the National Lakeshore. These trails provide access to lighthouses, abandoned quarries, old farm sites, historic logging camps, beaches, campsites, and scenic overlooks.
RELATED: 19+ Best Hiking Apps RANKED By Experts (From Best To Worst)
---
Scuba Diving In The Apostle Islands
If you enjoy scuba diving then you're in luck. There are clean, clear water, underwater rock formations, and fascinating shipwrecks which provide outstanding diving opportunities at Apostle Islands National Lakeshore.
---
Camping In The Apostle Islands
Camping is available on 18 of the Lakeshore's 21 islands, and at one campsite on the mainland.
Individual Campsites: $15/site/night. Group size of 1-7 people. Individual sites are spread across the islands and are often set apart from other sites so visitors can experience solitude and basic camping amenities (picnic table, fire ring, bear resistant food locker, & nearby privy).
Primitive Camping Zone: $15/site/night. Group size of 1-5 people. Primitive Zone camping is not a specific site, but provides the option of choosing a backcountry area to camp. Specific guidelines determine what areas are available on each island.
In additions, there are no amenities, such as privies and food lockers, so campers should be prepared to properly manage your food and waste. (Source: National Park Service)
Please remember to practice the seven principles of Leave No Trace.
RELATED: 5 EPIC National Parks Near Dallas You'll Love
---
2. Cave Of The Mounds
Distance From Madison: 33 minutes via US-151 S/US-18 W.
First, the disclaimer. Cave of the Mounds is not managed by the National Park Service. That having been said, however, it's the premier cave in the upper Midwest and the crown of America's major show caves. Besides, we're more than just parks!
Cave of the Mounds is a natural limestone cave located in Blue Mounds, Wisconsin. It was formed over millions of years by the slow dissolution of limestone rock by groundwater.
The cave is known for its colorful formations, including stalactites, stalagmites, and other speleothems.
It was discovered in 1939 by quarry workers and is now a popular tourist destination, offering guided tours, educational programs, and other activities.
---
More National Parks Near Madison
---
3. Ice Age National Scenic Trail
Distance From Madison: One hour & 7 minutes via I-94 E.
Imagine a trail formed during the Ice Age. It was a time 15,000 years ago when much of North America lay under a huge glacier. There were mammoths, saber tooth cats and cave lions. Oh my!
Evidence of this glacier is found today in Wisconsin such as the state's many lakes, river valleys, gently rolling hills, and ridges. The nearly 1,200 mile Ice Age National Scenic Trail was established in 1980. It traces the glacier's edge.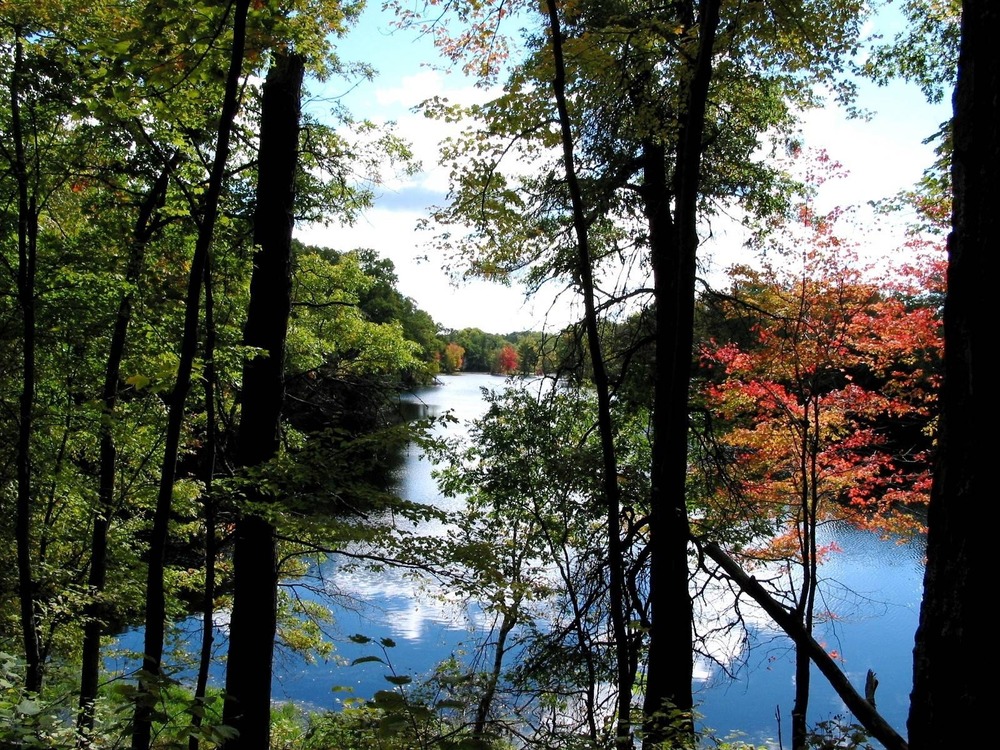 RELATED: 6 Missouri National Parks Worth A Stop On Your Next Midwest Road Trip
---
Outdoor Activities | Ice Age National Scenic Trail
While the trail is primarily enjoyed for hiking and backpacking, other activities include: (1) Birdwatching and Nature Walks, (2) Cross Country Skiing and Snowshoeing, (3) Stargazing and Wildlife Viewing, (4) Camping , (5) Hunting and Fishing (during the proper seasons), (6) Biking, (7) Horseback Riding and (8) Snowmobiling.
If you're camping, be advised that in some areas camping is allowed anywhere along the trail; in others only at designated sites.
These facilities may be spaced quite far apart. Along such segments it may be difficult to find any place to camp legally. You should plan your multi-day hike carefully. (Source: NPS)
---
4. North Country National Scenic Trail
Distance From Madison: Five hours & 13 minutes via I-94 E & Milwaukee – Muskegon.
The North Country National Scenic Trail provides visitors opportunities from bird watching to backpacking.
The trail traverses eight northern states and connects a host of natural, historic and cultural sites. You can see everything from small towns to larger cities, valleys to hilltops and much more.
RELATED: 30+ Best National Parks Books (Great Gifts For Park Lovers)
---
The History Of The North Country National Scenic Trail
In 1980, the North Country National Scenic Trail (NCT) was authorized by Congress. It stretches 4,600 miles from upstate New Hampshire to its western terminus at Lake Sakakawea State Park.
The trail actually traversed seven states until 2019 when Vermont was added. The Vermont section is only about 70 miles long.
---
The North County National Scenic Trail In Wisconsin
In Wisconsin, the North Country Trail clips the northwest corner of the state for 220 miles, passing through Douglas, Bayfield, Ashland and Iron counties.
The North Country Trail route crosses Wisconsin's western border just south of Minnesota's Jay Cooke State Park and the trail crosses into Michigan's Upper Peninsula via the State Highway 122 bridge across the Montreal River southeast of Saxon Harbor.
Although Wisconsin has the second shortest trail distance among the eight states the trail passes through, Wisconsin is responsible for providing the name to the North Country Trail.
The original 60-mile Northern Country Trail in the Chequamegon-Nicolet National Forest lent its name to the 4,600-mile National Scenic Trail when the idea of the multi-state trail was first envisioned. (Source: Wisconsin Department of Natural Resources)
---
5. Saint Croix National Scenic Riverway
Distance From Madison: Four hours & 15 minutes via I-94 W.
The Saint Croix National Scenic Riverway is a protected area in the Upper Midwest region of the United States. It follows the course of the Saint Croix River, which forms the border between the states of Wisconsin and Minnesota.
The riverway covers over 250 miles and includes both the river and its surrounding natural areas, such as forests, bluffs, and wetlands.
It is known for its scenic beauty, recreational opportunities, and diverse wildlife, including eagles, otters, and beavers.
Visitors can enjoy activities such as boating, fishing, camping, hiking, and wildlife watching. The Saint Croix National Scenic Riverway is managed by the National Park Service.
RELATED: 5 National Parks Near St. Louis You'll Love
---
Hiking Trails Along The Saint Croix
There are seven hiking trails which are open year round. Trail surfaces are uneven and may be steep so be sure to watch your step. And also make sure to check for ticks.
Ridge View Trail is a three mile trek with two loops. The Chisage Loop traverses basalt rock outcroppings; the Osceola Loop is more level as you hike through pine and woods. Vistas of St. Croix River backwaters are visible from the bluff side of the trail.
This trail is a great place to see scarlet tanagers, bald eagles, turkey, grouse, and other forest-loving wildlife. Forest plants include marsh marigolds and large maple trees.
---
Trego Lake & Trego Nature Trails
The Trego Lake Trail is 3.6 miles and 3 loops. It offers hikers many scenic overlooks of Trego Lake. The area has a large population of white-tailed deer and ruffed grouse. Watch the ground for signs left by these animals.
The Trego Nature Trail is 2.8 miles. Hikers will see a beautiful forest and breathtaking views of the Namekagon River. Wildlife seen can include deer, fox, otters, wolves, and bobcat.
RELATED: 6 AMAZING National Parks Near Louisville You'll Love
RELATED: All 63 RANKED BY EXPERTS (Best To Worst)
---
Indian Head Flowage & Sandrock Cliffs Trails
The Indian Head Flowage Trail is a three quarter mile trek. This trail crosses bridged streams as it winds its ways through woods and wetlands to the river. Hikers will be treated to wildflowers which include marsh marigolds, trilliums, blue flag iris, wild geraniums, and more.
Sandrock Cliffs Trail is five miles and four loops. The lower loop of this trail follows the river closely, then turns onto a ridge providing a variety of terrain and scenery. The highlight of this trail system is the sandstone cliffs located in a side channel of the river.
RELATED: List Of 128 BEST U.S. Monuments Ranked
---
National Parks Near Madison FAQ
---
Does Wisconsin have any national parks?
There are technically no national parks in Wisconsin, but it's easy to understand why many people believe Apostle Islands National Lakeshore should be one. Referred to as the "Jewels of Lake Superior," the lakeshore encompasses 21 islands and 12 miles of pristine mainland coast. It's worth pointing out, however, that Wisconsin does have 4 amazing national park sites.
What is the most beautiful state park in Wisconsin?
Copper Falls State Park ranks as the best state park in Wisconsin because of its views. Ancient lava flows and gaping gorges meander across this 3,000-plus acre state park in northern Wisconsin. Seventeen miles of trails lead to cascading waterfalls and historic log cabins.
---
Why Trust Us About National Parks Near Madison?
---
We're Jim Pattiz and Will Pattiz, collectively known as the Pattiz Brothers (and sometimes the Parks Brothers) and we absolutely LOVE the national parks.
You should probably know that we don't just make this stuff up out of thin air. We've spent our entire adult lives exploring and filming America's national parks and public lands.
We've worked with the National Park Service, the Department of Interior, USDA, and the U.S. Forest Service for years creating films on important places and issues. Our work has been featured in leading publications all over the world and even some people outside of our immediate family call us experts on the national parks.
---
Meet The Parks Brothers
---
---
Map Of National Parks Near Madison
---
List Of National Parks Near Madison
Apostle Islands National Lakeshore
Cave Of The Mounds
Ice Age National Scenic Trail
North Country National Scenic Trail
Saint Croix National Scenic Riverway
---
We Hope You'll Follow Our Journey
---
Our goal here at More Than Just Parks is to share the beauty of America's national parks and public lands through stunning short films in an effort to get Americans and the world to see the true value in land conservation.
We hope you'll follow our journey through the parks and help us to keep them the incredible places that they are. If you're interested in joining the adventure then please sign up below!