Historic Sites In Indiana. More Than Just Parks has 5 incredible must-see sites for you.
I've been to so many of these amazing places since retiring from teaching in 2018. Did I mention that I taught history? I spent a lifetime teaching about the history behind these momentous sites. Then I got to see them firsthand. And now I'm sharing the stories of these incredible places with you. It doesn't get any better than that!
I'm going to give you my list of the 5 Historic Sites In Indiana that you'll want to see.
To be clear, this list includes national park sites (as in sites managed by the National Park Service) as opposed to national parks.
If you are planning a trip to Indiana then you might want to pick up a copy of Weird Indiana: Your Travel Guide to Indiana's Local Legends and Best Kept Secrets by Mark Marimen.
Without further ado, let's dive in.
---
Historic Sites In Indiana
---
#5. Ernie Pyle World War Two Museum
At More Than Just Parks were committed to bringing you the most interesting and diverse historic sites so as to maximize your traveling experience whenever you decide to boldly go where you've never gone before.
As a retired history teacher who loves to get in his car and go exploring it's my hope that you will benefit from my experience both in the classroom and on the road.
At #5 on our list of the best historic sites in Indiana we have the Ernie Pyle World War Two Museum.
---
A Gifted Journalist
Ernie Pyle was born in Dana, Indiana in 1900. He worked as a journalist early in his career when the Second World War prompted him to become a war correspondent. Articles he penned described what it was like to be a solider and the struggles they faced.
He turned out pieces about military policemen, quartermasters, and airmen, but he had the most sympathy for the plight of the infantryman. Ernie's column was a resounding success.
His honest depictions of soldiers were what the public wanted to read. At the conclusion of the campaign in North Africa, Ernie followed American forces in the invasion of Sicily in July 1943.
---
A Distinguished War Correspondent
In 1944, Pyle was awarded the Pulitzer Prize "for distinguished war correspondence during the year 1943." The following year, he traveled to the Pacific Theater to write stories about what soldiers were experiencing in the war against Japan.
Pyle was riding in a jeep on April 18, 1945 with an army officer when a hidden Japanese machine gunner opened fire. Ernie and his companion dove into a nearby ditch, but when Ernie raised his head a short time later, a bullet struck him just below the rim of his helmet. He was 44 years old
At the Ernie Pyle World War Two Museum you will find Ernie Pyle's birthplace along with a museum that showcases his life as a journalist and writings during WWII.
To learn more about this gifted journalist and accomplished storyteller I recommend Ernie Pyle: The Life and Legacy of the Most Famous Journalist Killed in Battle during World War II by Charles River Editors.
RELATED: 5 MUST-SEE Historic Sites In Illinois
---
Historic Sites In Indiana
---
#4. Wilbur Wright Birthplace & Museum
At #4 on our list of the best historic sites in Indiana is the Wilbur Wright Birthplace & Museum.
History is replete with incredible moments that change the trajectory of humankind. One such moment occurred on December 17, 1903. Orville & Wilbur Wright, otherwise known as the Wright Brothers, ushered in the aerial age with their successful first flight of a heavier-than-flying machine at Kitty Hawk, North Carolina.
This airplane, known as the Wright Flyer, was the product of a sophisticated four-year program of research and development conducted by the brothers beginning in 1899.
Together, these two aeronautical visionaries pioneered many of the basic tenets and techniques of modern aeronautical engineering, such as the use of a wind tunnel and flight testing as design tools.
The impact of the airplane on the 20th century is beyond measure. The Wrights not only solved a long-studied technical problem, but also helped create an entirely new world.
As a retired history teacher and avid history buff I'm always recommending books. One of my favorites is The Wright Brothers by Pulitzer Prize Winning Author & Historian David McCullough.
---
What You'll See At The Museum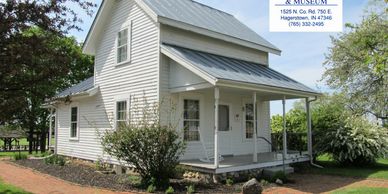 At the museum, visitors can see the following:
The Birth Home: Wilbur's parents bought this 5 acres and house for $700 and they only lived here for three years. Along with the Wright family house is a Smoke House, Barn and an Outhouse.
The Wright Flyer: This is a full-size replica of the 1903 Wright Flyer. This replica took 10 years to build and was meant to fly. The propellers are hand-carved. The motor is molded and cast into the replica 4-cylinder engine.
Kitty Hawk Room: Replica of where they the Wrights stayed when returning to Kill Devil Hills site in 1901. They pitched a tent about 1,000 ft. east of the higher hill and built a rudimentary shed as a workshop.
Main Street: The Brothers began their careers as printers. When they were unable to make a living at that, they began repairing and building bicycles. Check out the barber shop, dress shop, general store and school. Wood Carvings: Many of these carvings were made from wood taken from the original house and fence.
Gift Shop/Visitor Center: Visit our Gift Shop and website store. We are well-stocked with affordable items such as posters, key chains, shot glasses, T-shirts, and postcards etc.
---
Historic Landmarks In Indiana
---
#3. George Rogers Clark National Historical Park
Coming in at #3 on our list of the best historical sites in Indiana is the George Rogers Clark Historical Park.
For almost 30 years, I taught high school history. What impresses me most about the field of history are the amazing stories of men and women whose contributions changed the course of human events. In doing so, they helped to bring about the country we have today.
The people we know, however, are few when compared to the people we don't. When I asked my students what they knew about George Rogers Clark, I might have seen one hand raised.
I would call on that intrepid soul and he (or she) inevitably told me about Clark's historic journey across America with his companion Merriweather Lewis.
Folks, that's the wrong Clark!
---
Who Was George Rogers Clark
A short history lesson is in order, but I promise there'll be no homework.
Clark's best remembered (not by my former students however) as the brave commander who led a small force of frontiersmen during the American Revolution through the freezing waters of the Illinois country to capture British-held Fort Sackville at Vincennes during February of 1779.
While this was his most important contribution to the cause of liberty, Clark also built forts on the Mississippi and Ohio rivers, repelled a British-led Indian attack in the Illinois country and led two major expeditions which destroyed the major Shawnee towns in the Ohio country. (Source: NPS)
Clark began his career as a surveyor before becoming a politician and a soldier.
After the Revolutionary War, Congress appointed him as one of the commissioners to manage negotiations with the Native Americans in what was then known as the Northwest Territory.
He concluded a treaty with the Shawnee granting the United States sovereignty over all lands ceded by Great Britain.
---
Things To Do At The Park
I always recommend that first timers start at the visitor center. There you can gather information on points of interest at the site. At this site, I recommend a 30 minute film, titled Long Knives. The film explores Clark, his march to Vincennes, and the attack on Fort Sackville.
From there you should check out the Memorial where you can see seven murals which tell the story of Clark and the Old Northwest along with a magnificent statue of George Rogers Clark.
As the National Park Service notes, the Memorial was a major feat of architectural engineering. It was built from 1931 to 1933. Workers assembled it piece by piece like a gigantic jigsaw puzzle. Today it stands as a testament to a man who did his part for the cause of freedom.
RELATED: 5 MUST-SEE Historic Sites In Ohio
---
Historic Sites In Indiana
---
#2. Lincoln Boyhood National Memorial
At #2 on More Than Just Parks list of historic sites in Indiana is the Lincoln Boyhood National Memorial.
In 2021, C-SPAN asked a group of distinguished presidential historians to rank our nation's presidents from worst to best.
At the top of their list, with a total score of 897 points, was Abraham Lincoln. George Washington and Franklin Roosevelt came in second and third respectively.
Why is Abraham Lincoln ranked as the greatest president of all time? Simply put, he saved the Union.
In the process of saving the nation, Lincoln managed to define the creation of a more perfect Union in terms of liberty and economic equality that rallied the citizenry behind him.
If you're interested in taking a deeper dive and learning more about America's greatest president then you cannot do better than Carl Sandburg's Abraham Lincoln: The Prairie Years and The War Years. Sandburg won the coveted Pulitzer Prize for his monumental work on America's 16th President.
---
Visit Lincoln's Birthplace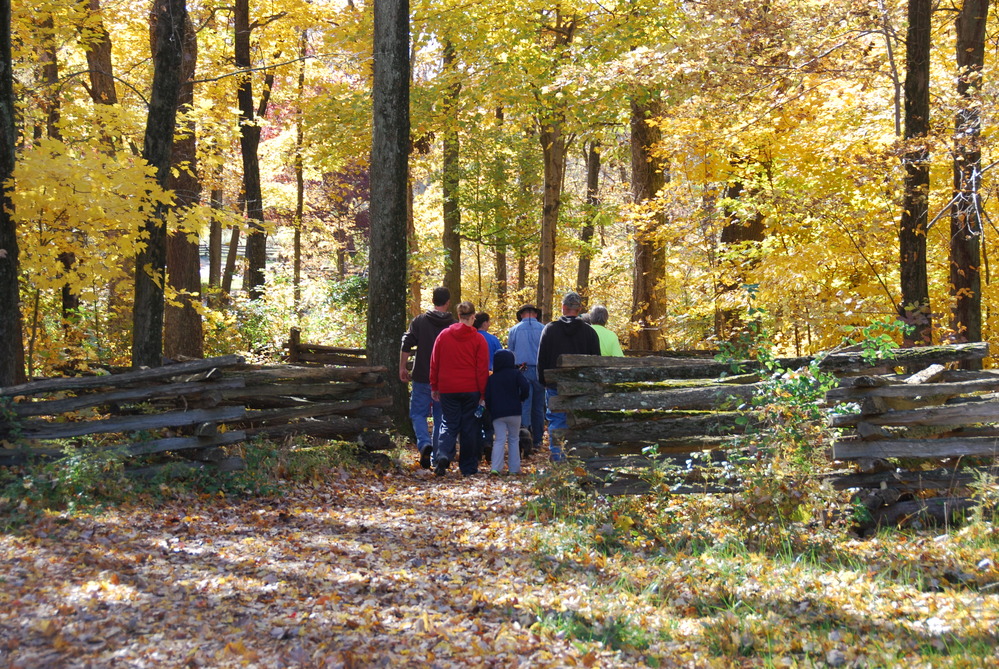 There are many activities offered on a daily basis at Lincoln Boyhood National Memorial.
At the Memorial Visitor Center, park staff and volunteers are available to answer your questions.
While you're there you should allow at least 45 minutes to tour the Memorial Halls, Museum and watch the orientation film.
The film, titled Forging Greatness: Lincoln In Indiana, is a 14-minute interpretive story which tells of the boyhood of Abraham Lincoln.
Next up, I recommend the park museum. It's housed in the Memorial Visitor Center which was completed in 1943.
The tour is self-guided and includes twelve exhibits exploring the life of Abraham Lincoln.
RELATED: 10 MUST-SEE Historic Sites In New York
---
Outdoor Activities At The Lincoln Boyhood Home

When you're ready for a "good stretch of the legs" as our nation's 16th President might say, there's the Trail of the 12 Stones.
It's a half mile trail that begins just east of the Cabin Site Memorial. There you will find twelve historic stones arranged in chronological order at irregular intervals.
Small bronze tablets located near each stone, briefly explain the events in Lincoln's life associated with each of the memorial stones.
There are stones from twelve locations beginning with his birthplace in Kentucky and ending with a stone left over from the Lincoln Tomb in Illinois.  (Source: NPS)
---
The Boyhood Trail Of Abraham Lincoln
You can also hike the Boyhood Trail of Abraham Lincoln. It's the same ground that Abraham Lincoln did when he was a boy growing into a young man.
And if you're ready to step back in time there's the Lincoln Living Historical Farm. It's a working pioneer homestead with a log cabin, outbuildings, split rail fences, livestock, gardens and field crops.
While you're there you'll see rangers are dressed in period clothing. They perform a variety of activities typical of daily life in the 1820s.
---
And Now The #1 Historic Site In Indiana
---
#1. Soldiers & Sailors Monument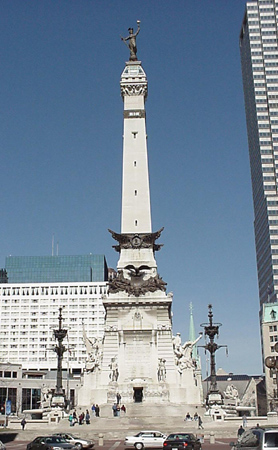 At #1 on our list of the best historic sties in Indiana is the Soldiers & Sailors Monument.
Recognized as one of the world's outstanding monuments, the structure has come to symbolize both the City of Indianapolis and the state of Indiana.
The Soldiers & Sailors Monument is Indiana's official memorial to the Hoosiers that served in the Revolutionary War, the War of 1812, the Mexican War, the Civil War, the Frontier Wars and the Spanish-American War.
The Limestone used for the monument is gray oolitic limestone from the Romona quarries of Owen County. It stands 284 feet, 6 inches high, only 15 feet shorter than the Statue of Liberty. It cost $598,318 in 1902.
The commission for the monument construction requested architects to submit design proposals. Of the seventy proposals turned in, two finalists were chosen. From those two, Bruno Schmitz of Berlin, Germany, received the appointment.
There are a number of art works either built into the Monument, or placed throughout the grounds. Bruno Schmitz brought with him Rudolf Schwarz. Schwarz was sculptor for the statuary groups "War" and "Peace", "The Dying Soldier", "The Homefront" and the four statues at the corners of the Monument that represents the Infantry, Cavalry, Artillery, and Navy.
The Soldiers & Sailors Monument also houses a Gift Shop and Observatory. From the Observatory, visitors can experience panoramic views of the city skyline from 231 feet above street level. (Source: Indiana War Memorial)
RELATED: 36 EPIC National Parks In Washington D.C.
---
List Of Historic Sites In Indiana
Soldiers & Sailors Monument
Lincoln Boyhood National Memorial
George Rogers Clark National Historical Park
Wilbur Wright Birthplace & Museum
Ernie Pyle World War Two Museum
---
Map Of Historic Sites In Indiana
---
---
About the Folks Behind More Than Just Parks
You should probably know that we don't just make this stuff up out of thin air. My sons have spent their entire adult lives exploring and filming America's national parks and public lands.
As for me, I'm a retired lifelong educator and a proud dad of these two wonderful guys who are hopelessly obsessed with the national parks. I taught history for over a quarter of a century. Now I enjoy researching and writing articles for the More Than Just Parks website. I'm always on the hunt for topics where nature and history intersect so please feel free to share any ideas that you might have with me.
We've worked with the National Park Service, the Department of Interior, and the U.S. Forest Service for years creating films on important places and issues. Our work has been featured in leading publications all over the world and even some people outside of our immediate family call us experts on the national parks.
---
Meet The Parks Brothers
We're Jim Pattiz and Will Pattiz, collectively known as the Pattiz Brothers (and sometimes the Parks Brothers) and we absolutely LOVE the national parks.
Our goal here at More Than Just Parks is to share the beauty of America's national parks and public lands through stunning short films in an effort to get Americans and the world to see the true value in land conservation.
We hope you'll follow our journey through the parks and help us to keep them the incredible places that they are. If you're interested in joining the adventure then sign up below!
---
Related Links
To learn more about the difference between the various National Park Service designations check out our article that explains everything!
Indiana National Parks: 4 EPIC Indiana National Parks You Should See