Historic Sites In Idaho. More Than Just Parks has 5 incredible must-see sites for you to visit.
I've been to so many of these amazing places since retiring from teaching in 2018. Did I mention that I taught history? I spent a lifetime teaching about the history behind these momentous sites. Then I got to see them firsthand. And now I'm sharing the stories of these incredible places with you. It doesn't get any better than that!
I'm going to give you my list of the 5 Historic Sites In Idaho that you'll want to see.
To be clear, this list includes national park sites (as in sites managed by the National Park Service) as opposed to national parks.
If you are planning a trip to Idaho then you might want to pick up a copy of Backcountry Roads-Idaho by Lynna Howard.
Without further ado, let's dive in!
---
Historic Sites In Idaho
---
5. Minidoka National Historic Site
We begin our list of the best historic sites in Idaho with the Minidoka National Historic Site.
After Japan's attack on the United States on December 7th, 1941, Japanese internment camps were established during World War II by President Franklin D. Roosevelt through his Executive Order 9066.
From 1942 to 1945, it was the policy of the U.S. government that people of Japanese descent, including U.S. citizens, would be incarcerated in isolated camps. Many lost businesses, farms and loved ones as a result.
---
Executive Order #9102
In March 1942, President Roosevelt signed Executive Order 9102, which established the War Relocation Authority (WRA), the federal agency responsible for the evacuation, relocation, and internment of Japanese Americans and the construction and administration of relocation centers throughout the United States.
In 1942, an area in southeastern Colorado was selected as a relocation center camp site by the WRA.
Governor Ralph L. Carr of Colorado had been the only western governor to welcome evacuees in his state, volunteering Colorado for a relocation center and urging acceptance and understanding for Japanese Americans.
---
Minidoka
One of these internment camps was Minidoka. The Minidoka National Historic Site near Jerome, Idaho, marks the location where over 10,000 Japanese Americans were imprisoned during World War II.
It was added to the National Register of Historic Places in 1979, and it became a national monument in 2001.
The Minidoka Visitor Center includes a theater, new park film, new interactive exhibits, and a bookstore. There visitors can learn about the stories of some of how these chapter of America's history impacted Japanese-Americans.
---
Take A Deeper Dive
To learn more about this tragic chapter of American history I recommend: Infamy: The Shocking Story of the Japanese American Internment in World War II.
Acclaimed historian Richard Reeves has interviewed survivors, read numerous private letters and memoirs, and combed through archives to deliver a sweeping narrative of this atrocity.
Check Out: 25 BUCKET-LIST Famous Landmarks In America (MUST-SEE)
---
4. Hagerman Fossil Beds National Monument
Coming in at #4 on our list of the best historic sites in Idaho is the Hagerman Fossil Beds National Monument.
For over a quarter of a century, I taught World History. I had a blast with the past and you can too because it doesn't get any older than the Pliocene Era.
Lush wetlands, forests, and grasslands provided an excellent habitat for a variety of animals. These creatures included the now-extinct saber-toothed cat, mastodon, and ground sloth. They also included the more familiar animals like horses, beavers, and birds.
At Hagerman Fossil Beds National Monument you can step back in time. It's a place that preserves one of the world's richest sites for Pliocene-aged fossils, about 4 to 3 million years old. The fossils found at Hagerman represent over 140 species of plants and animals.
In 2022, visitors will be able to see exhibits in the Thousand Springs Visitor Center. Don't stop there, however, because you can also experience Hagerman Fossil Beds' road and scenic overlooks.
---
Historic Sites In Idaho
---
3. Shoshone Ice Caves
Coming in at #3 on our list of the best historic sites in Idaho is the Shoshone Ice Caves.
The Shoshone Ice Cave natural wonder is actually a lava tube that is 1,000 feet long, with an ice depth ranging between 8 and 30 feet in height. Take a tour with the proprietor and learn all about the fascinating geology of the area.
These caves were created through a natural anomaly as lava tunnels created this abnormally cold cavern. This cavern has a rich history as area tribes utilized the caverns and they became so central to the Shoshone that they entered into the sacred myths.
The Indian Ice Cave is part of a lava tube, there are several in the area where some of them collapsed and look like a sinkhole from the outside. The air currents flowing through the tubes result in the ice, since the currents cause subterranean water to freeze.
You can take a tour of this amazing geologic wonders with trained experts who will accompany you on the tour and explain the historical, geological, and volcanic background of this magnificent landform.
The tour is 45 minutes long and it consists of 80 stairs down and back.
And while you're there check out the Ice Cave Museum.
---
2. Craters of the Moon National Monument & Preserve
In the runner-up spot at #2 on our list of the best historic sites in Idaho is the Craters of the Moon National Monument & Preserve.
One of my favorite periods of study was the Space Race of the 1960s. I always wondered what it would feel like to walk on the moon.
Perhaps you can actually know what it feels like if you take a trip to Craters of the Moon National Monument – minus the zero gravity of course.
Craters of the Moon National Monument is a lava wonderland that's just waiting for you to explore.
I recommend that you start at the visitor center for park maps and information, educational exhibits, and the park film.
Craters' caves and trails are all located along the 7-mile Loop Road, making it easy for visitors to see and do a lot in a short amount of time.
Sit back and enjoy the scenic drive, or make stops along the way to stroll, hike, picnic, snap photos, or explore a cave.
Depending on how much time you have you can take in the view along the scenic 7-mile Loop Road, explore Indian Tunnel, hike the Broken Top Loop or Tree Molds Trails or explore the Craters of the Moon Wilderness.
Check Out: List of 128 BEST US National Monuments Ranked
---
Don't Forget To Check Out The Preserve Too
Just when you thought that your lunar experience was over, Idaho National Parks surprises you with another otherworldly destination. It's Craters of the Moon National Preserve.
There are different ways to explore Craters of the Moon Preserve. They include:
Backpacking the Crater of the Moon Wilderness.
Explore Craters' dynamic underground world of lava tubes.
Taking a hike along Broken Top Loop where you'll find a variety of unique volcanic features on this moderate-difficulty 1.8 mile loop.
Walking up Inferno Cone which is a short but very steep trail to the top of a volcanic cone for awe-inspiring views.
Hiking the North Crater Trail which is a 3.5-mile trail that drops into the mouth of North Crater.
Travelling along the Tree Molds Trail which is a 2-mile trail that winds through the Craters of the Moon Wilderness and features molds of ancient trees encased in lava.
And, when you do, to paraphrase Neil Armstrong, you can say, "That's one small step for a man (or woman) and one giant leap for a great outdoor adventure."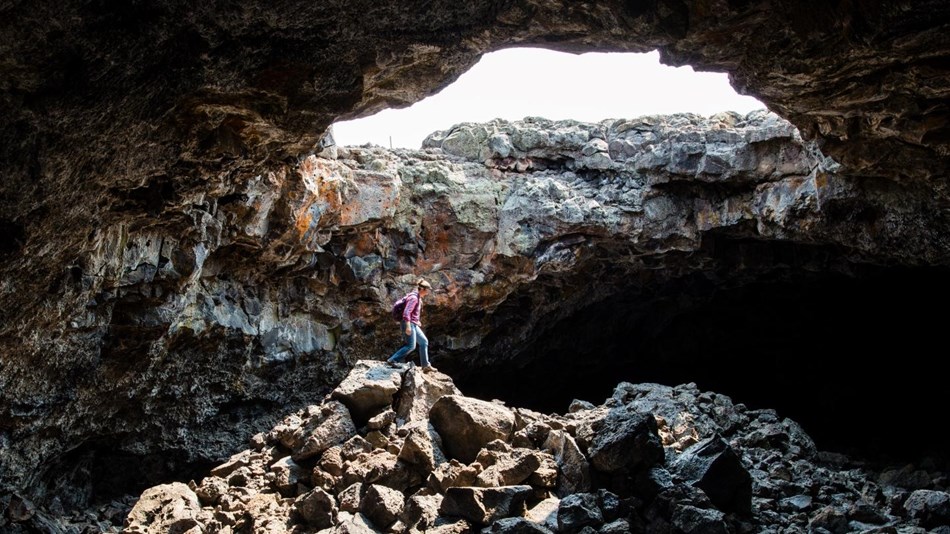 ---
The #1 Historic Site In Idaho
---
1. Nez Perce National Historical Park
At #1 as the top historic site in Idaho we have selected the Nez Perce National Historical Park.
Perhaps a short history lesson is in order, but have no fear as I will keep it brief and there will be no homework.
The conflict between the U.S. government and the Nez Perce was one of the most tragic of the many Indian wars of the 19th century.
The same Native Americans whose forefathers had befriended and helped Lewis & Clark would find themselves forced off of their ancestral lands.
---
The Nez Perce War Of 1877
The U.S. Government's efforts to force these Native Americans off of their lands produced a backlash. This backlash became known as the Nez Perce War of 1877. A small band of warriors fought American soldiers at four major battles.
In the third of these battles at the Big Hole Basin in present-day western Montana ,Colonel John Gibbon attacked the sleeping Indians with a force of 183 men. The army body count found 89 Nez Perce dead, mostly women and children.
Two months later, Colonel Nelson Miles defeated the Nez Perce at the Battle of the Bear Paw Mountains. It proved to be the final battle for the Nez Perce. Those who were not killed surrendered and agreed to return to the reservation.
If you're interested in learning more about this important event in American history then I recommend: Battle of the Big Hole: The Story Of The Landmark Battle Of The 1877 Nez Perce War by Aubrey Haines & Calvin Haines.
---
Things To Do At The Nez Perce National Historical Park
Nez Perce National Historical Park has thirty-eight sites spread across Idaho, Montana, Oregon and Washington.
The most noteworthy site within is the Old Chief Joseph Gravesite.
Old Chief Joseph was a Nez Perce leader who refused to sell his Wallowa homeland and sign the 1863 Treaty.
Another noteworthy site worth is the Nez Perce Wallowa Homeland Visitor Center. It's located in the town of Wallowa.
It's a 320-acre site. It includes interpretive markers along a trail which lead past the traditional longhouse and dance arbor to a stunning overlook of the confluence of the Lostine and Wallowa rivers and sweeping views of ancestral lands.
Hasotino Village Site
Archaeologists working in Nez Perce country have uncovered evidence that the Nez Perce have lived in the Pacific Northwest for close to 11,000 years.
One of the largest villages on the Snake River was Hesutiin or Hasotino.
The village was located near an important lamprey fishery which provided the jawless fish, a delicacy among the Nez Perce.
---
Map Of Historic Sites In Idaho
---
List Of Historic Sites In Idaho
Nez Perce National Historical Park
Craters of the Moon National Monument & Preserve
Shoshone Ice Caves
Hagerman Fossil Beds National Monument
Minidoka National Historic Site
---
About The People Behind More Than Just Parks
You should probably know that we don't just make this stuff up out of thin air. My sons have spent their entire adult lives exploring and filming America's national parks and public lands.
As for me, I'm a retired lifelong educator and a proud dad of these two wonderful guys who are hopelessly obsessed with the national parks. I taught history for over a quarter of a century. Now I enjoy researching and writing articles for More Than Just Parks. I'm always on the hunt for topics where nature and history intersect so please feel free to share any ideas that you might have with me.
We've worked with the National Park Service, the Department of Interior, and the U.S. Forest Service for years creating films on important places and issues. Our work has been featured in leading publications all over the world and even some people outside of our immediate family call us experts on the national parks.
---
Meet The Parks Brothers
We're Jim Pattiz and Will Pattiz, collectively known as the Pattiz Brothers (and sometimes the Parks Brothers) and we absolutely LOVE the national parks.
Our goal here at More Than Just Parks is to share the beauty of America's national parks and public lands through stunning short films in an effort to get Americans and the world to see the true value in land conservation.
We hope you'll follow our journey through the parks and help us to keep them the incredible places that they are. If you're interested in joining the adventure then please sign up below!
---
Related Links:
Idaho National Parks: 7 EPIC Idaho National Parks Worth Visiting
America's National Parks: All 63 US National Parks Ranked By Experts
National Monuments: Ultimate List Of National Monuments
National Landmarks: 25 Bucket List Famous Landmarks In America (Must-SEE)
Revolutionary War Sites: 10 BEST Revolutionary War Sites In America
Civil War Sites: 10 BEST Civil War Sites In America