Best Travel Movies
Best Travel Movies! In this article I'll give you our list of ten terrific travel movies sure to feed your wanderlust. We're also going to be behind the scenes with some interesting information and fascinating stories about these films.
And, most importantly, we're going to share some of the amazing locations where these films were made. Perhaps we may give you some great travel ideas in the process.
Spoiler Alert: We're More Than Just Parks so some of our best loved national parks played cameo roles in some of the films on our list. That being said, we're also going to share some exciting non-park destinations too. Think of this as "More Than Just Parks Plus!"
Now that we've got you excited, let's have a drumroll please as we give you our list of amazing films you need to see and places you need to go!
Top 10 Best Travel Movies
1. Around The World In 80 Days
Who doesn't love a good film based on a great book. Around the World in Eighty Days is an adventure novel by the French writer Jules Verne, first published in 1872. In the story, Phileas Fogg of London and his newly employed French valet, Passepartout, attempt to circumnavigate the world in 80 days on a wager of £20,000 set by his friends at the Reform Club.
In 1956, Hollywood made a blockbuster film starring David Niven and an All-Star Supporting Cast to bring Phileas Fogg to be big screen.
Of course, Hollywood is notorious for using its "movie magic" to make you think that what's happening on a sound stage is actually what's happening in the real world. Around the World in 80 Days was no exception.
This film used one hundred forty sets built at six Hollywood studios, as well as sets in England, Hong Kong, and Japan. It also set several records. The cast and crew flew over four million miles. Casting included 68,894 extras in thirteen countries, and 74,685 costumes were designed, made or rented for the movie.
This Film Truly Went Around The World
When it comes to best travel movies, this film is no slouch.
Locations included: Paris, France; New Mexico, USA; Durango, Colorado, USA; Chinchon, Spain; Calcutta, India; Bangkok, Thailand; Bangkok, Thailand; Bombay, India; Calcutta, India; Chinchón, Spain; Durango, Colorado, United States; London, England, Great Britain; Mexico City, Mexico; Paris, France; New Mexico, United States; Nevada, United States; Pakistan.
Meet The Real Phileas Fogg
Jules Verne's book was fiction which turned into fact. On Nov. 14, 1889, New York World reporter Nellie Bly started a 25,000-mile journey around the world, inspired by Verne's book.
Nellie Bly's story would make a great film in and of itself. As a young reporter at the Dispatch, Bly mostly wrote about fashion, the home, and women's issues, as was expected for female journalists at the time.
However, she grew bored with day-to-day newspaper life and took an assignment to go to Mexico. Only 21 years of age, Bly travelled with her mother across the southern border into Mexico.
She then got a job writing for the New York World, a major Democratic newspaper rising under the leadership of Joseph Pulitzer.
While there, she pretended to have a mental illness so she would be admitted to the Women's Asylum on Blackwell Island.
After staying there for 10 days, she was released. Bly wrote an expose of what went on at the asylum there creating momentum for some much needed reforms.
What if this intrepid journalist were to travel around the world? If she could do it in less than 80 days then she would improve upon the fictional adventure of Phileas Fogg.
She accepted the challenge. Her courage and determination won out as Nellie Bly circumnavigated the globe in just 72 days, setting a world record. She was the real Phileas Fogg!
The Five Foggs
Now here's a fun question. Can you name the five actors who have played Phileas Fogg? Did you even know that there were five actors who played the role?
Don't worry. If you can't name them then that's okay because I wouldn't want you to read an article that doesn't teach you anything.
Fogg was played first played by David Niven in the 1956 film adaptation. He was then played by Pierce Brosnan in the 1989 television adaptation.
Next up was Michael Praed in The Secret Adventures of Jules Verne in 2000. He was subsequently played by Steve Coogan in the 2004 film which also starred Jackie Chan. In 2022, Phileas Fogg was portrayed by David Tennant in the series on PBS.
2. Butch Cassidy & The Sundance Kid
Who wouldn't want to follow in the footsteps of two of the greatest desperadoes of all time? Of course, I'm not referring to robbing banks. Rather, I'm referring to a great outdoor adventure in the American West.
Those are footsteps worth following. And, let's not forget about a memorable excursion south of the border too.
One of my favorites films stars Paul Newman and Robert Redford. Now, don't go saying, "Who are those guys?" Save that line for the movie.
But guess what? This iconic western was actually filmed in a national park.
Butch Cassidy Was Filmed In Zion National Park
Now if you look carefully at that 1969 classic then you will discover that two of Hollywood's most famous outlaws are actually holed up in Zion National Park in Utah.
Now I could tell you about Zion, but there's an old saying that a "picture's worth a thousand words." So if that's true then what's a short film worth? Why don't you find out by clicking on our film (four minutes) which highlights the beauty and magnificence of Zion National Park.
Now Here's A Fun Fact
Here's a fun fact: Did you know that, while Paul Newman was originally cast as Butch Cassidy, finding his co-star and fellow outlaw would take quite some time? Originally, Newman approached Steve McQueen about playing the role of the Sundance Kid.
McQueen's other missed roles included the male lead in Breakfast at Tiffany's, Oceans 11, Apocalypse Now, A Bridge Too Far, Dirty Harry, Close Encounters of the Third Kind and The French Connection. Ouch!
McQueen was unhappy with the billing so he wouldn't agree to do it. Fortunately, there was a young and relatively unknown actor by the name of Robert Redford who didn't care who got the top billing. And the rest, as they say, is cinematic history.
Sundance Comes From Sundance
For those of you who are not film buffs, did you also know that the Sundance Mountain Resort and the Sundance Film Festival in Salt Lake City were both named after Robert Redford's role in that iconic film?
3. The Great Race
Now here's an incredible travel story: A spectacular land race from New York to Paris in the early 20th century is planned, the two main competitors being the handsome, dashing hero in white, The Great Leslie (Tony Curtis), and the dastardly, black-suited Professor Fate (Jack Lemmon).
While Fate's sidekick, Max (Peter Falk), attempts to sabotage Leslie and the other racers, Leslie finds an unlikely ally in Maggie DuBois (Natalie Wood), a suffragette and journalist-turned-racer whose car breaks down halfway through the event. (Source: Rotten Tomatoes)
The film is Blake Edwards 1965 production titled, "The Great Race." It's a slapstick comedy which pays homage to the slapstick comedies of Hollywood's Golden Age. And that's apparent from the film's outset with its dedication to Stan Laurel and Oliver Hardy.
Based On A Real Race
Director Blake Edwards based the film on the 1908 New York to Paris Race, very loosely interpreted. On February 12, 1908, the "Greatest Auto Race" began with six entrants, starting in New York City and racing westward across three continents.
The ultimate destination was Paris, making it the first around-the-world automobile race. Only the approximate race route and the general time period were borrowed by Edwards in his effort to make "the funniest comedy ever".
Filming Locations For The Great Race
Filming of The Great Race included 27 different shooting locations. Among these locations were:
Anif Castle, Anif, Salzburg, Austria.
Salzburg Cathedral, Salzburg, Austria.
Death Valley National Park, California, USA.
Sonora, California, USA.
Big Bear Lake, Big Bear Valley, San Bernardino National Forest, California, USA.
Gearhart, Oregon, USA.
The Ultimate Pie Fight
The movie included the greatest pie fight ever recorded on film. The first pastry thrown was part of a large cake decorated for the king's coronation. Following this was the throwing of 4,000 pies. This scene paid homage to Mack Sennett and Charlie Chaplin's earlier comedy classics which had also made use of this gimmick though not on as grand a scale.
The pie fight scene lasts four minutes and was shot in five days. It is the longest pie fight sequence in movie history. At first, the cast had fun filming the pie fight scene, but eventually the process grew wearisome and dangerous. Natalie Wood choked briefly on a pie which hit her open mouth.
The pies used during the pie throwing scene were real, containing fruit, custard, whipped cream and other ingredients. Following this scene the crew devoured more than 300 leftover pies.
4. Hidalgo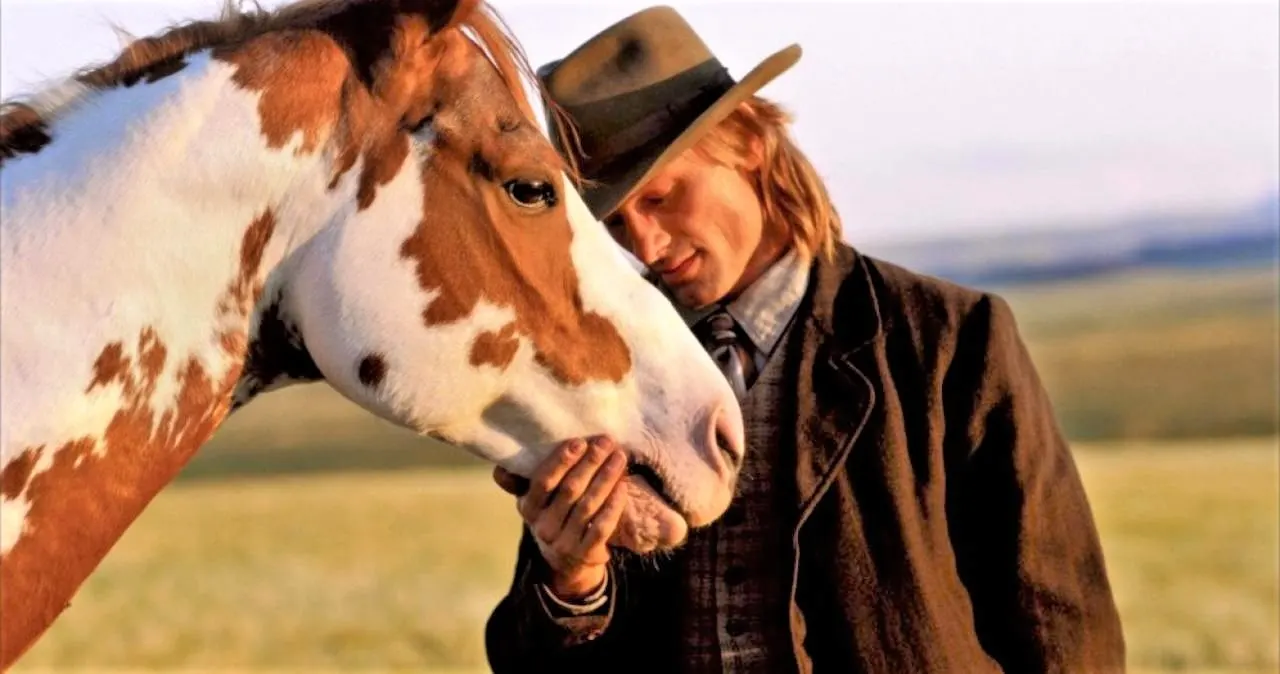 Sometimes fact follows fiction as in the case of Nellie Bly going around the world in less than 80 days. Sometimes fiction follows fact as in the case of Blake Edwards and the 1908 New York to Paris Race.
The incredible story of Frank Hopkins would be a case where fact and fiction merge leaving one unsure as to which is which.
The film Hidalgo is based on the true story of Frank Hopkins, a long-distance horse-racer who is invited to partake in "The Ocean of Fire," a 3,000-mile horse race across the Arabian Peninsula.
Viggo Mortensen portrayed the role of Frank T. Hopkins, an American cowboy who takes his mustang overseas to compete in the Ocean of Fire. Hopkins lived from 1865 to 1951. In his memoirs, he calls Buffalo Bill a stinking drunk and Sitting Bull a coward. Strong words!
He also claims that he was a long-distance U.S. Cavalry rider by the age of 12; the winner of hundreds of long-distance races all across America; a friend of Black Elk; a star in Buffalo Bill's Wild West show for over 30 seasons; and the first American ever to compete in—and win—the Ocean of Fire. Strong claims!
The 2004 film Hidalgo, produced by the Disney Corporation, claimed that it was based on a true story. But was it?
Separating Fact From Fiction
As a retired history teacher, I spent a lifetime trying to teach students how to separate truth from falsehoods. In examining the incredible story of Frank Hopkins life, I came across a fascinating book which does just that.
Hidalgo and Other Stories contains an unprecedented study, undertaken by more than seventy experts in five countries, ranging from the Curator of the Buffalo Bill Museum to the former Sultan of Yemen. These academics investigated the historical improbability of Hopkins' claims and weighed him on his merit, not his myth.
The resulting exhaustive study revealed that Hopkins had maintained a spirited disregard for the truth, plagiarized material from famous authors, slandered genuine American heroes and perpetrated a massive fraud for nearly one hundred years.
Far from being the star of Buffalo Bill Cody's Wild West Show for 32 years, for example, the counterfeit cowboy was discovered working as a subway tunnel digger in Philadelphia and a horse-handler for Ringling Brothers Circus.
Sometimes a good story is just a good story. That having been said, it's a wonderful story and therefore a worthy addition to the Best Travel Movies even if it never happened.
Filming Locations For Hidalgo
Hidalgo was filmed in California, South Dakota, the Blackfeet Indian Reservation in Montana, Oklahoma, Glacier National Park, Kalispell and Morocco. Viggo Mortensen actually purchased the horse that played Hidalgo after the film was completed.
If you love exotic locations and beautiful horses then this film is a must see. Speaking of horses, a total of five horses played Hidalgo throughout the movie. The final scene included a total of 550 horses.
Throughout Hidalgo, Mortensen did a lot of his own riding and stunts. He did all sorts of things such as riding bareback, falling off and even jumping on a horse at a gallop. Not only that, but he actually showed up for the movie premiere riding Hidalgo (a.k.a. T.J.)
Regarding the famed race which the real Frank Hopkins claimed to have won, the Saudi Arabian Government officially announced that the Ocean of Fire Race has never actually happened. Arab historian Dr. Awad al-Badi stated that such a lengthy race would have been impossible.
Remember: Some stories are just stories even if the folks who make them would like you to believe otherwise.
5. Indiana Jones Franchise
Long before he became a globe-trotting legend and America's best known archeologist, Indiana Jones first learned his craft at Arches National Park in Utah. Do you remember when Young Indiana and his hapless friend stumbled on a band of thieves in Indiana Jones and the Last Crusade?
Those brigands forgot the number one rule of archeology. Priceless artifacts belong in a museum.
Just How Exotic Are Those Filming Locations
We all grew up watching Indiana Jones outmaneuver booby traps, battle Nazis and retrieve important historical artifacts—not to mention rescuing damsels-in-distress in his spare time. We've all dreamed about going on those adventures with him.
But did he really go where we thought he did? Remember the opening scene of the film, Raiders of the Lost Ark, which launched one of the most successful film franchises of all time? In it, we see Dr. Jones headed to Peru.
Those scenes actually were filmed in beautiful Kauai, Hawaii's Garden Isle. Kipu Ranch, not far from the town of Lihue, served as the location of the temple. The beautiful Hule'ia National Wildlife Refuge, on the other hand, was the location for the rolling boulder scene, which put us on the edge of our seats and kept us there for the duration of the film.
I don't want you to think, however, that there wasn't any international travel involved. Filming for this series also took place on location in La Rochelle in France and Tunisia in North Africa.
And let's not forget about the dam in Sri Lanka which was used in the filming of Indiana Jones and the Temple of Doom for the rope-bridge scene. It was built across a 300 foot-deep gorge downriver from the Victoria Dam north of Kandy. As the dam was still under construction, there was a convenient supply of engineers and equipment to string the bridge.
Here's A Fun Fact
Here's a fun fact: Did you know that Indiana Jones was originally named Indiana Smith? Steven Spielberg objected, however, because Indiana Smith was too close to Nevada Smith, which had been the name of a popular 1966 Steve McQueen western.
George Lucas, who created the character, wanted the name to be as common as possible so Lucas, Spielberg and screenwriter Lawrence Kasdan all decided that "Jones" would do instead. What's in a name? Just ask Harrison Ford.
And for you diehard film buffs, did you know that Indiana Jones and the Temple of Doom inspired the PG-13 film rating. Spielberg wrote to Jack Valenti, then-President of the Motion Picture Association, suggesting an in-between rating for movies which might have more violence than a typical PG film, but less than an R rated film.
6. The James Bond Franchise | Best Travel Movies
No Time To Die is the latest movie in the iconic James Bond Franchise. It's the final film of the Daniel Craig Era. What better time to take a look back at the connection between national parks and Her Majesty's Secret Service's best agent.
When it comes to Best Travel Movies, the James Bond franchise offers some of the most exotic film locations on the planet. Far too many to list, but I will give you five of my favorites.
Before I do that, however, let's take a look at the history of this amazing franchise.
License To Thrill
The James Bond films are one of the longest continually running film series and have grossed over $7.04 billion in total, making it the fifth-highest-grossing film series to date.
The series started in 1962 with Dr. No, starring Sean Connery as Bond. As of 2022, there have been twenty-five films in the Eon Productions series.
Ian Fleming, the inventive mind behind the creation of the world's most famous spy, was a British author, journalist and secret service agent. Between the years of 1945 and 1949, Fleming was a Naval Intelligence Officer.
As the assistant to Admiral John Godfrey, who was himself a top British spymaster, Fleming was intimately involved in plotting and executing top secret missions. His experiences became the basis of the best selling book series which launched Agent 007.
Most Exotic Bond Film Locations
Just as everyone has their favorite James Bond, we all have our favorite Bond locations. You may disagree with my choices and that's okay. Before I give you five of my favorites, however, I want you to know that they are in no particular order. It's dangerous enough to provide such a list without including rankings. Since I'm not licensed to kill I won't do that.
The Bahamas has beauty, beaches, glamorous places to stay and casinos, making it a perfect location for four James Bond films. The movies were shot in Nassau Paradise Island with 1965's Thunderball famously shot in the surrounding waters.
Two James Bond films have been filmed in Morocco, The Living Daylights and Spectre. For the 2015 film, Spectre, actor Daniel Craig traveled to Oujda, in northeastern Morocco, to shoot a small scene of the movie on a train, surrounded by desert, according to Morocco World News. Bond also ends up at a desert hideout in southern Morocco.
It's All Greek To Me
James Bond found himself in Meteora, Greece for the 1981 film, For Your Eyes Only, which had Bond scaling a steep hill to reach the Monastery of the Holy Trinity. Just as magnificent as it looks in the film, it is in real life, with six active monasteries and nunneries that today are much more easily accessible than scaling the cliff as Bond does.
James Bond's ninth movie, The Man with the Golden Gun, mostly took place in Thailand, in the stunning location of Tapu Island, part of the Ao Phang Nga Bay National Park. In the film, the location is where Bond, played by Roger Moore, duels with Scaramanga. Disclaimer: Since this is a More Than Just Parks article, I did want to include at least one national park location. And that's actually the only time that James Bond did appear in a national park.
One-time Bond actor George Lazenby, in On Her Majesty's Secret Service, heads to Switzerland in the famous Swiss Alps, where most of the action takes place at the Piz Gloria, the revolving restaurant pictured above. You can actually visit and dine at the restaurant, which contains a Bond World exhibition. (Source: The Travel)
7. Lawrence Of Arabia
Today, T.E. Lawrence remains one of the most iconic figures of the early 20th century. His life has been the subject of at least three movies—including one considered a masterpiece—over 70 biographies, several plays and innumerable articles, monographs and dissertations.
His wartime memoir, Seven Pillars of Wisdom, translated into more than a dozen languages, remains in print nearly a full century after its first publication. As Gen. Edmund Allenby, chief British commander in the Middle East during World War I, noted, Lawrence was first among equals:
"There is no other man I know," he asserted, "who could have achieved what Lawrence did." (Source: Scott Anderson, The True Story of Lawrence of Arabia, Smithsonian)
Which takes us to David Lean's 1962 film production of Lawrence of Arabia. The winner of the academy award for best picture that year is undoubtedly one of the best historical films ever made. Not only in scale, but in subject.
A Man Of Destiny
It is Lawrence's destiny to unite warring Arab tribes to fight the Turks and the Ottoman empire in the British interest. But his own loyalties become divided as the film progresses and he falls in love with the Arab nations.
Against the backdrop of the Sahara Desert, he undergoes his own metamorphosis from British Imperialist to Arab Nationalist.
Fame can be fleeting however. While Lawrence became something of a legendary figure in his own lifetime, and in 1922 he gave up higher-paying appointments to enlist in the Royal Air Force (RAF) under an assumed name, John Hume Ross.
When the press discovered his deception in 1923, Lawrence managed to enlist as a private in the Royal Tanks Corps under another assumed name, T.E. Shaw, a reference to his friend, Irish writer George Bernard Shaw. In 1925, Lawrence rejoined the RAF and two years later legally changed his last name to Shaw.
In February 1935, Lawrence was discharged from the RAF and returned to his simple cottage at Clouds Hill, Dorset. On May 13, he was critically injured while driving his motorcycle through the Dorset countryside.
He had swerved to avoid two boys on bicycles. On May 19, he died at the hospital of his former RAF camp. Britain mourned his passing. (Source: HISTORY)
So Where Did They Film Lawrence Of Arabia
The filmmakers can create exotic locations in one place while making you believe it's another. That's part of their movie magic.
In the case of Lawrence of Arabia, most of the locations for the film can be found – despite appearances – in Spain.
The town of' 'Aqaba' was built at a beach called Playa del Algarrobico near Carboneras, close to Almeria in southern Spain. The attack on the train was filmed at Genovese Beach, San Jose on Cabo de Gata (Cape of the Cat) nearby.
The 'Cairo' officers' club, where Lawrence's companion is refused a drink after the desert crossing, which is the, currently empty and rather dilapidated, Palaçio Español, a semi-circular arcaded building in the Plaza de España.
Lawrence and General Allenby meet in another Seville landmark, the Casa de Pilatos, Plaza de Pilatos, built in 1519.
8. Maine
This is my sleeper. The one you've likely never heard of but that doesn't mean that it's not worth seeing. Just as some national parks are hidden treasures, so are some films. If you love the great outdoors and a compelling story then you'll love the 2018 film Maine.
This movie was made in the Virginia Highlands section of the Appalachian Trail. To watch it is to feel like you're along for the journey.
It's a story built around a pair of hikers, but the real stars are the incredible scenery and the camera shots which make you believe you're a part of this epic hiking trip. If travel is about metamorphosis then this film definitely goes from pupa to butterfly, but only if you don't have an incessant need for dialogue.
Maine is short on dialogue, but long on the natural beauty of the Appalachian National Scenic Trail. It's the story of two hikers who simultaneously experience the world around them and the world within them. It's that out-of-body experience that some hardcore hikers know only too well.
Art Imitates Life (Again)
As for the film's director, Matthew Brown, he discovered this magical place, which forms the backdrop of Maine, as a Boy Scout. His dream was to complete the trek as an adult, but a cliff jumping accident at sixteen made that dream an impossibility. So his transformation took place behind the camera instead of in front of it.
Speaking of transformations, why not travel a portion of the magnificent Appalachian Trail or, if you're feeling up to it, hike the entire trail from Georgia to Maine.
With plenty of places to stop along the way, it could be the adventure of a lifetime. And, while you're doing it, remember that both the Appalachian Trail and the movie Maine give new meaning to Ralph Waldo Emerson's famous quote:
"Its the not the destination, it's the journey." Or, as Los Angeles Times Film Critic Katie Walsh writes, "Where Maine ultimately goes is a little off the map, but the mysterious emotional journey is nevertheless fascinating."
---
9. Roman Holiday
Roman Holiday is a 1953 American romantic comedy film directed and produced by William Wyler. It's the story of a European princess Ann (Audrey Hepburn) who takes off for a night while in Rome.
When a sedative she took from her doctor kicks in, however, she falls asleep on a park bench and is found by an American reporter, Joe Bradley (Gregory Peck),who takes her back to his apartment for safety. At work the next morning, Joe finds out Ann's regal identity and bets his editor he can get exclusive interview with her, but romance soon gets in the way.
The real romance, however, is with the viewers and the fabulous city of Rome. The film is known for being a beautiful snapshot into the past, both for the historic look of Rome and to witness the birth of the romantic comedy genre. It's the perfect mix of silly comedy and innocent love turning the viewer into a willing tourist.
Filming Locations
The film is the best cinematic postcard I can think of for a visit to Italy. Filming locations included:
Mouth of Truth: .Located outside the Santa Maria in Cosmedin Church is a marble mask with a unique legend. If stick your hand inside the statue's mouth and you come out with no fingers that means you lied. Don't worry. It's just a legend.
Palazzo Barberini: The filmmakers chose it for the exterior of Princess Anne's Embassy.
Castel Sant'Angelo: In the film, the Princess's last wish is to enjoy an evening of dancing, on a barge next the Castle. While she tries to escape the secret agents sent to track her down, this storied landmark lights up the scene.
Trevi Fountain: The world's most famous fountain makes a cameo in Roman Holiday where Princess Anne decided to give herself a new disguise.
Piazza di Spagna: The longest and widest staircase in Europe at Piazza di Spagna, offers one of the most unique views of Rome. Named after the Spanish Embassy that once stood nearby, it's long been one of the most beloved sites in the city.
Roman Forum: Once the most important center of Roman life, this filming location from Roman Holiday make the perfect meeting place for the main characters.
Colosseum: It's one of the symbols of Rome for a reason! Believe it or not when gladiators roamed this ancient arena, it used to be covered in marble.
The Mouth Of Truth Scene
One of my favorite scenes in this wonderful film takes place at the Mouth of Truth. According to the legend, if you tell a lie then you lose your hand. The script called for Gregory Peck to briefly pretend that his hand was being chewed off, but he took it one step further, hiding the hand in his jacket sleeve and pulling out the "stump" to horrify Audrey Hepburn. She didn't know beforehand what Peck was going to do so her on camera scream is the real deal.
Another interesting film fact is that the studio wanted Director William Wyler to make the film on its own Hollywood backlot, but he wouldn't budge on shooting the movie on location in Rome. Paramount finally agreed, but he had to shoot the film in black and white instead of color to save money.
10. The Secret Life Of Walter Mitty | Best Travel Movies
Like Frank Hopkins, Walter Mitty had quite the imagination. Unlike Frank, he lived in a world of make believe which no one took seriously except, of course, Walter.
The story was created by author James Thurber. It was his first short story titled, "The Secret Life of Walter Mitty." It was first published in The New Yorker on March 18, 1939. Thurber loosely based the character, a daydreamer, on his friend Walter Mithoff.
The story was originally brought to the big screen in 1947 with actor, dancer, singer and comedian Danny Kaye in the title role. Kaye's performance was hilarious, but his film is dated. Seldom does a remake surpass the original. This, however, is a case in point.
Enter Ben Stiller in 2013. In his wonderful film, the theme of success and failure is examined through Mitty's inability to live a fulfilling external life. This causes him to retreat to an imaginary world full of images of daring deeds. Walter Mitty is neither exciting nor successful in his everyday life so this secret life becomes his necessary emotional outlet.
Travel As Metamorphosis | Best Travel Movies
Whereas Danny Kaye's Walter Mitty is unable to distinguish between the world of his dreams and the real world, Ben Stiller is able to utilize travel as a metaphor for living a more meaningful life. In doing so, his character is able to move beyond his fairy tale world while transforming his real world into a fairy tale. Advantage Stiller!
If Gregory Peck experienced a Roman Holiday then Ben Stiller endured an Icelandic Obstacle Course. Thurber originally focused on a man who found happiness in his heroic daydreams while Stiller took a very different approach with the character of Walter Mitty.
As Stiller's Mitty discovers, happiness comes from a strong sense of purpose. It's defined by surrounding yourself by what you enjoy in life. Walter Mitty embraced 13 filming locations in Iceland which included:
Grundarfjörður, Iceland (Port where Erkigsnek docks)
Seyðisfjarðarvegur, Seydisfjordur, Iceland (Longboarding Sequence)
Vatnajökull National Park, Iceland (Himalayas and Afghanistan scenes)
Höfn, Iceland (Nuuk Airport)
Iceland.
Stykkishólmur, Iceland ('Greenland' bar and helicopter take off town)
As Film Critic Kenneth Turan of the Los Angeles Times writes, "Stiller's sensibility creates a movie that's smarter than you think it will be. Kind of like Walter Mitty himself."
More Than Just Parks List Of Best Travel Movies (Or Movie Franchises)
Around The World In 80 Days
Butch Cassidy & The Sundance Kid
The Great Race
Hidalgo
Indiana Jones Franchise
James Bond Franchise
Lawrence Of Arabia
Maine
Roman Holiday
The Secret Life Of Walter Mitty
About the Folks Behind More Than Just Parks
You should probably know that we don't just make this stuff up out of thin air. My sons have spent their entire adult lives exploring and filming America's national parks and public lands.
As for me, I'm a retired lifelong educator and a proud dad of these two wonderful guys who are hopelessly obsessed with the national parks. I taught history for over a quarter of a century. Now I enjoy researching and writing articles for the More Than Just Parks website. I'm always on the hunt for topics where nature and history intersect so please feel free to share any ideas that you might have with me.
We've worked with the National Park Service, the Department of Interior, and the U.S. Forest Service for years creating films on important places and issues. Our work has been featured in leading publications all over the world and even some people outside of our immediate family call us experts on the national parks.
The Parks Brothers
We're Jim Pattiz and Will Pattiz, collectively known as the Pattiz Brothers (and sometimes the Parks Brothers) and we absolutely LOVE the national parks.
Our goal here at More Than Just Parks is to share the beauty of America's national parks and public lands through stunning short films in an effort to get Americans and the world to see the true value in land conservation.
We hope you'll follow our journey through the parks and help us to keep them the incredible places that they are. If you're interested joining the adventure, sign up below!
best travel movies, travel movies, best travel movie, best travel movies, travel movies, best travel movie, best travel movies, travel movies, best travel movie, best travel movies, travel movies, best travel movie,