Historic Sites In Rhode Island. More Than Just Parks has 5 incredible must-see sites for you to visit.
I've been to so many of these amazing places since retiring from teaching in 2018. Did I mention that I taught history? I spent a lifetime teaching about the history behind these momentous sites. Then I got to see them firsthand. And now I'm sharing the stories of these incredible places with you. It doesn't get any better than that!
I'm going to give you my list of the 5 Historic Sites In Rhode Island that you'll want to see.
To be clear, this list includes national park sites (as in sites managed by the National Park Service) as opposed to national parks.
If you're planning a trip to the Ocean State then one book that I highly recommend is: Rhode Island Off the Beaten Path: A Guide To Unique Places by Robert Curley.
Without further ado, let's dive in!
---
Historic Sites In Rhode Island
---
5. Washington-Rochambeau Revolutionary Route National Historic Trail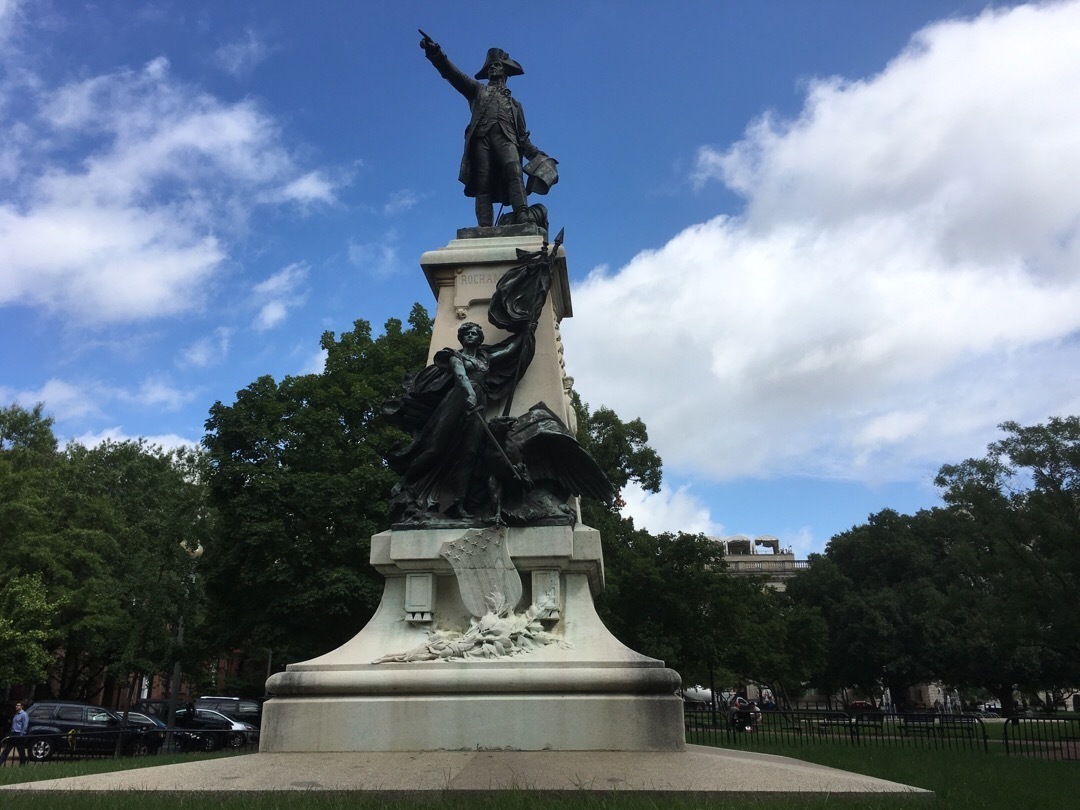 We begin our countdown of the best historic sites in Rhode Island with the Washington-Rochambeau Revolutionary Route National Historic Trail.
On July 11, 1780, 55-year-old General Jean Baptiste Donatien de Vimeur, comte de Rochambeau arrived with an army of 450 officers and 5,300 men in Narragansett Bay off Newport, Rhode Island.
This marked the beginning of a most successful military cooperation that culminated 15 months later in the victory at Yorktown and the surrender of Lord Cornwallis and his troops.
From New Hampshire to Virginia, the Washington-Rochambeau National Historic Trail connects major metropolitan areas, state and national parks, historic and scenic trails, and countless other historic sites.
The rout is a 680-mile series of roads used in 1781 by the Continental Army under the command of George Washington and the forces under the command of Admiral Rochambeau during their 14-week march from Newport, Rhode Island, to Yorktown, Virginia.
Check Out: 10 BEST Revolutionary War Sites In America
---
Historic Sites In Rhode Island
---
4. Fort Adams
At #4 on our list of the best historic sites in Rhode Island is Fort Adams.
Fort Adams is a former United States Army post in Newport, Rhode Island that was established on July 4, 1799 as a First System coastal fortification, named for President John Adams who was in office at the time.
The cost of building Fort Adams for three decades was over three million dollars. It was designed to mount 468 guns around a perimeter of over 1700 yards. It used a combination of Maine granite, brick, and shale. During a time of war it could house 2400 men, though a peace time garrison of 200 was sufficient.
Its first commander was Captain John Henry who was later instrumental in starting the War of 1812.
The Fort was an active post during the Civil War, the Indian Wars, the Mexican War, the Spanish American War, and the two World Wars.
Army use of the Fort continued after World War II until 1953. This is when the Navy took charge of the site. Land south of the Fort was used for Naval housing, Newport at the time hosting a large contingent of personnel for various fleet activities.
It was during this time that President Dwight D. Eisenhower used the Commanding Officer's residence, a large home dating from the Victorian period, as a summer White House. As the Navy began a reduction of force in the area, the State of Rhode Island acquired the main fortification and outer works in 1965.
Today visitors can enjoy the Fort Adams Bay Walk, a 2.25 mile walk around the entire park, open year round. There are paid guided and private tours and parking is free.
CHECK OUT: 25 Bucket List Famous Landmarks In America (MUST-SEE)
---
Historic Sites In Rhode Island
---
3. Touro Synagogue National Historic Site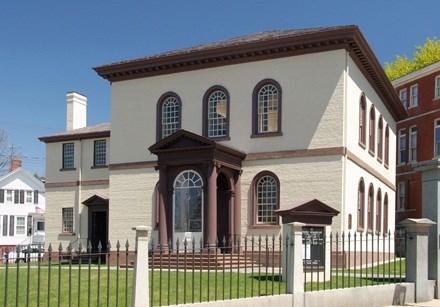 At #3 on our list of the best historic sites in Rhode Island is the Touro Synagogue National Historic Site.
One of the highlights of any trip to Rhode Island is seeing the oldest synagogue in America.
Touro Synagogue, a building of exquisite beauty and design, steeped in history and ideals, and one of the most historically significant Jewish buildings in America, was designated a National Historic Site in 1946.
Dedicated in 1763, it still serves an active congregation and each year greets over 30,000 visitors who come to see the magnificent interior and hear its remarkable story.
Guided tours of the Touro Synagogue last approximately 30 minutes. During your tour, you will learn more about the history of the Synagogue, from its founding during colonial times up to the present day.
In addition, the Loeb Visitors Center, adjacent to the Synagogue, contains additional exhibits about the history of the Synagogue and its role in helping to form the foundations of the ideal of Freedom of Religion enjoyed in the United States today. (Source: NPS)
CHECK OUT: 10 MUST-SEE Historic Sites In New York
---
Historic Sites In Rhode Island
---
2. Roger Williams National Memorial
In the runner-up spot at #2 is the Roger Williams National Memorial.
The history of this state owes much to Roger Williams. He was a Puritan Minister, theologian and author who founded the Providence Plantations which became the colony (and later state) of Rhode Island.
Visitors to the Roger Williams National Memorial will see how this site commemorates the life of this founder of Rhode Island and a champion of the ideal of religious freedom.
I recommend beginning your adventure at the Visitor Center where you will discover the many contributions Roger Williams made to the cause of religious freedom through fascinating exhibits and an orientation film.
This historic site is a landscaped urban park located on a common lot of the original settlement of Providence, Rhode Island, established by minister Roger Williams in 1636.
From the visitors center, you can explore nearby city of Providence. Highlights include the Benefit Street Mile of history, featuring the John Brown House pictured above, Waterplace Park and the rest of "Downcity" Providence.
CHECK OUT: 10 MUST-SEE Historic Sites In Washington D.C.
---
The #1 Historic Site In Rhode Island
---
1. Blackstone River Valley National Historical Park
As the #1 Historic Site in Rhode Island, we have selected the Blackstone River Valley National Historical Park.
When I was in the classroom my biggest regret was not being able to actually explore the places that I spend a lifetime talking about. Now, however, I can get into the car and venture forth to those wonderful places where history and nature intersect. The Blackstone River Valley National Historical Park is a case in point.
The Blackstone River powered America's entry into the Age of Industry. The success of Samuel Slater's cotton spinning mill in Pawtucket, RI touched off a chain reaction that changed how people worked and where they lived, and continues to reverberate across the nation to this day.
Blackstone River Valley National Historical Park is often described as the Birthplace of the American Industrial Revolution. The birth of this mill helped spread water powered mills all across New England, bringing with it new homes, schools, churches, immigrants, and communities.
---
Things To See & Do At Blackstone
Visitors to Blackstone River Valley can explore its vast history, enjoy walking tours, paddle along the river, or bike along the Blackstone River Bikeway stretching 48 miles from Worcester, MA to India Point Park in Providence, RI and connecting with East Bay Bikepath.
One of the great things about visiting the Blackstone River Valley is you can just go off and explore the area on your own, at your own pace. Sometimes the best way to really get the feel for the park is to just take a walk through one of the villages and see how they all tie together around the mill and the river.
I recommend the following points of interest:
Hopedale Self-Guided Tour: Hopedale began as a commune and grew into the home of the largest loom manufacturer in America.
Whitinsville Walking Tour: The Whitin Machine Works made machines for textile mills across the Blackstone Valley and around the world.
Slatersville Walking Tour: Slatersville is the first planned mill village in America, and the blueprint for the other villages of the Blackstone Valley. (Source: NPS)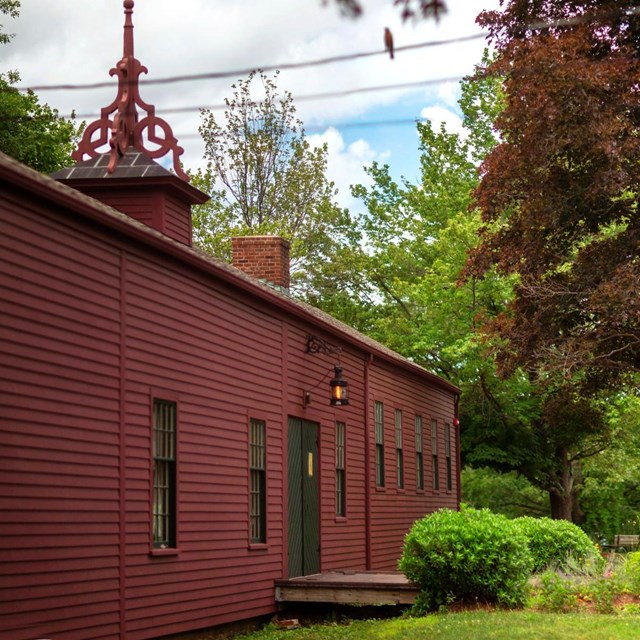 CHECK OUT: 10 BEST Civil War Sites In America
---
Map Of Historic Sites In Rhode Island
---
List Of Historic Sites In Rhode Island
Blackstone River Valley National Historical Park
Roger Williams National Memorial
Touro Synagogue National Historic Site
Fort Adams
Washington-Rochambeau Revolutionary Route National Historic Trail