Historic Sites In Virginia. More Than Just Parks has 10 incredible must-see Virginia Historic sites for you.
I've been to so many of these amazing places since retiring from teaching in 2018. Did I mention that I taught history? I spent a lifetime teaching about the history behind these momentous sites.
Then I got to see them firsthand. And now I'm sharing the stories of these incredible places with you. It doesn't get any better than that!
I'm going to give you my list of the Top 10 Historic Sites in Virginia that you'll want to see. These are our top sites which we will provide in reverse order. We've got amazing monuments, fascinating exhibits, historic museums, legendary battlefields and so much more.
To be clear, this list includes national park sites (as in sites managed by the National Park Service) as opposed to national parks.
If you are planning a trip to Virginia then you might want to pick up a copy of 101 Things to Do in Virginia Before You Up and Die by Ellen Patrick.
Without further ado, let's dive in.
---
---
Historic Sites In Virginia
---
#10. Richmond National Battlefield Park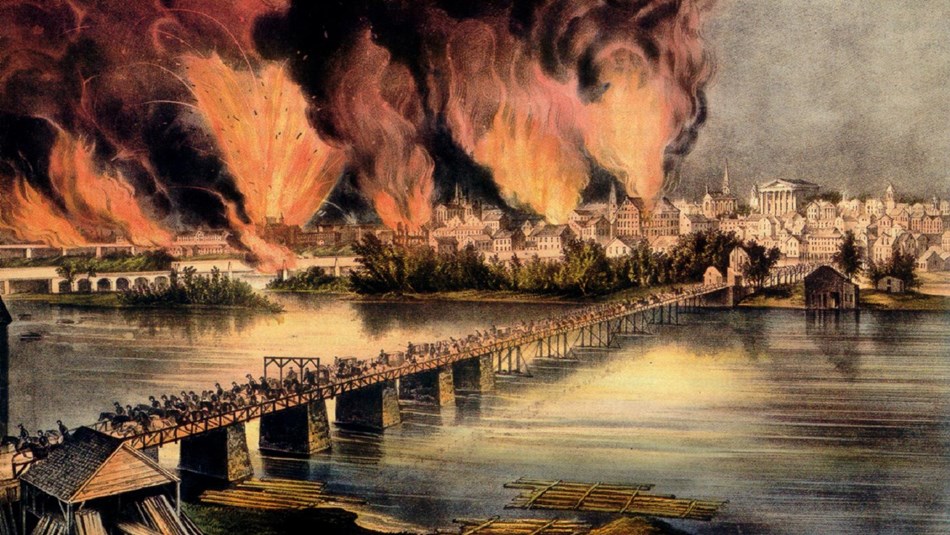 At #10 on our list of historic sites in Virginia is Richmond National Battlefield Park.
Richmond, Virginia served as the capital of the Confederate States of America for almost the whole of the American Civil War. It was a vital source of weapons and supplies for the war effort, and the terminus of five railroads. The Union made many attempts to invade Richmond.
Three visitor centers offer a wide variety of exhibits and helpful information on how to maximize your experience at the Richmond National Battlefield Park. These include:
Cold Harbor Battlefield Visitor Center: There are exhibits and artifacts on display. Electric map programs describe the 1862 Battle of Gaines' Mill and the 1864 Battle of Cold Harbor. There's also an excellent bookstore and Ranger programs offered daily during the summer season.
Fort Harrison Visitor Center: Self-guided historical walking trail begins at the visitor center. Allow 20 minutes to complete the trail. The visitor center contains exhibits, a relief map of the fort, and a short film about the battle.
Visitor Contact Station at Tredegar Iron Works: Check out the American Civil War Museum at the Iron Works. It's well worth you time as even Civil War History buffs find out new things they didn't know about America's bloodiest conflict.
---
Other Things To Do At Richmond
The park has several trails spread out among its 13 units that are ideal for hiking, running or walking your dog. These trails combine enjoyment of nature with sites of Civil War history.
Biking is permitted ONLY on the Totoptomoy Creek trail (as well as most park roads).
There are some excellent hiking trails at:
Gaines Mill: The Gaines' Mill battlefield has two connected loop trails where visitors can hike through historic hardwood forest overlooking Boatswain creek.
Totopotomoy Creek: The Totopotomoy Creek battlefield has a 0.56 mile long loop trail that tours the fields and gardens around the Shelton House. Highlights include two pieces of Union-built entrenchments that survive along this trail and the family cemetery just in front of the entrenchments.
Cold Harbor: The trails at Cold Harbor consist of three connected loops where visitors can wander through native forest, listening to the trickle of Bloody Run creek, and learn about the site's Civil War history.
Malvern Hill: The Malvern Hill Battlefield has two connected loop trails that are each 1.5 miles long. (Source: NPS)
---
Historic Sites In Virginia
---
#9. Fort Monroe National Monument
If you love history then you'll love Fort Monroe National Monument. At #9 on our top 10 list of historic sites in Virginia, Fort Monroe is the largest stone fort ever built in the United States. It's the only moat-encircled fort remaining in active duty.
As a retired history teacher I believe that a short lesson is in order, but I promise to make it brief and there's absolutely no homework.
The story begins over 400 years ago, in 1607, the English explorer Captain John Smith came ashore near here. After surveying the area in 1608, he pronounced this place a "little isle fit for a castle." In 1609 colonial settlers built a wooden structure large enough to hold fifty men and seven mounted cannons, and called it Fort Algernourne.
During the American Civil War, it was the only federal military installation in the Upper South to remain under United States control throughout the conflict.
The fort headquartered the Union Department of Virginia and North Carolina, and several significant military campaigns and combined operations were launched from the installation. It served as the headquarters for Union General George McClellan during his Peninsula Campaign.
---
Things To See & Do At Fort Monroe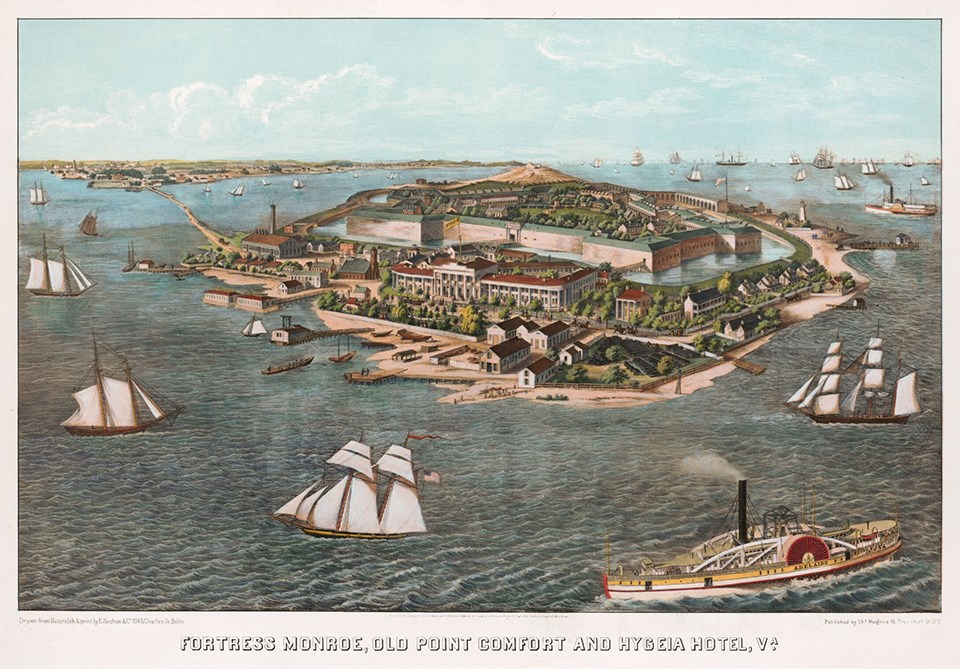 It's a beautiful 565-acre national monument which offers biking, boating, swimming and walking. Of course, it also offers history too. Inside the fort visitors will find the Casemate Museum.
This amazing museum tells the story of Fort Monroe from the construction of Fort Algernourne, the first defensive fortification at the site in 1609, through the last major command to be headquartered at Fort Monroe, the Army's Training and Doctrine Command.
The museum features the room where Jefferson Davis was held briefly as prisoner following the American Civil War, highlights the 1861 "Contraband of War" decision that granted three enslaved men, and thousands who followed, sanctuary at Fort Monroe, earning it the nickname "Freedom's Fortress."
---
Historic Sites In Virginia
---
#8. Appomattox Court House National Historical Park
Coming in at #8 on our list of the best historic sites in Virginia is Appomattox Court House.
On April 9, 1865, the surrender of the Army of Northern Virginia in the McLean House in the village of Appomattox Court House, Virginia signaled the end of the nation's largest war.
Two important questions about its future were answered. Could the nation survive a civil war intact, and would that nation exist without slavery? The answer to both was yes and a new nation was born.
I always recommend that first-timers begin their adventure at the visitors center. Here you can experience a 70-seat theater where the park's new film (first released April 2015), "Appomattox, With Malice Toward None" is shown on the hour and half-hour.
At Appomattox Court House, you will have the opportunity to experience a variety of guided programs to delve deeper into the park's many stories. Visitors can take a Ranger-led guided program, or hear a firsthand experience of the Surrender and what followed from an actual historian.
If you enjoy hiking then you're in luck as the park has close to 8 miles of trails ranging from short loop trails to long walks through nature and history.
---
Historic Sites In Virginia
---
#7. Petersburg National Battlefield
If you've noticed a pattern then keep in mind that the key to a Union victory in America's bloodiest battlefield was to defeat Robert E. Lee's Army of Northern Virginia and the road to that victory led through Virginia. For Union General Ulysses S. Grant this meant going through Petersburg.
And that's why Petersburg is ranked #7 on our list of the 10 best historic sites in Virginia.
In June 1864, in a brilliant tactical maneuver, Ulysses S. Grant marched his army around the Army of Northern Virginia, crossed the James River unopposed, and advanced his forces to Petersburg. Knowing that the fall of Petersburg would mean the fall of Richmond, Robert E. Lee swiftly brought his forces to Petersburg doing so just in time to blunt Grant's offensive.
The Battle of Petersburg was, in reality, the Siege of Petersburg. Given the defenders strong position despite Grant's superior numbers, his army dug trenches and began a prolonged siege.
---
Things To Do At Petersburg
If you like to bike or hike you will find bicycle and hiking trails at both the Eastern Front (Main) Unit and the Five Forks Battlefield Unit.
Outdoor exhibits are located near these trails which will help you understand the historic significance of Petersburg National Battlefield.
Fishing is an activity available at the Grant's Headquarters Unit of Petersburg National Battlefield. Take some time after fishing to tour the same grounds General Grant and President Lincoln walked along in the spring of 1865.
Know that the area where the fishing pier is located was the site of one of the largest wharf buildings that stored vital supplies needed by the Union Army during the Siege of Petersburg. (Source: NPS)
---
Historic Sites In Virginia
---
#6. Harpers Ferry National Historical Park
At #6 on our top 10 list of historic sites in Virginia is Harper's Ferry National Historical Park.
Just as the name of Francis Scott Key is inexorably connected to Fort McHenry so is the name of John Brown likewise linked with Harpers Ferry.
In October of 1859, Brown led a raid against the military arsenal at Harpers Ferry. The raid was intended to be the first stage in an elaborate plan to establish an independent stronghold of freed slaves in the mountains of Maryland and Virginia.
Brown was captured during the raid. He was convicted of treason and hanged, but the raid served as a flashpoint.
In the North, Brown was hailed as a hero while is the South he was depicted as the devil incarnate. This event helped move the two sections of America ever closer to Civil War.
---
Things To Do At Harpers Ferry
History truly comes to life at Harpers Ferry. There visitors can explore museums and exhibits, hike to overlooks or along Civil War skirmish lines, join a ranger-guided tour or sign-up for a living history workshop.
I recommend beginning your visit at the visitors center where you can pick up helpful information. Rangers are available to answer your questions.
Before heading out to explore the town and its surrounding natural beauty, as a history buff I recommend a stop at the Harpers Ferry Park Association's Bookshop. It has a wonderful collection of books on the Civil War.
If you're looking to combine history and nature then check out the 22 miles of hiking trails at Harpers Ferry. It happens to be the mid-point of the 2,178-mile Appalachian Trail.
Picnicking is also available at Harpers Ferry National Historical Park at a designated picnic area adjacent to the Visitor Center parking lot. Picnic tables are on a first-come, first-serve basis.
---
Top 5 Historic Sites In Virginia
---
#5. Booker T. Washington National Monument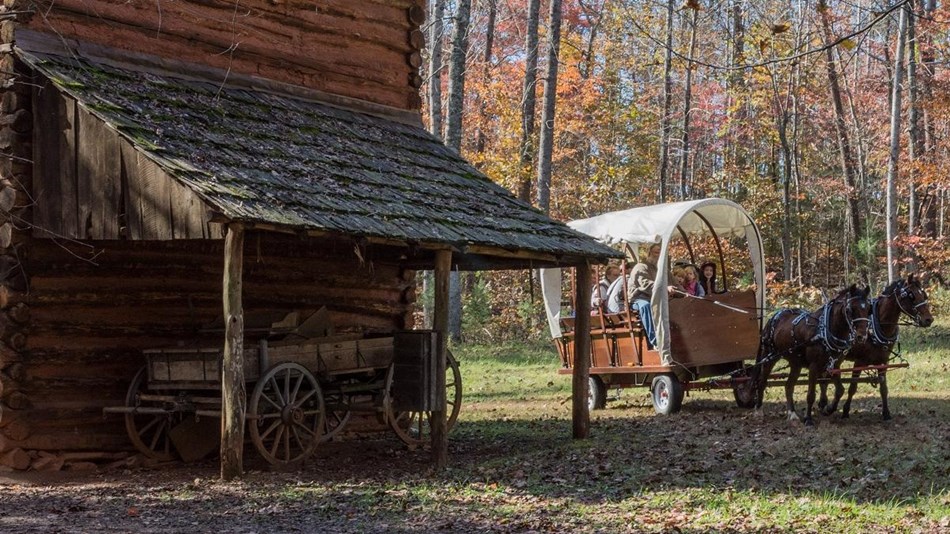 At #5 on our list of the best historic sites in Virginia is the Booker T. Washington National Monument.
Booker T Washington was a remarkable member of the African American community, and was the foremost black educator of the late nineteenth and early twentieth centuries. He was one of the most important figures in black public affairs during his time and emerged as an man who survived the horrors of slavery.
On April 5, 1856, Booker T. Washington began life as a slave on the 207-arce farm of James Burroughs. After the Civil War, Washington became founder and first principal of Tuskegee Normal and Industrial School. Later as an adviser, author and orator, his past would influence his philosophies as the most influential African American of his era.
He believed that education was the best means to lift up an oppressed people. Thousands of African-American graduates from The Tuskegee Institute have helped to realize his vision by contribution to the quality of American life.
You can begin your visit to the Booker T. Washington National Monument at the visitor center where you'll discover exhibits and an audio-visual presentation to familiarize you with the life of Booker T. Washington. There is also a gift shop with books and related items focusing on African American history.
CHECK OUT: 20 BEST Black History Sites In America For You To Visit
---
Things To Do
While you're there, I recommend the following activities:
The Plantation Trail: It's a ¼ mile loop through the historic area. It passes by reconstructions of the nineteenth century farm buildings similar to those that stood on the Burroughs Plantation when Booker T. Washington lived here as a boy.
Farm Area: Explore the farm area where sheep, pigs, horses and chickens provide the atmosphere for this recreated 1850's tobacco farm.
Garden Area: There you will learn about the gardening techniques used by owners and slaves on the farm. The garden is an example of a typical subsistence garden of piedmont Virginia of the 1850s.
I also recommend learning more about this remarkable man by reading UP FROM SLAVERY (Annotated): AN AUTOBIOGRAPHY by Booker T. Washington – an American Slave, his Life from slavery to freedom, Slavery in the South and the American Abolishment of Slavery.
---
Historic Sites In Virginia
---
#4. Manassas National Battlefield
Coming in at #4 on our list of the top 10 historical sites in Virginia is the place where the first major battle of the American Civil War was fought.
On July 21, 1861, two armies clashed for the first time on the fields overlooking Bull Run.
The First Manassas or First Battle of Bull Run resulted in thousands of lives lost and is referred to as the first major land battle of the American Civil war.
The battle began when about 35,000 Union troops, led by General Irwin McDowell, marched from the federal capital in Washington, D.C. to strike a Confederate force of 20,000, led by General Pierre G.T. Beauregard, along a small river known as Bull Run.
---
"There Stands Jackson Like A Stone Wall"
After fighting on the defensive for most of the day, the rebel forces under the leadership of General Thomas "Stonewall" Jackson rallied and were able to break the Union right flank, sending the Federals into a chaotic retreat towards Washington. Jackson managed to snatch victory from the jaws of defeat just when it appeared that all was lost for the Confederates.
The Confederate victory gave the South a surge of confidence and shocked many in the North, who realized the war would not be won as easily as they had hoped.
An excellent book on this important battle would be The First Battle of Manassas: An End to Innocence by John J. Hennessy.
---
Things To Do At Manassas
Manassas National Battlefield Park encompasses nearly 5,100 acres of land and includes more than 40 miles of hiking trails.
The park has developed a series of loop trails that traverse key areas of the First and Second Manassas Battlefields.
Many of these recommended routes include trailside interpretive markers describing the battle action that occurred in that area and highlight the experiences of soldiers and civilians alike.
---
Historic Sites In Virginia
---
#3. Historic Jamestown
We move from Civil War to Colonial Times with the #3 selection on our list of the top `10 historic sites in Virginia.
On May 14, 1607, a group of roughly 100 members of a joint venture called the Virginia Company founded the first permanent English settlement in North America on the banks of the James River.
Famine, disease and conflict with local Native American tribes in the first two years brought Jamestown to the brink of failure before the arrival of a new group of settlers and supplies in 1610. 
---
John Rolfe
In 1612, John Rolfe, one of many shipwrecked on Bermuda, helped turn the settlement into a profitable venture. He introduced a new strain of tobacco from seeds he brought from elsewhere.
Tobacco became the long awaited cash crop for the Virginia Company, who wanted to make money off their investment in Jamestown.
Tobacco became Virginia's first profitable export, and a period of peace followed the marriage of colonist John Rolfe to Pocahontas, the daughter of an Algonquian chief. During the 1620s, Jamestown expanded from the area around the original James Fort into a New Town built to the east.
It remained the capital of the Virginia colony until 1699.
Now you can walk in the steps of Captain John Smith and Pocahontas where a successful English colonization of North America began.
---
Things To Do At Historic Jamestown
At Historic Jamestown, site of the original 1607 settlement, visitors can explore the Glasshouse to learn about America's earliest industries, see ongoing archaeological discoveries of the fort and view thousands of artifacts unearthed on display in the Nathalie P. and Alan M. Voorhees Archaearium.
Then at the Jamestown Settlement, you can explore a world-class living history museum that re-creates life in the Jamestown colony.
Tour artifact-filled gallery exhibits, discover the Powhatan Indian way of life in a re-created village, try on English armor in a re-created fort and climb aboard replicas of the three ships that brought the colonists to Virginia in 1607.
---
Historic Sites In Virginia
---
#2. George Washington Birthplace National Monument
We're closing in on our top historic site in Virginia. Coming in at #2 is the George Washington Birthplace National Monument.
The only man to actually have a state named after him, George Washington is often called the "Father of His Country."
He not only served as the first president of the United States, but he also commanded the Continental Army during the American Revolution (1775–83) and presided over the convention that drafted the U.S. Constitution.
First and foremost, George Washington's birthplace is a place of history. It encompasses 550 acres of the former Popes Creek Plantation, the American ancestral home of the Washington Family where George Washington was born.
It includes the Memorial House Museum which gives its visitors the appearances of an 18th century plantation environment.
---
Outdoor Activities
Visitors can enjoy a hike along the Nature Trail or the Dancing Marsh Loop Trail at George Washington Birthplace National Monument. You will see different habitats that are home to a variety of plants and animals.
If you prefer biking to hiking then you're in luck. Visitors can bicycle through George Washington Birthplace National Monument and enjoy nature's tranquility in a historic setting while they're doing it.
There's even fishing too. The park allows fishing as a means of providing for public enjoyment and regulates it to ensure that it is managed in a manner that avoids unacceptable impacts to park resources.
---
The #1 Historic Site In Virginia
---
#1. Fredericksburg & Spotsylvania National Military Park
Our #1 Historic Site In Virginia is the Fredericksburg & Spotsylvania National Military Park. There's no single location which encompasses more important battles of the American Civil War than the Fredericksburg & Spotsylvania National Military Park.
Four battles, Chancellorsville, Fredericksburg, Spotsylvania and the Wilderness were fought there.
So many books have been written and so much history has been taught about these four battles and their impact on America's bloodiest conflict.
---
Fredericksburg
The Battle of Fredericksburg was one of the largest and deadliest battles of the Civil War with almost 20,000 casualties on both sides.
It featured the first opposed river crossing in American military history as well as the Civil War's first instance of urban combat. It ended in a victory for the Confederacy.
---
Chancellorsville
The Battle of Chancellorsville (April 30-May 6, 1863) was also a huge victory for the Confederacy and General Robert E. Lee.
It was considered to be Lee's greatest victory as a much larger Union force failed to encircle and destroy the Confederate Army of Northern Virginia.
The South, however, did lose the services of one of its most brilliant generals as Thomas "Stonewall" Jackson was mistakenly killed by his own soldiers while returning from a reconnaissance mission.
---
Grant Takes Command
The bloody Battle of the Wilderness, in which no side could claim victory, marked the first stage of a major Union offensive toward the Confederate capital of Richmond.
This was the first battle in which Union Commander Ulysses S. Grant faced off against Confederate Commander Robert E. Lee.
It was part of Grant's "Overland Campaign," which was a relentless drive to finally defeat Robert E. Lee's Army of Northern Virginia and capture the South's capital at Richmond, Virginia.
---
The Battle That Became A Siege
The last of these four battles fought on the ground which is today Fredericksburg & Spotsylvania National Military Park was the Battle of Spotsylvania.
This battle was fought after Grant brilliantly repositioned his forces. Robert E. Lee, however, guessing Grant's intention was to outflank him, take Petersburg and then march on to Richmond, rushed forces there to check Grant's move.
And so it began in May of 1864. A battle which pitted 100,000 Union troops against 52,000 Confederates.
The fiercest fighting occurred in pouring rain on May 12. For 23 hours straight the two sides fought hand-to-hand in a field near fortifications known as the Mule Shoe, and afterward as the Bloody Angle.
After being repulsed again and again, Grant relied on his "essential arithmetic."
He had his men prepare for a siege. Lee understood then that it was only a matter of time before he would have to withdraw which would likely mean the end for the Confederacy.
CHECK OUT: 10 BEST Civil War Sites In America
---
Things To See & Do
The Fredericksburg & Spotsylvania National Military Park combines natural beauty with historical significance. At each of the aforementioned battlefields, there are excellent hiking trails.
There's also an audio tour which is available through the National Park Service app. It features historical points of interest including:
The Sunken Road: This is where wave after wave of Union soldiers marched towards the Confederate lines, but none made it closer than 50 yards. Confederate troops behind the stone wall and atop Marye's Heights held the high ground with their well-defended line thereby inflicting high casualties on the attacking force.
Chatham Manor: Originally established as a slave plantation, Chatham embodies the main cause of the Civil War: the desire of white Southerners to maintain and protect the institution of slavery and the resulting material wealth that slavery produced for them.
Lee's Hill: Also known as Telegraph Hill, this is where Confederate General Robert E. Lee made his headquarters in anticipation of battle.
Howison Hill: It was named for the Howison family that lived nearby. It was an artillery position during the battle of Fredericksburg.
Union Breakthrough: This is where Union General George Gordon Meade's 4,500-man division broke through the Confederate line they surprised unprepared South Carolinians. Soon the Confederates rallied, and without reinforcements nearby, Meade's men could not hold their position against Confederate General Stonewall Jackson's 38,000-man corps.
If you're interested in learning what other amazing places Virginia has to offer then check out 30 EPIC Virginia National Parks Worth Visiting.
---
List Of Historical Sites In Virginia
Fredericksburg & Spotsylvania National Military Park
George Washington Birthplace National Monument
Historic Jamestown
Manassas National Battlefield
Booker T. Washington National Monument
Harpers Ferry National Historical Park
Petersburg National Battlefield
Appomattox Court House
Fort Monroe National Monument
Richmond National Battlefield Park
---
Map Of Historical Landmarks In Virginia
---
About the Folks Behind More Than Just Parks
You should probably know that we don't just make this stuff up out of thin air. My sons have spent their entire adult lives exploring and filming America's national parks and public lands.
As for me, I'm a retired lifelong educator and a proud dad of these two wonderful guys who are hopelessly obsessed with the national parks. I taught history for over a quarter of a century. Now I enjoy researching and writing articles for the More Than Just Parks website. I'm always on the hunt for topics where nature and history intersect so please feel free to share any ideas that you might have with me.
We've worked with the National Park Service, the Department of Interior, and the U.S. Forest Service for years creating films on important places and issues. Our work has been featured in leading publications all over the world and even some people outside of our immediate family call us experts on the national parks.
---
Meet The Parks Brothers
We're Jim Pattiz and Will Pattiz, collectively known as the Pattiz Brothers (and sometimes the Parks Brothers) and we absolutely LOVE the national parks.
Our goal here at More Than Just Parks is to share the beauty of America's national parks and public lands through stunning short films in an effort to get Americans and the world to see the true value in land conservation.
We hope you'll follow our journey through the parks and help us to keep them the incredible places that they are. If you're interested in joining the adventure then sign up below!
---
Related Links
To learn more about the difference between the various National Park Service designations check out our article that explains everything!
Civil War Sites: Top 10 Best Civil War Sites & Battlefields
Virginia National Parks: 30 EPIC Virginia National Parks Worth Visiting