Historic Sites In Kansas. More Than Just Parks has 5 incredible must-see sites for you to visit.
I've been to so many of these amazing places since retiring from teaching in 2018. Did I mention that I taught history? I spent a lifetime teaching about the history behind these momentous sites. Then I got to see them firsthand. And now I'm sharing the stories of these incredible places with you. It doesn't get any better than that!
I'm going to give you my list of the 5 Historic Sites In Kansas that you'll want to see.
To be clear, this list includes national park sites (as in sites managed by the National Park Service) as opposed to national parks.
If you are planning a trip to Kansas then you might want to pick up a copy of Kansas Off the Beaten Path: Discover Your Fun by Patti DeLano.
Without further ado, let's dive in.
---
Historic Sites In Kansas
---
5. Nicodemus National Historic Site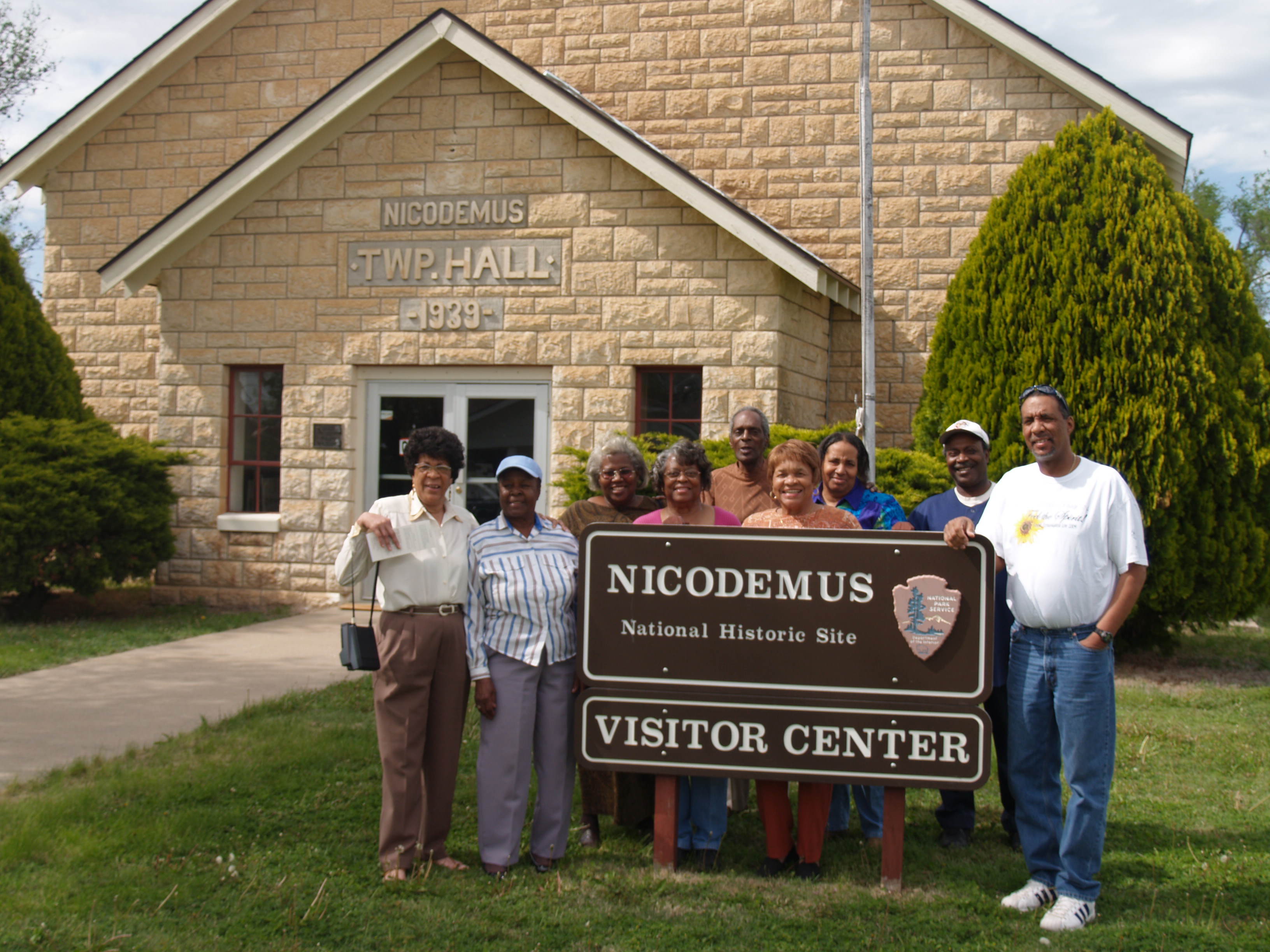 At #5 on our list of historic sites in Kansas, More Than Just Parks has the Nicodemus National Historic Site.
One group of Americans have tended to be forgotten when it comes to the story of America's Westward Expansion. During Reconstruction following the Civil War, formerly enslaved African Americans left Kentucky.
They wanted to experience the freedom they had heard about. These people set out for the "Promised Land" of Kansas.
In 1877, the small town of Nicodemus, Kansas, was founded by newly freed slaves. Nicodemus was the first black community west of the Mississippi River. Today, it is the only predominantly black community west of the Mississippi that remains a living community.
A Symbol To The Courage Of African American Settlers
Nicodemus symbolizes the courage of African American settlers who sought better lives, better lands, and better opportunities. They came to the heartland where they believed they could get a fresh start.
An Enduring Monument To African American Westward Migration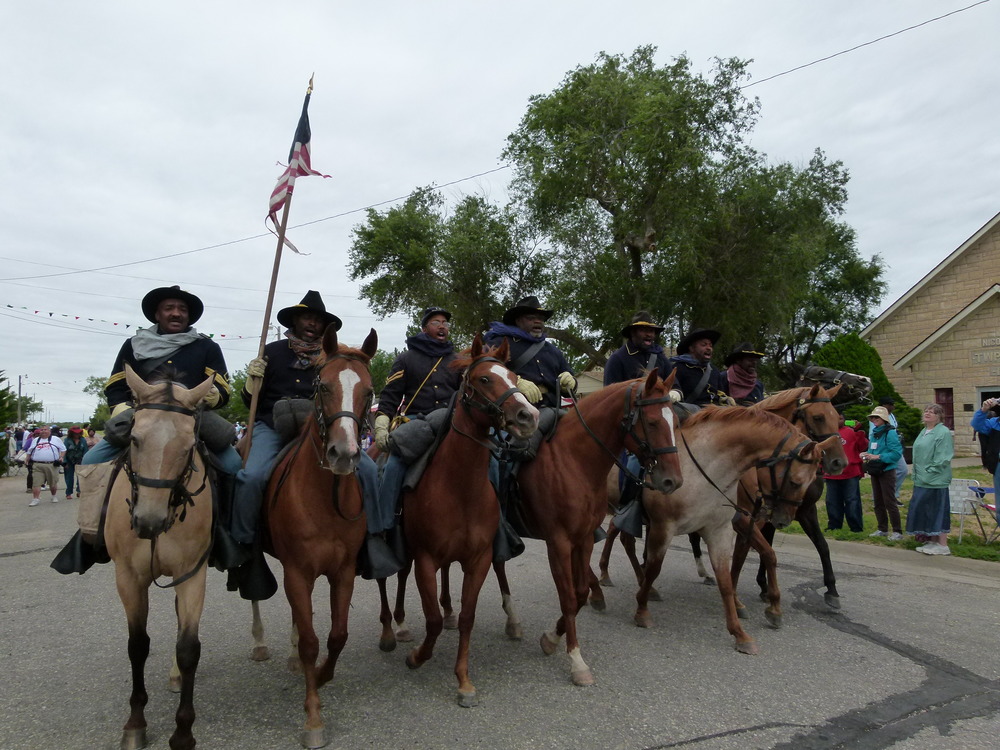 Nicodemus is an enduring monument to African American westward migration. Today, visitors can take a self guided or a ranger guided tour to see the exteriors of some of the historic buildings documenting what black settlers accomplished.
These buildings include: the St. Francis Hotel, the AME Church, the First Baptist Church, the Nicodemus School District No. 1 building, and the Nicodemus Township Hall.
The Nicodemus Township Hall is the visitors center. It's a great place to start your visit. It offers exhibits, short videos, and the opportunity to learn about the history of this town and of pioneering African Americans in the West.
As a matter of fact, some of the descendants of the original settlers still live in Nicodemus.
RELATED: 20 BEST Black History Sites In America For You To Visit
---
Historic Sites In Kansas
---
4. Lewis & Clark National Historic Trail
At #4 on our list of the best historic sites in Kansas we have the Lewis & Clark National Historic Trail.
The Lewis and Clark National Historic Trail follows the historic outbound and inbound routes of the Lewis and Clark Expedition.
Commemorating the Lewis & Clark Expedition (1804-06), the Trail connects 16 states (Pennsylvania, Ohio, West Virginia, Kentucky, Indiana, Illinois, Missouri, Kansas, Nebraska, Iowa, South Dakota, North Dakota, Montana, Idaho, Washington and Oregon).
This trail is administered by the National Park Service. It's not a hiking trail, but does provide opportunities for hiking, boating and horseback riding at many locations along the route.
---
What Can I See In Kansas That's Connected To This Historic Trail
What can I see in Kansas that's connected to this historic trail?
Excellent question. I recommend the Lewis and Clark Interpretive Pavilion. Located at White Cloud, Kansas, it describes the expedition's passage through the area in 1804 and then again in 1806.
It's a beautiful open-air pavilion located in Riverfront Park. It was constructed in preparation for the Lewis and Clark bicentennial Commemoration on July 3-4, 2004.
The pavilion contains an interactive touchscreen monitor and interpretive panels with information on the Lewis & Clark expedition, the Missouri River and the Kanza Nation.
While you're there, I would also recommend a drive along the Frontier Military Historic Byway.
It was originally built to move soldiers and supplies. If you travel it today, however, you'll find various landmarks such as Fort Leavenworth and the John Brown Museum.
CHECK OUT: 5 MUST-SEE Historic Sites In Illinois
---
Paper Moon
Now here's a fun fact for you film buffs. The 1973 film Paper Moon, starring Ryan O'Neal and his daughter, Tatum, was filmed in White Cloud and other Kansas locations.
It was filmed in black and white. It's supposed to be set in Kansas and Missouri during 1930s Depression-era America.
It's the story of an itinerant con man, named Moses Pray (played by Ryan O'Neal), who enlists nine year old Addie Loggins (played by Tatum O'Neal) to help him swindle unsuspecting people.
Young Tatum O'Neal, in her first screen performance, went on to win the Academy Award for Best Supporting Actress.
---
Filming Locations In Kansas
The film was shot in the small towns of Hays, Kansas; McCracken, Kansas; Wilson, Kansas; and St. Joseph, Missouri.
Various shooting locations include the Midland Hotel at Wilson, Kansas; the railway depot at Gorham, Kansas; storefronts and buildings on Main Street in White Cloud, Kansas; Hays, Kansas; sites on both sides of the Missouri River; Rulo Bridge; and Saint Joseph, Missouri.
CHECK OUT: Look Familiar? 25+ CLASSIC Movies Filmed In The National Parks
---
Historic Sites In Kansas
---
3. Fort Larned National Historic Site
At #3 on our list of the best historic sites in Kansas we have Fort Larned National Historic Site.
Fort Larned was built to protect travelers along that trail from possible attack by Native Americans.
As tensions rose between the native peoples who had once roamed these lands freely and those who were increasingly restricting them from doing so, it became necessary to provide military outposts as a means of protecting both commerce and settlers.
This particular fort has quite an interesting history. Built in October of 1859, the fort's mission was "to protect and maintain peaceful relations with everyone on the trail." It was initially called "Camp on Pawnee Fork." Later, it became "Camp Alert."
---
Benjamin R. Larned
Named Fort Larned for Col. Benjamin R. Larned, the U.S. Army paymaster, this fort served as one of the most important defense posts along the Santa Fe Trail.
In the 1860s, the federal government replaced the original sod and adobe buildings of this fort with stone and timber buildings.
Today, the fort complex includes nine buildings; a barracks, a post hospital, two company officer's quarters, commanding officer's quarters, quartermaster storehouse, the old commissary, the new commissary, and a shops building.
Visitors can take a trip back in time as they explore these interesting buildings and imagine what it was like to live on a western fort in the 19th century.
CHECK OUT: 5 MUST-SEE Historic Sites In Oklahoma
---
Historic Sites In Kansas
---
2. Fort Scott National Historic Site
We're down to the Top 2! At number 2 on our list of historic sites in Kansas we have Fort Scott National Historic Site.
Fort Scott was established in 1842. From 1842-53, it was a military fort established to protect the Permanent Indian Frontier.
It was from there that soldiers kept peace between white settlers and American Indian tribes, patrolled overland trails and fought in the Mexican-American War.
Within a few years, the fort and its inhabitants were thrust into the conflict which became the Civil War. Kansas found itself at the forefront of this growing sectional crisis due to the passage of the Kansas-Nebraska Act of 1854.
This act established the territorial boundaries of Kansas and Nebraska and opened the land to legal settlement.
---
Kansas Became A Battleground
What the act did was to allow the residents of these two territories to decide by popular vote whether their state would be free or slave. This concept of self-determination was called "popular sovereignty."
Kansas became "ground zero" in this battle as people on both sides of this controversial issue flooded the territory, trying to influence the vote in their favor.
Bleeding Kansas
It became known as "Bleeding Kansas" as violence swept across the state.
Abolitionist John Brown and his sons murdered five pro-slavery advocates in May of 1856 at Pottawatomie Creek.
take a deeper dive
There are three excellent books on the 1850s battleground which became Kansas. They are:
Bleeding Kansas: Contested Liberty in the Civil War Era by Nicole Etcheson.
Bleeding Kansas, Bleeding Missouri: The Long Civil War on the Border by Jonathan Earle.
War to the Knife: Bleeding Kansas, 1854-1861 by Thomas Goodrich.
---
Fort Scott Today
It's estimated that 26,000 visitors come to Fort Scott National Historic Site each year. The site includes 20 historic structures, eleven of these are original buildings, the others are reconstructions built on the original foundations.
While the site is furnished to the 1840s era, the story told at the fort includes the period up to and including the Civil War. And, it's a truly fascinating story to hear.
If you have never been before then I recommend that you begin your adventure at the visitor center where you will learn about the daily self-guided tours. There's also a cell phone tour which provides a short narration of each of the buildings.
Guided tours can be arranged, but it's important to call ahead if you are interested in taking one of those.
RELATED: 10 BEST CIVIL WAR SITES IN AMERICA
---
The #1 Historic Site In Kansas
---
1. Brown V. Board Of Education National Historic Site
Drumroll please. The #1 historic site in Kansas is Brown V. Board Of Education National Historic Site.
Brown v. Board of Education of Topeka was a landmark Supreme Court decision. Handed down on May 17, 1954, the Court's unanimous decision stated that "separate educational facilities are inherently unequal."
Since I'm a retired history teacher I'm glad to provide a short history lesson. Don't worry. There's no homework!
The case originated in 1951. The local public school district in Topeka, Kansas, following a widespread practice known as "segregation" or "separate but equal," refused to enroll the daughter of a local black resident at the school closest to their home.
Oliver Brown's daughter was instead required to ride a bus to a segregated black elementary school farther away.
---
Thurgood Marshall
The Browns and twelve other local black families filed a class-action lawsuit claiming that the practice of "separate but equal" was unconstitutional.
Overturning an 1896 Supreme Court decision (Plessy v Ferguson) which had ruled that racial segregation was not in itself a violation of the Fourteenth Amendment's Equal Protection Clause, the Court ruled it was unconstitutional.
Not only that, but led by attorney Thurgood Marshall, the plaintiffs were able to successfully argue that "separate but equal" was inherently unequal.
RELATED: 10 BEST Civil Rights Sites In America
Take A Deeper Dive
Believe it or not, I was one of those guys who sat in class taking notes and, when the professor threw out the name of what sounded like an interesting book, I not only wrote it down, I went out and purchased it. Yes, I am that guy which is why I ended up teaching history.
There's a wonderful book about the landmark Supreme Court decision. Written by Richard Kluger, it's titled Simple Justice: The History of Brown v. Board of Education and Black America's Struggle for Equality. It's a modern classic!
RELATED: 30+ Best National Parks Books (Great Gifts For Park Lovers)
---
Today It's A National Historic Site
Monroe Elementary School was one of the four segregated elementary schools for black children in Topeka.
The restored school was purchased by the National Park Service and reopened in 2004 as a National Historic Site.
Visitors will find exhibits, films, interactive activities as well as interpretive programs led by National Park Service staff. It's open daily 9 a.m.-5 p.m., except on Thanksgiving, Christmas and New Year's Day.
CHECK OUT: 25 Famous Bucket List Landmarks In America
---
Map Of Historic Sites In Kansas
---
List Of Historic Sites In Kansas
Brown V. Board Of Education National Historic Site
Fort Scott National Historic Site
Fort Larned National Historic Site
Lewis & Clark National Historic Trail
Nicodemus National Historic Site
---
About The People Behind More Than Just Parks
You should probably know that we don't just make this stuff up out of thin air. My sons have spent their entire adult lives exploring and filming America's national parks and public lands.
As for me, I'm a retired lifelong educator and a proud dad of these two wonderful guys who are hopelessly obsessed with the national parks. I taught history for over a quarter of a century. Now I enjoy researching and writing articles for More Than Just Parks. I'm always on the hunt for topics where nature and history intersect so please feel free to share any ideas that you might have with me.
We've worked with the National Park Service, the Department of Interior, and the U.S. Forest Service for years creating films on important places and issues. Our work has been featured in leading publications all over the world and even some people outside of our immediate family call us experts on the national parks.
---
Meet The Parks Brothers
We're Jim Pattiz and Will Pattiz, collectively known as the Pattiz Brothers (and sometimes the Parks Brothers) and we absolutely LOVE the national parks.
Our goal here at More Than Just Parks is to share the beauty of America's national parks and public lands through stunning short films in an effort to get Americans and the world to see the true value in land conservation.
We hope you'll follow our journey through the parks and help us to keep them the incredible places that they are. If you're interested in joining the adventure then sign up below!