Connecticut National Parks! We've got five incredible national park sites for you to see on your next visit to the Constitution State.
I grew up in the northeast and Connecticut is one of my absolute favorite states to visit. While Connecticut does not have many national park sites, each one is beautiful and worth a visit if you're in the area.
I've been to so many of these amazing places since retiring from teaching in 2018. Did I mention that I taught history? I spent a lifetime teaching about the history behind these momentous sites. Then I got to see them firsthand. And now I'm sharing the stories of these incredible places with you. It doesn't get any better than that!
To be clear, these are national park sites (as in managed by the National Park Service) but they are not capital letter National Parks. There are only 63 of those (so far). To learn the difference check out our article which explains it.
If you're planning a trip to the Constitution State then one book that I highly recommend is: Connecticut Bucket List Adventure Guide: Explore 100 Offbeat Destinations You Must Visit!
We're going to give you five reasons why you'll want to make Connecticut your next vacation destination.
---
Connecticut National Parks Table Of Contents
---
Connecticut National Parks
---
1. Appalachian National Scenic Trail
Connecticut National Parks includes the longest hiking trail in the world.
The Appalachian National Scenic Trail is a marked hiking trail that runs from Springer Mountain in Georgia to Mount Katahdin in Maine. Just how long a hike is that? Approximately 2,200 miles.
The trail runs passes through 14 states: Maine, New Hampshire, Vermont, Massachusetts, Connecticut, New York, New Jersey, Pennsylvania, Maryland, West Virginia, Virginia, Tennessee, North Carolina, and Georgia.
The original concept for the Appalachian Trail was the brainchild of Benton MacKaye. MacKaye was a forester, planner and social reformer who wrote a 1921 article in the Journal of the American Institute of Architects first proposing it.
---
The Appalachian Trail In Connecticut
The Appalachian Trail in Connecticut is maintained by the Connecticut Chapter of the Appalachian Mountain Club. The Connecticut section of the trail extends from Sherman at the New York state line to the brook crossing at Sage's Ravine, just north of the Massachusetts state line at Salisbury.
CHECK OUT: 18 BEAUTIFUL Massachusetts National Parks
---
2. Coltsville National Historical Park
For someone who taught history for almost thirty years and who remains lifelong history buff, one of my favorite Connecticut National Parks is the Coltsville National Historical Park.
When Samuel Colt started his Hartford factory on the banks of the Connecticut River in 1847, it followed years of mismanagement and failure. Soon, demand for Colt's revolver would change his fortunes and the Colt empire was born.
Following Colt's untimely death in 1862, his wife, Elizabeth Colt, would lead the company to its legendary status, and influence Hartford for over 40 years.
Things To Do At Coltsville
I recommend the guided walking tour. Using the Coltsville NHP App, you can visit eleven different sites all while learning about Samuel Colt and Elizabeth Hart Jarvis Colt.
While you're there, you should also check out the Blue Onion Dome. It's a bright blue dome, dusted with stars and topped by a rearing colt on top of a globe. This stunning monument has been a part of the city since 1855.
It sits on top of what was Colt's Patent Fire-Arms Manufacturing Company. The dome is a reminder of Samuel Colt, his factory, his family, and their contributions to the industry of precision manufacturing in Hartford and the world.
CHECK OUT: 25 EPIC New York State National Parks To Visit
---
Connecticut National Parks
---
3. New England National Scenic Trail
The Connecticut National Parks feature not one, but two amazing scenic trails.
The New England National Scenic Trail (NET) is a 215-mile hiking trail route that has been in existence for over half a century.  It extends from Long Island Sound across long ridges to scenic mountain summits in Connecticut and Massachusetts.
The trail offers panoramic vistas and close-ups of New England's natural and cultural landscape: traprock ridges, historic village centers, farmlands, unfragmented forests, quiet streams, steep river valleys and waterfalls. (Source NPS)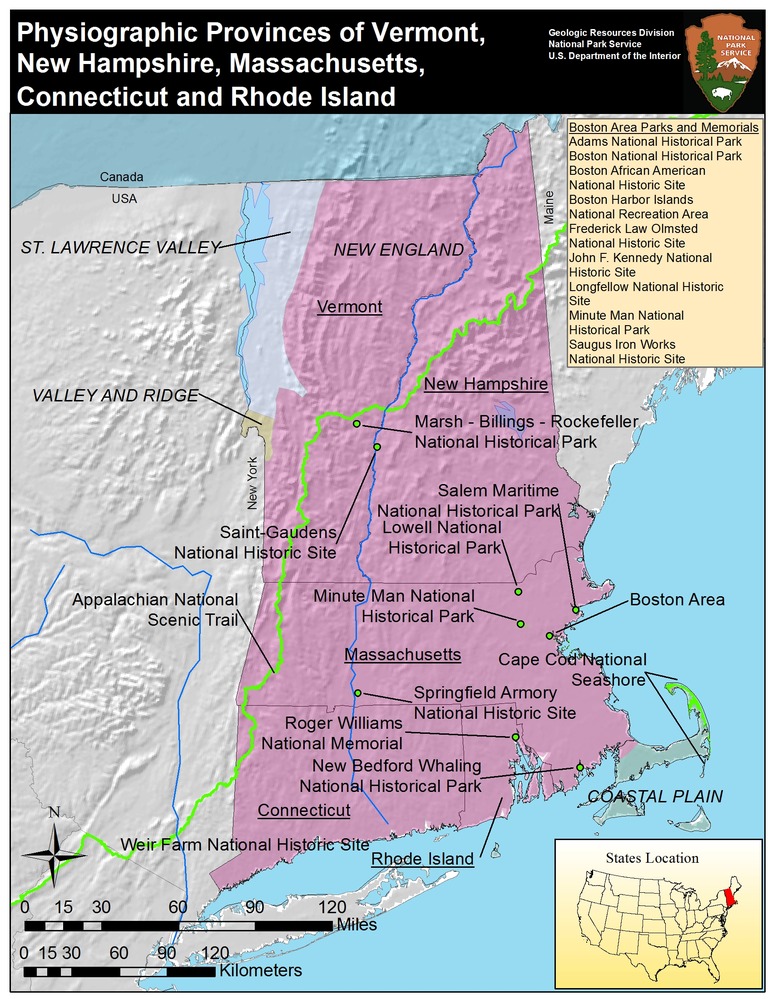 CHECK OUT: These EPIC New Hampshire National Parks Are Worth Visiting
---
4. Washington-Rochambeau Revolutionary Route National Historic Trail
Our next Connecticut National Park commemorates an important alliance during the American Revolution.
Washington's ultimate success against the British was made possible through an alliance with France.
On July 11, 1780, 55-year-old General Jean Baptiste Donatien de Vimeur, comte de Rochambeau arrived with an army of 450 officers and 5,300 men in Narragansett Bay off Newport, Rhode Island.
This marked the beginning of a most successful military cooperation that culminated 15 months later in the victory at Yorktown and the surrender of Lord Cornwallis and his troops.
From New Hampshire to Virginia, the Washington-Rochambeau National Historic Trail connects major metropolitan areas, state and national parks, historic and scenic trails, and countless other historic sites.
The rout is a 680-mile series of roads used in 1781 by the Continental Army under the command of George Washington and the forces under the command of Admiral Rochambeau during their 14-week march from Newport, Rhode Island, to Yorktown, Virginia.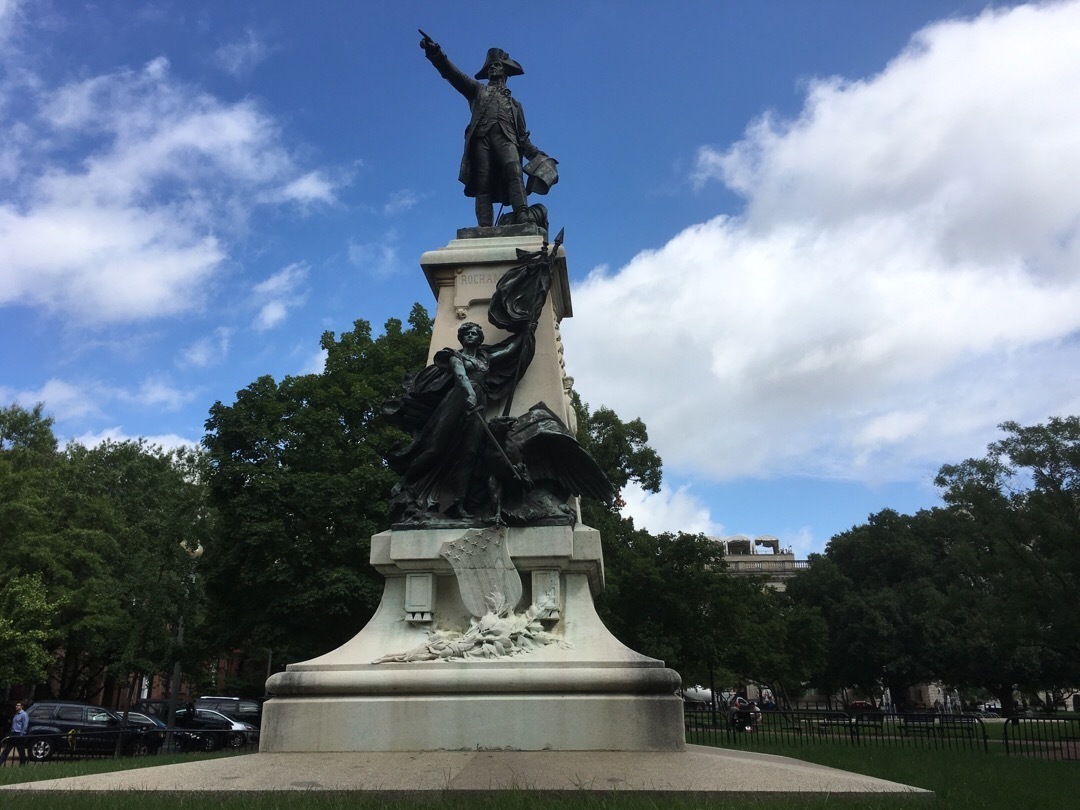 CHECK OUT: 10 BEST Revolutionary War Sites In America
---
Connecticut National Parks
---
5. Weir Farm National Historical Park
The final site on our list of Connecticut National Parks celebrates art for arts sake.
Imagine a national park that's all about art. Julian Alden Weir was an American impressionist painter and member of the Cos Cob Art Colony near Greenwich, Connecticut. 
Today you can visit the home and studio of this amazing artist. And while you're there you can walk in the footsteps of generations of world-class artists.
Weir Farm National Historical Park is set amidst more than 60 acres of painterly woods, fields, and waterways, Weir described his home as the "Great Good Place." His beautiful farm with its gorgeous surrounding landscape is a national legacy to American Impressionism, the creative spirit, and historic preservation.
The Weir Farm National Historical Park's permanent art collection consists of over 300 pieces. 
The museum's collection contains over 200,000 archives and objects including fine and decorative arts, letters, photographs, and furnishings associated with the site and the history of the Weir, Young and Andrews families.
You also find large oil paintings by Julian Alden Weir and Sperry Andrews, sculptures by Mahonri Young, and a growing collection of artworks by Doris Andrews, Dorothy Weir Young, and Caroline Weir Ely. (Source: NPS)
CHECK OUT: 25 Bucket List Famous Landmarks In America (MUST-SEE)
---
Map Of Connecticut National Parks
---
List Of Connecticut National Parks
Appalachian National Scenic Trail
Coltsville National Historical Park
New England National Scenic Trail
Washington-Rochambeau Revolutionary Route National Historic Trail
Weir Farm National Historical Park
---
About The People Behind More Than Just Parks
You should probably know that we don't just make this stuff up out of thin air. My sons have spent their entire adult lives exploring and filming America's national parks and public lands.
We've worked with the National Park Service, Department of Interior, U.S. Forest Service, USDA, & countless states over the years creating films on important places and issues.
Our work has been featured in leading publications all over the world and even some people outside of our immediate family call us experts on the national parks.
I'm always on the hunt for topics where nature and history intersect so please feel free to share any ideas that you might have with me in the comments below.
---
Meet The Parks Brothers
We're Jim Pattiz and Will Pattiz, collectively known as the Pattiz Brothers (and sometimes the Parks Brothers) and we absolutely LOVE the national parks.
Our goal here at More Than Just Parks is to share the beauty of America's national parks and public lands through stunning short films in an effort to get Americans and the world to see the true value in land conservation.
We hope you'll follow our journey through the parks and help us to keep them the incredible places that they are. If you're interested in joining the adventure then sign up below!
---