West Virginia National Parks! We've got eight incredible national park sites for you to see on your next visit to The Mountain State.
I've been to so many of these amazing places since retiring from teaching in 2018. Did I mention that I taught history? I spent a lifetime teaching about the history behind these momentous sites. Then I got to see them firsthand. And now I'm sharing the stories of these incredible places with you. It doesn't get any better than that!
To be clear, this list includes national park sites (as in sites managed by the National Park Service) as opposed to full-fledged national parks.
We're going to give you eight reasons why you'll want to make West Virginia your next vacation destination.
---
Why Should You Trust Us When It Comes To West Virginia National Parks?
You should probably know that we don't just make this stuff up out of thin air. My sons have spent their entire adult lives exploring and filming America's national parks and public lands.
As for me, I'm a retired lifelong educator and a proud dad of these two wonderful guys who are hopelessly obsessed with the national parks. I taught history for over a quarter of a century. Now I enjoy researching and writing articles for More Than Just Parks. I'm always on the hunt for topics where nature and history intersect so please feel free to share any ideas that you might have with me.
We've worked with the National Park Service, the Department of Interior, and the U.S. Forest Service for years creating films on important places and issues. Our work has been featured in leading publications all over the world and even some people outside of our immediate family call us experts on the national parks.
---
West Virginia Table Of Contents
---
---
#1. Appalachian National Scenic Trail
It's the longest hiking trail in the world.
The Appalachian National Scenic Trail is a marked hiking trail that runs from Springer Mountain in Georgia to Mount Katahdin in Maine. Just how long a hike is that? Approximately 2,200 miles.
The original concept for the Appalachian Trail was the brainchild of Benton MacKaye. MacKaye was a forester, planner and social reformer who wrote a 1921 article in the Journal of the American Institute of Architects first proposing it.
---
Benton MacKaye
In MacKaye's original vision, the Appalachian Trail would put back together the various parts of American life that were rapidly coming undone in the early 20th century.
It would fuse leisure and industry, environment and labor, community development and wilderness preservation into an interrelated project.
Giving City Dwellers An Escape | west virginia National Parks
MacKaye wanted to give city dwellers an escape from their humdrum urban existences. His bold proposal was nothing less than a wholesale reinvention of social life, economic organization, and land use.
The trail was built by private citizens and completed in 1937. It is managed by the National Park Service, U.S. Forest Service, Appalachian Trail Conservancy, numerous state agencies and thousands of volunteers.
It's a truly magnificent hiking trail traversing the scenic, wooded, pastoral and wild lands of the Appalachian Mountains.
---
You're Never Too Old Or Young To Hike The Appalachian Trail
Think you're too old for the Appalachian Trail? Think again! M.J. "Sunny" Eberhart strode into the record books as the oldest hiker to complete the Appalachian Trail. Eberhart is an 83 year old from Alabama who is best known for by his trail name Nimblewill Nomad.
At the other end of the age spectrum, we have five-year old Harvey Sutton who completed the Appalachian Trail over the summer. Nimblewill and Harvey prove that you're never too old or young to complete this amazing trek.
---
#2. Bluestone National Scenic River
The "Beautiful Bluestone," as it's called, was named for the deep blue limestone streambed of its upper reaches in Virginia, has created a gorge 1,000 feet deep. The bottomland within the gorge of the Bluestone was first used by Native Americans.
In the late 1700's the Lilly, Meadow, and Farley families built homesteads along the river. At the confluence of the Bluestone and Little Bluestone Rivers, the community of Lilly once flourished. The Bluestone Turnpike, a riverbank road used by those who farmed and timbered the area until the 1940's, is used today by visitors to the park.
Today this river is a part of our Wild and Scenic Rivers system. The headwaters of the Bluestone River begin at an elevation of 3,500 feet on East River Mountain near Bluefield, Virginia and flow for 77 miles to Bluestone Lake near Hinton, West Virginia at 1409 feet. The lower 10.5 miles of the Bluestone River, cutting through an impressive and biologically diverse gorge, has been designated as Bluestone National Scenic River. (Source: NPS)
Bluestone National Scenic River offers many outdoor activities. Hiking, mountain biking, hunting, fishing, birding, wildlife watching, relaxing and enjoying nature are favorites here. Canoeing and kayaking opportunities are usually limited to the springtime, when river levels are adequate.
---
#3. Chesapeake & Ohio Canal National Historical Park
Before the railroads took passengers and freight across the nation, before the interstate network of highways made America easily accessible by car or truck, the canal was a lifeline for communities.
In the 19th century, along the Potomac River, coal, lumber, and agricultural products floated down the waterway to market.
Today the Chesapeake & Ohio Canal National Historical Park is 184.5 miles of adventure. Originally, the C&O Canal was a lifeline for communities and businesses along the Potomac River as coal, lumber, grain and other agricultural products floated down the canal to market.
Visitors hike or bike the C&O Canal each year to enjoy the natural, cultural and recreational opportunities available.
---
#4. Chesapeake Bay Watershed
The Chesapeake Bay Watershed spans more than 64,000 square miles, encompassing parts of six states—Delaware, Maryland, New York, Pennsylvania, Virginia and West Virginia—and the entire District of Columbia.
More than 18 million people live in the Chesapeake Bay watershed.
The Chesapeake Bay is home to numerous fauna that either migrate to the Bay at some point during the year or live there year-round.
There are over 300 species of fish and numerous shellfish and crab species. It's a great place to explore.
Beaches along the tidal rivers and the Chesapeake Bay are often safe for swimming, fishing and boating.
---
West Virginia National Parks
#5. Gauley River National Recreation Area
If you're looking for a wild adventure then the Gauley River National Recreation Area is for you!
The 25 miles of free-flowing Gauley River and the six miles of the Meadow River pass through scenic gorges and valleys containing a wide variety of natural and cultural features. The Gauley River contains several class V+ rapids, making it one of the most adventurous white water boating rivers in the east.
As the National Park Service notes, Gauley River National Recreation Area protects 25 miles of the Gauley River and six miles of the Meadow River that pass through scenic gorges and valleys containing a wide variety of natural and cultural features. Every September as water is released from Summersville Dam, whitewater enthusiasts from all over the world flock to the Gauley River to experience what is considered by many people to be one of the most thrilling whitewater rafting opportunities in the country.
Dropping more than 668 feet through 25 miles of rugged terrain, the Gauley River's complex stretch of whitewater features more than 100 rapids with a steep gradient, technical runs, an incredible volume of water and huge waves. Its vigorous rapids, scenic quality and inaccessibility combine to make Gauley River one of the premier whitewater runs in the world.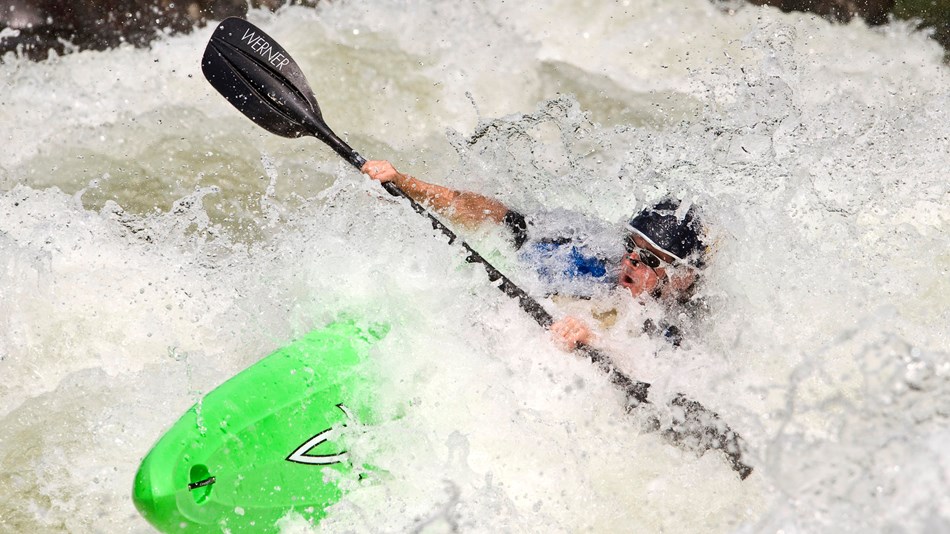 ---
Things To do
In additional to whitewater rafting, there's also camping available at the Gauley Tailwaters.
Fishing is another popular activity. You can catch trout, smallmouth bass, walleye and muskellunge.
And there are some wonderful nearby attractions which include:
Carnifex Ferry Battlefield State Park: Carnifex preserves the site of an important Civil War battlefield. Overlooks provide outstanding views of the Gauley River. The park features hiking trails, picnic areas, overlooks, and a museum.
Hawks Nest State Park: It offers outstanding views into the gorge just north of the New River Gorge Bridge. The park features a lodge, picnic areas, hiking trails, and jet boat ride on the New River.
Babcock State Park: It's one of the oldest parks in West Virginia, is located within the boundaries of New River Gorge National Park and Preserve. A feature of the 4,000 acre park is a widely photographed grist mill. Within the park are log cabin accommodations, hiking trails, a stable, a lake for fishing and boating, and campsites.
Summersville Lake: It provides outstanding opportunities for boating, swimming, fishing, and camping.
Manongahela National Forest: It's a fantastic place to hike, camp, hunt, and fish.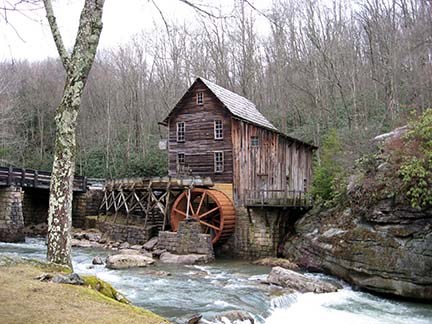 ---
#6. Harpers Ferry National Historical Park
Just as the name of Francis Scott Key is inexorably connected to Fort McHenry so is the name of John Brown likewise linked with Harpers Ferry.
In October of 1859, Brown led a raid against the military arsenal at Harpers Ferry.
The raid was intended to be the first stage in an elaborate plan to establish an independent stronghold of freed slaves in the mountains of Maryland and Virginia.
Brown was captured during the raid. He was convicted of treason and hanged, but the raid served as a flashpoint.
In the North, Brown was hailed as a hero while is the South he was depicted as the devil incarnate. This event helped move the two sections of America ever closer to Civil War.
---
Things To Do At Harpers Ferry
History truly comes to life at Harpers Ferry. There visitors can explore museums and exhibits, hike to overlooks or along Civil War skirmish lines, join a ranger-guided tour or sign-up for a living history workshop.
I recommend beginning your visit at the visitors center where you can pick up helpful information. Rangers are available to answer your questions.
Before heading out to explore the town and its surrounding natural beauty, as a history buff I recommend a stop at the Harpers Ferry Park Association's Bookshop. It has a wonderful collection of books on the Civil War.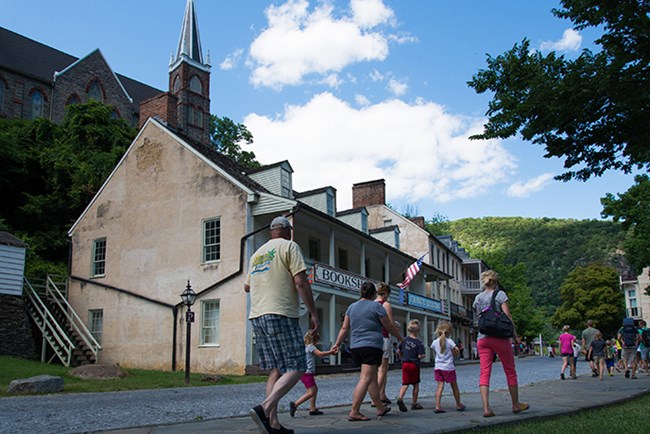 If you're looking to combine history and nature then check out the 22 miles of hiking trails at Harpers Ferry. It happens to be the mid-point of the 2,178-mile Appalachian Trail.
Picnicking is also available at Harpers Ferry National Historical Park at a designated picnic area adjacent to the Visitor Center parking lot. Picnic tables are on a first-come, first-serve basis.
---
West Virginia National Parks
#7. Lewis & Clark National Historic Trail
The Lewis and Clark National Historic Trail follows the historic outbound and inbound routes of the Lewis and Clark Expedition. As a retired history teacher, I get goosebumps just thinking about the Corps of Discovery and their incredible trek.
Commemorating the Lewis & Clark Expedition (1804-06), the Lewis & Clark Trail connects 16 states (Pennsylvania, Ohio, West Virginia, Kentucky, Indiana, Illinois, Missouri, Kansas, Nebraska, Iowa, South Dakota, North Dakota, Montana, Idaho, Washington and Oregon).
The trail is administered by the National Park Service. It's not a hiking trail, but does provide opportunities for hiking, boating and horseback riding at many locations along the route.
It's a great opportunity to see the USA while learning about the brave men (and one woman) who weren't able to make the journey in an air-conditioned SUV.
---
#8. New River Gorge National Park & Preserve
Established in 1978, New River Gorge National River was re-designated as New River Gorge National Park and Preserve in 2021. The park encompasses over 70,000 acres of land along 53 miles of the New River from Bluestone Dam to Hawk's Nest Lake.
A rugged, whitewater river flowing northward through deep and spectacular canyons, the New River is actually among the oldest rivers on Earth. Here in southern West Virginia, the New River has carved and continues to carve the deepest and longest river gorge in the Appalachian Mountains. (Source: NPS)
---
outddoor activities at new river gorge
There are some truly wonderful outdoor activities available which include:
Biking: New River Gorge offers many exciting biking trails for all experience levels from easy rail trails to more difficult mountain bike trails.
Camping: New River Gorge National Park and Preserve provides opportunities for primitive camping only.
Climbing: With over 1,600 established climbing routes, New River Gorge is one of the most popular climbing areas in the country.
Hiking: Trails range from 1/4 mile to 7 miles in length. Several can be easily connected to make for longer excursions. Difficulty varies from flat, smooth walking to steep challenging terrain.
Hunting: It is permitted throughout most the park on federally owned land. You will need to check with the park regarding the regulations governing this activity.
New River Gorge Scenic Drive: The 83-mile route includes interstates, divided highways, and two-lane roads. Along the way are broad vistas as well as small glimpses of both the past and the present.
Whitewater Rafting: The Lower Gorge has some of the biggest of the big with rapids ranging in difficulty from Class III to Class V.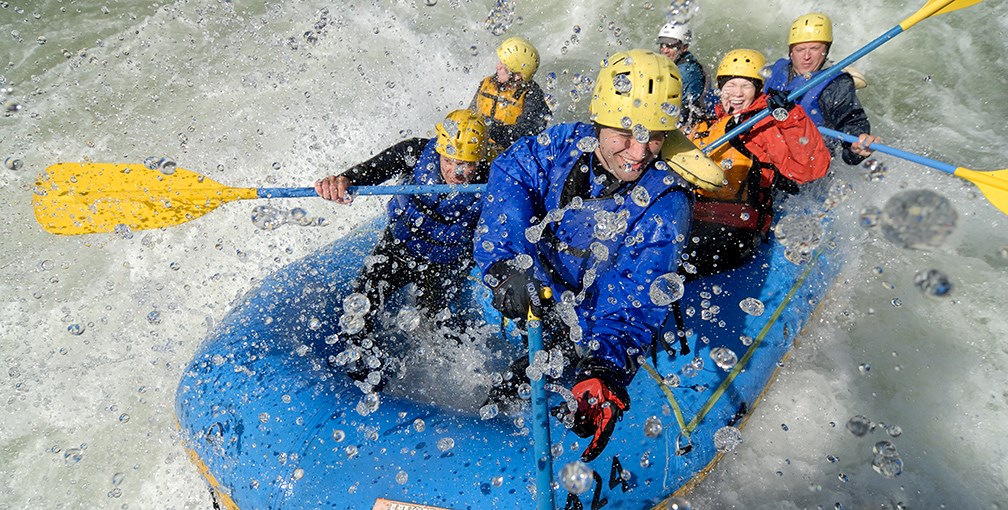 ---
Map Of National Parks In West Virgina
---
List Of National Parks In West Virginia
Appalachian National Scenic Trail
Bluestone National Scenic River
Chesapeake & Ohio Canal National Historical Park
Chesapeake Bay Watershed
Gauley River National Recreation Area
Harpers Ferry National Historical Park
Lewis & Clark National Historic Trail
New River Gorge National Park & Preserve
---
Meet The Parks Brothers
We're Jim Pattiz and Will Pattiz, collectively known as the Pattiz Brothers (and sometimes the Parks Brothers) and we absolutely LOVE the national parks.
Our goal here at More Than Just Parks is to share the beauty of America's national parks and public lands through stunning short films in an effort to get Americans and the world to see the true value in land conservation.
We hope you'll follow our journey through the parks and help us to keep them the incredible places that they are. If you're interested in joining the adventure then please sign up below!