National Parks Near Indianapolis
National Parks Near Indianapolis! There's so much more to the Hoosier State than the Indy 500. In this article, More Than Just Parks gives you some exciting vacation destinations within a day's drive of Indianapolis.
I've been to so many of these amazing places since retiring from teaching in 2018. Did I mention that I taught history? I spent a lifetime teaching about the history behind these momentous sites. Then I got to see them firsthand. And now I'm sharing the stories of these incredible places with you. It doesn't get any better than that!
To be clear, this list includes national park sites (as in sites managed by the National Park Service) as well as full-fledged national parks. To learn more about the difference between the various National Park Service designations check out our article that explains everything!
Now let's go ahead with 5 reasons why you'll want to hop in your car and make a day's drive from Indianapolis to one of these truly amazing places.
---
Table Of Contents: National Parks Near Indianapolis
---
Why Trust Us About National Parks Near Indianapolis?
You should probably know that we don't just make this stuff up out of thin air. My sons have spent their entire adult lives exploring and filming America's national parks and public lands.
As for me, I'm a retired lifelong educator and a proud dad of these two wonderful guys who are hopelessly obsessed with the national parks. I taught history for over a quarter of a century. Now I enjoy researching and writing articles for More Than Just Parks. I'm always on the hunt for topics where nature and history intersect so please feel free to share any ideas that you might have with me.
We've worked with the National Park Service, the Department of Interior, and the U.S. Forest Service for years creating films on important places and issues. Our work has been featured in leading publications all over the world and even some people outside of our immediate family call us experts on the national parks.
---
Meet The Parks Brothers
We're Jim Pattiz and Will Pattiz, collectively known as the Pattiz Brothers (and sometimes the Parks Brothers) and we absolutely LOVE the national parks.
Our goal here at More Than Just Parks is to share the beauty of America's national parks and public lands through stunning short films in an effort to get Americans and the world to see the true value in land conservation.
We hope you'll follow our journey through the parks and help us to keep them the incredible places that they are. If you're interested in joining the adventure then please sign up below!
---
Facts About Indianapolis
---
Indianapolis is the capital and largest city of the state of Indiana, and the 14th most populous city in the United States. It is located in central Indiana, about an hour's drive west of Cincinnati, Ohio. Indianapolis is a major economic and cultural center for the region, and is home to a number of Fortune 500 companies.
The city has a diverse population and a rich cultural history. The city is home to a variety of neighborhoods, each with its own character and atmosphere. The downtown area is a hub of activity, with a mix of office buildings, restaurants, shops, and entertainment options. The city is also home to a number of parks and green spaces, including White River State Park and the Indianapolis Zoo.
Indianapolis is known for its hot, humid summers and cold, snowy winters. The city is a popular destination for tourists, who come to visit attractions such as the Indianapolis Motor Speedway and the Children's Museum of Indianapolis.
The city is also home to a number of sporting events and festivals, including the Indianapolis 500 and the Indiana State Fair.
---
Best National Parks Near Indianapolis
---
1. George Rogers Clark National Historical Park
Distance From Indianapolis: Two hours via I-70 W & US-150 E/US-41 S.
For almost 30 years, I taught high school history. What impresses me most about the field of history are the amazing stories of men and women whose contributions changed the course of human events. In doing so, they helped to bring about the country we have today.
The people we know, however, are few when compared to the people we don't. When I asked my students what they knew about George Rogers Clark, I might have seen one hand raised.
I would call on that intrepid soul and he (or she) inevitably told me about Clark's historic journey across America with his companion Merriweather Lewis.
Folks, that's the wrong Clark!
---
Who Was George Rogers Clark?
A short history lesson is in order, but I promise there will be no homework.
Clark's best remembered (not by my former students however) as the brave commander who led a small force of frontiersmen during the American Revolution through the freezing waters of the Illinois country to capture British-held Fort Sackville at Vincennes during February of 1779.
While this was his most important contribution to the cause of liberty, Clark also built forts on the Mississippi and Ohio rivers, repelled a British-led Indian attack in the Illinois country and led two major expeditions which destroyed the major Shawnee towns in the Ohio country. (Source: NPS)
Clark began his career as a surveyor before becoming a politician and a soldier. After the Revolutionary War, Congress appointed him as one of the commissioners to manage negotiations with the Native Americans in what was then known as the Northwest Territory.
He concluded a treaty with the Shawnee granting the United States sovereignty over all lands ceded by Great Britain.
Now if you're interested in taking a deeper dive into the life and times of this fascinating man then I recommend George Rogers Clark: The Life and Legacy of the Revolutionary War's Conqueror of the Old Northwest by Charles River Editors.
---
Things To Do At The Park
I always recommend that first timers start at the visitor center. There you can gather information on points of interest at the site. At this site, I recommend a 30 minute film, titled Long Knives. The film explores Clark, his march to Vincennes, and the attack on Fort Sackville.
From there you should check out the Memorial where you can see seven murals which tell the story of Clark and the Old Northwest along with a magnificent statue of George Rogers Clark.
As the National Park Service notes, the Memorial was a major feat of architectural engineering. It was built from 1931 to 1933. Workers assembled it piece by piece like a gigantic jigsaw puzzle. Today it stands as a testament to a man who did his part for the cause of freedom.
RELATED: 4 EPIC Iowa National Parks
---
2. Indiana Dunes National Park
Distance From Indianapolis: Two hours & 14 minutes via I-65 N.
I love history, but my wife frequently reminds me that there are actually people who would rather visit national park sites to enjoy the wonderful outdoor activities which they have to offer.
Or, they go there to take in the beauty and become one with nature. Could she be right?
In our marriage, she usually is. Rest assured that, if you're one of those people, you can't lose by taking a trip to Indiana Dunes National Park. This beautiful park includes 15 miles of the southern shore of Lake Michigan. It has so much to offer that you won't find in the history books.
While you're there you can you look for rare species of birds or fly a kite along the sandy beach. This national park includes 15,000 acres so you won't run out of space.
If you love hiking there's 50 miles of trails. They cover rugged dunes, magnificent wetlands, sunny prairies, winding rivers and tranquil forests.
If you're planning a trip then I recommend picking up Best Sights to See at Indiana Dunes National Park by Rob Bignell. This book not only features some amazing sights, it also details the top hiking trails to experience them.
---
So Many Incredible Activities At Indiana Dunes
If you love boating Lake Michigan features kayaking, powerboating and sailing. While canoeing is not recommended on the lake itself due to the windy conditions, it is quite popular on the Little Calumet River.
There's even horseback riding on the specified portion of the Glenwood Dunes Trails from March 16th to December 14th.
And, let's not forget cross-country skiing from December 15th until March 15th. Those trails stay busy year-round.
RELATED: 10 FASCINATING Facts About Indiana Dunes National Park
---
Other Outdoor Activities At Indiana Dunes
There's no shortage of fun outdoor activities. See the beautiful wildflowers in the spring while strolling along the banks of the Little Calumet River. I recommend Wildflowers of the Indiana Dunes National Park by Nathanael Pilla.
In the summer go swimming or build castles in the sand.
Check out the amazing colors in the fall which typically peak around the middle of October. The fall is also an excellent time to go bird watching.
From April 1 through October 31, overnight camping is available. Fishing the Little Calumet River during the summer can be a lot of fun.
There's also the Portage Lakefront and Riverwalk fishing pier which offer lakeside fishing.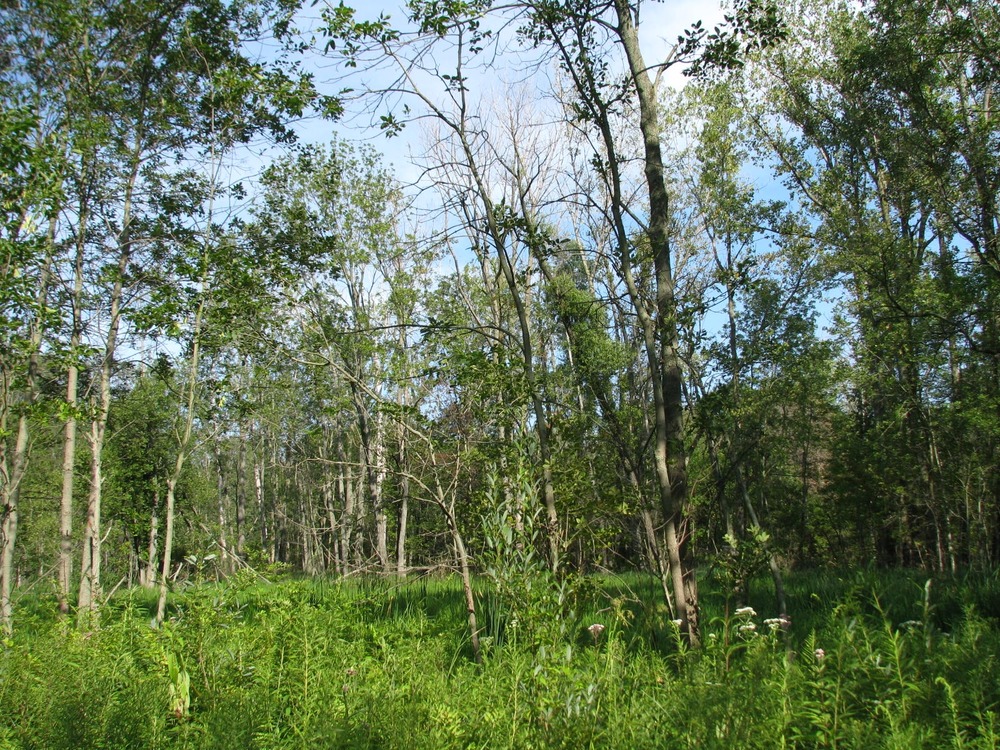 ---
While You're There You Can Explore A Century Of Progress
You'll find some amazing historical sites, too, which I'm always keen to explore.
There are over 60 historic structures including a National Historic Landmark, the Bailly Homestead. Other notable sites include Camp Good Fellow, the Chellberg Farm and five houses from the 1933 Chicago World's Fair.
The 1933 Chicago World's Fair's theme was a "Century of Progress." In keeping with this theme you can see the House of Tomorrow, Florida Tropical, Armco Ferro, Wieboldt-Rostone and Cyprus Log House.
These places feature innovative building materials, modern home appliances and new construction techniques.
RELATED: 10 EPIC Ohio National Parks Worth Visiting
---
3. Lewis & Clark National Historic Trail
In May of 2019, the Lewis & Clark National Historic Trail extended 1,200 miles to include segments along the Ohio River, from St. Louis to Pittsburgh. It's now a part of Indiana!
The Lewis and Clark National Historic Trail follows the historic outbound and inbound routes of the Lewis and Clark Expedition. I don't know about you, but I get goosebumps just thinking about the Corps of Discovery.
Commemorating the Lewis & Clark Expedition (1804-06), the Lewis & Clark Trail connects 16 states (Pennsylvania, Ohio, West Virginia, Kentucky, Indiana, Illinois, Missouri, Kansas, Nebraska, Iowa, South Dakota, North Dakota, Montana, Idaho, Washington and Oregon).
This trail is administered by the National Park Service. It's not a hiking trail, but does provide opportunities for hiking, boating and horseback riding at many locations along the route.
It's a great opportunity to see the USA while learning about the brave men (and one woman) who weren't able to make the journey in an air-conditioned SUV.
Of course if you are interested in learning about the sacrifices and struggles these brave men (and one woman) encountered then I recommend Undaunted Courage: Meriwether Lewis, Thomas Jefferson, and the Opening of the American West by Stephen Ambrose.
Ambrose is the the New York Times bestselling author of Band of Brothers and D-Day. Undaunted Courage is the definitive book on Lewis and Clark's exploration of the Louisiana Purchase, the most momentous expedition in American history and one of the great adventure stories of all time.
---
What Can I See In Indiana That's Connected To Lewis & Clark
I'm so glad you asked. After all, our focus in this article is on Indiana.
In Indiana, this historic trail follows the Ohio River from the Indiana/Ohio border, to Clarksville, then southwest towards Indiana's toe just south of Mount Vernon.
Merriweather Lewis historic 1803 meeting with William Clark has been honored for several years at the Falls of the Ohio State Park and the George Rogers Clark Homesite.
Now I know what you're thinking. And, the answer is YES. William Clark descended from a line of adventurous men including William's illustrious older brother George Rogers Clark.
RELATED: 6 GREAT Missouri National Parks (An Honest Guide + Photos)
---
4. Lincoln Boyhood National Memorial
Distance From Indianapolis: Two hours & 40 minutes via I-69 & US-231 S.
In 2021, C-SPAN asked a group of distinguished presidential historians to rank our nation's presidents from worst to best.
At the top of their list, with a total score of 897 points, was Abraham Lincoln. George Washington and Franklin Roosevelt came in second and third respectively.
Why is Abraham Lincoln ranked as the greatest president of all time? Simply put, he saved the Union.
In the process of saving the nation, Lincoln managed to define the creation of a more perfect Union in terms of liberty and economic equality that rallied the citizenry behind him.
---
Lincoln Transformed The Presidency
Lincoln transformed the Presidency. He remade the president's role as commander in chief and as chief executive into a powerful new position.
In the process, he imbued the office with broader powers by making it supreme over both Congress and the courts.
His detractors argued then and now that he took actions which were unconstitutional such as suspending the writ of habeas corpus.
For those without a legal background, this is a writ "requiring a person under arrest to be brought before a judge or into court, especially to secure the person's release unless lawful grounds are shown for their detention."
For Lincoln, however, it made no sense "to lose the nation and yet preserve the Constitution."
No President in American history ever faced a greater crisis and, in saving the Union, no President ever accomplished as much.
To learn more about this greatest of American Presidents, I heartily recommend Carl Sandburg's Abraham Lincoln: The Prairie Years & the War Years.
By gleaning every possible reference from history, literature, and popular lore, Sandburg successfully captures not only the legendary president, but also Lincoln the man. He reveals exactly who Lincoln was, and what forces in his life shaped his personality.
RELATED: 5 EPIC Illinois National Parks
---
Visit Lincoln's Birthplace
There are many activities offered on a daily basis at Lincoln Boyhood National Memorial.
At the Memorial Visitor Center, park staff and volunteers are available to answer your questions.
While you're there you should allow at least 45 minutes to tour the Memorial Halls, Museum and watch the orientation film.
The film, titled Forging Greatness: Lincoln In Indiana, is a 14-minute interpretive story which tells of the boyhood of Abraham Lincoln.
Next up, I recommend the park museum. It's housed in the Memorial Visitor Center which was completed in 1943.
The tour is self-guided and includes twelve exhibits exploring the life of Abraham Lincoln.
---
Outdoor Activities At The Lincoln Boyhood Home
When you're ready for a "good stretch of the legs" as our nation's 16th President might say, there's the Trail of the 12 Stones.
It's a half mile trail that begins just east of the Cabin Site Memorial. There you will find twelve historic stones arranged in chronological order at irregular intervals.
Small bronze tablets located near each stone, briefly explain the events in Lincoln's life associated with each of the memorial stones.
There are stones from twelve locations beginning with his birthplace in Kentucky and ending with a stone left over from the Lincoln Tomb in Illinois. (Source: NPS)
You can also hike the Boyhood Trail of Abraham Lincoln. It's the same ground that Abraham Lincoln did when he was a boy growing into a young man.
And if you're ready to step back in time there's the Lincoln Living Historical Farm. It's a working pioneer homestead with a log cabin, outbuildings, split rail fences, livestock, gardens and field crops.
While you're there you'll see rangers are dressed in period clothing. They perform a variety of activities typical of daily life in the 1820s.
RELATED: 10 BEST Civil War Sites In America
---
5. Indiana War Memorial
Distance From Indianapolis: Three minutes–It's in Indianapolis!
The Indiana War Memorial (IWM) Plaza Historic District includes the 30,000 square foot IWM Museum complete with military equipment and artifacts, three parks, four fountains, and 25 acres of monuments, statues, and sculptures in the heart of downtown Indianapolis.
The IWM's properties include the Indiana War Memorial, the Soldiers and Sailors Monument, the Indiana World War II, Korean War, and Vietnam War Memorials, the USS Indianapolis (CA-35) Memorial, the Medal of Honor Memorial, the 9/11 Memorial, and the Indiana Gold Star Families Memorial.
No state has a city with more monuments dedicated to veterans than Indiana's capital, and no city in the country maintains more acreage honoring veterans than Indianapolis. It is also home to the American Legion National Headquarters, which is the largest veterans' organization in the world.
The IWM Commission operates these facilities in pursuit of its primary mission: to commemorate the valor and sacrifice of the United States Armed Forces and to honor Hoosier veterans and Indiana's role in the nation's conflicts. (Source: State of Indiana, Indiana War Memorial)
---
Map Of National Parks Near Indianapolis
---
List Of National Parks Near Indianapolis
George Rogers Clark National Historical Park
Indiana Dunes National Park
Lewis & Clark National Historic Trail
Lincoln Boyhood National Memorial
Indiana War Memorial
---
To Learn More:
RELATED: 40+ Best National Parks Books (Great Gifts For Park Lovers)
---
Our goal here at More Than Just Parks is to share the beauty of America's national parks and public lands through stunning short films in an effort to get Americans and the world to see the true value in land conservation.
We hope you'll follow our journey through the parks and help us to keep them the incredible places that they are. If you're interested in joining the adventure then please sign up below!