Minnesota National Parks
---
Minnesota National Parks! We've got six incredible national park sites for you to see on your next visit to The Land Of 10,000 Lakes.
Minnesota is home to some world class national parks including one of our absolute favorites and our current most underrated national park, Voyageurs.
We've spent a great deal of time in Minnesota's National Parks and have plenty to say about them. In fact, More Than Just Parks Co-Founder Jim Pattiz even married a Minnesotan who spent much of her early life canoeing and hiking the state's immense natural beauty.
To be clear, this list includes national park sites (as in sites managed by the National Park Service) as well as full-fledged national parks. To learn more about the difference between the various National Park Service designations check out our article that explains everything!
If you're planning a trip to the Land of 10,000 Lakes then one book that I high recommend is: The Seven States of Minnesota: Driving Tours Through the History, Geology, Culture and Natural Glory of the North Star State by John Toren.
We're going to give you 6 wonderful reasons why you'll want to make Minnesota your next vacation destination – not that you should need them!
Table Of Contents
---
---
Best Minnesota National Parks
---
1. Grand Portage National Monument
Grand Portage National Monument and Indian Reservation, a National Park Service site in Minnesota, forms a bridge between people, time, and culture.
For over 400 years Ojibwe families of Grand Portage have tapped maples every spring on a ridge located just off Lake Superior. During the summer, Ojibwe fishermen harvest in the same areas their forefathers have.
Before the United States and Canada existed, the trading of furs, ideas, and genes between the Ojibwe and French and English fur traders flourished.
From 1778 until 1802, welcomed by the Grand Portage Ojibwe, the North West Company located their headquarters and western supply depot here for business and a summer rendezvous. (Source: National Park Foundation)
---
Things To Do At The Grand Portage
The monument preserves 710 acres which includes: the historic depot (71 acres) located on Lake Superior, the site of Fort Charlotte (98 acres) on the Pigeon River with the Grand Portage (541 acres) connecting the two depots. The 8.5 mile portage corridor and Fort Charlotte (639 acres) contain the majority of the Monument's semi-wilderness setting.
There are some wonderful activities for visitors which include:
Heritage Center and Historic Depot: It's a great place to begin your adventure. There you can view exhibits about Anishinaabe (Ojibwe) culture and where you learn about a time when the fur trade dominated North American commerce.
View One Of The Excellent Films On The Grand Portage Story: There's a feature film (23 minutes) titled "Rendezvous With History A Grand Portage Story," as well as shorter films which include: "Our Home: The Grand Portage Ojibwe," "The Gift of the Birch Bark Canoe," "A Gap in the Hills: Geography of Grand Portage," and "The Men of the North West Company" – Running time for all four is 24 minutes.
Visit The America's National Parks Bookstore.
Visit The Historic Depot: It includes three reconstructed post and sill log buildings and four outside areas.
Hike The Mount Rose Loop Trail: Visitors will be treated to a stunning overlook of the historic depot, Grand Portage Bay, Mount Josephine, and the gap in the hills where the Grand Portage footpath goes.
Minnesota National Parks includes all of this and so much more.

Minnesota National Parks
---
2. Mississippi National River & Recreation Area
Now you wouldn't expect Minnesota National Parks to include a site called Mississippi National River & Recreation Area. Did someone flunk geography?
No! That's because the "Mighty Mississippi" goes a lot farther than you might imagine.
The Mississippi National River and Recreation Area is a 72-mile and 54,000-acre protected corridor along the Mississippi River through the Minneapolis–Saint Paul metro in the U.S. state of Minnesota, from the cities of Dayton and Ramsey, to just downstream of Hastings.
Things To Do
This 72 mile river park offers quiet stretches for fishing, boating and canoeing, birdwatching, bicycling, and hiking.
And there are plenty of visitor centers and trails that highlight the fascinating human history of the Mississippi River. This a great place to start your exploration of this important river.
I recommend beginning your visit at The Mississippi River Visitor Center. The center provides fun activities for people of all ages as well as highlighting the fascinating human history of the Mississippi River.
I also recommend exploring the Upper St. Anthony Falls Lock and Dam. This central, historic landmark provides panoramic views of the Upper St. Anthony Lock and Dam, St. Anthony Falls, and the surrounding mill district.
If you love a good hike then Coldwater Spring is a great place for you. There are many for wildlife viewing and photography. The breathtaking trails there surround a restored prairie oak savannah and wetlands.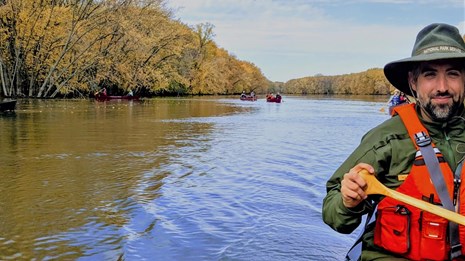 ---
Minnesota National Parks
---
3. North Country National Scenic Trail
The North Country National Scenic Trail provides visitors opportunities from bird watching to backpacking. This is another great Minnesota National Park!
The trail traverses eight northern states and connects a host of natural, historic and cultural sites. You can see everything from small towns to larger cities, valleys to hilltops and much more.
---
The History Of The North Country National Scenic Trail
In 1980, the North Country National Scenic Trail (NCT) was authorized by Congress. It stretches 4,600 miles from upstate New Hampshire to its western terminus at Lake Sakakawea State Park.
The trail actually traversed seven states until 2019 when Vermont was added. The Vermont section is only about 70 miles long.
From the leisurely lake walk of downtown Duluth to the rugged Sawtooth Mountains to the prairies of the Red River Valley to the gentle rolling Laurentian Divide, the North Country Trail offers a cache of contrasting hiking experiences across its roughly 850 miles in Minnesota.
Historic marks include the remnants of iron mining along the Mesabi and Vermilion ranges, Native American historic sites, and remnants of Paul Bunyan's white pine logging era.
Keep your eyes open wide for iconic Northern wildlife such as loons, moose, whitetail deer, black bear, Canada lynx, timber wolf and bald eagle. (Source: North Country Trail Association)
---
More Minnesota National Parks
---
4. Pipestone National Monument
No trip to Minnesota National Parks would be complete without a visit to Pipestone National Monument.
It's a magical place where, for countless generations, Native Americans have quarried the red pipestone found at this site.
These grounds are sacred to many people because the pipestone quarried here is carved into pipes used for prayer.
Have no fear! If you go you won't have to quarry pipestone. You'll have an opportunity, instead, to experience some wonderful indoor and outdoor adventures.
There are a wide range of indoor interpretive opportunities and hands-on activities are available from spring through fall.
Exhibits and a 22-minute film provide visitors with an understanding of the cultural and spiritual significance of the site. And then from From April through October, visitors can learn from cultural demonstrators.
Outdoor activities include:
(1) Interpretive programs and (2) Hiking the Circle Trail, which is a 3/4-mile long paved path that cuts through a Tallgrass Prairie, along a creek with the endangered Topeka Shiner, in front of a waterfall, and past ancient quarries still used by Native Americans today.
Minnesota National Parks
---
5. Saint Croix National Scenic Riverway
Saint Croix National Scenic Riverway, formed by the St. Croix and Namekagon, offers clean water for paddle boating and fishing.
There are 252 miles of recreational opportunities. You can canoe along the Northwoods and see wolves, deer, otter and porcupine. You will be surrounded by wooded bluffs and historic towns.
Other activities include birdwatching, boating, camping, fishing, hiking, hunting and paddling.
Hiking Trails Along The Saint Croix
There are seven hiking trails which are open year round. Trail surfaces are uneven and may be steep so be sure to watch your step. And also make sure to check for ticks.
Ridge View Trail is a three mile trek with two loops. The Chisage Loop traverses basalt rock outcroppings; the Osceola Loop is more level as you hike through pine and woods. Vistas of St. Croix River backwaters are visible from the bluff side of the trail.
This trail is a great place to see scarlet tanagers, bald eagles, turkey, grouse, and other forest-loving wildlife. Forest plants include marsh marigolds and large maple trees.
---
Trego Lake & Trego Nature Trails
The Trego Lake Trail is 3.6 miles and 3 loops. It offers hikers many scenic overlooks of Trego Lake. The area has a large population of white-tailed deer and ruffed grouse. Watch the ground for signs left by these animals.
The Trego Nature Trail is 2.8 miles. Hikers will see a beautiful forest and breathtaking views of the Namekagon River. Wildlife seen can include deer, fox, otters, wolves, and bobcat.
---
Indian Head Flowage & Sandrock Cliffs Trails
The Indian Head Flowage Trail is a three quarter mile trek. This trail crosses bridged streams as it winds its ways through woods and wetlands to the river.
Hikers will be treated to wildflowers which include marsh marigolds, trilliums, blue flag iris, wild geraniums, and more.
Sandrock Cliffs Trail is five miles and four loops. The lower loop of this trail follows the river closely, then turns onto a ridge providing a variety of terrain and scenery.
The highlight of this trail system is the sandstone cliffs located in a side channel of the river.
---
Minnesota National Parks
---
6. Voyageurs National Park
No visit to Minnesota National Parks is complete without a trip to Voyageurs National Park.
From kaleidoscopic sunrises and sunsets mirrored on glassy waters of its lakes to some of the most spectacular displays of the northern lights you'll find anywhere on earth, Voyageurs is a true monument to the wonders of nature.
If you're wondering how challenging it is to visit Voyageurs given that it's almost exclusively accessible by boat – don't!
The area has countless lodges and outfitters that will rent you any kind of boat you could want from a canoe on up to a houseboat at very reasonable prices.
The park is extensively mapped and easy to navigate once out on the waters. Trust me, you won't want to miss out on an unforgettable experience because you're unfamiliar with boating.
Check out our complete article on the 10 Best Things to Do in Voyageurs National Park
---
The History of Voyageurs National Park
You cannot talk about the history of Voyageurs National Park without two names coming up, Sigurd Olson and Walter Mondale. One was a renowned naturalist and writer and the other a United States Senator.
The Work Of Walter Mondale
Walter Mondale was a U.S. Senator from Minnesota and later Vice President to Jimmy Carter.
Throughout his life of service he was a tireless champion of conservation and is responsible for the protection of countless natural wonders that we enjoy today, including Voyageurs National Park and the beloved Boundary Waters Canoe Area Wilderness.
Fritz, as his friends called him, enjoyed canoeing the lakes and rivers of Minnesota and was instrumental in their protection.
He, along with fellow Senator Frank Church from Idaho, also championed the passage of the Wild & Scenic Rivers Act which protected countless pristine rivers in their natural state throughout the United States and laid the framework for the future protection of many more of America's majestic and threatened waterways.
---
Sigurd Olson & Voyageurs
Sigurd Olson is the man that put into words what makes this corner of the world so special and has served as an inspiration for many later environmentalists.
Over decades spent canoeing the Quetico-Superior Country (the area that encompasses Voyageurs and the Boundary Waters) Olson made a name writing about his travels and the immense beauty of the area.
More Than Just Parks Co-Founder Jim Pattiz is an avid reader of his work and the proud owner of several of his movingly poetic books.
Together, Olson and Mondale fought to protect the area from increasing pressure from mining and logging interests and ultimately succeeded in creating Voyageurs National Park, the Boundary Waters Canoe Area Wilderness, and designating a number of Wild & Scenic Rivers.
But the fight is still not over!
---
Save The Boundary Waters
Right now Voyageurs National Park and the Boundary Waters face the threat of permanent despoilment from mining interests looking to exploit the area for metals located beneath the lakes and rivers, namely the Twin Metals Mine.
The late Senator Mondale spoke out against this mine and advocated for permanent protection for the area from extractive industries. You can do your part to help save this precious wild area by visiting or donating to Save The Boundary Waters here.
---
Best Things to Do in Voyageurs National Park
1. Paddle in a Canoe
The best and only way to experience Voyageurs is by boat, but for a truly authentic experience try your hand at canoeing for a day, or if you're experienced, plan a multi-day trip.
Canoes are the historic mode of transportation in this area and slowly plying the waters of the park's lakes in a canoe can help give you a fuller appreciation of this unique north woods environment.
---
2. See the Northern Lights
On clear nights in Voyageurs you can see one of the most spectacular light shows in the world, the northern lights. They start as a faint glow on the horizon before working their way up the sky, dancing in real time right before your eyes.
Here in the remote north woods there is almost no light pollution whatsoever and the night sky is truly a wonder to behold.
There's no need to go to Iceland or Norway or even Alaska if it's the northern lights you seek, you'll find them here in all of their glory.
Fall and winter give you your best chances of seeing the northern lights, but you may be lucky enough any time of year if the conditions are right.
---
3. Explore Ellsworth Rock Gardens
This incredibly unique garden features countless works of art made entirely out of stone. Some of the stones are massive monoliths balanced delicately upon other stones.
This incredible attraction is entirely the work of one man, a humble carpenter from Chicago named Jack Ellsworth, who built these amazing works of art over the course of 20 years starting in the 1940's.
Tie off your boat here along the shores of Lake Kabetogama and explore the fascinating artistic expressions of one determined man.
---
4. Go Fishing
The waters of Voyageurs National Park and the surrounding areas are teeming with native fish that are great for eating or just for sport.
There's nothing quite like the feeling of catching your own meal and cooking it over an open fire on an island all to yourself.
Be sure to follow NPS and Minnesota DNR rules governing fishing in the area and fish responsibly.
---
5. Camp on Your Own Island
In Voyageurs there are no campgrounds with sites plotted next to each other one after the other with whirring RV generators, yelling kids, and barking dogs.
In this one-of-a-kind national park every campsite is all to itself, and yes, some are even on their own entire island. Did I mention there are over 150 campsites?
See our full article on Camping in Voyageurs National Park.
---
Watch the Award-Winning Voyageurs National Park Video
Synopsis
This film is the culmination of several weeks spent in the northernmost region of Minnesota known as Voyageurs National Park. Encompassing more than 340 square miles, Voyageurs is a watery wonderland almost exclusively accessible by boat.
Journey with us as we explore a land blanketed in pristine lakes, erupting with kaleidoscopic fall colors, and home to the most spectacular displays of the northern lights on the planet.
This is Voyageurs. Filmed primarily in stunning UHD 8K.
This film was made possible by the wonderful people at the Voyageurs National Park Association who work so hard to maintain the park for folks like us. Please check them out (and feel free to donate!): voyageurs.org
---
Map Of Minnesota National Parks
---
List Of Minnesota National Parks
Grand Portage National Monument
Mississippi National River & Recreation Area
North Country National Scenic Trail
Pipestone National Monument
Saint Croix National Scenic Riverway
---
About The People Behind More Than Just Parks
You should probably know that we don't just make this stuff up out of thin air. At More Than Just Parks we live and breath national parks and public lands. MTJP co-founders Will and Jim Pattiz have spent their entire adult lives traveling through America's public lands making films that inspire.
We've worked with the National Park Service, the Department of Interior, and the U.S. Forest Service for years creating films on important places and issues.
Our work has been featured in leading publications all over the world and even some people outside of our immediate family call us experts on the national parks.
---
Meet The Parks Brothers
Jim Pattiz and Will Pattiz, collectively known as the Pattiz Brothers (and sometimes the Parks Brothers) absolutely LOVE the national parks and America's public lands.
Our goal here at More Than Just Parks is to share the beauty of America's national parks and public lands through stunning short films in an effort to get Americans and the world to see the true value in land conservation.
We hope you'll follow our journey through the parks and help us to keep them the incredible places that they are. If you're interested in joining the adventure then please sign up below!
---
Helpful Articles
Voyageurs Camping: Voyageurs National Park Camping (Everything You Need to Know)
Things to Do: 10 (INCREDIBLE) Things to Do in Voyageurs National Park
Voyageurs Guide: Voyageurs National Park: Epic Guide to Minnesota's Watery Wonderland
---