Maryland National Parks! In this article, we feature some incredible national park sites in the great state of Maryland. We've got 27 national park sites for you to see on your next visit to the Old Line State.
As someone who has lived on the east coast for the past four decades I have spent countless hours visiting Maryland's beautiful national park sites.
I've been to so many of these amazing places since retiring from teaching in 2018. Did I mention that I taught history? I spent a lifetime teaching about the history behind these momentous sites. Then I got to see them firsthand. And now I'm sharing the stories of these incredible places with you. It doesn't get any better than that!
These Maryland National Parks include amazing historic sites, incredible monuments, beautiful parks, legendary trails, and much more.
If you're planning a trip to the Old Line State then one book that I highly recommend is: GREATER THAN A TOURIST- BALTIMORE MARYLAND USA: 50 Travel Tips from a Local by Zoe Scurletis.
We'll give you 27 wonderful reasons why you'll want to make Maryland your next vacation destination.
---
Maryland National Parks Table Of Contents
---
National Parks of Maryland
---
1. Antietam National Battlefield
I'm a retired history teacher who likes nothing better than to pack up his car and go off in search of America's past. And the Maryland National Parks have a lot to offer in this department!
Beginning with the Battle of Antietam which featured the bloodiest single day in American history. It was one of the pivotal battles of the American Civil War. President Abraham Lincoln was desperate for a Union victory against Confederate General Robert E. Lee and his Army of Northern Virginia.
Many historians consider this battle to be a stalemate. Lee's invasion of the North was stopped, however, and this was decisive enough for Lincoln to move forward with his historic Emancipation Proclamation.
Six Other Ways That Antietam Changed The Course Of History
Robert E. Lee is the military genius who confounded one northern general after another. Lee was fresh off of his victory in the Second Battle of Bull Run. At Antietam, his plan was to invade the north. He was repelled, however, and would not attempt another invasion of the North until the Battle of Gettysburg in 1863.
A string of Confederate victories in the summer of 1862 had brought France and Great Britain close to recognition of the Confederate States of America. This would have been devastating for the Union cause. Lee's inability to win a decisive victory at Antietam halted this momentum towards diplomatic recognition.
The Union's ability to stop Lee and force him to withdraw lifted northern morale.
Antietam was one of the first battles in history to feature photographic images of twisted bodies littering the devastated landscape and stacked in heaps like slaughtered livestock. These images brought the horror of war home to the civilian population.
The Union's ability to stop Lee helped President Lincoln's Republican Party in the 1862 elections. Democrats had been highly critical of the President's conduct of the war. They were hoping to make significant political gains. Republicans, however, actually gained seats in the Senate and maintained a majority in the House.
While Lee was stopped, Union Commander George McClellan refused to pursue Lee's Army as Lincoln felt he should have. For McClellan, this was the beginning of the end as Lincoln began to search for a new commander.
CHECK OUT: 10 BEST Civil War Sites In America
---
Take A Deeper Dive
As a retired history teacher, my mantra is "So many books, so little time."
So many wonderful books have been written on the American Civil War. I have three recommendations for the Battle of Antietam. A Fierce Glory: Antietam–The Desperate Battle That Saved Lincoln and Doomed Slavery by Justin Martin, Antietam Revealed: The Battle of Antietam and the Maryland Campaign As You Have Never Seen It Before by Dennis Frye and Landscape Turned Red: The Battle of Antietam by Stephen Sears.
Things To Do At The Antietam National Battlefield
If you're a first-timer then I definitely recommend beginning your trip at the visitor center. The Newcomer House and Barn are positioned at the eastern gateway to the Antietam National Battlefield.
The Newcomer House serves as Visitor Center for the Heart of the Civil War Heritage Area. There you can see museum exhibits about the battle.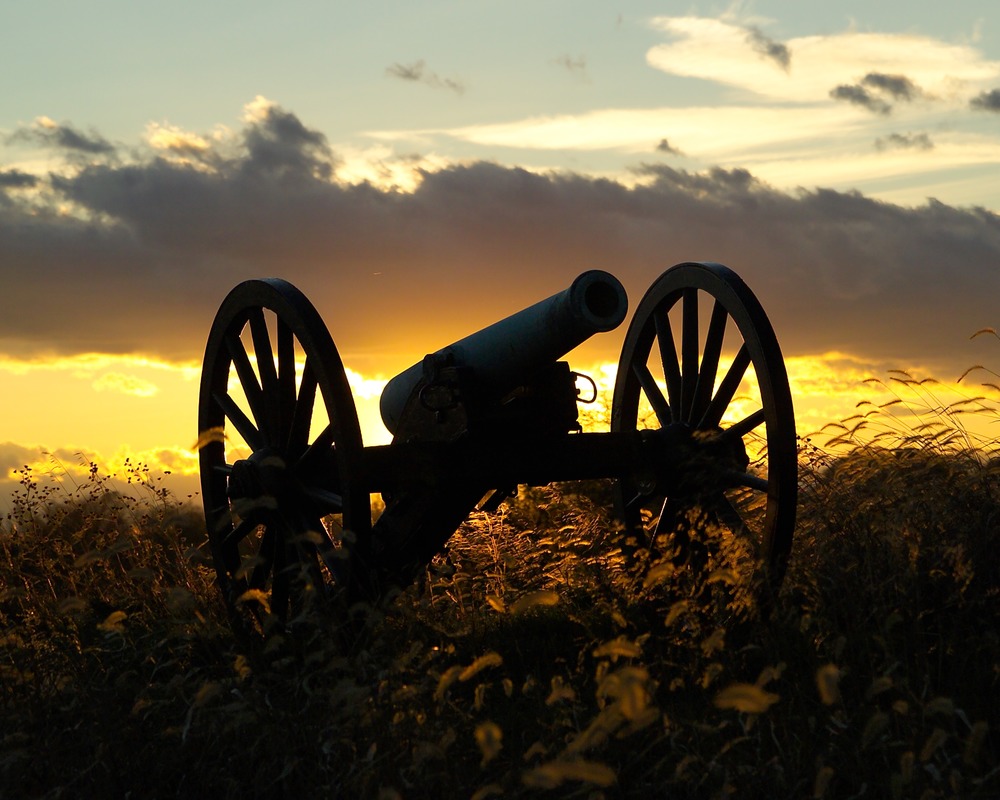 There is a self-guided 8 1/2 mile auto tour through the battlefield. The tour has 11 stops and begins at the Dunker Church.
Or, if you prefer walking to driving then you can hike the Bloody Lane, Cornfield, Final Attack, Union Advance, Antietam Remembered, Sherrick Farm or Snavely Ford Trails.
I recently traveled to Antietam with my wife and son. While there, I picked up A Fierce Glory: Antietam–The Desperate Battle That Saved Lincoln and Doomed Slavery by Justin Martin. It's a thoughtful examination of how this battle changed the trajectory of the conflict.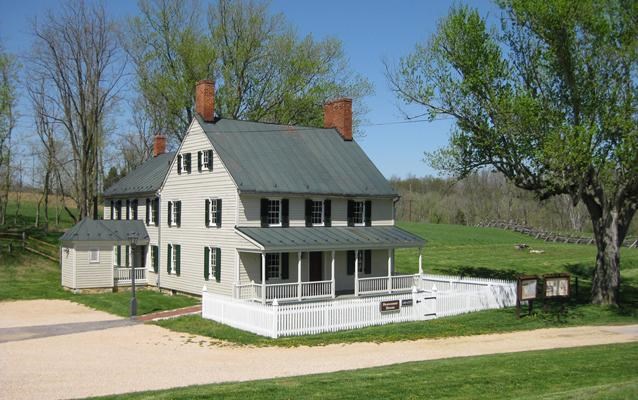 The Pry House Field Hospital Museum | The Birthplace Of Modern Emergency Medicine
Another place that you should check out is the Pry House Field Hospital Museum. The Pry House sits on Antietam National Battlefield near Sharpsburg, Maryland. It was built in 1844 as the home of Phillip and Elizabeth Pry and their six children.
During the Battle of Antietam in September 1862, the house served as headquarters for General George McClellan, as well Major Jonathan Letterman, the army's medical director.
Antietam is the birthplace of modern emergency medicine. It was here that Letterman developed an efficient system for securing, evacuation, and treating casualties. Now called the Letterman Plan, it remains the basis of medical response on battlefields and in disaster situations around the world.
Today the Pry House is home to the Pry House Field Hospital Museum, a satellite museum of the National Museum of Civil War Medicine. The museum includes two floors of exhibits with original artifacts and text panels discussing battlefield medicine and field hospitals of the Civil War, especially Antietam.
Visitors will see fascinating exhibits including a re-creation of an operating theater, interpretive panels and objects relating to the care of wounded and the effects on the civilian population in the area as well as information about the Pry House.
There's a wonderful book that I recommend regarding this fascinating topic. It's Surgeon in Blue: Jonathan Letterman, the Civil War Doctor Who Pioneered Battlefield Care by Scott McGaugh.
RELATED: 11 BEAUTIFUL Alabama National Parks
---
2. Appalachian National Scenic Trail
Need a good stretch of the legs? When you visit the Maryland National Parks you can explore the longest hiking trail in the world?
The Appalachian National Scenic Trail is a marked hiking trail that runs from Springer Mountain in Georgia to Mount Katahdin in Maine.
Just how long a hike is that? Approximately 2,200 miles. You don't have to do it all however.
Given my former profession, I love learning about the history of places.
I realize that not everyone shares my passion so I'll try to keep my history lessons short and to the point. And, I promise there'll be no homework assignments.
The original concept for the Appalachian Trail was the brainchild of Benton MacKaye. MacKaye was a forester, planner and social reformer who wrote a 1921 article in the Journal of the American Institute of Architects first proposing it.
Benton MacKaye & The Appalachian Trial
In MacKaye's original vision, the Appalachian Trail would put back together the various parts of American life that were rapidly coming undone in the early 20th century.
It would fuse leisure and industry, environment and labor, community development and wilderness preservation into an interrelated project.
Giving City Dwellers An Escape
MacKaye wanted to give city dwellers an escape from their humdrum urban existences. His bold proposal was nothing less than a wholesale reinvention of social life, economic organization, and land use.
The trail was built by private citizens and completed in 1937. It is managed by the National Park Service, U.S. Forest Service, Appalachian Trail Conservancy, numerous state agencies and thousands of volunteers.
It's a truly magnificent hiking trail traversing the scenic, wooded, pastoral and wild lands of the Appalachian Mountains.
---
---
3. Assateague Island National Seashore
It's not just history or hiking trails that you'll discover among the Maryland National Parks. There's also one of the most beautiful seashores in America. Of course I'm referring to the Assateague Island National Seashore.
As a first-time visitor, you should stop at the visitor center to see exhibits and obtain information about the many recreational activities and natural features in the seashore.
So Many Wonderful Outdoor Activities To Choose From
A list of the outdoor activities include:
Biking: Cyclists may travel to Assateague over a bicycle-pedestrian bridge and follow a paved bike path along Bayberry Drive through 4 miles of island habitat.
Camping: Reservations are required from March 15 through November 15. There are five campsites to choose from including one which accommodates horses.
Crabbing: Be sure to bring a hand line or string with a weight and/or a crabpot or trap bait (chicken necks, bait fish), net with long handle, ruler to measure the crabs and a cooler with lid and ice.
Hiking: Trails include Life of the Dunes, Life of the Forest and Life of the Marsh complete with trail guides.
Horseback Riding: The national seashore does not offer horses for rent or horseback riding tours. Day use horseback riding is permitted in Maryland from October 9 through May 14. Riding is permitted on the beach only, east (ocean side) of the black and white posts.
Fishing: Surf fishing has been a popular recreational activity on Assateague Island for generations. A license is required.
Swimming: NPS Lifeguards supervise designated beach areas in Maryland and Virginia sections of Assateague. (Source: NPS)

RELATED: Whose Island Is It Anyway | A History & Guide To Cumberland Island
---
4. Baltimore-Washington Parkway
When I travel to the Maryland National Parks I love to take a scenic drive along one of America's most picturesque parkways.
It's a beautiful parkway which offers its travelers some wonderful adventures. There are several places to visit along the Baltimore-Washington Parkway.
You can have a picnic or camp in Greenbelt Park, Greenbelt road Route 193 west off the parkway. You can see the NASA Visitor Center on Soil Conservation Road off Greenbelt Road Route 193 East.
Be Sure To Check Out The Green Belt Museum
As a history buff, one of my favorite places to visit is the City of Greenbelt and the Greenbelt Museum.
The Greenbelt Museum provides a gateway to the rich history and living legacy of Greenbelt, Maryland, an experimental cooperative community created in 1937 by Franklin D. Roosevelt's New Deal.
While you're there you can take a trip back in time.
The Museum offers tours of an original historic home, exhibits, public programs, educational programs for children, and walking tours of the historic town to visitors and the community.
RELATED: 10 AMAZING Georgia National Parks
---
Maryland National Parks
---
5. Captain John Smith Chesapeake National Historical Trail
Captain John Smith was an English explorer who played an pivotal role in America's founding. Smith served on the governing council of Jamestown, Virginia He led two voyages on the Chesapeake Bay.
Smith's contact with native tribes and his Chesapeake Bay voyages, documented in maps and journals, helped early English colonists learn about the region that became their new home.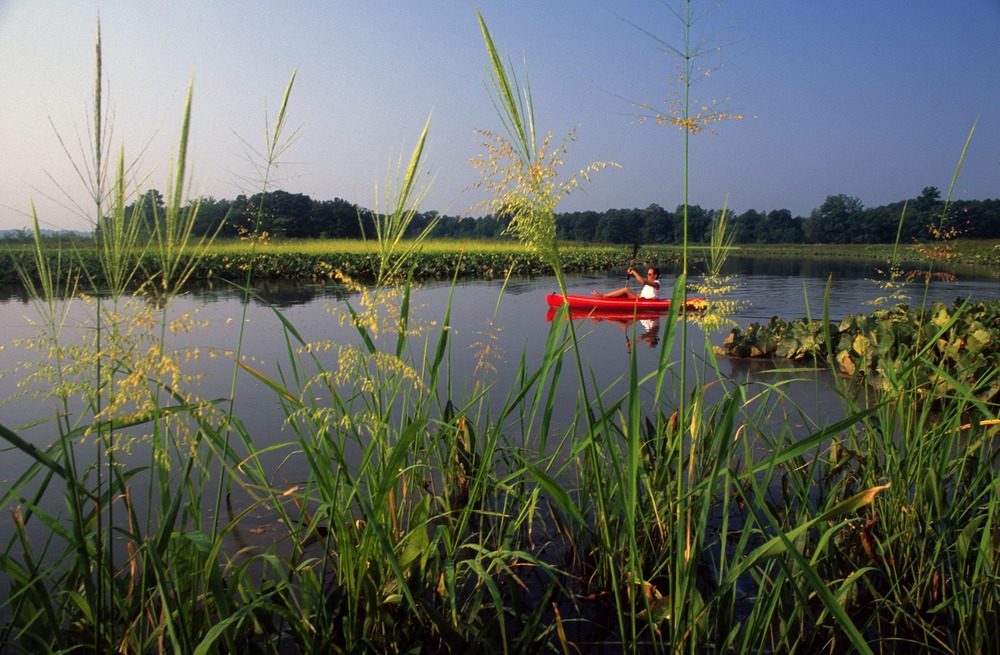 Things To Do On The John Smith Chesapeake National Historical Trail
The trail commemorates Captain Smith's exploration of the Bay in 1607 through 1609, and is the nation's first all-water national historic trail. It stretches over 3,000 miles and traverses most of the Chesapeake's great rivers.
The trail is administered by the National Park Service. It connects with 16 National Wildlife Refuges, 12 National-Parks, and three other National Trails.
Trails I would recommend exploring include the following:
The Billy Goat Trail-It's a popular trail near Potomac, Maryland. This is a protected area designed to preserve the remains of the Chesapeake and Ohio Canals with the original structures still intact. The trail offers spectacular views of the Potomac River.
Scott's Run River Trail-It's a wonderful area for nature trips, walking, and running. It features a beautiful waterfall. This is a beautifully wooded trail with a mix of inclines, flat areas, and areas with loose rocks.
The Chesapeake and Ohio Canal Trail-It's a popular trail that leads up to an overlook of the Great Falls. You will have wonderful views of the water and rock formations.
RELATED: Acadia National Park: An EPIC Guide To New England's Premier Park
---
6. Catoctin Mountain Park
One of my favorite Maryland National Parks is the Catoctin Mountain Park.
It's located in north-central Maryland. It is a part of the Catoctin Mountain Range which forms the northeastern part of the Blue Ridge Mountains. It's in the Appalachian Mountains System.
The park offers a wide range of outdoor activities which include:
Camping: Camp sites include Owens Creek Campground, Misty Mount cabin camping, Adirondack shelters, Poplar Grove youth group sites.
Cross country Skiing: Generally, the best skiing is along certain sections of park roads which are closed to vehicular traffic.
Fishing: Prominent trout fishing streams.
Hiking: The park features easy, moderate and more strenuous hiking trails. There are both East Side & West Side Trails which include a number of interesting features.
Horseback Riding: Approximately 6 miles of trails are maintained in Catoctin Mountain Park for public horseback riding.
Orienteering: If you would like to practice your orienteering skills, the park maintains two courses that are available for public use.
Picnicking: The Chestnut Picnic Area and the Owens Creek Picnic Area have many grills waiting for you.
Rock Climbing: Bouldering and Rope Climbing are available at Catoctin Mountain Park. (Source: NPS)
---
---
7. Chesapeake & Ohio Canal National Historical Park
One of the most unique of the Maryland National Parks would have to be the Chesapeake & Ohio Canal National Historical Park.
Before the railroads took passengers and freight across the nation, before the interstate network of highways made America easily accessible by car or truck, the canal was a lifeline for communities.
In the 19th century, along the Potomac River, coal, lumber, and agricultural products floated down the waterway to market.
Today the Chesapeake & Ohio Canal National Historical Park is 184.5 miles of adventure. Originally, the C&O Canal was a lifeline for communities and businesses along the Potomac River as coal, lumber, grain and other agricultural products floated down the canal to market.
Visitors hike or bike the C&O Canal each year to enjoy the natural, cultural and recreational opportunities available.
RELATED: 5 EPIC Illinois National Parks
---
8. Chesapeake Bay Watershed
The Chesapeake Bay Watershed spans more than 64,000 square miles, encompassing parts of six states—Delaware, Maryland, New York, Pennsylvania, Virginia and West Virginia—and the entire District of Columbia.
More than 18 million people live in the Chesapeake Bay watershed.
The Chesapeake Bay is home to numerous fauna that either migrate to the Bay at some point during the year or live there year-round.
There are over 300 species of fish and numerous shellfish and crab species. It's a great place to explore.
Beaches along the tidal rivers and the Chesapeake Bay are often safe for swimming, fishing and boating.
RELATED: 4 EPIC Indiana National Parks
---
9. Civil War Defenses Of Washington
If you love history in general and the history of the American Civil War in particular then Maryland National Parks will not disappoint. A case in point is the Civil War Defenses Of Washington. Perhaps a short history lesson is in order.
During our nation's bloodiest conflict, one of President Abraham Lincoln's greatest worries was that Confederate forces would capture Washington, D.C. For the South, our nation's capitol was the elusive prize that might have brought the southern states their independence.
To prevent this from happening, 68 forts and 93 batteries armed with over 800 cannons encircled Washington, D.C.
Along forested hills surrounding the nation's capital, visitors can see the remnants of a complex system of Civil War fortifications.
Nineteen of these original sites are now managed by the National Park Service. Among these are included:
122nd New York Infantry at Battleground National Cemetery
150th Ohio National Guard Infantry Monument
98th Pennsylvania Volunteer Infantry Monument
Battery (Fort) Ricketts which was constructed as part of the Eastern Branch Line Defenses (Anacostia River).
Battery Kemble which held two 100-pounder Parrott rifles, placed in such a way as to sweep Chain Bridge along the Potomac River and the Virginia shoreline.
Battleground National Cemetery established shortly after the Battle of Fort Stevens, in the summer of 1864. This battle marked the defeat of General Jubal A. Early's Confederate campaign to launch an offensive action against the nation's capital.
And that's only a part of the total number of sites which still remain to be explored.
RELATED: 6 (EPIC) Kentucky National Parks For Your Visit To The Bluegrass State
To Learn More About The Civil War
So many books have been written about the Civil War and the various battles that took place. Of course, the big three authors when it comes to war are, in my humble opinion, Bruce Catton, Shelby Foote and James M. McPherson.
What these three have written are the best collections of books encompassing the war as a whole. You can't go wrong with any of these authors. My personal favorite is Shelby Foote. I have read his fabulous three volume history of the Civil War–twice!
Check Out: 10 BEST Civil War Sites In America
---
More Maryland National Parks
---
10. Clara Barton National Historic Site
Our next Maryland National Park site moves us from taking lives to saving them.
Clara Barton is one of the most honored women in American history and rightly so.
During the American Civil War, Barton became known as an "Angel of the Battlefield." She courageously provided nursing care and supplies to soldiers. She found other ways to help the military too.
With permission from President Lincoln, she opened the Office of Missing Soldiers, helping to reconnect more than 20,000 soldiers with their families.
Clara Barton's compassion extended beyond the boundaries of her native land. She went on to volunteer with the International Committee of the Red Cross, providing civilian relief during the Franco-Prussian War.
Her greatest accomplishment, however, was the establishment of the American Red Cross on May 21, 1881.
Clara Barton served as first president of this organization Red Cross for 23 years, retiring in 1904. She died at her home in Glen Echo, Maryland, on April 12, 1912.
Things To Do At The Clara Barton National Historic Site
The National Park Service has restored eleven rooms, including the Red Cross offices, parlors and Clara Barton's bedroom. Visitors to Clara Barton National Historic Site can see how Barton lived and worked surrounded by all that went into her life's work.
Visitors are led through the three levels on a guided tour emphasizing Barton's use of her unusual home. There are 9 acres of land at her Glen Echo home including the 38-room former residence of Barton.
RELATED: 9 EPIC Mississippi National Parks
---
11. Check Out Fort Foote Park
One of the lesser known of the Maryland National Parks is Fort Foote Park. Fort Foote was constructed in 1863 as a part of the ring of fortifications designed to protect Washington from a Confederate attack.
Fort Foote was constructed for the purpose of defending, in connection with Battery Rogers, the water approach to the city.
Today visitors can explore the fort. It's a lovely forested area where some of the original fort bastions have been preserved.
There are two 15-inch guns sitting on carriages overlooking the Potomac.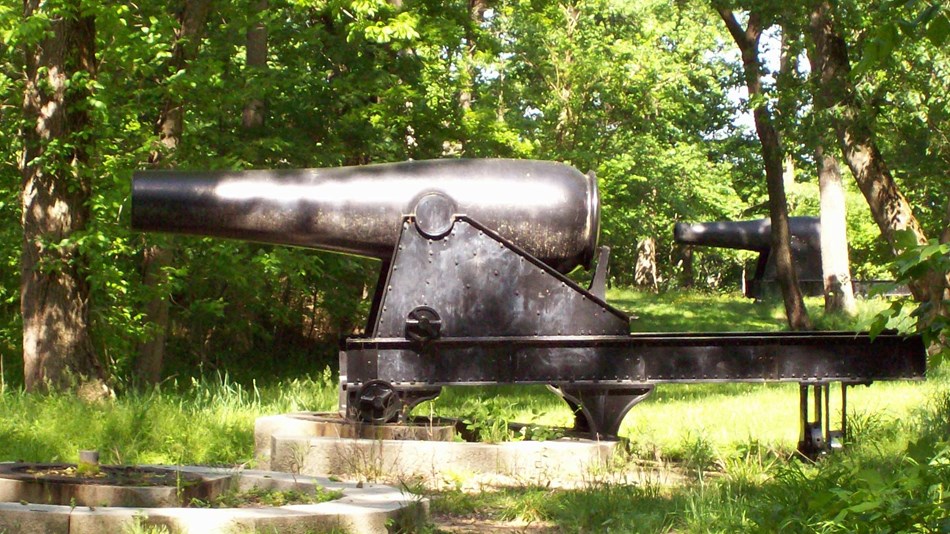 RELATED: 6 GREAT Missouri National Parks
---
12. Visit Fort McHenry National Monument & Historic Shrine
What a story this Maryland National Park site has to tell! Immortalized by Francis Scott Key during the War of 1812. "O! say can you see . . ."
Key did see! He saw the British bombardment of Fort McHenry in 1814.
American forces resisted the dramatic British bombardment of Fort McHenry and proved they could stand up to a great world power.
Key was inspired upon seeing the American flag still flying over the fort at dawn and wrote the poem "Defense of Fort M'Henry."
His poem was published and its stirring lyrics became known as the Star Spangled Banner.
This song was America's unofficial national anthem until President Herbert Hoover made it the official national anthem over a century later.
RELATED: 10 [EPIC] Montana National Parks
---
Let's Take A Closer Look At The War Of 1812
The War of 1812 was crucial for the successful development of the United States. Why you might ask? Allow me to give you three important reasons.
First, it effectively destroyed the Indians' ability to resist American expansion east of the Mississippi River. General Andrew Jackson crushed the Creek Indians at the Battle of Horseshoe Bend in Alabama, while General William Henry Harrison defeated Indians in the Old Northwest at the Battle of the Thames. Abandoned by their British allies, the Indians reluctantly ceded most of their lands north of the Ohio River and in southern and western Alabama to the U.S. government.
Second, the war allowed the United States to rewrite its boundaries with Spain and solidify control over the lower Mississippi River and the Gulf of Mexico. Although the United States did not defeat the British Empire, it had fought the world's strongest power to a draw. Spain recognized the significance of this fact, and in 1819 Spanish leaders abandoned Florida and agreed to an American boundary running clear to the Pacific Ocean.
Third, the Federalist Party never recovered from its opposition to the war. In December 1814, delegates from New England gathered in Hartford, Connecticut, where they recommended a series of constitutional amendments to restrict the power of Congress to wage war, regulate commerce, and admit new states. (Source: Digital History)
Take a deeper dive into history
As a retired history teacher, I love to make book recommendations for those of you interested in taking a deeper dive. In the case of the War of 1812, I have three:
The War of 1812: A Forgotten Conflict, Bicentennial Edition by Donald R. Hickey.
1812: The War That Forged a Nation by Walter R. Borneman.
The Naval War of 1812: A Complete History by Theodore Roosevelt. Yes, it's that Theodore Roosevelt!
Explore Fort McHenry
I recommend beginning your adventure at the visitor center where you can see the park movie. It's a wonderful way to become familiar with the park's history.
The fort tour is self-guided with informative exhibits to help visitors understand its historical importance.
At the Fort McHenry National Monument and Historic Shrine, spectators can also partake in a variety of programs, including the Fort, Flag and Fire Ceremony every Saturday at 2 p.m. in July and August, which invites spectators to enjoy guided tours and even assist in the changing of the 42-foot flag.
After the history lesson, you can relax on the grounds and enjoy a picnic with the family.
My favorite part of the tour was soaking in the scenic views of the water and brushing up on American history with "flag talks" given by highly informative park rangers.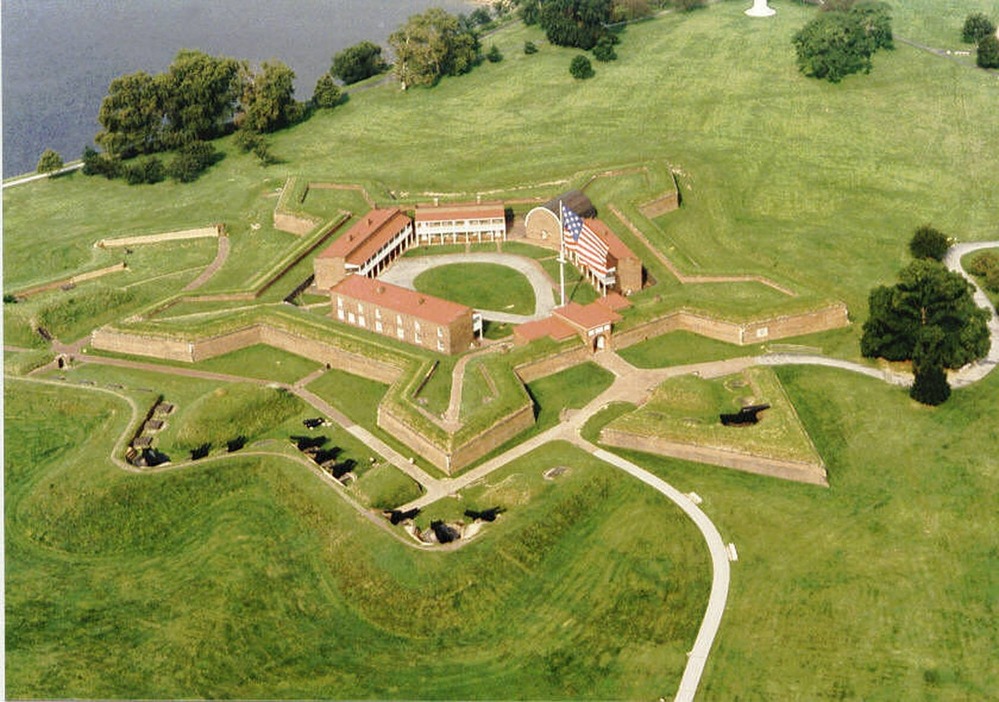 RELATED: 7 AMAZING Oklahoma National Parks
---
13. Fort Washington Park
Another of the lesser known Maryland National Parks is Fort Washington Park.
Named after America's first President of the United States, Fort Washington was built to defend the river approach to Washington, D.C.
Today, this beautiful park offers a great setting for family picnics. There are tables and grills for small groups throughout the park.
These are available for use on a first-come first-served basis from 8:00 am until dark.
The park also serves as a wonderful venue for special events including weddings.
Ceremonies are allowed near the lighthouse, in the visitor center loop, and in reserved picnic areas tough permits are required.
RELATED: 25 EPIC New York National Parks
---
14. George Washington Memorial Parkway
When visiting the Maryland National Parks, you'll have your choice of scenic parkways. Be sure to check out the beautiful George Washington Memorial Parkway.
It was designed for recreational driving. It connects sites that commemorate important episodes in American history and preserves habitat for local wildlife.
The parkway and its associated trails provide a scenic place to play and rest in the busy Washington, DC metropolitan area. (Source: NPS)
RELATED: 12 EPIC North Carolina National Parks
---
More Maryland National Parks
---
15. Glen Echo Park
Glen Echo is another fascinating Maryland National Park. For over 100 years, Glen Echo Park has served as a place of amusement and leisure for its visitors.
The park was the dream of Edwin Baltzley whose claim to fame was the egg beater. He invented the device and then went into real estate development with his brother.
In July of 1888, the Baltzley Brothers purchased just over 500 acres that extended from Cabin John Creek and continued eastward along the Potomac River.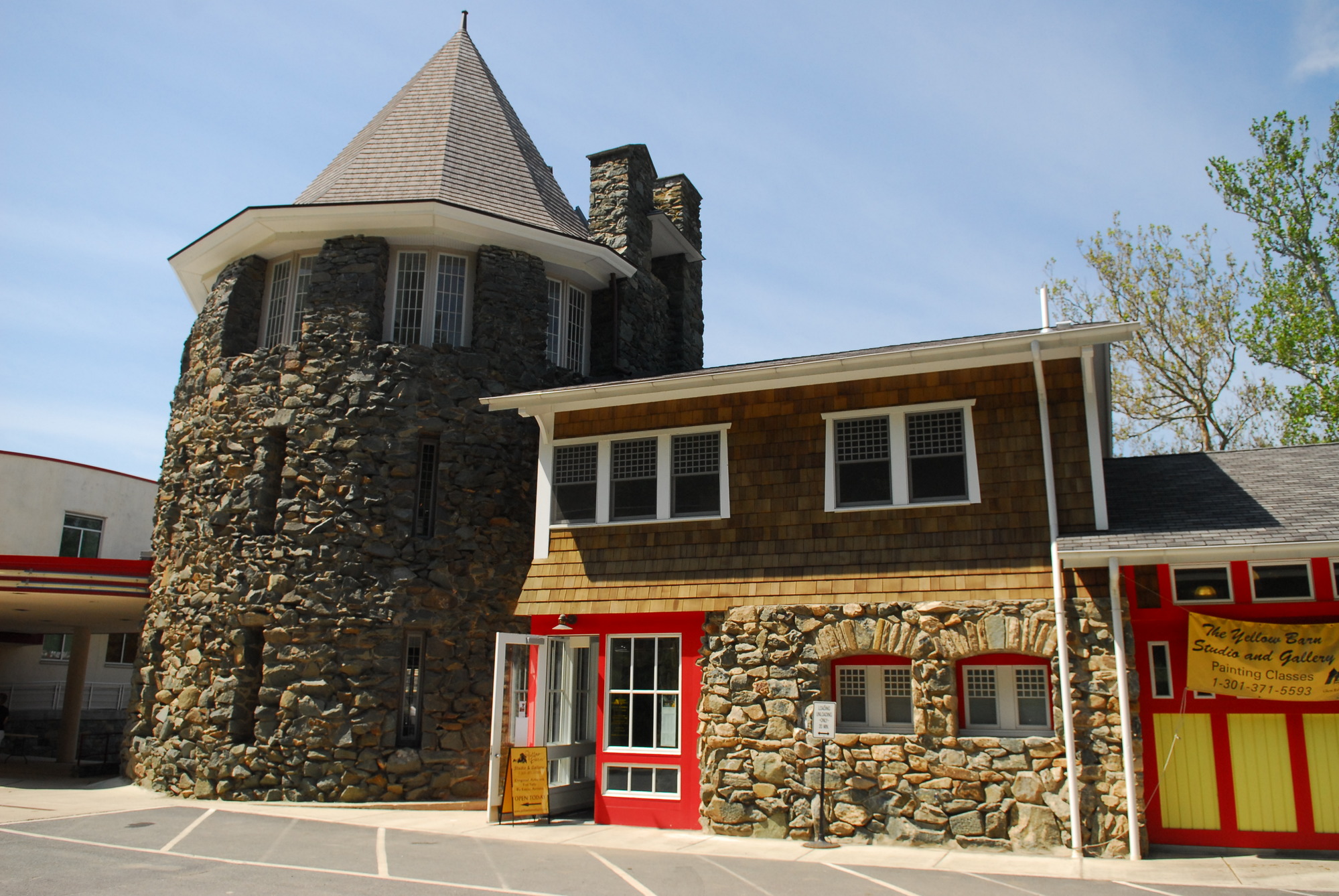 Glen Echo Became A Part Of The Chautauqua Movement
Their park became a part of the Chautauqua Movement. This movement began in Chautauqua, New York, in 1874, as an organized way to teach Sunday-school organization, management, and Bible-study.
The National Chautauqua of Glen Echo, the 53rd such assembly to be established, was incorporated in February 1891, for "the purpose of establishing and maintaining an institution of Learning to be conducted upon the Chautauqua idea and plan."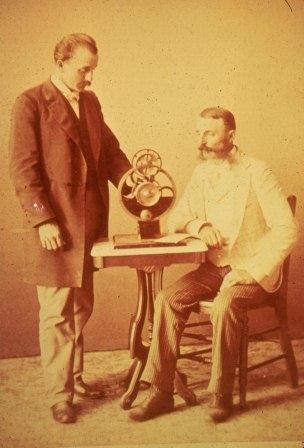 In 1911, the Washington Railway and Electric Company was operating the trolley line from Washington, D.C. to Glen Echo and they were looking for a way to increase ridership on that particular line.
The company purchased the site and Glen Echo Amusement Park was born. (Source: NPS)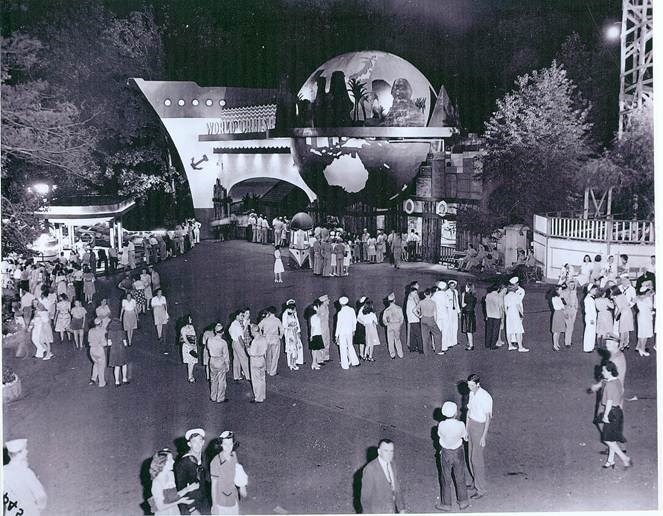 Glen Echo And The Summer Of Change
Believe or not, Glen Echo became a part of the Civil Rights Movement of the 1960s.
In the spring of 1960, a group of students organized themselves as the "Non-violent Action Group" (NAG) and began protesting Northern Virginia lunch counters, restaurants, and department stores.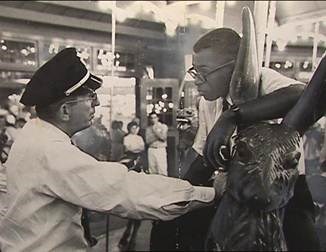 During the summer of 1960, they came to Glen Echo Amusement Park. On the evening of June 30, Laurence Henry, a 26 year old Howard University student, led approximately two dozen NAG members, both black and white, and two high school students on a protest of Glen Echo Amusement Park.
With the support of Attorney General Robert Kennedy, on March 14, 1961, announcement that the park would open its doors to any patron, regardless of skin color.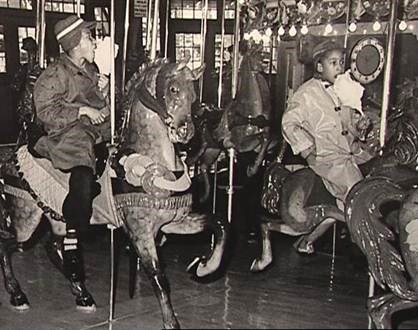 RELATED: 5 MUST-SEE Historic Sites In Alabama
Glen Echo Becomes A National Park
The General Services Administration officially acquired the title to Glen Echo Park on April 1, 1970. The Glen Echo tract and title was officially transferred to the National Park Service on March 5, 1976.
Today Glen Echo Park is an arts and culture park. As for the amusement park, the only ride remaining is the carousel.
RELATED: 12 EPIC Oregon National Parks You'll Love
---
16. Greenbelt Park
If you're looking for an idyllic spot to go camping in one of the Maryland National Parks, Greenbelt Park is it.
Located in suburban Greenbelt, Maryland, Greenbelt features affordable camping, peaceful surroundings and National Park Service hospitality.
The park has a 172 site campground, nine miles of trails and three picnic areas. For only $20, you can spend the night under the stars and on the doorstep of the nation's capitol.
---
17. Hampton National Historic Site | Maryland National Parks
The Hampton Mansion was, at one time, possibly the largest private home in America. Visitors have an opportunity to step back in time and experience life in the 18th century. It's an example of late-Georgian architecture in America.
Visitors can take self-guided tours of the mansion, the farm and living history stations.
18. Harmony Hall
One of the most intriguing of the Maryland National Parks is Harmony Hall.
The 18th century Harmony Hall Mansion is located on a 62.5-acre open pasture land estate along the Potomac River. This estate was purchased by the National Park Service in 1966, to preserve southern Maryland cultural heritage.
Surrounded by a rich landscape, it offers visitors many chances to connect with Colonial History. The park also home to the remains of the Want Water House and canal. (Source: NPS)
---
19. Harpers Ferry National Historical Park
Just as the name of Francis Scott Key is inexorably connected to Fort McHenry so is the name of John Brown likewise linked with Harpers Ferry. As a retired history teacher and lifelong history buff, Harpers Ferry National Historical Park is one of my favorite Maryland National Parks.
In October of 1859, Brown led a raid against the military arsenal at Harpers Ferry.
The raid was intended to be the first stage in an elaborate plan to establish an independent stronghold of freed slaves in the mountains of Maryland and Virginia.
Brown was captured during the raid. He was convicted of treason and hanged, but the raid served as a flashpoint for a national on the brink of Civil War.
In the North, Brown was hailed as a hero while is the South he was depicted as the devil incarnate. This event helped move the two sections of America ever closer to Civil War.
Things To Do At Harpers Ferry
History truly comes to life at Harpers Ferry. There visitors can explore museums and exhibits, hike to overlooks or along Civil War skirmish lines, join a ranger-guided tour or sign-up for a living history workshop.
I recommend beginning your visit at the visitors center where you can pick up helpful information. Rangers are available to answer your questions.
Before heading out to explore the town and its surrounding natural beauty, as a history buff I recommend a stop at the Harpers Ferry Park Association's Bookshop. It has a wonderful collection of books on the Civil War.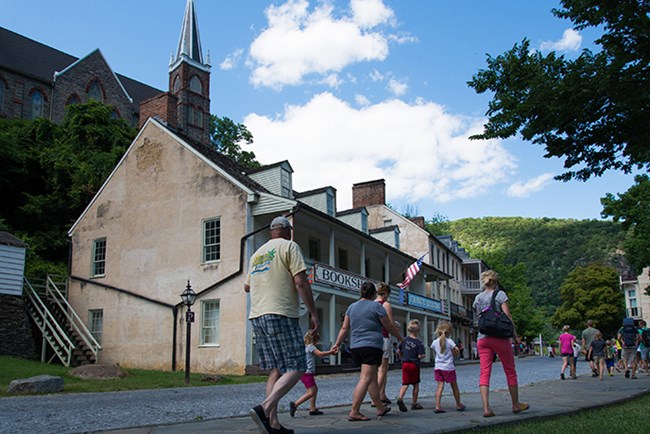 While You're There, Check Out The Appalachian Trail
If you're looking to combine history and nature then check out the 22 miles of hiking trails at Harpers Ferry. It happens to be the mid-point of the 2,178-mile Appalachian Trail.
Picnicking is also available at Harpers Ferry National Historical Park at a designated picnic area adjacent to the Visitor Center parking lot. Picnic tables are on a first-come, first-serve basis.
---
More Maryland National Parks
---
20. Harriet Tubman Underground Railroad National Historical Park
As one who taught history for almost thirty years, I'm still enthralled today by stories of the Underground Railroad.
The challenge for me was to explain to my students that, despite the fact that those who helped runaway slaves escape to freedom were called "conductors," this was not a real railroad by any stretch of the imagination.
Instead, The Underground Railroad was a network of people, African American as well as white, offering shelter and aid to escaped enslaved people from the South.
The Fugitive Slave Act of 1850 empowered slaveholders to pursue these runaways to the northernmost reaches of America and bring them south once again.
This meant that runaways had to escape to Canada to be truly free.
People known as "conductors" guided these fugitives. Hiding places included private homes, churches and schoolhouses. These were called "stations," "safe houses," and "depots."
The people operating them were called "stationmasters." An estimated 100,000 people were freed by their heroic efforts.
Now there's a Maryland National Park which does a superb job of telling this important story by examining the life and legacy of an extraordinary woman who played an integral part in the success of the Underground Railroad.

Harriet Tubman
The most famous of the conductors was herself born a slave. In 1849, Araminta Ross, escaped a plantation in Maryland with two of her brothers.
Harriet Tubman became her married name and one by which she would win eternal fame.
Tubman returned to the south to lead her niece and her niece's children to Philadelphia via the Underground Railroad. She became a dedicated abolitionist who is believed to have personally rescued 300 people.
After the Civil War began, Tubman became head of an espionage and scout network for the Union Army.
She provided crucial intelligence to Union commanders about Confederate Army supply routes and troops and helped liberate enslaved people to form Black Union regiments.
An excellent book about this extraordinary women is Scenes in the Life of Harriet Tubman by Sarah Bradford.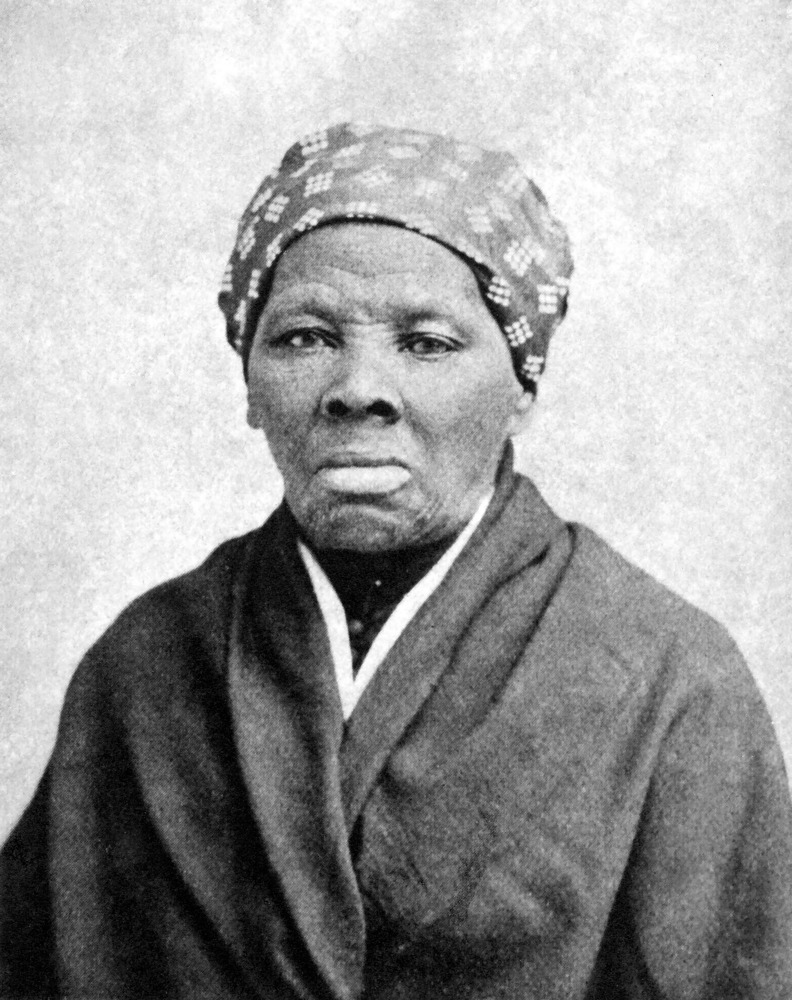 Check Out: 10 BEST Civil Rights Sites In America
---
Things To Do At The Harriet Tubman National Historical Park
It's an incredible experience to adventure to walk into the Harriet Tubman Underground Railroad Visitor Center. It's in the heart of Dorchester County, Maryland, amid farm fields, creeks, and marshes.
You will find exhibits, an audio-visual program, visitor information, a museum store, research library, and seasonal interpretive programs.
While you're in the neighborhood, you should also head over to Dorchester to see The Harriet Tubman Museum & Education Center. It started in the 1980s. It's run by dedicated local volunteers who want to share Harriet Tubman's story and preserve her legacy.
The museum building features a powerful and moving mural of Harriet Tubman that has attracted attention from around the country.
---
21. Monocacy National Battlefield
Our 21st Maryland National Park site is a national battlefield.
By the summer of 1864, Robert E. Lee's Army of Northern Virginia is being besieged by Ulysses S. Grant and the Army of the Potomac.
To relieve the pressure on his army, Lee launched another of his daring plans.
Lee ordered General Jubal A. Early to take his corps and advance up the Shenandoah Valley, cross the Potomac, then turn to the southeast to threaten Washington, D.C.
After scattering the few Union units that lay in his path, Early was primed to march on Washington with little to impede him.
News of the Confederates' approach quickly spread and this put Washington into a state of panic.
Grant had to detach an entire corps from the forces besieging Petersburg to protect the capital. The problem was that Grant's forces needed time to reach Washington.
A scratch force of Union troops assembled to meet the advancing Confederates near Frederick, Maryland.
The goal was to delay Early's force. The two opposing forces met in what became known as the Battle of Monocacy.
The hastily assembled Union forces delayed the Confederates enough to allow reinforcements to reach Washington and repel the threat posed by Early's army.
Things To Do At Monocacy National Battlefield
Visitors to the Monocacy National Battlefield will explore 1,647 acres of rolling farm fields, historic buildings, and sweeping panoramas along the scenic Monocacy River. There are seven walking trails. Some provide scenic walks whereas others cover phases of the battle.
You can also take a leisurely 5-mile round trip hike around the northern section of Rock Creek Park.
If you prefer driving, however, there's a self-guided auto tour. The auto tour has five stops, all of which are key locations related to the Battle of Monocacy. The route follows public roads and totals about six miles round-trip.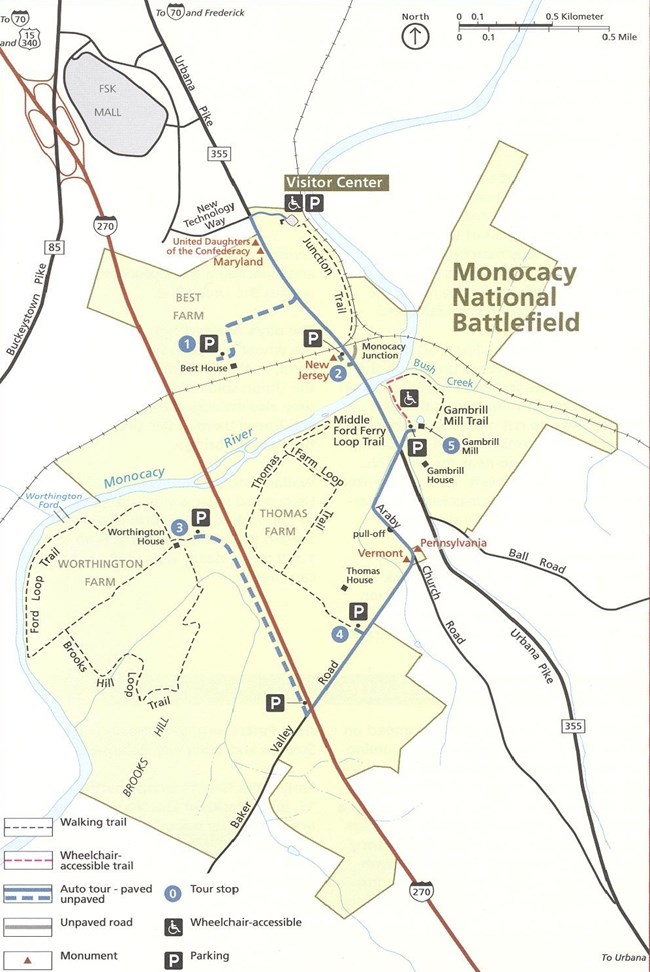 ---
22. Oxon Cove Park & Oxon Hill Farm
Who doesn't love animals. Especially if you're not the one who has to care for them. One of the most fun Maryland National Parks is Oxon Cove Park & Oxon Hill Farm.
At Oxon Hill Farm you can take a self guided tour of the farmyard to see the cows, pigs, horses, sheep, goats, and chickens. Watch where you step!
While you're there you'll also notice antique farm equipment, historic structures, and informational outdoor exhibit placards. Stop by the Visitor Barn to pick up a Self-Guided Walking Tour.
Or you can check out Oxon Cove Park's 512 acres. You can bike, hike, jog or walk along the lower fields or riding the bike path along Oxon Cove.
It's also a great place to have a picnic. There are first come, first serve picnic tables next to the parking lot. Please be sure to dispose of all litter properly.
---
23. Piscataway Park
If you're looking for a lovely place to spend the day then why not visit Piscataway Park? If you enjoy watching wildlife it's home to bald eagles, beavers, deer, foxes, ospreys, and many other species.
The park also has a public fishing pier and two boardwalks over fresh water tidal wetlands, a variety of nature trails, meadows, and woodland areas.
While you're there you should also check out the National Colonial Farm. It's a historic farm museum that demonstrates 18th century agriculture.
---
24. Potomac Heritage National Scenic Trail
Imagine a trail that has something for everyone. History, nature, recreation, wildlife, biking, hiking, paddling or just enjoying a quiet getaway for the hustle and bustle of an urban world. Here's a Maryland National Park where you can escape the cares and worries of day-to-day existence and be one with nature instead.
On the Potomac Heritage National Scenic Trail you can find your own special outdoor adventure.
---
Still More Maryland National Parks
---
25. Star-Spangled Banner National Historic Trail
According to the National Park Service, The Star-Spangled Banner National Historic Trail, established by Congress in 2008, is a 560-mile land and water route that tells the story of the War of 1812 in the Chesapeake Bay region.
The trail traces American and British troop movements, introduces visitors to communities affected by the war, and highlights the Chesapeake region's distinctive landscapes and waterways.
It connects historic sites in Maryland, Virginia, and the District of Columbia and commemorates the events leading up to the Battle for Baltimore, the aftermath of which inspired Francis Scott Key to write the U.S. national anthem.
Points of interest include:
Flag Raising at Fort McHenry
Star-Spangled Banner Flag House and Museum
Jefferson Patterson Park & Museum
Fort Washington
Concord Point Lighthouse
North Point Beachhead War of 1812 Historic Sign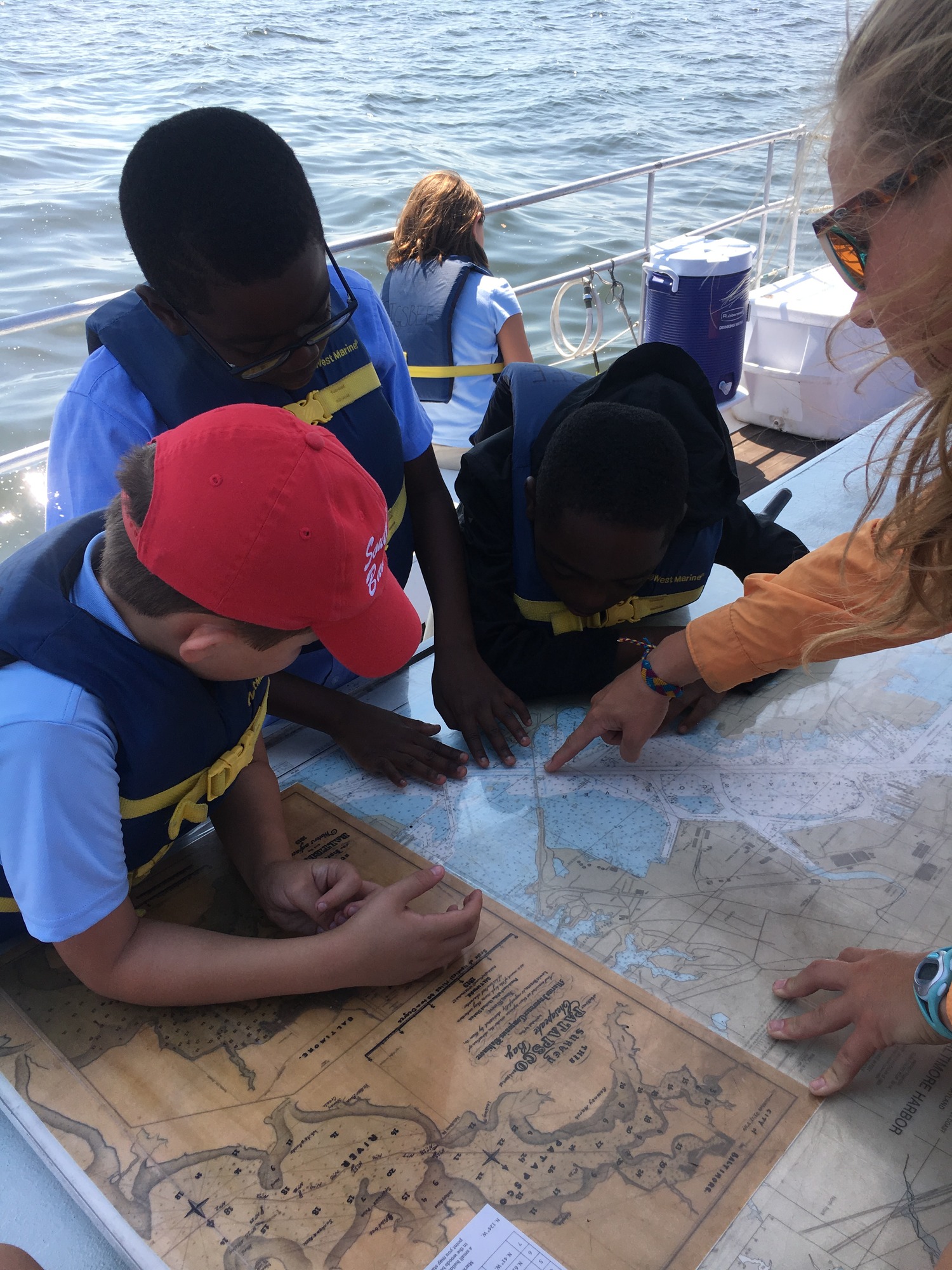 ---
26. The Thomas Stone National Historic Site
Three's a Maryland National Parks dedicated to a signer of the Declaration of Independence.
One of the 56 signers of the Declaration of Independence was Thomas Stone.
He was among the men who pledged their "lives, fortunes, and sacred honor" to give birth to the United States of America.
After the fighting at Lexington and Concord, Stone wanted to give King George III an opportunity to bring about peace without revolution.
He was one of a group of men who supported the Olive Branch Petition, which informed the king of the continued support of the colonists, but the king refused to read it and declared the colonies to be in rebellion.
While Stone lived to see the 13 Colonies victorious in the American Revolution, he died in 1787 and was therefore not able to be a part of the Constitutional Convention which created the current government of the United States.
Stone's greatest contribution to the revolutionary cause was his support of the Declaration of Independence in 1776.
Things To Do At The Thomas Stone National Historic Site
Visitors can take a wonderful walking 1.5 mile trail called the Outbuildings Trail.
It goes past Horse Barn and passes the Tenant House, the Corn Crib and the Tobacco Barn. It connects with the Stone Family Cemetery trail.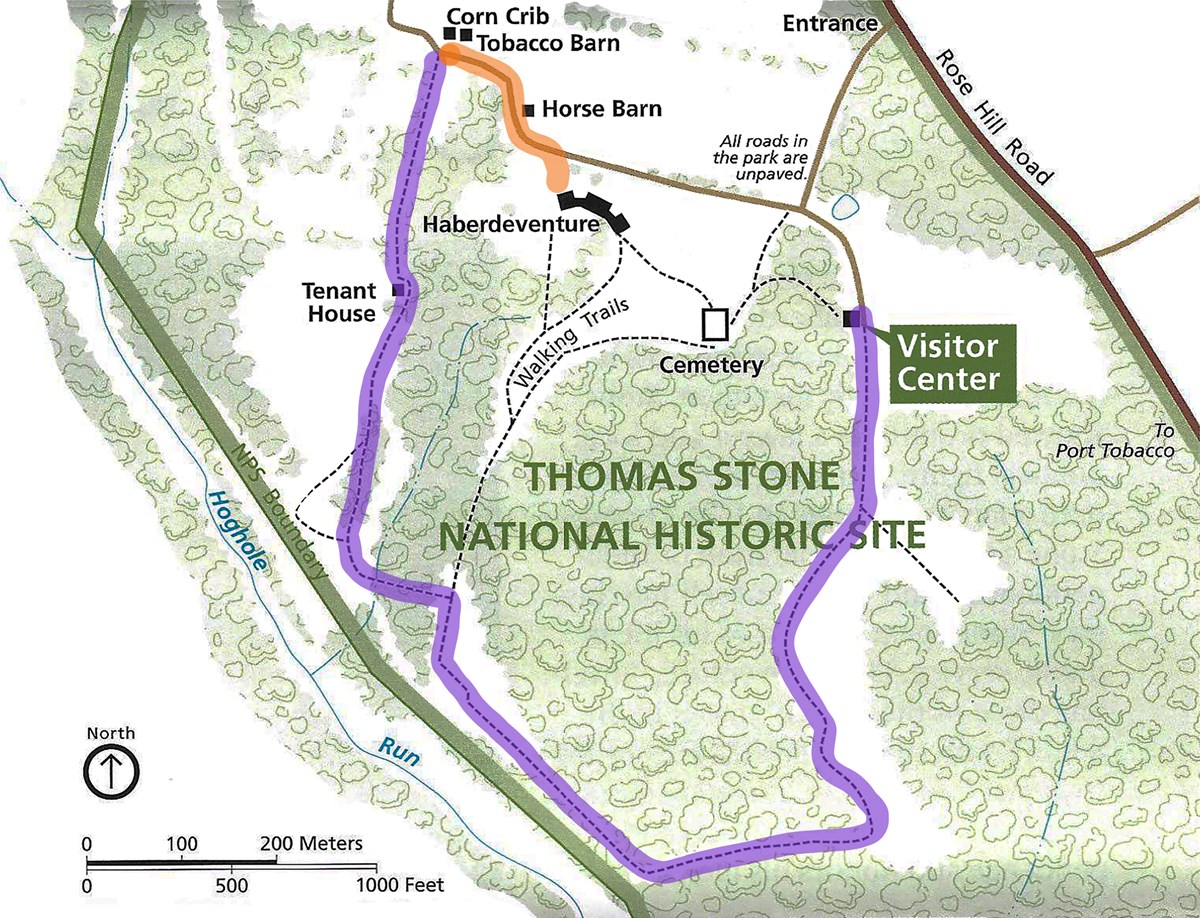 ---
27. Washington-Rochambeau Revolutionary Route National Historic Trail
We have arrived at the last of the Maryland National Parks on our list! And what a list it has been!
George Washington's ultimate success against the British was made possible through an alliance with France.
On July 11, 1780, 55-year-old General Jean Baptiste Donatien de Vimeur, comte de Rochambeau arrived with an army of 450 officers and 5,300 men in Narragansett Bay off Newport, Rhode Island.
This marked the beginning of a most successful military cooperation that culminated 15 months later in the victory at Yorktown and the surrender of Lord Cornwallis and his troops.
From New Hampshire to Virginia, the Washington-Rochambeau National Historic Trail connects major metropolitan areas, state and national parks, historic and scenic trails, and countless other historic sites.
The rout is a 680-mile series of roads used in 1781 by the Continental Army under the command of George Washington and the forces under the command of Admiral Rochambeau during their 14-week march from Newport, Rhode Island, to Yorktown, Virginia.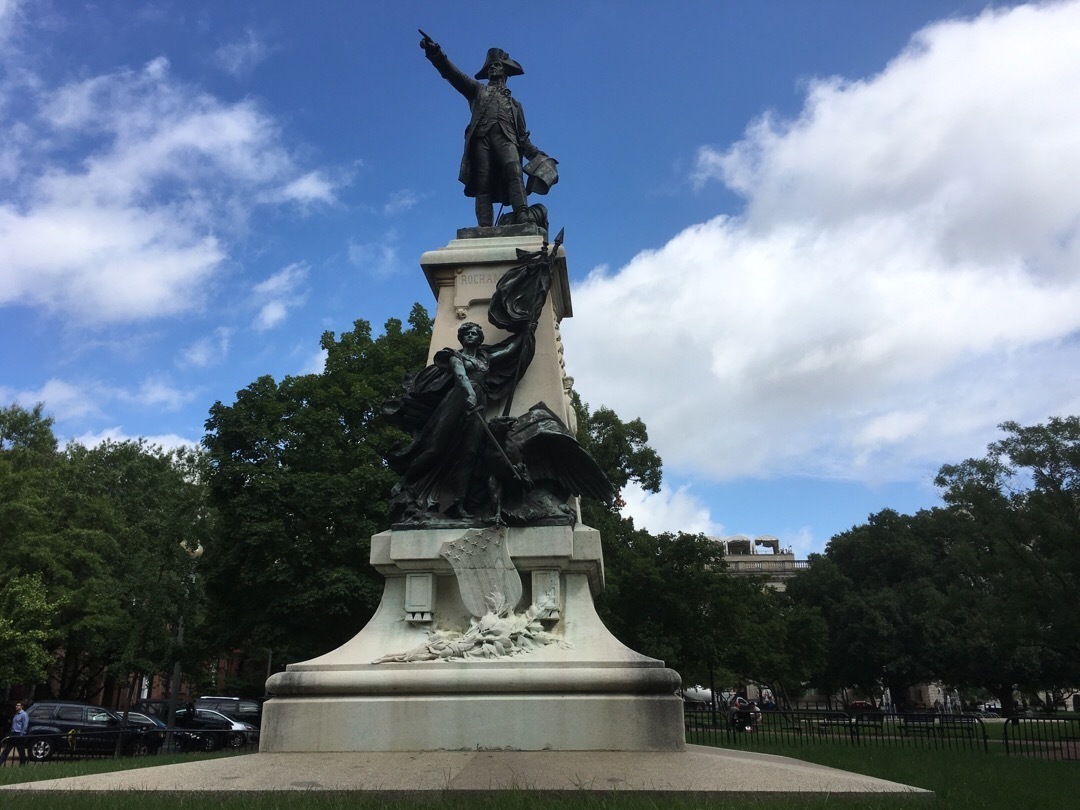 ---
Learn More About Maryland With These Exciting Book Recommendations
We're More Than Just Parks which means we're more than just parks. We believe that it's not about the destination. Rather, it's about the journey.
And it's a journey of the body and the mind which is why we love to give you the opportunity to take a deeper dive so that you can learn about the history behind these special places.
With that in mind, we've got some wonderful book recommendations for you:
RELATED: 30+ Best National Parks Books
---
Map Of Maryland National Park Sites
---
List Of Maryland National Park Sites
Antietam National Battlefield
Appalachian National Scenic Trail
Assateague Island National Seashore
Baltimore-Washington Parkway
Captain John Smith Chesapeake National Historical Trail
Catoctin Mountain Park
Chesapeake & Ohio Canal National Historical Park
Chesapeake Bay Watershed
Civil War Defenses Of Washington
Clara Barton National Historic Site
The Fort Foote Park
Fort McHenry National Monument & Historic Shrine
The Fort Washington Park
George Washington Memorial Parkway
Glen Echo Park
Greenbelt Park
Hampton National Historic Site
Harmony Hall
Harpers Ferry National Historical Park
Harriet Tubman Underground Railroad National Historical Park
Monocacy National Battlefield
Oxon Cove Park & Oxon Hill Farm
Piscataway Park
Potomac Heritage National Scenic Trail
Star-Spangled Banner National Historic Trail
Thomas Stone National Historic Site
Washington-Rochambeau Revolutionary Route National Historic Trail
---
About The People Behind More Than Just Parks
You should probably know that we don't just make this stuff up out of thin air. My sons have spent their entire adult lives exploring and filming America's national parks and public lands.
We've worked with the National Park Service, the Department of Interior, and the U.S. Forest Service for years creating films on important places and issues.
Our work has been featured in leading publications all over the world and even some people outside of our immediate family call us experts on the national parks.
---
Meet The Parks Brothers
We're Jim Pattiz and Will Pattiz, collectively known as the Pattiz Brothers (and sometimes the Parks Brothers) and we absolutely LOVE the national parks.
Our goal here at More Than Just Parks is to share the beauty of America's national parks and public lands through stunning short films in an effort to get Americans and the world to see the true value in land conservation.
We hope you'll follow our journey through the parks and help us to keep them the incredible places that they are. If you're interested in joining the adventure then please sign up below!
---
Helpful Articles
Virginia National Parks: 30 Epic Virginia National Parks (Helpful Guide + Photos)
Best East Coast National Parks: 10 Best East Coast National Parks Ranked by Experts
Civil War Sites: Check Out More Than Just Parks Top 10 Civil War Sites
Maryland National Parks, national parks in md, national parks near maryland, national parks of maryland, national parks in maryland, Maryland National Parks, national parks in md, national parks near maryland, national parks of maryland, national parks in maryland, Maryland National Parks, national parks in md, national parks near maryland, national parks of maryland, national parks in maryland, Maryland National Parks, national parks in md, national parks near maryland, national parks of maryland, national parks in maryland, Maryland National Parks, national parks in md, national parks near maryland, national parks of maryland, national parks in maryland, Maryland National Parks, national parks in md, national parks near maryland, national parks of maryland, national parks in maryland,
---
Maryland National Parks, national parks in md, national parks near maryland, national parks of maryland, national parks in maryland, Maryland National Parks, national parks in md, national parks near maryland, national parks of maryland, national parks in maryland, Maryland National Parks, national parks in md, national parks near maryland, national parks of maryland, national parks in maryland, Maryland National Parks, national parks in md, national parks near maryland, national parks of maryland, national parks in maryland, Maryland National Parks, national parks in md, national parks near maryland, national parks of maryland, national parks in maryland, Maryland National Parks, national parks in md, national parks near maryland, national parks of maryland, national parks in maryland,