Article Summary: Alabama National Parks
Alabama National Parks! We've got 11 incredible national park sites for you to see on your next visit to the Heart of Dixie.
Alabama National Parks include amazing historic sites, incredible monuments, iconic parks, scenic trails, and more.
And More Than Just Parks is your one-stop-shop when it comes to learning everything you'll need to know about America's national parks.
We've got expert guides, beautiful photos, helpful tips, breathtaking films and so much more.
I've been to so many of these amazing places since retiring from teaching in 2018. Did I mention that I taught history? I spent a lifetime teaching about the history behind these momentous sites. Then I got to see them firsthand. And now I'm sharing the stories of these incredible places with you. It doesn't get any better than that!
Alabama has many national park sites, but it doesn't actually have any congressionally designated "National Parks." Nonetheless, there's a whole host of amazing Alabama National Park Service sites to visit.
---
What Is A National Park?
We get asked that question a lot because there's a difference between a "national park" and a "national park site." To help you understand that difference you might want to check out our article titled: What Is A National Park Really?
If you're planning a visit to the Heart of Dixie then one book that I highly recommend is: Alabama Bucket List Adventure Guide: Explore 100 Offbeat Destinations You Must Visit!
---
---
Alabama National Park Sites
---
1. Birmingham Civil Rights National Monument
W.E.B. Du Bois was an influential African American civil rights activist during the early 20th century who co-founded the NAACP. He wrote The Souls of Black Folk & Black Reconstruction In America.
In the second work, Du Bois said, "The slave went free; stood a brief moment in the sun; then moved back again toward slavery."
Come to Alabama and visit the Alabama National Parks. There you will experience some truly incredible historic sites which commemorate our nation's long march towards freedom.
When you visit these places and imagine the struggles of the people who risked so much for the rights we take for granted it gives you a real appreciation for their heroism.
You'll truly appreciate the words and the courage demonstrated by thousands of African-Americans in the 1950s and 1960s who battled segregation in American society.
---
The Struggle For Civil Rights
The dramatic images of violent aggression against civil rights protesters in Birmingham, Alabama were vivid examples of segregation and racial injustice in America.
The Birmingham Civil Rights National Monument examines the struggle for racial equality. It encompasses roughly four city blocks in downtown Birmingham, Alabama.
The National Monument includes the A.G. Gaston Motel, which served as the headquarters for the Birmingham campaign.
It was here from April through May of 1963 that the leaders of the civil rights movement, including Reverend Dr. Martin Luther King, Jr., made the critical decisions about their non-violent campaign to overturn Birmingham's segregation laws and practices.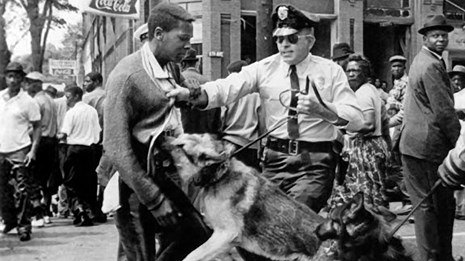 RELATED: 10 BEST Civil Rights Sites In America
---
Important Landmarks Worth Visiting
Other landmarks worth seeing include:
The 16th Street Baptist Church target of September 1963 bombing that killed four young girls who were preparing for Sunday school.
Kelly Ingram Park where protesters, including many children, were violently disrupted by police dogs and powerful water cannons. Images of the brutal police response to peaceful protesters spread across the country through the news media, shocking the conscience of the nation and the world.
The 4th Avenue Historic District sites listed in the National Register of Historic Places. It was the retail and entertainment center for black-owned businesses serving African American customers during Birmingham's extended period of forced segregation.
Bethel Baptist Church, located six miles north of the city center, was the headquarters of the Alabama Christian Movement for Human Rights and was bombed three times – in 1956, 1958 and 1962. (Source: NPS)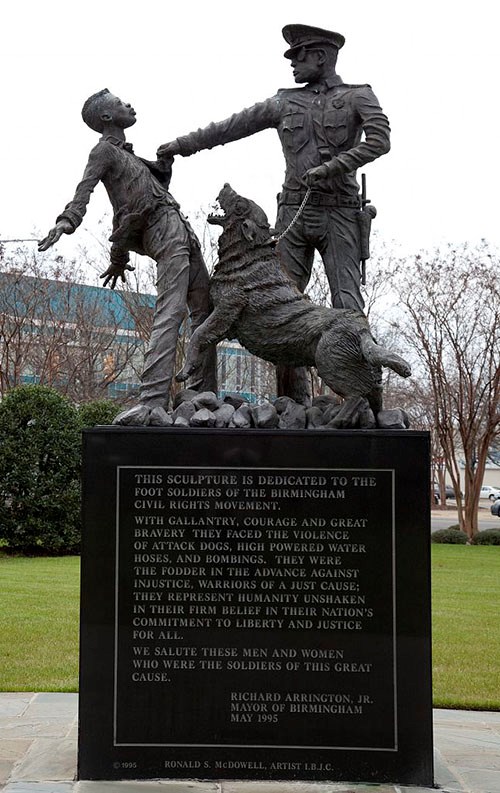 RELATED: 7 (EPIC) Arkansas National Parks For Your Visit To The Diamond State
---
2. Freedom Riders National Monument
If you're looking to learn about the Civil Rights Movement in America then the Alabama National Parks, in my humble opinion, offer more amazing sites to see than any other place in America. It's an important story and one which I encourage every American to learn about.
If you want to understand and appreciate the courage of some extraordinary people whose goals was to make the ideals of the Declaration of Independence and Constitution of the United States real for all Americas then a great place to go is the Freedom Riders National Monument.
The Freedom Riders were among the first of more than 400 volunteers who traveled throughout the South on regularly scheduled buses for seven months in 1961. Their mission was to test a 1960 Supreme Court decision that declared segregated facilities for interstate passengers illegal.
The Freedom Riders were organized and led by the Congress of Racial Equality's (Core) Executive Director James Farmer.
A dozen activists were paired into two interracial sets of Freedom Riders. They traveled together on Greyhound and Trailways buses, respectively, from Washington D.C. to New Orleans, LA.
---
Met By A Mob In Anniston, Alabama
The Freedom Riders journey proceeded without incident until they reached Anniston, Alabama. There they were met by an angry mob whose members threw rocks and slashed the bus's tires. The white supremacists then firebombed the vehicle.
A different group of the Freedom Riders traveled to Montgomery, Alabama, where another angry mob of men, women and children carrying baseball bats, tire irons and bricks met them at the terminal.
They attacked Student Nonviolent Coordinating Committee (SNCC) activists John Lewis and Jim Zwerg who both sustained severe injuries.
CHECK OUT: 10 BEST Civil Rights Sites In America
---
Explore Freedom Riders National Monument
The Freedom Riders National Monument includes the former Greyhound Bus Station located at 1031 Gurnee Avenue. It also includes the place where the bus was firebombed.
It's about six miles outside of the town on State Route 202, two sites where the Freedom Riders were attacked by segregationist mobs.
RELATED: 12 AMAZING Georgia National Parks-Everything To Know
---
3. Horseshoe Bend National Military Park
Alabama National Parks offer a variety of historical lessons and experiences.
Horseshoe Bend National Military Park preserves the site of the Battle of Horseshoe Bend, which took place on March 27, 1814, during the Creek War.
It features a visitor center with exhibits about the battle and the Creek people, as well as a 1.5-mile trail that leads to the bend in the Tallapoosa River where the battle took place.
The park also offers picnicking and camping facilities. The park is open year-round and admission is free.
---
Things To Do At Horseshoe Bend
Like a good commander surveying his battlefield, I always like to gather some intelligence and derive a battle plan before I go forth to have some adventures.
There is a visitors center at Horseshoe Bend where you can gather all of the information that you will need as well as learn about the history behind the park.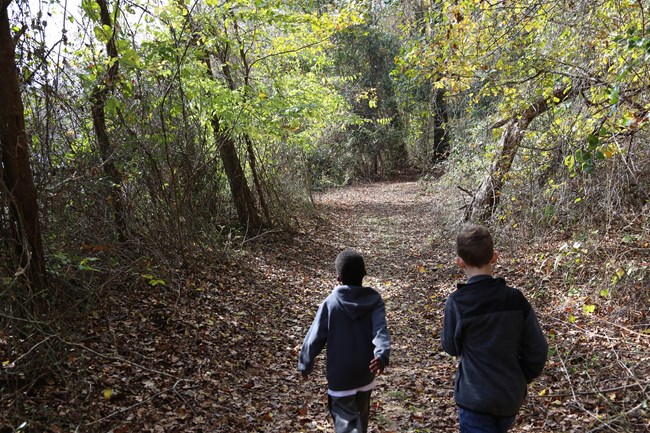 ---
Horseshoe Bend | Outdoor Activities
Outdoor activities at Horseshoe Bend include:
Take a driving tour of the battlefield on the Tour Road. It's 3 miles long and includes a one-way loop and skirts the edge of the battlefield and winds along the bend of the Tallapoosa River for which the park is named.
Hike the 2.8 mile long nature trail winds its way around the Battlefield and near Tohopeka Village, the site of a Creek Indian camp in the early 1800s.
Picnic at one of Horseshoe Bend's two picnic areas. The larger is located near the Visitor Center and includes two covered shelters.
You can bring your boat and launch it at the Miller Bridge Boat Ramp to explore the winding Tallapoosa River.
Fishing is allowed at the Miller Bridge Boat Ramp.
Bicycling is permitted on the 3 mile paved Tour Road.
The park is part of the Piedmont Plateau Birding Trail where there are great opportunities to see a number of bird species throughout the year, especially during migration periods.
RELATED: 6 (EPIC) Kentucky National Parks For Your Visit to the Bluegrass State
---
4. Little River Canyon National Reserve
Alabama National Parks are about more than just history. Each state is blessed with its own geologic wonders and Alabama is no exception. Little River Canyon National Reserve is such a wonder. It's one of the most spectacular landforms in this region.
The canyon is carved into the flat top of Lookout Mountain. It reaches depths in excess of 600 feet in some sections. It is one of the deepest canyon systems east of the Mississippi River and the deepest in the state of Alabama.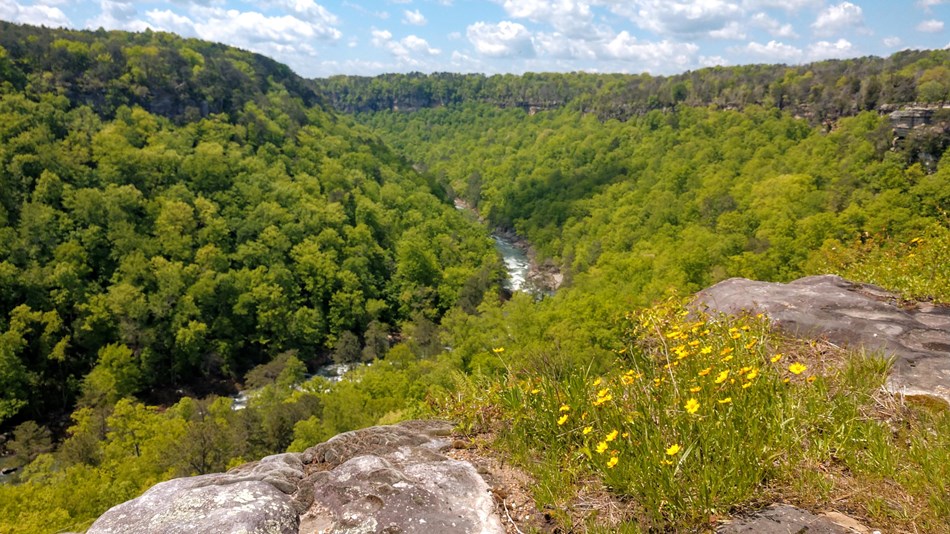 RELATED: 5 (EPIC) Louisiana National Parks For Your Next Trip To The Pelican State
---
Things To See & Do
If you love to see plant species then Little River Canyon National Reserve does not disappoint. It's home to an unusually diverse set of plant and animal species due to its location at the confluence of the Cumberland Plateau and Gulf Coastal Plain physiographic regions.
It also features a number of different microhabitats created by the rugged physical features of the canyon.
Outdoor activities include: swimming, fishing, climbing, and world-class whitewater paddling. Or if you just want to marvel at the magnificent scenery you will find scenic drives connecting a series of overlooks that offer magnificent views into the canyon.
RELATED: 9 [EPIC] Mississippi National Parks For Your Next Dixie Trip (Expert Guide)
---
More Alabama National Parks
---
5. Natchez Trace Parkway
Just when you thought that the Alabama National Parks couldn't get any more interesting they surprise you.
America is a nation of majestic parkways where nature truly comes to life. One such parkway is the Natchez Trace. It's a 444-mile recreational road and scenic drive through three states including Alabama.
The parkway follows the "Old Natchez Trace" a historic travel corridor used by American Indians, "Kaintucks," European settlers, slave traders, soldiers, and future presidents.
Today, you can enjoy a scenic drive and much more including biking, camping, hiking, and horseback riding along the parkway. With over 90 sites along the Natchez Trace, there's no shortage of things to do.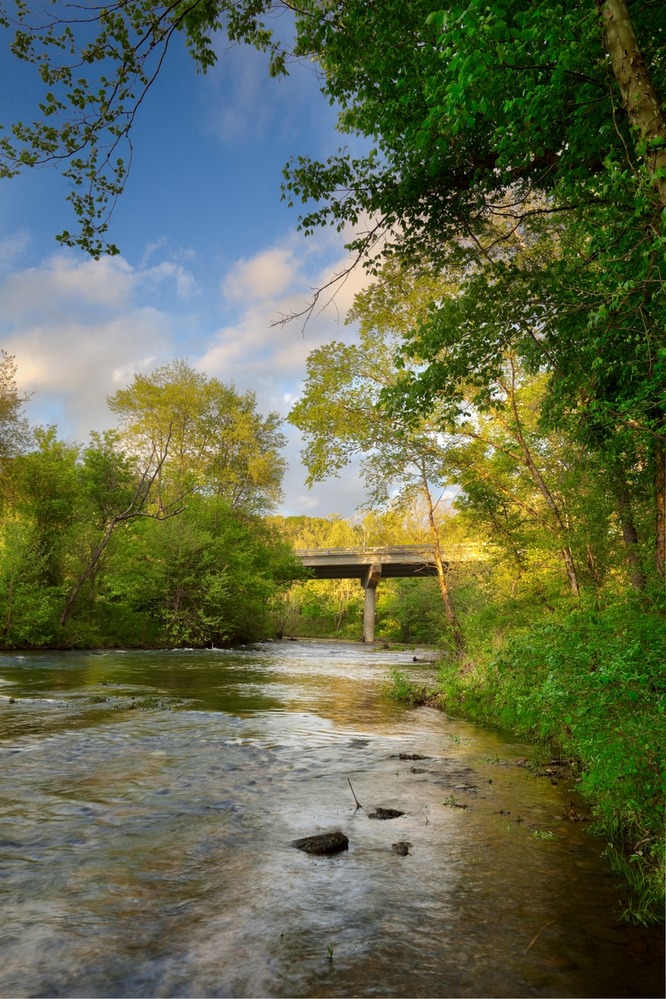 ---
Things To Do On The Natchez Trace Parkway
The Natchez Trace Parkway winds through nearly 450 miles of protected land, from Nashville, Tennessee, through Alabama and on to Natchez, Mississippi. Along the way there's wonderful wildlife, gorgeous waterfalls, memorable hikes and historic sites, some dating back thousands of years.
I've got some great recommendations for places to stop while in Alabama.
Let's begin in Tuscumbia, Alabama, with the Alabama Music Hall of Fame where you can see the vast memorabilia from the lives and careers of more than 1,000 stars, representing all styles of America's music.
Just outside Tuscumbia in Colbert County, is the Belle Mont Mansion. It's one of a few Palladian-style houses in the Deep South. This style stems from the neoclassical architectural design of Italian Renaissance architect Andrea Palladio.
---
Helen Keller Home, Gardens & Museum
Also in Tuscumbia is the Helen Keller Home, Gardens & Museum. Original furnishings of the Keller family decorate the home and museum, highlighted by hundreds of Helen Keller's personal mementos, books, and gifts from her lifetime of travel and lectures for the betterment of the world's blind and deaf-blind.
In the Little Mountain region of southern Colbert County you'll find the Cane Creek Canyon Nature Preserve. It's a 700-acre, privately owned, scenic, natural area that's worth seeing and exploring.
And how about an old-fashioned saloon, with swinging doors, a large porch that hosts live music and hitching post. Built into a massive rock outcropping. Check out the Rattlesnake Saloon & Seven Springs Lodge also located in Tuscumbia.
RELATED: 12 (EPIC) North Carolina National Parks For Your Visit To The Tar Heel State
---
6. Natchez Trace National Scenic Trail
You get one story driving along a parkway and a different story walking along a trail.
The Natchez Trace National Scenic Trail includes five sections of hiking trail which parallel the 444-mile long Natchez Trace Parkway scenic motor road.
The scenic foot trails total more than 60 miles. They offer opportunities not afforded along the parkway to explore wetlands, swamps, hardwood forest, rock outcroppings, overlooks, and more.
---
Places To Go Along The Natchez Trail
There are some truly wonderful places to explore along the Natchez Trail in Alabama. They include:
Freedom Hills Overlook: It's located at milepost 317.0. There are two benches where visitors can stop and rest before continuing on up the hill.
Bear Creek is located at milepost 313.0. It includes a shady picnic area with several picnic tables and grills. It's adjacent to Bear Creek near the Alabama-Mississippi state line.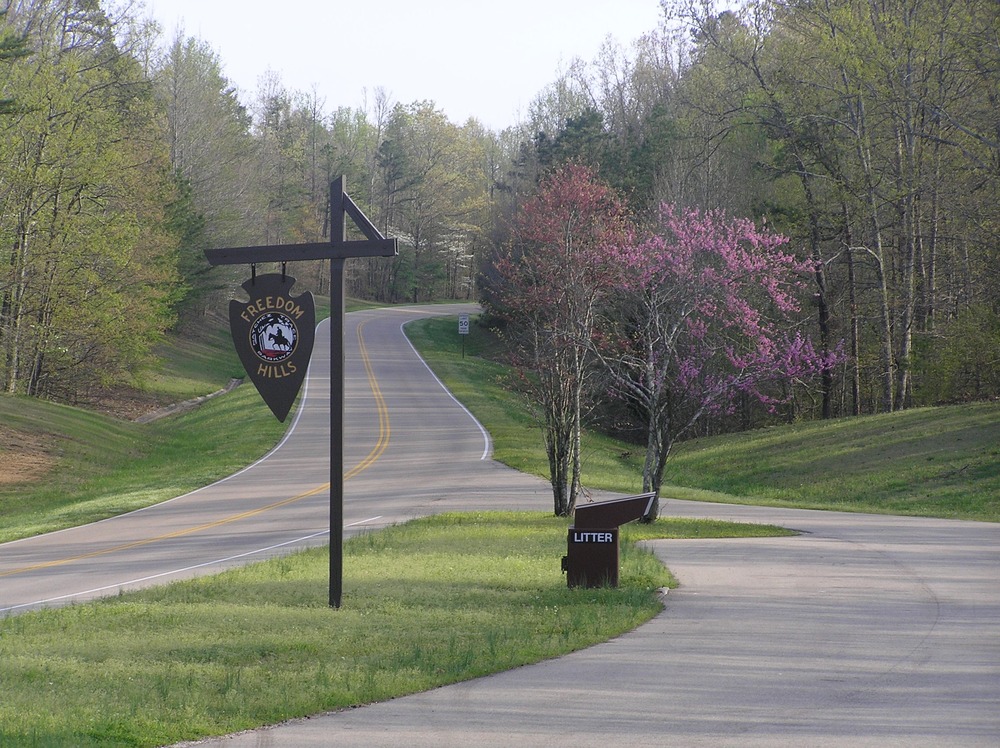 RELATED: 8 (EPIC) South Carolina National Parks For Your Visit To The Palmetto State
---
7. Russell Cave National Monument
Russell Cave National Monument is an archaeological site located in Alabama that contains a wealth of artifacts from prehistoric cultures in the Southeast region.
The site has been excavated since the 1950s, revealing a large collection of artifacts that provide insight into the cultural developments of human civilization over the course of 10,000 years.
The National Monument helps to preserve and bring to light these important cultural finds.
Not everything, however, is indoors. There's also a 1.2-mile hiking trail. It will take you straight up the mountain and back down on an old asphalt loop. Remember to bring your hiking shoes, bug spray, water if you're planning to make the hike.
---
8. Selma To Montgomery National Historic Trail
As a retired history teacher I will tell you that one of the best parts about being retired is now I actually have the time to jump into my car and visit the places I spent so much time talking about for so many years. And the Alabama National Parks do not disappoint. A case in point is the Selma To Montgomery National Historic Trail.
On 25 March 1965, Martin Luther King, Jr. led thousands of nonviolent demonstrators to the steps of the capitol in Montgomery, Alabama, after a 5-day, 54-mile march from Selma, Alabama.
Those brave marchers had already made history on March 7, 1965. The day would come to be known as "Bloody Sunday." On that day, 25-year-old activist John Lewis led over 600 marchers across the Edmund Pettus Bridge in Selma, Alabama, and into the history pages.
---
"Their Cause Must Be Our Cause Too"
State and local lawmen attacked them with clubs and tear gas and drove them back into Selma. John Lewis suffered a skull fracture. Lewis was one of fifty-eight people treated for injuries at the local hospital. Television coverage of "Bloody Sunday," triggered national outrage.
On 15th, March President Lyndon Johnson addressed Congress, identifying himself with the demonstrators in Selma in a televised address: "Their cause must be our cause too. Because it is not just Negroes, but really it is all of us, who must overcome the crippling legacy of bigotry and injustice. And we shall overcome."
CHECK OUT: 10 BEST Civil Rights Sites In America
---
The Marchers Kept Marching Towards Montgomery
The day after Johnson's speech, Selma demonstrators submitted a detailed march plan to Judge Johnson. He approved the demonstration and enjoined Alabama's Governor George Wallace and local law enforcement from harassing or threatening marchers.
Twenty five thousand demonstrators joined Dr. Martin Luther King, Jr., on the steps of the state capitol in Montgomery, Alabama.
It was there that he said, "The end we seek is a society at peace with itself, a society that can live with its conscience. And that will be a day not of the white man, not of the black man. That will be the day of man as man."
---
Retrace The Footsteps Of Progress Along The Selma To Montgomery Trail
Visitors are encouraged to drive the same route taken by Dr. King and thousands of his followers. Along the way, stop off at the Selma Interpretive Center serves as the Welcome Center to the trail located at the foot of the Edmund Pettus Bridge. The Interpretive Center offers an interpretive exhibit and bookstore.
Other points of historical interest while in Selma include: Brown Chapel A.M.E. Church, First Baptist Church, George Washington Carver Homes and wayside exhibits.
You can also visit the National Voting Rights Museum & Park (privately owned), Slavery & Civil War Museum, Old Depot Museum, Smitherman Museum and, of course, the Edmund Pettus Bridge.
Once you get to Montgomery, there's the Rosa Parks Museum, Dexter Avenue King Memorial Baptist Church, Alabama State Capitol and the Southern Law Poverty Center. So much history, so many amazing places. So, what are you waiting for?
RELATED: 40+ Best National Parks Books (Great Gifts For Parks Lovers)
---
More Alabama National Parks
---
9. Trail Of Tears National Historic Trail
As a former history teacher, I believe that no study of American history is complete without an understanding of the Trail of Tears.
This history lesson begins in 1830. It was in that year that Congress passed the Indian Removal Act.
This infamous piece of legislation forced various Native American tribes to relinquish their lands in exchange for federal territory.
---
The Trail Of Tears
As the National Park Service reports, "U.S. Army troops, along with various state militia, moved into the tribe's homelands and forcibly evicted more than 16,000 Cherokee Indian people from their homelands in Tennessee, Alabama, North Carolina, and Georgia."
"The impact of the resulting Cherokee "Trail of Tears" was devastating. More than a thousand Cherokee – particularly the old, the young, and the infirm – died during their trip west, hundreds more deserted from the detachments, and an unknown number – perhaps several thousand – perished from the consequences of the forced migration. (Source: National Park Service)
---
The Trail Of Tears Today
This incredible trail stretches 5,043 miles across nine states. You can follow the trail on foot, by vehicle, over water, by bicycle or by horse. Along the way, you will see sacred sites which tell the story of death and suffering as well as survival.
While in Alabama, you can check out the following Trail of Tears sites:
Andrew Ross Home in Payne, AL.
Fort Payne Cabin Site in Payne, AL.
Tuscumbia Landing in Sheffield, AL.
Waterloo Landing in Waterloo, AL.
Willstown Mission Cemetery in Payne, AL.
Guntersville Dam/Guntersville Lake in Guntersville, AL.
Joe Wheeler Dam/Wheeler Lake in Creek, AL.
Redstone Arsenal (US Army) in Huntsville, AL.
Wheeler National Wildlife Refuge, Decatur, AL.
Lake Guntersville State Park in Guntersville, AL.
Little River Canyon National Preserve, Fort Payne, AL.
Russell Cave National Monument in Bridgeport, AL.
---
10. Tuskegee Airmen National Historic Site
Jackie Robinson proved that there was nothing a white man could do in the major leagues that a black man couldn't Most people know his story.
What most people don't know, however, is the story of an extraordinary group of African American pilots who proved there's nothing they couldn't do in defense of their country as well or better than their white counterparts.
African Americans had to fight the prejudices of their fellow countrymen before they could take up arms against the enemies of America.
It was a Howard University student who initially lodged a lawsuit in protest. His efforts in conjunction with mounting pressure from the black press and the NAACP persuaded President Franklin D. Roosevelt and his wife Eleanor to give African Americans the opportunity to fly combat missions in World War Two.
---
It Began In Tuskegee, Alabama
Initially, Tuskegee produced twelve cadets and one officer, Captain Benjamin O. Davis, Jr. Davis went on to become the Air Force's first African American general.
These men and their commander formed the 99th Pursuit Squadron.
The 99th fought with in the Mediterranean Theater. Three new Tuskegee squadrons joined them to form the 332nd Fighter Group. The 332nd distinguished itself in Italy, flying combat missions and escorting bombers.
Just how good were they? These pilots shot down 409 German aircraft, destroyed 950 units of ground transportation and sank a destroyer with machine guns alone — a unique accomplishment.
Their most distinctive achievement, however, was that not one friendly bomber was lost to enemy aircraft during their 2000 escort missions. No other fighter group a comparable number of missions can make the same claim.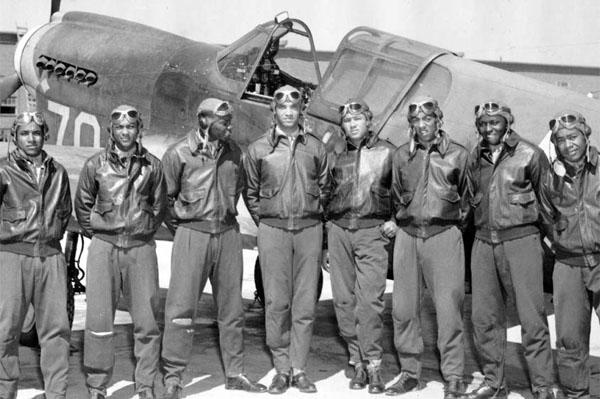 ---
Discover One Of Our Nation's Proudest Chapters At The Tuskegee Airmen National Historic Site
When you arrive at the Tuskegee Airmen National Historic Site in Tuskegee, Alabama, you should begin your visit by watching the 28-minute film which recounts the story of the first African American military aviators in the U.S. Armed Forces.
After seeing the film tour the outside grounds, visit the museum inside hangars 1 & 2, explore the park store and soak up what is an incredibly moving experience.
These men are heroes in every sense of the word. Anyone who has the opportunity should travel to the Tuskegee Airmen National Historic Site in Tuskegee, Alabama.
---
Fascinating Facts About The Tuskegee Airmen
No one actually called them the Tuskegee Airmen during World War Two. This name was coined by author Charles E. Francis in the title of his 1955 book, The Tuskegee Airmen.
Eleanor Roosevelt visited Tuskegee At her request, Charles A. Anderson, a pilot known as "the father of Black aviation, took her on an aerial tour The resulting news photograph of Roosevelt and Anderson showed the world that Black Americans were fit to fly aircraft.
The first three African American generals in the U.S. Air Force were Tuskegee Airmen. They were Benjamin O. Davis, Daniel "Chappie" James, Jr. and Lucius Theus.
In 2007, the Tuskegee Airmen were awarded the Congressional Gold Medal. This is the highest civilian award bestowed by the United States Congress. It was given to the airmen, including military and civilian support staff, for their "unique military record that inspired revolutionary reform in the armed forces."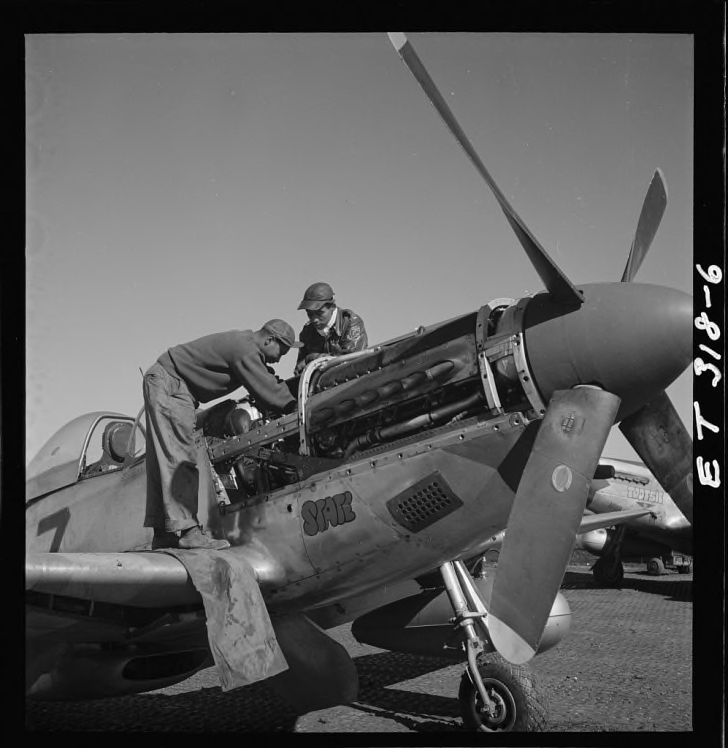 ---
More Than Just Parks Visits The Tuskegee Airmen National Historic Site
When visiting the Alabama National Parks, please make time to visit the The Tuskegee Airmen National Historic Site. It's an amazing experience.
---
11. Tuskegee Institute National Historic Site
There are no shortage of inspirational figures when you visit the Alabama National Parks. At the Tuskegee Institute National Historic Site you will learn about a world-famous chemist who made important agricultural discoveries and inventions.
On July 4, 1881, The Tuskegee Institute was founded by Booker T. Washington. It began operations as the Normal School for Colored Teachers at Tuskegee in 1881.
Washington believed the best form of education for his students—initially all future teachers themselves—would be practical skills. The school focused on modern farming methods, construction, carpentry, bricklaying, domestic service, and other industrial subjects.
The Institute was instrumental in building the first black Veterans Administration hospital and in the creation of what would become known as the Tuskegee Airmen.
In 1974, the Congress authorized the creation of Tuskegee Institute National Historic Site.
Tuskegee University is the only college that is part of the National Park system. In 1985, the school became Tuskegee University.
---
George Washington Carver
If you know anything about George Washington Carver then you likely know he had something to do with peanuts. Mark Hersey is a history professor at Mississippi State University. He's the author of My Work Is That of Conservation. It's an environmental biography of Carver.
Hersey makes the case that Carver did more than just work for peanuts. He made important contributions to the environmental movement, including his visionary ideas about self-sufficiency and sustainability.
---
Born Into Slavery
Carver was born into slavery. He emerged from the aftermath of the Civil War as a man fully prepared to shake off the chains of oppression and become a person of consequence.
After obtaining his Master's degree, Carver led the Agriculture Department at the Tuskegee Institute for 47 years.
---
Things To Do At The Tuskegee Institute National Historic Site
Here are some things you can do while visiting:
Tour the campus: The campus is a designated National Historic Landmark and offers a variety of tours, including a walking tour, a historic homes tour, and a self-guided audio tour.
Visit the George Washington Carver Museum: The museum is dedicated to the life and work of George Washington Carver, who taught at Tuskegee Institute for over 40 years. The museum houses exhibits on Carver's scientific research, as well as his impact on American agriculture and industry.
See the Tuskegee Airmen National Historic Site: The site is dedicated to the Tuskegee Airmen, a group of African American pilots who served in World War II. The site includes exhibits on the history of the Tuskegee Airmen and the aviation industry during the war.
Attend a lecture or event: The Tuskegee Institute National Historic Site regularly hosts lectures, book signings, and other events related to African American history and culture.
Explore the Booker T. Washington Monument: The monument is dedicated to the founder of Tuskegee Institute, Booker T. Washington, and features a bronze statue of him standing on a stone pedestal.
Take a nature walk: The campus includes several nature trails, including the Booker T. Washington Trail, which winds through the forested areas of the campus.
Visit the Rosenwald School: The Rosenwald School is a restored schoolhouse that was built in the early 1900s to provide education to African American students in rural areas.
---
To Learn More Check Out These Fascinating Books
---
---
Check Out Our Great Smoky Mountains Film Too
---
More Than Just Parks is the ONLY place you can go to find expert guides, beautiful photos, helpful tips, breathtaking films and so much more.
MTJP | Smoky Mountains is a visually stunning journey through Great Smoky Mountain National Park during peak fall color. This video is the culmination of two weeks exploring Great Smoky Mountains National Park.
We selected Great Smoky Mountains as our second park because of it's extraordinary display of fall colors, it's incredibly diverse wildlife population, and it's importance as the most visited national park in the country.
This film was shot entirely in 4K UHD. We chose to capture this park in the Fall as it is home to one of the most wonderful displays of fall foliage on the planet.
Fall is also a wonderful time to watch the elk rutting season and experience cooler, less humid temperatures.
Situated in Tennessee & North Carolina Great Smoky Mountain is one a handful of southern National Parks.
---
Alabama National Parks FAQ
---
What makes Alabama so special?
A region rich in history and culture, natural beauty, southern hospitality, gorgeous white-sand beaches, forest-smothered mountains and NASA's first moon rockets – Alabama is full of surprises.
What are the must-see historic sites in Alabama?
The list of must-see historic sites in Alabama are as follows:
Birmingham Civil Rights National Monument
Selma To Montgomery National Historic Trail
Tuskegee Airmen National Historic Site
Freedom Riders National Monument
Tuskegee Institute National Historic Site
USS Alabama
Hanks Williams Museum
Barber Vintage Motorsports Museum
Moundville Archaeological Site
Heart Of Dixie Railroad Museum
---
Why Trust Us About Alabama National Parks?
---
We're Jim Pattiz and Will Pattiz, collectively known as the Pattiz Brothers (and sometimes the Parks Brothers) and we absolutely LOVE the national parks.
You should probably know that we don't just make this stuff up out of thin air. We've spent our entire adult lives exploring and filming America's national parks and public lands.
We've worked with the National Park Service, the Department of Interior, USDA, and the U.S. Forest Service for years creating films on important places and issues. Our work has been featured in leading publications all over the world and even some people outside of our immediate family call us experts on the national parks.
---
Meet The Parks Brothers
---
---
Map Of Alabama National Park Sites
---
List Of Alabama National Parks
Birmingham Civil Rights National Monument
Freedom Riders National Monument
Horseshoe Bend National Military Park
Little River Canyon National Reserve
Natchez Trace Parkway
Natchez Trace National Scenic Trail
Russell Cave National Monument
Selma To Montgomery National Historic Trail
Trail Of Tears National Historic Trail
Tuskegee Airmen National Historic Site
Tuskegee Institute National Historic Site
---
We Hope You'll Follow Our Journey
---
Our goal here at More Than Just Parks is to share the beauty of America's national parks and public lands through stunning short films in an effort to get Americans and the world to see the true value in land conservation.
We hope you'll follow our journey through the parks and help us to keep them the incredible places that they are. If you're interested in joining the adventure then please sign up below!
---
Helpful Articles
National Parks: All 63 National Parks Ranked By Experts
National Monuments: Ultimate List Of National Monuments
Landmarks: 25 Famous Bucket List Landmarks In America (MUST-SEE)
Park Rangers: A Brief (& Informative) History Of America's National Park Rangers
Gifts: 50 BEST National Park Gifts For The National Park Fan In Your Life
Books: 45 BEST National Parks Books
Revolutionary War Sites: 10 BEST Revolutionary War Sites In America
Civil War Sites: 10 BEST Civil War Sites In America
Civil Rights Sites: 10 BEST Civil Rights Sites In America
National Parks In Movies: Look Familiar? 25+ CLASSIC Movies Filmed In The National Parks
Television Shows: Look Familiar? 10+ CLASSIC Television Shows Filmed In The National Parks
---
alabama national parks, national parks near alabama, national parks in alabama, alabama national parks, national parks near alabama, national parks in alabama, alabama national parks, national parks near alabama, national parks in alabama, alabama national parks, national parks near alabama, national parks in alabama, alabama national parks, national parks near alabama, national parks in alabama, alabama national parks, national parks near alabama, national parks in alabama, alabama national parks, national parks near alabama, national parks in alabama, alabama national parks, national parks near alabama, national parks in alabama,