New York National Parks! We've got 25 incredible national park sites for you to see on your next visit to the Empire State.
New York National Parks include amazing historic sites, incredible monuments, iconic parks, legendary trails, and more.
I've been to so many of these amazing places since retiring from teaching in 2018. Did I mention that I taught history? I spent a lifetime teaching about the history behind these momentous sites. Then I got to see them firsthand. And now I'm sharing the stories of these incredible places with you. It doesn't get any better than that!
Well, actually it does since I was born and raised in New York City.
New York has many national park sites, but doesn't have any congressionally designated "National Parks." There's a whole host of amazing New York National Park Service sites to visit nonetheless.
If you're planning a trip to the Empire State then one book that I highly recommend is: Historic New York: A Tour of More Than 120 of the State's Top National Landmarks by Karen Cuccinello.
We're going to give you 25 wonderful reasons why you'll want to make New York your next vacation destination.
---
New York National Parks Table Of Contents
---
The New York National Park Sites
---
1. African Burial Ground National Monument
I'm a retired history teacher who's originally from New York. As a former New Yorker, I'm thrilled at the prospect of so many amazing national park sites in my old stomping grounds.
And, our adventure begins with the African Burial Ground National Monument.
It's a whodunit Indiana Jones would be proud of. In 1991, construction began on a 34-story federal office tower positioned on 290 Broadway and overseen by the General Services Administration (GSA).
Preliminary archaeological research excavation found intact human skeletal remains. They were located 30 feet below the city's street level on Broadway.
---
A 6 Acre Burial Ground
The largest and most important archeological discovery made was a 6-acre burial ground containing upwards of 15,000 intact skeletal remains of enslaved and free Africans who lived and worked in colonial New York.
The Burial Ground, dating from the middle 1630s to 1795, is the nation's earliest and largest African burial ground discovered in the United States.
---
Explore The Past At The African Burial Ground National Monument
There are two fascinating sites to explore. At the visitor center, you can learn about the history of this amazing place through exhibits and artwork.
You can also visit an outdoor memorial offering visitors an in depth understanding of how, when, and why enslaved and free Africans were using the African Burial Ground during the 17th and 18th centuries.
And, while you're immersing yourself in the history of this place, why not take a "deeper dive" with a walking tour of the African-American Freedom Trail.
RELATED: The 14 Most EXCITING Museums in NEW YORK CITY (& What to See at Each)
---
New York National Parks Featured in this Video
---
African-American Freedom Trail
This self-guided tour includes some places of major historical significance including:
Fort Amsterdam-In 1625 enslaved Africans arrived in New Amsterdam. Among their first tasks was to build the first fort on Manhattan Island, known as Fort Amsterdam.
Broadway-The city's first municipal work force, African slaves cleared land and shoreline and widened Native American trails, including a wide road-later known as Broadway.
Fraunces' Tavern-A popular restaurant owned by Samuel Fraunces, a West Indian caterer of French and African origin. Site of General George Washington's farewell address to his troops in 1783.
Downing's Oyster House-Popular restaurant in the early 1800s owned by black abolitionist Thomas Downing. Its cellar served as a stop on the Underground Railroad.
The Wall-African slaves constructed a wall across Manhattan Island in 1653. Extending from the Hudson River to the East River, it is later known as Wall Street.
Wall Street Slave Market-Established in 1711 at a pier at Wall Street and the East River, African men, women, and children were sold at the Wall Street Slave Market.
1712 Slave Revolt-A group of enslaved Africans ambushed whites on the outskirts of the city in 1712. Nineteen blacks were executed in response to the slave uprising.
African Free School-Founded in 1787 in a single room for forty boys and girls.
St. Peter's Church-Destroyed by fire in 1835, the church was rebuilt chiefly from money given by Pierre Toussaint, a former slave and Haitian philanthropist.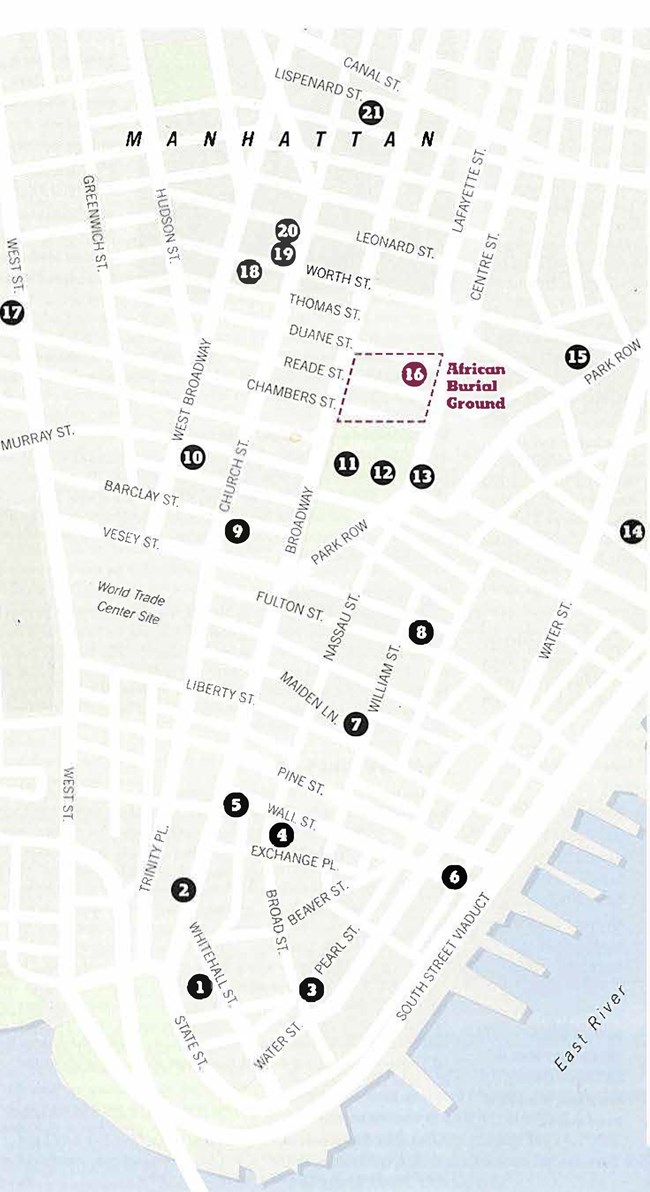 ---
Still More Sites To See On The African American Freedom Trail
The Dr. James McCune Smith House-A graduate of the African Free School, Dr. Smith established a medical practice and pharmacy here in 1837.
Pinkster Celebration-In the 17th century, the Afro-Dutch community celebrated an African ceremony called Pinkster at this site. The annual celebration coincided with the Christian observance of Pentecost.
1741 Executions-A rumor of a slave uprising in New York City led to the trial and convictions of thirty-five defendants. All were executed, either by hanging or burning, including' thirty-one black men, two white men, and two white women.
Road to Harlem-In 1658, African workers built the road to Harlem (later known as the Boston Post Road).
1863 Draft Riots-During four days of citywide violence in July 1863, the homes of African Americans and abolitionists were firebombed. Estimates range from 100 to more than 1,000 people killed, including two men, Abraham Franklin and Jeremiah Robinson, on Roosevelt Street.
Land of the Blacks-From 1643 to 1712, more than thirty farms owned by free blacks spanned the frontier north of the African Burial Ground to 34th Street.
Frederick Douglass-The Hudson River pier where Frederick Washington Bailey, a runaway slave from Maryland, came ashore in 1838. Aided by the Underground Railroad, Bailey achieved freedom and renamed himself Frederick Douglass.
Abyssinian Baptist Church-Founded in 1808 by black members of the First Baptist Church.
Mother A.M.E. Zion Church-The first African-American church in New York City, founded in 1796.
Freedom's Journal
Ruggles' Boarding House-Rooming house for blacks owned by black abolitionist David Ruggles, and an Underground Railroad station that assisted hundreds of fugitives, including Frederick Douglass. (Source: NPS)
---
New York National Parks
---
2. Appalachian National Scenic Trail
It's the longest hiking trail in the world. And, it begins or ends (depending on your perspective) in Georgia or Maine. Take your pick!
The Appalachian National Scenic Trail is a marked hiking trail that runs from Springer Mountain in Georgia to Mount Katahdin in Maine. Just how long a hike is that? Approximately 2,200 miles.
The original concept for the Appalachian Trail was the brainchild of Benton MacKaye. MacKaye was a forester, planner and social reformer who wrote a 1921 article in the Journal of the American Institute of Architects first proposing it.
Benton MacKaye
In MacKaye's original vision, the Appalachian Trail would put back together the various parts of American life that were rapidly coming undone in the early 20th century.
It would fuse leisure and industry, environment and labor, community development and wilderness preservation into an interrelated project.
To learn more about the creator of the Appalachian Trail, I recommend: Benton MacKaye: Conservationist, Planner, and Creator of the Appalachian Trail by Larry Anderson.
Giving City Dwellers An Escape
MacKaye wanted to give city dwellers an escape from their humdrum urban existences. His bold proposal was nothing less than a wholesale reinvention of social life, economic organization, and land use.
The trail was built by private citizens and completed in 1937. It is managed by the National Park Service, U.S. Forest Service, Appalachian Trail Conservancy, numerous state agencies and thousands of volunteers.
It's a truly magnificent hiking trail traversing the scenic, wooded, pastoral and wild lands of the Appalachian Mountains.
---
New York National Parks
---
3. Captain John Smith Chesapeake National Historic Trail
With the Captain John Smith Chesapeake National Historic Trail you have the option of exploring by land or by sea. And, while you're exploring, you can also learn about the cultural heritage and diverse flora and fauna of the 17th-century Chesapeake Bay.
The site goes back to English Captain John Smith. He explored the Bay in 1608. Smith went on to document hundreds of American Indian communities. Today, sites on his map are archeological treasures and sacred sites for tribal citizens.
Smith traveled nearly 3,000 miles on the Bay and its rivers, recording and mapping what he saw. Fortunately for you, there's a "A Boater's Guide to the Captain John Smith Chesapeake National Historic Trail." It's for boaters in all types of vessels and all skill levels.
With this helpful guide in hand, you can explore many of the same fascinating places that Smith did in a similar manner. Anchors Aweigh!
New York National Parks
---
4. Castle Clinton National Monument
It's located at the southern tip of Manhattan Island and it has an amazing story to tell. Castle Clinton was initially built to prevent a British invasion in 1812. It's a medieval-looking fortress by the water's edge that dates back to 1808.
It was nearly demolished on six different occasions, only to be finally rescued and restored by the National Park Service in 1946.
Today The Fortress Is A Ticket Office
Today it's used as a ticket office and information center for tourists heading to Liberty Island. Castle Clinton has been transformed to welcome theatergoers, immigrants, sightseers, and now, millions of visitors to New York Harbor.
Visitors can take a Ranger-guided tour of the Castle. Believe it or not, it was the first American immigration station, where more than 8 million people arrived in the United States from 1855 to 1890. So, what are you waiting for? An important piece of our nation's past is waiting for you!
New York National Parks
---
5. Chesapeake Bay Watershed
The Chesapeake Bay Watershed spans more than 64,000 square miles, encompassing parts of six states—Delaware, Maryland, New York, Pennsylvania, Virginia and West Virginia—and the entire District of Columbia. More than 18 million people live in the Chesapeake Bay watershed.
The Chesapeake Bay is home to numerous fauna that either migrate to the Bay at some point during the year or live there year-round. There are over 300 species of fish and numerous shellfish and crab species. It's a great place to explore.
Beaches along the tidal rivers and the Chesapeake Bay are often safe for swimming, fishing and boating. New York's portion of the Chesapeake Bay watershed is made up of the Susquehanna River watershed and Chemung River watershed. These two watersheds form the northern headwaters of the Chesapeake Bay and cover much of New York's Southern Tier.
RELATED: 4 (EPIC) Iowa National Parks For Your Next Visit To the Hawkeye State
---
New York National Parks
---
6. Eleanor Roosevelt National Historic Site
Siena conducted a poll, in conjunction with C-SPAN, as part of the network's series "First Ladies: Influence and Image." It surveyed a group of historians and scholars five times since 1982 on their attitudes toward the country's first ladies.
The poll asked respondents to rate each woman on 10 qualities: background, value to the country, being the White House steward, courage, accomplishments, integrity, leadership, being her own woman, public image, and value to the president. (Source: CBS News)
Eleanor Roosevelt was ranked first in six of the categories, including value to the country, leadership, accomplishments, and courage. She finished #1 overall.
At the Eleanor Roosevelt Historic Site in Hyde Park, New York, you can learn the story of this extraordinary first lady. Actually, you can learn the story of both Eleanor and Franklin, explore the Roosevelt their homes, the exhibits at the nation's first Presidential Library, and over a thousand acres of gardens and trails.
Eleanor turned the main house at Hyde Park over to the United States, as FDR intended, but she kept Val-Kill, purchasing the land from the Roosevelt estate and making Val-Kill Cottage her permanent home. You can tour it seeing where and how this remarkable women lived.
To learn more about this extraordinary lady, I recommend Blanche Wiesen Cook's brilliant biography parts one, two and three.
New York National Parks
---
7. Ellis Island
America is a national of immigrants and their history often began at Ellis Island. Today it's is a historical site, but it opened in 1892 as an immigration station. It served this purpose for more than 60 years until it closed in 1954.
Ellis Island saw millions of newly arrived immigrants pass through its doors. It has been estimated that close to 40 percent of all current U.S. citizens can trace at least one of their ancestors to Ellis Island, which is truly amazing.
Today visitors can explore the National Immigration Museum. You can walk the halls of the former processing station just as so many people did over so many years.
If you want to learn more about your own story then you can also visit the Family History Center to learn about where you fit in the continuum of American immigration. There's an incredible collection of arrival records for people looking to retrace their ancestry and their family's journey to the United States.
To learn more about the history of this incredible place, I recommend: The Long Way Home: An American Journey from Ellis Island to the Great War by David Laskin.
New York National Parks
---
8. Federal Hall National Memorial
Once upon a time, the government of the United States operated out of New York City. Federal Hall is where George Washington took the oath of office as our first President. This site was home to the first Congress, Supreme Court, and Executive Branch offices.
Located at at 26 Wall Street in the Financial District of Manhattan, the current structure is a Customs House, which served as part of the U.S. Treasury Department. Today the building serves as a museum and memorial to our first President and the beginnings of the United States of America.
While you're there, check out the first inaugural bible, the rotunda view, the inauguration balcony slab, the view of Wall Street, the bank vault, the portrait gallery and the museum store. It's an incredible place where you can learn so much about our nation's earliest history.
RELATED: 7 (EPIC) Kansas National Parks For Your Visit To The Sunflower State
---
New York National Parks
---
9. Fire Island National Seashore
Ready to take a break from the history and have some outdoor fun instead? New York's National Parks have got you covered for that too!
There are so many fun activities waiting for you at Fire Island National Seashore. They include: boating, canoeing, fishing, hiking, sightseeing and wildlife-viewing on nature trails at sites on Fire Island.
Or how about exploring the grounds of William Floyd Estate. There's also the Fire Island Lighthouse, Sailors Haven/Sunken Forest, Watch Hill, Talisman, and Wilderness. These are NPS site which are located on the island too.
If you're interested in camping there's a family tent campground is located at Watch Hill beyond the marina and behind the dunes. It's available from mid-May through mid-October. So, what are you waiting for?
RELATED: 6 (EPIC) Kentucky National Parks For Your Visit To The Bluegrass State
---
New York National Parks
---
10. Fort Stanwix National Monument
Step back in time and learn about the historic role which Fort Stanwix played in America's history. As a retired history teacher, I believe that a short history lesson is in order, but have no fear as there's no homework assignment.
Stanwix was known "the fort that never surrendered." While under the command of Col. Peter Gansevoort, it successfully repelled a prolonged siege, in August 1777, by British, German, Loyalist, Canadian, and American Indian troops and warriors commanded by British Gen. Barry St. Leger.
The failed siege helped to thwart an effort by the British to take the northern colonies. This, in turn, led to American alliances with France and the Netherlands. Troops from Fort Stanwix also protected America's northwest frontier from British campaigns until finally being abandoned in 1781.
RELATED: 6 (EPIC) Missouri National Parks For Your Next Trip To The Show Me State
---
Things To Do At Fort Stanwix
At Fort Stanwix, you can learn how the American victory at this frontier fort directly contributed to the British defeat at Saratoga in 1777; setting the stage for westward expansion through New York. You can also follow in the footsteps of the people who made history in the Mohawk Valley during the American Revolutionary War.
I recommend that you start your adventure at the Willett Center which is the visitors center. You can follow three trails which encircle the fort. One of these trails follows a portion of the Oneida Carrying Place. The other two trails interpret the events of the siege of 1777.
There's also a museum with interactive exhibits and a living history program.
CHECK OUT: 10 BEST Revolutionary War Sites In America
---
New York National Parks
---
11. Gateway National Recreation Area
What can't you find in New York? Well, a national park. But with so many fabulous national park sites there's virtually nothing that you cannot experience even if the state does not include a Congressionally designated national park.
Gateway National Recreation Area is a case in point. It provides both recreational and learning opportunities. From swimming, boating and fishing to team sports, bicycling and nature, there's so much to experience.
While you're there, you can explore a wildlife refuge, a forest, ocean dunes or coastal uplands. And, you'll be able to see the nation's oldest operating lighthouse. There are also forts that defended America and places which trace aviation's earliest days.
Gateway includes 27,000 acres spanning Sandy Hook in N.J. and Jamaica Bay and Staten Island in N.Y. You can get there by car, ferry, bus or train. I recommend beginning your visit at one of the three visitor centers which you will find at all three units. They feature hands-on exhibits, bookstores, and personnel available to answer questions.
RELATED: Whose Island Is It Anyway | A History & Guide To Cumberland Island
---
New York National Parks
---
12. The General Grant National Memorial
Washington was the first victorious general to ascend to the White House. He would be followed by others among them Ulysses S. Grant. Grant (1822-1885) commanded the victorious Union army during the American Civil War (1861-1865) and served as the 18th U.S. president from 1869 to 1877.
The final resting place of Ulysses S. Grant is just one of the things to see at the General Grant National Memorial. It's the largest mausoleum in North America.
At the memorial, you can see a 20-minute film about Grant's life and achievements titled "A Legacy of Freedom." There's also a permanent exhibit gallery addressing some of the major events in Ulysses S. Grant's life as well as a bookstore/giftshop. There you can find some fascinating historical works as well as other Grant memorabilia.
If you want to learn the story of the man who served as the Lieutenant General of the Armies (a rank previously held only by George Washington) and who was considered by many to be the most important general in our nation's history after George Washington.
There are some excellent biographies available on Ulysses S. Grant. Three of my favorites (and yes I've read all three of them) are: Grant by Jean Edward Smith, Grant by Ron Chernow and The Man Who Saved the Union: Ulysses Grant in War and Peace by H.W. Brands.
RELATED: General Grant Tree-Everything You Need To Know About The World's 2nd Largest Tree
---
New York National Parks
---
13. Governors Island National Monument
Within the city of New York, Governors Island is a 172-acre island in New York Harbor. From 1794 to 1966, Governors Island was an integral part of the cultural, economic, political and social life of New York.
Today it's an artistic and cultural center, but once upon a time it was one of the longest continually operated military bases in the country. It was run by the U.S. Army and later the U.S. Coast Guard until its closure in 1996.
Visitors can explore two forts–Castle Williams and Fort Jay. There you will step back in time and see historic fortifications from the Revolutionary Era. There's also a National Parks Gift Shop & Bookstore, which is always worth a visit.
New York National Parks
---
14. Hamilton Grange National Memorial
With Lin Manuel-Miranda's hit musical and movie Hamilton, America's interest in its first Secretary of the Treasury has never been higher. What better time then to travel to Hamilton Grange National Memorial.
He was into obscurity in the British West Indies, but Alexander Hamilton went on to become George Washington's right-hand man during the Revolutionary War. Afterward, he became one of America's most influential Founding Fathers.
He was an impassioned champion of a strong federal government, and played a key role in defending and ratifying the U.S. Constitution. He was America's first Secretary of the Treasury, George Washington's most influential cabinet advisor and the father of America's banking system.
If you would like to learn more about America's first and arguably greatest Secretary of the Treasury then I recommend: Alexander Hamilton by Ron Chernow.
---
The Only Home Alexander Hamilton Ever Owned
The Grange is believed to be the only home Alexander Hamilton ever owned. Located in Manhattan's Hamilton Heights Historic District, visitors can tour Alexander Hamilton's home. You will be treated to exhibit galleries containing historical information about Alexander Hamilton.
Guided tours as well as self-guided tours of the home's three restored period rooms are also available. And, if that's not enough, you can also view fifteen- minute introductory film on demand.
New York National Parks
---
15. Harriet Tubman National Historical Park
As one who taught history for almost thirty years, I was always enthralled with stories of the Underground Railroad. The challenge was explaining to my students that despite the fact that those who helped runaway slaves escape to freedom were called "conductors," this was not a real railroad by any stretch of the imagination.
Instead, The Underground Railroad was a network of people, African American as well as white, offering shelter and aid to escaped enslaved people from the South. The Fugitive Slave Act of 1850 empowered slaveholders to pursue these runaways to the northernmost reaches of America and bring them south once again.
This meant that runaways had to escape to Canada to be truly free. People known as "conductors" guided these fugitives. Hiding places included private homes, churches and schoolhouses. These were called "stations," "safe houses," and "depots."
The people operating them were called "stationmasters." An estimated 100,000 people were freed by their heroic efforts.
---
Harriet Tubman
The most famous of the conductors was herself born a slave. In 1849, Araminta Ross, escaped a plantation in Maryland with two of her brothers. Harriet Tubman became her married name and one by which she would win eternal fame.
Tubman returned to the south to lead her niece and her niece's children to Philadelphia via the Underground Railroad. She became a dedicated abolitionist who is believed to have personally rescued 300 people.
After the Civil War began, Tubman became head of an espionage and scout network for the Union Army. She provided crucial intelligence to Union commanders about Confederate Army supply routes and troops and helped liberate enslaved people to form Black Union regiments.
An excellent book about this extraordinary women is Scenes in the Life of Harriet Tubman by Sarah Bradford.
---
Things To Do At Harriet Tubman National Historical Park
The Harriet Tubman Visitor Center, the Tubman Home for the Aged, and the Harriet Tubman Residence are part of the park. It's located on a roughly 32-acre campus on South Street in Auburn, New York.
Visitors can walk the grounds, learn about Tubman's life and achievements through exhibits, see where she lived during the last part of her life and feel the impact of a woman who was known as "Moses of her People."
---
New York National Parks
---
17. Home Of Franklin D. Roosevelt National Historic Site
As historian William E. Leuchtenburg, professor emeritus of history at the University of North Carolina at Chapel Hill concluded, Franklin D. Roosevelt may have done more during the twelve years he served as president to change American society and politics than any of his predecessors in the White House, save Abraham Lincoln.
Roosevelt led the nation through the twin crises of the Great Depression and World War Two. In the process, he transformed the role of the federal government. The programs unleashed by FDR's New Deal sought to insure that the economic, social, and political benefits of American capitalism were distributed more equally among America's large and diverse populace.
FDR also transformed the American presidency. Under his leadership, the President's duties grew to encompass not only those of the chief executive—as implementer of policy—but also chief legislator—as drafter of policy. He greatly increased both the powers and the responsibilities of the office.
Now there are more biographies about one of America's greatest presidents then you might realize, but three of my favorites (and yes I've read all of these too!) are: Franklin D. Roosevelt: A Political Life by Robert Dallek, Traitor to His Class: The Privileged Life and Radical Presidency of Franklin Delano Roosevelt by H. W. Brands, and Franklin D. Roosevelt: A Rendezvous with Destiny by Frank Freidel.
Learn About America's 32nd President At The Franklin D. Roosevelt National Historic Site
An extraordinary president means extraordinary opportunities to explore and learn. At the Franklin D. Roosevelt National Historic Site in Hyde Park, New York, visitors can:
Visit the burial site of President Roosevelt.
Stroll along Farm Lane Trail which is part of the historic road network that connected the Roosevelt Home, Val-Kill, Top Cottage, the Home Farm, and FDR's tree plantations.
Walk Top Cottage Trail which was FDR's humble hilltop getaway hosted pivotal meetings that shaped world history.
Visit the Home Garden of Franklin & Eleanor Roosevelt.
in 2003, Henry A. Wallace Visitor and Education Center was opened in conjunction with the Franklin D. Roosevelt Presidential Library and Museum to honor the man who served as FDR's Secretary of Agriculture and 2nd Vice President.
If you're prepared to go just a bit farther than Hyde Park, the Hudson Valley National Heritage Area is home to many museums, historic houses, gardens, nature preserves, and culinary adventures.
RELATED: The First Green New Deal Happened Nearly 100 Years Ago-What Happened?
---
New York National Parks
---
17. Lower East Side Tenement Museum National Historic Site
The Lower East Side Tenement Museum National Historic Site is an opportunity to travel back in time to a world of different cultures representing different racial, ethnic and religious backgrounds.
New York City was the gateway to America. America is a nation of immigrants and these many tenements represent the heart of that immigrant experience.
The museum recaptures this experience through these historic tenements. You can experience the home to an estimated 7,000 people from over 20 nations between 1863 and 1935.
The tenement's cramped living spaces, the lives of past residents, and the history of the Lower East Side, contribute to its representation of the immigrant experience.
New York National Parks
---
18. The Martin Van Buren National Historic Site
Our 8th president of the United States, Martin Van Buren, was an American lawyer and statesmen. Prior to that, he had served as U.S. senator, secretary of state and vice president of the United States.
Van Buren would be the last sitting vice president to be elected president until George H.W. Bush did it in 1988.
Visitors can learn about Van Buren by touring his post-presidency home of Lindenwald which is located in Kinderhook, New York. Tours cover the interior of Lindenwald, and review Van Buren's political career, his life as a gentleman farmer, his family, and the lives of domestic servants and laborers living and working on the property. (Source: NPS)
While at the Martin Van Buren National Historic Site why not check out the the park's trails, as well as those that pass through or are nearby. These trails will enable you to experience the beautiful scenery and interesting history while you're getting in your steps. Exercise your body and your mind learning about Martin Van Buren and enjoying the surrounding countryside.
Now if you're looking to take a deeper dive into this fascinating figure then I recommend: Martin Van Buren and the Emergence of American Popular Politics by Joel H. Silbey.
---
New York National Parks
---
19. North Country National Scenic Trail
The North Country National Scenic Trail provides visitors opportunities from bird watching to backpacking.
The trail traverses eight northern states and connects a host of natural, historic and cultural sites. You can see everything from small towns to larger cities, valleys to hilltops and much more.
---
The History Of The North Country National Scenic Trail
In 1980, the North Country National Scenic Trail (NCT) was authorized by Congress. It stretches 4,600 miles from upstate New Hampshire to its western terminus at Lake Sakakawea State Park.
The trail actually traversed seven states until 2019 when Vermont was added. The Vermont section is only about 70 miles long.
The section in western New York runs from Allegany State Park to Watkins Glen. During this stretch of the NCT, it shares the path with the Finger Lakes Trail. 
---
New York National Parks
---
20. Sagamore Hill National Historic Site
As University of Virginia Professor of Politics Sidney Milkis noted, "Theodore Roosevelt is widely regarded as the first modern President of the United States. The stature and influence that the office has today began to develop with TR."
As University of Virginia Professor of Politics Sidney Milkis noted, "Theodore Roosevelt is widely regarded as the first modern President of the United States. The stature and influence that the office has today began to develop with TR."
If you love the national parks, and I assume that you do or why else would you be reading this article, then you are likely aware of his impact on conservation. Some would argue that he was and remains the greatest conservation president of all time.
You cannot do better when it comes to one of America's most consequential presidents then the Edmund Morris Trilogy.
Nine Interesting Facts About Theodore Roosevelt
As a child, Theodore Roosevelt witnessed Abraham Lincoln's funeral procession.
Theodore Roosevelt was a prolific writer who wrote about 35 books including his autobiography.
He Was America's First Cowboy President-Given his time as a rancher in North Dakota, he was the "real deal" when it came to embodying the west despite his eastern origins.
Roosevelt was the "Father of the Modern American Navy." He wrote the definitive naval history of the War of 1812, served as Assistant Secretary of the Navy and built the U.S. Navy into one of the largest in the world.
He was the first president to win a Nobel Peace Prize for his mediation efforts in the Russo-Japanese War.
In response to Upton Sinclair's The Jungle, Roosevelt pressured Congress to pass the Pure Food and Drug Act and the Meat Inspection Act in 1906.
He was the inspiration for the Teddy Bear. His decision to spare a bear on a 1902 hunting trip inspired a candy store owner in New York to make a black bear doll which he named the "Teddy Bear."
He helped to save the game of football. It had become too violent so TR met with coaches and officials to help bring about the rule changes which saved the sport.
Roosevelt was the first president to go after big corporations and created a Bureau of Corporations to protect the public from price-fixing.
And let's not forget conservation. Roosevelt protected 230 million acres of public land, which included the creation of the U.S. Forest Service and the unveiling of five new national parks.
RELATED: Jimmy Carter, Not Theodore Roosevelt, Was The Greatest Conservation President
---
Things To Do At Sagamore Hill National Historic Site
Tours of the Roosevelt Home are guided only. That having been said, it's definitely worth taking one as you will have the opportunity to step into the world of America's 26th president. You can get tickets for the tour.
TR was the great outdoorsman and there are eighty three acres of forested areas, meadows, salt marsh and beach for you to explore. While you do you may see birds, small mammals, turtles, frogs and insects.
There are some wonderful paths and a nature trail provide a wonderful place to walk.
New York National Parks
---
21. Saint Paul's Church National Historic Site
St. Paul's is a wonderful 18th century church. It was built at the end of the French & Indian War which increasingly became a time of reassessment for the colonists as their debated their futures as members of the British Empire. Of course we all know how that story turned out.
Design of the church was inspired by the edifices built around London following the Great Fire of 1666, where the principal architect was Christopher Wren. Books with sketches and diagrams based on the construction of some of those churches were available in colonial New York.
Local masons helped to build the church along with craftsmen from New York City who would live in the area for months, boarding with Eastchester families.
Stones were drawn from the local fields (hence the contemporary term, "fieldstone"), while bricks were also local, probably molded from clay deposits along the Hudson River.
Visitors to the Saint Paul's Church National Historic Site will have an opportunity to step back in time and marvel at the magnificent architecture of a structure which is now a part of a bygone era.
New York National Parks
---
22. Saratoga National Historical Park
Their are battles in history which prove to be turning points. Saratoga is a case in point. The Battle of Saratoga was a turning point in the American Revolution. It gave the Patriots a major morale boost and persuaded the French, Spanish and Dutch to join their cause against a mutual rival.
The battle convinced the world that America could win its struggle. As a consequence, France became an important military ally. Their navy helped to seal the final American victory at Yorktown.
A wonderful in-depth look at this important battle is: Saratoga: Turning Point of America's Revolutionary War by Richard Ketchum.
---
Things To Do At Saratoga National Historical Park
Let's begin with the history and a tour of the Philip Schuyler Country Estate. Built in 1777, it's a northern plantation that showcased Schuyler's wealth and success. Laborers worked in the timber mills, flax mills, grist mills, gardens, and herring fishery, providing the income to sustain this upper class family. You can see it all!
Then there's the outdoor fun which includes:
Biking the Tour Road and enjoy the scenery while you do so.
Climbing Saratoga Monument which includes 188 steps. At the top you will be treated to amazing views of the surrounding area, with up to 30+ mile visibility on clear days.
Check out Victory Woods. It's a self-guided, 1/2 mile developed pathway with interpretive signage.
Hike the Wilkinson Trail and follow in the footsteps of Patriots and Tories alike.
---
New York National Parks
---
23. Statue Of Liberty National Monument
The Statue of Liberty has come to represent freedom, democracy and justice that societies around the world have sought to emulate. It is one of the most recognizable landmarks in both America and the world.
Just as the American Revolution became a joint effort between America and France so did the Statue of Liberty. The French sculptor Frederic-Auguste Bartholdi created the statue itself out of sheets of hammered copper, while Alexandre-Gustave Eiffel, the man behind the famed Eiffel Tower, designed the statue's steel framework.
---
A Gift To The People Of America From The People Of France
The Statue of Liberty was a gift from the people of France to the people of America. It was erected atop an American-designed pedestal on a small island in Upper New York Bay, now known as Liberty Island, and dedicated by President Grover Cleveland in 1886.
Things To Do At The Statue Of Liberty Monument
The Visitor Information Station features brochures, maps and memorabilia, and also gives visitors a chance to watch a short documentary about the making of the Statue of Liberty.
The Statue of Liberty Exhibit is located on the second floor of the pedestal inside the Statue. It features a vast collection of photographs, prints and artifacts that tell the story of the monument throughout history.
You can learn about the history of the famous torch held by Lady Liberty by visiting The Torch Exhibit. The display features a collection of diagrams, drawings, cartoons, renderings and photographs of the torch over the course of the monument's history.
And don't forget to walk around Liberty Island and breathe in all of that wonderful freedom.
---
New York National Parks
---
24. Stonewall National Monument
The Stonewall Riots, also called the Stonewall Uprising, began on June 28, 1969. New York City police raided the Stonewall Inn, a gay club located in Greenwich Village in New York City.
The raid sparked a riot among bar patrons and neighborhood residents as police roughly hauled employees and patrons out of the bar. This led to six days of protests and violent clashes with law enforcement outside the bar on Christopher Street, in neighboring streets and in nearby Christopher Park.
Stonewall National Monument is a new national park unit. It's located in Christopher Park and is a part of New York City's Historic Greenwich Village. Visitors can the exhibit on the fence at the park and also virtually.
---
New York National Parks
---
25. Women's Rights National Historic Park
There is so much important history in New York from revolutionary war to revolutionary struggle. The Women's Rights National Historical Park tells the story of the first Women's Rights Convention held in Seneca Falls, NY on July 19-20, 1848.
It's a story of struggles for civil rights, human rights, and equality, global struggles that continue today. The efforts of women's rights leaders, abolitionists, and other 19th century reformers remind us that all people must be accepted as equals.
The park is comprised of the visitor center, the historic homes (open seasonally), and the Wesleyan Chapel. The grounds of the historic buildings are open every day.
---
To Learn More Here Are Some Great Book Recommendations From More Than Just Parks:
---
Map Of New York National Park Sites
---
List Of New York National Park Sites
African Burial Ground National Monument
Appalachian National Scenic Trail
Captain John Smith Chesapeake National Historic Trail
Castle Clinton National Monument
Chesapeake Bay Watershed
Eleanor Roosevelt National Historic Site
Ellis Island
Federal Hall National Memorial
Fire Island National Seashore
Fort Stanwix National Monument
Gateway National Recreation Area
General Grant National Memorial
Governors Island National Monument
Hamilton Grange National Memorial
Harriet Tubman National Historical Park
Home Of Franklin D. Roosevelt National Historic Site
Lower East Side Tenement Museum National Historic Site
Martin Van Buren National Historic Site
North Country National Scenic Trail
Sagamore Hill National Historic Site
Saint Paul's Church National Historic Site
Saratoga National Historical Park
Statue Of Liberty National Monument
Stonewall National Monument
Women's Rights National Historic Park
---
About The People Behind More Than Just Parks
You should probably know that we don't just make this stuff up out of thin air. My sons have spent their entire adult lives exploring and filming America's national parks and public lands.
As for me, I'm a retired lifelong educator and a proud dad of these two wonderful guys who are hopelessly obsessed with the national parks. I taught history for over a quarter of a century. Now I enjoy researching and writing articles for More Than Just Parks. I'm always on the hunt for topics where nature and history intersect so please feel free to share any ideas that you might have with me.
We've worked with the National Park Service, the Department of Interior, and the U.S. Forest Service for years creating films on important places and issues. Our work has been featured in leading publications all over the world and even some people outside of our immediate family call us experts on the national parks.
---
Meet The Parks Brothers
Jim Pattiz and Will Pattiz, collectively known as the Pattiz Brothers (and sometimes the Parks Brothers) absolutely LOVE the national parks.
Our goal here at More Than Just Parks is to share the beauty of America's national parks and public lands through stunning short films in an effort to get Americans and the world to see the true value in land conservation.
We hope you'll follow our journey through the parks and help us to keep them the incredible places that they are. If you're interested in joining the adventure then please sign up below!
---