Nevada National Parks, there's so much more to this beautiful state than Las Vegas. In this article, we'll go over all of the incredible national park sites in the great state of Nevada.
There are 7 national park sites for you to see on your next visit to the Silver State.
These Nevada national parks include amazing historic sites, incredible monuments, beautiful parks, legendary trails, and so much more.
I've been to so many of these amazing places since retiring from teaching in 2018. Did I mention that I taught history? I spent a lifetime teaching about the history behind these momentous sites. Then I got to see them firsthand. And now I'm sharing the stories of these incredible places with you. It doesn't get any better than that!
To be clear, this list includes national park sites (as in sites managed by the National Park Service) as well as full-fledged national parks. To learn more about the difference between the various National Park Service designations check out our article that explains everything!
If you're planning a trip to the Silver State then one book that I highly recommend is: Nevada Bucket List Adventure Guide: Explore 100 Offbeat Destinations You Must Visit!
Now lets go ahead with the 7 wonderful reasons why you'll want to make Nevada (and not just Las Vegas) your next vacation destination.
---
Facts About Nevada
---
Nevada is a state located in the western region of the United States. It is bordered by Oregon and Idaho to the north, Utah to the east, Arizona to the southeast, and California to the southwest. Nevada has a diverse landscape, with the Great Basin in the east and the Sierra Nevada mountain range in the west.
Nevada is known for its mining and tourism industries, with major minerals including gold, silver, and copper. The state is also home to a number of service industries. Carson City, the state capital, and Las Vegas, the largest city, are centers of government, business, and culture.
Nevada has a semi-arid climate, with hot, dry summers and cool winters. The state is prone to severe weather events, including thunderstorms and wildfires. Nevada has a rich cultural heritage, with a diverse population and a strong sense of community. The state is known for its contributions to entertainment and gaming, as well as its natural beauty.
---
Best Nevada National Parks
---
1. California National Historic Trail
We begin our exploration of the Nevada National Parks with a historic trail named after Nevada's neighbor to the west. Of course I'm referring to the California National Historic Trail.
During the 1840s and 1850s, over 200,000 emigrants traveled to the gold fields and rich farmlands of California. It was the greatest mass migration in American history.
The California National Historic Trail retraces this historic migration. It's over 5,000 miles long and covers portions of 10 states.
What It A National Historic Trail?
What is a national historic trail? That's a great question.
A National Historic Trail is a long-distance route that follows and commemorates a historic path of travel that changed the history and character of the United States.
Today these routes offer opportunities to visit surviving sites, trail segments, and defining places of history and learn about the diverse stories they tell. (Source: NPS)
The California Historic Trail In Nevada
In Elko, Nevada, you can visit the California Interpretive Trail Center. It offers dioramas and interactive exhibits that immerse the visitor in the trail experience of those who endured the 2,000 mile trek.
In Elko can also see Hot Hole. It named after its round and reportedly deep shape. This geologic wonder was noted in reports, dated as early as the 1830s, by explorers that passed through the area. Later, emigrants and miners following the same paths, which were now known as the California Trail, wrote about the Hot Hole in their journals.
There are other historic sites in Nevada and you may want to reference the NPS Website to determine which ones are of interest to you.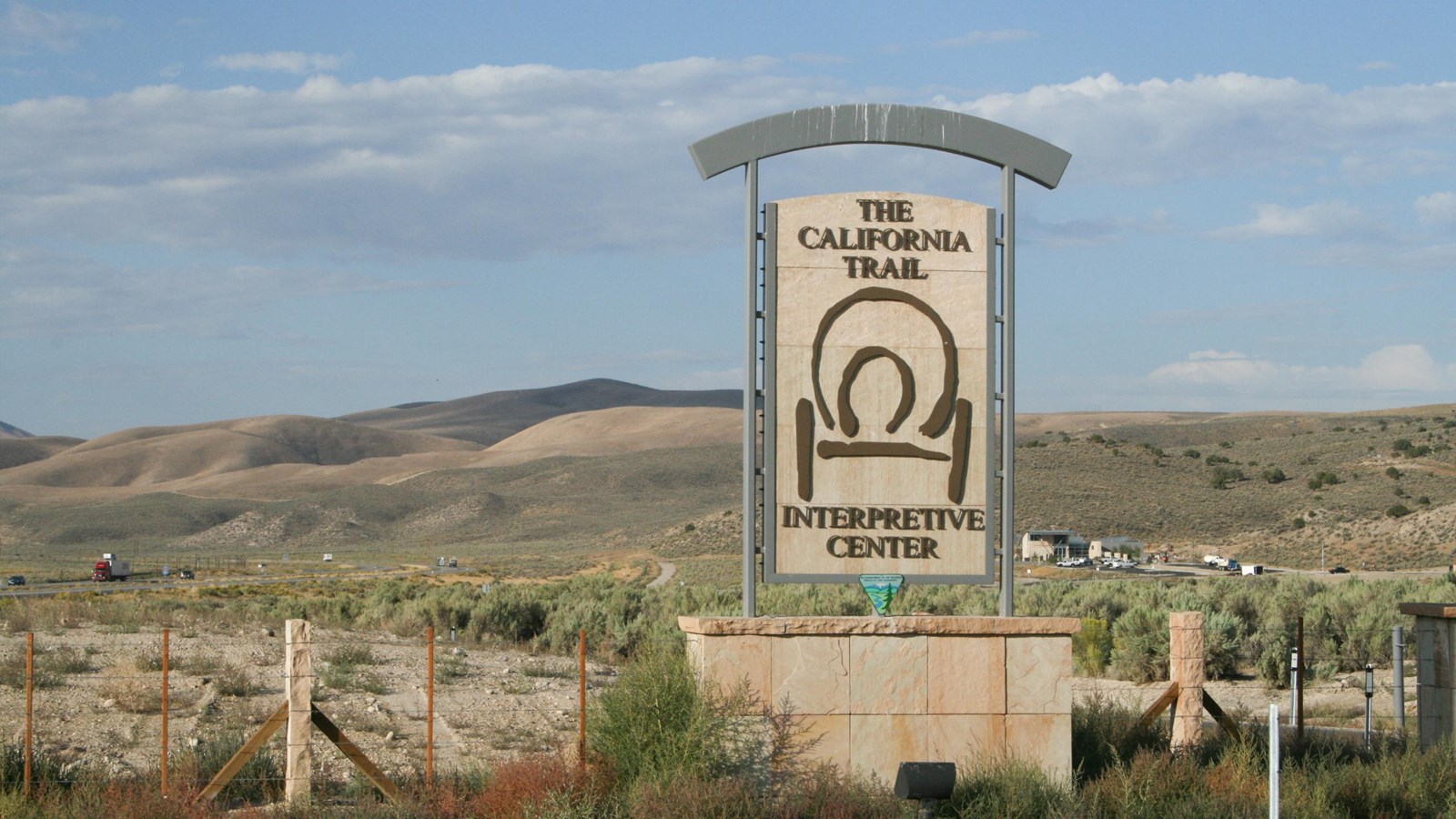 RELATED: 24 EPIC Arizona National Parks (Ultimate Guide + Photos)
---
---
2. Death Valley National Park
My Favorite Resources: Guide / Map / Guidebook / Things to Do / Facts / Camping / Where to Stay
While Death Valley National Park is not typically associated with the Nevada National Parks, it does happen to be one of them.
Situated on California's southeastern border with Nevada, Death Valley National Park spans over 5,000 square miles of otherworldly vistas. The largest national park in the continental United States, Death Valley is a park for superlatives.
Death Valley is the hottest place on earth, the lowest place in North America, and the driest place in the United States. It is also the largest National Park outside of Alaska.
If you're interested in learning more, check out our article on the best things to do in Death Valley.
---
Things to See in Death Valley
Massive slanted valleys that go on forever and seem to lack only the crashed spaceship in the distance, snow-capped mountains, a year round waterfall (insane, right?), expansive Joshua Tree forests, abandoned mines, conifer groves, and some of the most stunning dune fields in North America comprise the park with the most morbid name.
If you're visiting the park be sure to check out our full Death Valley National Park Guide!
---
Eureka Dunes
Located in the remote Eureka Valley and situated at 3000ft elevation, Eureka Dunes is the most stunning dune field (I think) of the five in Death Valley National Park. Eureka Dunes are the tallest in California and perhaps the tallest in North America.
What makes this dune field even more stunning is the backdrop of the massive Last Chance Mountains. As if that isn't enough to entice one to visit, did I mention they sing?
Yes, these dunes sing underneath your feet under the right conditions with a bassy resonance resembling that of a pipe organ.
CHECK OUT: 15 FASCINATING Death Valley National Park Facts You Probably Didn't Know
---
Badwater Basin
Badwater Basin is the lowest point in North America at 282ft below sea level. This salty wonderland features dazzling geometric shapes and record temperatures in the Summer.
Visitors can park at the Badwater Basin parking and walk out across the salt flats to the end of the boardwalk and out onto the salt itself which is a truly amazing experience.
Badwater Basin Hike: Most visitors just hike out a few steps beyond the short boardwalk but to truly get a sense of the scale of the salt flats one can do the entire 1.8mile path.
---
Zabriskie Point
Zabriskie Point is one of the most iconic locations in all of Death Valley National Park. This location is perhaps *the* best place in the park to watch a sunrise. This iconic location features panoramic views of the valley and stunning rock formations.
As one of the parks most popular locations crowds here can be quite large especially during the popular seasons. Be sure to show up early for sunrise to get a good spot!
There is a short, steep paved pathway that takes visitors from the parking lot to the viewpoint.
---
Watch the Award-Winning Death Valley Video
More Nevada National Parks
---
3. Great Basin National Park, Nevada
My favorite among the Nevada National Parks is Great Basin National Park.
A trip to Great Basin National Park is a wonderful way to sample the stunning diversity of the larger Great Basin region. Great Basin is a park which offers a variety of different outdoor (and indoor) activities.
Let's start with the great indoors. The Lehman Caves were discovered by a miner and rancher from Ohio named Absalom Lehman. He settled in the area in the 1860s. Lehman discovered the caves in 1885 (ergo the name).
These caves are part of a cavern system containing many beautiful limestone formations. The caves are visited on guided tours, for which tickets need to be purchased, preferably in advance, but the park as a whole is free to enter.
Camping At Great Basin
Great Basin has five campgrounds available for visitors although some campgrounds are closed seasonally due to weather. And this is one park where you will want to stay overnight.
Why you might ask? On a clear, moonless night in Great Basin National Park, thousands of stars, numerous planets, star clusters, meteors, man-made satellites, the Andromeda Galaxy, and the Milky Way can be seen with the naked eye. Imagine that!
---
4. Lake Mead National Recreation Area
When it comes to great recreational areas among the Nevada National Parks you cannot do better, in my opinion, than Lake Mead National Recreation Area.
Lake Mead is the largest reservoir in the United States in maximum water capacity and one of Nevada's many national park sites. It is located on the Colorado River about 24 mi (39 km) from the Strip southeast of Las Vegas, Nevada, in the states of Nevada and Arizona.
Formed by the Hoover Dam, Lake Mead is an impressive place: 112 miles long when the lake is full, 550 miles of shoreline, around 500 feet at greatest depth, 247 square miles of surface, and when filled to capacity, 28 million acre-feet of water.
What can you do at Lake Mead? Swim, boat, hike, cycle, camp and fish. This geologic wonderland includes 1.5 million acres of mountains, canyons, valleys and two vast lakes.
Outdoor Activities At Lake Mead
Boating is one popular activity. On Lake Mead there's more than 290 square miles of waterway to navigate. Boaters can enjoy the thrill of open water or relax in a private cove. Before you go, however, it's important to familiarize yourself with the rules and regulations.
Fishing is another popular activity. Fish include rainbow trout, catfish, sunfish, largemouth bass, striped bass, smallmouth bass and crappie.
If you love aquatic activities, swimming is also available. There are many places to swim in the waters of Lake Mead and Lake Mohave.

Hiking Trails At Lake Mead
There are many hiking trails in Lake Mead and Lake Mohave. The best season for hiking is November through March when temperatures are cooler.
Some of my favorite hiking trails include:
The Historic Railroad Trail which is a wide and flat gravel trail consisting of five tunnels that lead to Hoover Dam.
The Rivers Mountain Loop which is a 12-foot-wide paved path that surrounds the River Mountains, connecting Lake Mead National Recreation Area, Hoover Dam, Henderson, Boulder City and the rest of the Las Vegas Valley and is 34 miles in total length.
Redstone where hikers can wind through large, red sandstone rocks and learn about the geology of the area. Interpretive signs are provided at the trailhead and picnic area.
Lake View which provides opportunities to take in the beautiful, mountainous landscape with views of the harbor, Lake Mohave and Telephone Cove.
If you prefer biking to hiking bicyclists are welcome to ride at Lake Mead National Recreation Area on park roads and on routes designated for bicycle use.
---
5. Old Spanish National Historic Trail
Nevada National Parks offers visitors not one, but two great trails to explore.
The Old Spanish National Historic Trail goes through Arizona, California, Colorado, Nevada, New Mexico, and Utah making it one of Nevada's National Parks.
It opened a land route across 19th century Mexico between the Tierra Adentro, the fabled, yet isolated place that would become New Mexico, and California's missions and burgeoning settlements.
When he left Abiquiu, New Mexico for California in 1829 with 40 men and 200 pack mules, Antonio Armijo blazed a trail between the two colonies that had frustrated explorers for over a century.
The Abiquiu Party discovered that their woolen blankets and tanned hides were welcomed in textile-starved California. What began as a commercial venture would grow into so much more.
---
Journey The Old Spanish National Historic Trail
Today this historic trail extends 2,700 miles across New Mexico, Colorado, Utah, Arizona, Nevada, and California.
Along the way there are museums, historic sites, landmarks, and trail markers.
RELATED: 18 SURPRISING New Mexico National Parks
---
Nevada National Parks Guide
6. Pony Express National Historic Trail
The United States Postal Service has announced that we will be paying more money for slower mail. Ugh! Perhaps it's time to dust off an old idea which brings us to our next Nevada National Park.
From April 3, 1860 until October 26, 1861, the Pony Express delivered messages, newspapers, and mail using relays of horse-mounted riders. While it was only in operation for 18 months, it reduced the time for messages to travel between the east and west coasts to about 10 days.
Ten days may sound like a lot, but I suppose that depends on how good the postal service is where you live. No comment.
The Pony Express Founders
The three founders of the Pony Express were William Russell, Alexander Majors and William B. Waddell.
These three entrepreneurs used a shorted route with riders at relay stations. These stations were about ten miles apart.
The rider coming in could expect a fresh mount [horse] waiting for him and his mail pouch. It was like a relay race only with four legged runners.
Pony Express Peak Operations
At the peak of their operations, Russell, Majors and Waddell employed 6,000 men, owned 75,000 oxen, thousands of wagons, and warehouses, plus a sawmill, a meatpacking plant, a bank, and an insurance company.
Of course, technology waits for no one. The Pony Express could not compete with the faster telegraph. It went bankrupt after 18 months. From T-mails to emails. Isn't progress wonderful!
Jim DeFelice has written a wonderfully entertaining account of the history of the Pony Express. It's titled West Like Lightning: The Brief, Legendary Ride of the Pony Express. I love stories about the Old American West. This is one book I simply could not put down.
RELATED: 30+ Best National Parks Books (Great Gifts For Park Lovers)
Retracing The Pony Express
One hundred and fifty years later, you can visit trail traces, visitor centers, museums, hiking trails, historic structures and forts related to the Pony Express National Historic Trail.
The trail crosses eight states following the journey taken by dozens of young riders and hundreds of horses between St. Joseph, Missouri and Sacramento, California.
The best news of all, however, is that you won't have to change horses every ten miles. There are auto tour routes, GIS interactive maps and a Back-Country Byway.
Or, you can simply use your cellphone (there's an app for every thing these days!) to chart a course across the Pony Express National Historic Trail.
Isn't progress wonderful! [Did I say that already?]
---
More Nevada National Parks
---
7. Tule Springs Fossil Beds National Monument
As a former World History teacher, I realized that there's old and then there's old. Nevada National Parks include history of the more recent past as well as the ancient past. A case in point is Tule Springs Fossil Beds National Monument.
Tule Springs Fossil Beds National Monument preserves thousands of Pleistocene (Ice Age) fossils that help tell the story of an ever-changing ecosystem. These fossils were preserved within expanding and contracting wetlands between 100,000-12,500 years ago.
Many of the Pleistocene animals of Tule Springs are still alive today, including the coyote (Canis latrans), jackrabbit (Lepus sp.), and aquatic snails. Some animals went extinct, disappearing from North America entirely. (Source: NPS)
Tule Springs is a relatively new park so the trails are a work in progress. That having been said I would recommend taking the Aliante Loop Trail which offers year-round scenic views of Mojave Desert scrub habitat and the Las Vegas Range.
There are also wildflower blooms in spring and summer.
---
Map Of Nevada National Park Sites
---
List Of Nevada National Park Sites
California National Historic Trail
Great Basin National Park
Lake Mead National Recreation Area
Old Spanish National Historic Trail
Pony Express National Historic Trail
Tule Springs Fossil Beds National Monument
---
About The People Behind More Than Just Parks
You should probably know that we don't just make this stuff up out of thin air. My sons have spent their entire adult lives exploring and filming America's national parks and public lands.
As for me, I'm a retired lifelong educator and a proud dad of these two wonderful guys who are hopelessly obsessed with the national parks. I taught history for over a quarter of a century. Now I enjoy researching and writing articles for More Than Just Parks. I'm always on the hunt for topics where nature and history intersect so please feel free to share any ideas that you might have with me.
We've worked with the National Park Service, the Department of Interior, and the U.S. Forest Service for years creating films on important places and issues. Our work has been featured in leading publications all over the world and even some people outside of our immediate family call us experts on the national parks.
---
Meet The Parks Brothers
We're Jim Pattiz and Will Pattiz, collectively known as the Pattiz Brothers (and sometimes the Parks Brothers) and we absolutely LOVE the national parks.
Our goal here at More Than Just Parks is to share the beauty of America's national parks and public lands through stunning short films in an effort to get Americans and the world to see the true value in land conservation.
We hope you'll follow our journey through the parks and help us to keep them the incredible places that they are. If you're interested in joining the adventure then please sign up below!
---
And a bonus! Tips for Visiting a National Park Responsibly
---
Permit Systems and Reservations
Check to see if the national park you're visiting has a permit or reservation system in place before visiting. As parks become increasingly crowded more has to be done to safeguard them which means controlling the hundreds of millions of people who visit these places each year.
Popular national parks with reservation systems of some kind include Yosemite, Yellowstone, Zion, Rocky Mountain, Glacier, Arches, Acadia, Denali, and more.
Want Less Crowds? Try a National Forest!
Try visiting a national forest while you're on your trip to avoid the crowds. There are 155 national forests in America, many of which are equally as beautiful as the national parks they neighbor and only see a fraction of the visitors.
For example, try the Flathead National Forest next to Glacier National Park, the Bridger-Teton next to Grand Teton, and the Dixie which borders nearly all of the Utah National Parks.
Practice Safety, Seriously
National parks are amazing but wild places so it is essential to practice basic safety while visiting them. Every year people die while vacationing in national parks. This is easily avoided by:
Sticking to trails
Checking the weather before going out on a hike
Maintaining a safe distance between wildlife which means at least 25 yards from most wildlife and 100 yards from predators
Avoid ledges with steep drop offs
nevada national parks, national park in nevada, national parks in nevada, national parks in nevada state, national parks in nv, national parks nevada, nevada national park, nevada national park, nevada parks, nv national parks, nevada national parks, national park in nevada, national parks in nevada, national parks in nevada state, national parks in nv, national parks nevada, nevada national park, nevada national park, nevada parks, nv national parks,
nevada national parks, national park in nevada, national parks in nevada, national parks in nevada state, national parks in nv, national parks nevada, nevada national park, nevada national park, nevada parks, nv national parks, nevada national parks, national park in nevada, national parks in nevada, national parks in nevada state, national parks in nv, national parks nevada, nevada national park, nevada national park, nevada parks, nv national parks,